The 2019 List
reverse chronological order
»The Patrick Melrose novels
»Raise High the Roof Beam, Carpenters / Seymour: An Introduction
»Franny and Zooey
»Sabrina
»Kudos
»Swing Time
»All My Puny Sorrows
»The Story of the Lost Child
»Transit
»Outline
»We Have Always Lived in the Castle
»Those Who Leave and Those Who Stay
»The Story of a New Name
»Exit West
»Tenements, Towers & Trash
»My Life in Middlemarch
»The Feral Detective
»Middlemarch


The 2018 List
The 2017 List
The 2016 List
The 2015 List
The 2014 List
The 2013 List
The 2012 List
The 2011 List
The 2010 List
The 2009 List
The 2008 List


All-time favorites
Theft,
Peter Carey
JR,
William Gaddis
Winter's Tale,
Mark Helprin
Sometimes a Great Notion,
Ken Kesey
Moby-Dick,
Herman Melville
Martin Dressler,
Steven Millhauser
Housekeeping,
Marilynne Robinson
Franny & Zooey,
J.D. Salinger
Infinite Jest,
David Foster Wallace
Delta Wedding,
Eudora Welty

Honorable mentions: Paul Auster, Rick Bass, Michael Chabon, Charles Dickens, Stephen Dobyns, Neil Gaiman, Thomas Hardy, Graham Swift, Tim Winton.
The books of 2019


---

The Patrick Melrose novels (1992-2012, Edward St. Aubyn)
Why I picked it: These had been on my radar for a while because of Vanity Fair, but I initially rejected it as the type of misery memoir that's too sensationalist and prurient for my taste. I read some complimentary coverage, though, with the completion of the fifth book and the release of last year's Showtime series, and I put it on my list.
What it's about: Semi-autobiographical account of five periods in the life of the son of a dissolute couple, a helpless American heiress and the cruel British aristocrat who lived off her money.
What I thought: This was an odd mix: sometimes harrowing, often bleak, with a not-terribly-likeable protagonist and some downright odious supporting characters — but written in a insouciant style with many laugh-out-loud funny lines. Breaking it down by the five books:
• Never Mind. Covers one day at the Melrose home in the south of France, where 5-year-old Patrick lives with his parents. This is the one with the really shocking act of abuse that shapes much of Patrick's life. Tightly written, vivid sense of a specific slice of society: wealthy British expatriates and social climbers in the mid-1960s.
• Bad News. The heroin-addicted Patrick, now 22, goes to New York to pick up his father's ashes, and spends most of his two days there shooting up and looking to score. If you've read "The Basketball Diaries," you have a good sense of how this one reads.
• Some Hope. Covers two days in which Patrick, 30 and sober, goes to a high-society house party attended by Princess Margaret (whose portrayal is hilariously mean). Apparently, the three pieces to this point were published in the U.S. under this title. I think the end of this one is a good stopping place, unless you're really crazy about the series. The last two were less fresh, to my mind. I liked the appearance in this one of people from the first two, particularly the unexpected Mr. Chilly Willy.
• Mother's Milk. Published 11 years after "Some Hope." Patrick, in his early 40s and working as a barrister, vacations with his wife and young sons over the course of three summers — two at the house in France where he grew up and the third in America. He is beset by middle-age problems, chiefly his invalid mother and the loss of his wife's attentions as she submerges herself in mothering. He turns to drinking and extramarital sex.
• At Last. Back to the single-day format, with the day being that of his mother's funeral. Patrick is divorced (separated?) and once again sober. It also returns to the themes of "Never Mind," looping back to Patrick's broken relationships with both of his parents.

---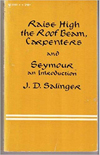 Raise High the Roof Beam, Carpenters / Seymour: An Introduction (1963, J.D. Salinger)
Why I picked it: Because I had just reread "Franny and Zooey," I continued with another reading of these stories.
What it's about: These two stories, which were first published in the New Yorker in the 1950s, are more tales of Salinger's Glass family. In "Raise High," Buddy is the only member of the family able to make it to brother Seymour's wartime wedding. "Seymour" is Buddy's profile of his late brother.
What I thought: If I were trying to sell someone on the whole Glass oeuvre, I would have them start with "Raise High," because it has an actual plot line. (Some people are put off that "Franny and Zooey" doesn't, really.) I might have them leave "Seymour" until last — after, even, the relevant chapters in "Nine Stories" — because the story works better if you love Seymour already. Still, these are both really short, so if you have any affinity at all for Salinger, go for it.

---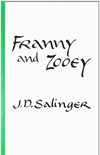 Franny and Zooey (1961, J.D. Salinger)
Why I picked it: This was my favorite book when I was in high school, and one of the few books I've read more than twice — maybe half a dozen times. I hadn't read it in the past 20 years, though, and I was a little worried that it might not hold up. Then Alex started reading it, and that encouraged me to reread it.
What it's about: First published as two separate magazine stories, these follow an episode that involves the two youngest Glass siblings: Franny, 20, comes back to her parents' Manhattan apartment after collapsing at college, and her brother Zooey, 25, has three conversations with her.
What I thought: To get it out of the way, this one did hold up, and that's more than I can say for "The Razor's Edge" and "Walden." I think much of the staying power of "F&Z" (for me) is because I loved it less for the religious/philosophical ideas than for the portrayal of the family relationships, particularly the dialogue. And I can completely understand why some people find Salinger's style just too clever, too precious, and I wouldn't try to argue against that view, but I like the way he writes. As for the ideas, they're fairly interesting, too, though maybe they would be more so for someone who had had a conventional Christian upbringing. I wasn't struck by any heavy enlightenment, but there were definitely some things that struck me differently now that I'm older than Seymour ever was. And it was the quintessential comfort read — a short book packed with all those lines and passages that delighted me the first time I read them.

---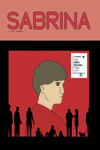 Sabrina (2018, Nick Drnaso)
Why I picked it: Good reviews.
What it's about: A graphic novel about the disappearance of a young Chicago woman, and its effect on her boyfriend and the long-ago friend who gives him a place to hide out in the traumatic days that follow.
What I thought: Wow, this one was good. At this stage, almost 40 years after "Maus," nobody needs to argue that graphic novels can qualify as literature, but this one was more affecting than any other graphic novels I've read and all but a few prose novels. Let me see how I can phrase this without any spoilers. It is one of the most thoughtful portrayals I've seen about how the conspiracy mob, in conjunction with mass media and social media, has damaged society, has made the default view distrust — not just of authority or of strangers, but of the people who might be able to comfort us in hard times. There is some flicker of hope at the end, but this is really a wrenching story.
Though the drawing style took a little while for me to warm to — the way Sabrina is drawn, for instance, I couldn't really get a sense of her age or some of the other visual cues of occupation and education and status — the spareness really works with the narrative.

---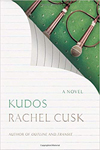 Kudos (2018, Rachel Cusk)
Why I picked it: Third book in the series.
What it's about: Narrator Faye spends a few days surrounded by literary types at a writers' festival.
What I thought: People refer to this one as the end of a trilogy. I wouldn't be surprised if Cusk continued it, but I don't know if I'd go on with it if she did. I've liked these three books. They're unusual and thought-provoking and cleanly written. But I feel like, given the limited reading time I have, I would move on to something else.
As with the first two, "Kudos" is a series of conversations Faye has with other writers, her agent, her translator, interviewers, a guy on the plane. My favorite is with a teenage tour guide who seems to be on the Asperger's spectrum. These encounters are actually more monologues than conversations, as Faye rarely interjects, and they're definitely not written in any sort of naturalistic idiom. A main theme here seems to be reality vs. personal presentation — how we want to be seen, how others see us, and the disconnect between the two. There's also a lot about power dynamics between men and women, particularly vis-a-vis separations and divorce. One could make a case that there's a link between that and recurring references to Brexit.
What there isn't is much specificity. As with the previous two, Faye's name is mentioned just once in the book. She never names the city where the book is set, though it's pretty much a character in itself; by the end, I'd decided it's Lisbon. Another character reveals that Faye has remarried, but there's no indication of who and when and why.

---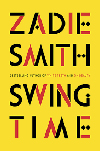 Swing Time (2016, Zadie Smith)
Why I picked it: Alex checked it out, and it was lying around when I needed a new book. I read the start and thought it would do.
What it's about: A young black woman who was raised in London public housing gets a job as a personal assistant to a Madonna-like pop star.
What I thought: Though I had liked Smith's "On Beauty," this one hadn't been on my list. From the reviews I'd seen, I thought it might be a little too deep in sociocultural issues of the intersectional sort for my current reading taste. The start won me over, though, promising an interesting relationship between the (unnamed) narrator and her childhood frenemy Tracey, a talented dancer being raised in a chaotic household. But though Tracey is a main thread, the story doesn't focus on the girls' relationship as I had hoped. It's mainly about the narrator's views of race and class and women's roles evolving through her relationships with — in addition to Tracey — her mother, her employer and the people she meets while helping the pop star establish a girls' school in West Africa. So, yeah, a lot of the stuff that I wasn't crazy about reading.
Tracey is kind of like Elena Ferrante's Lila — the what-might-have-been alter ego to a narrator who through education and some luck vaulted into a higher economic class. And she's like Lila in that, even though you probably would avoid her in real life, she brings a lot of drama to the story.

---

All My Puny Sorrows (2014, Miriam Toews)
Why I picked it: I read a New Yorker profile of Toews, whom I had never heard of. I picked this one of her seven novels because it was the first one I found in the library.
What it's about: Fortyish novelist Yolandi leaves her chaotic Toronto life for Winnipeg — where she was raised in a Mennonite community — to spend time with her sister who is in a psychiatric ward after a suicide attempt.
What I thought: This one is really funny. No, really. Which is even more amazing when you know it's based on Toews' life: Her father and her sister both killed themselves by stepping in front of trains.
So below I say I would have liked Elena Ferrante's Neapolitan novels more if they would have had any scrap of humor, and here is a great example of what I'm talking about. It grapples with major issues of despair and death, but just about every page there was some piece of dialogue or description that made me smile.
What's next: Toews' "A Complicated Kindness" and "The Flying Troutmans" are on my list.

---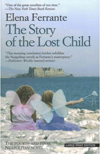 The Story of the Lost Child (2006, Elena Ferrante)
Why I picked it: Last in the series of four.
What it's about: Elena and her children move back to Naples, where they live in the same building as Lila.
What I thought: Though I preferred it to No. 3 ("Those Who Leave and Those Who Stay"), with the gift of foresight I would have stopped after the first two. As I said in reference to "Those Who Leave," I like the stories better when Lila is around, but I still think I had better things to spend my reading time on. It occurred to me during this one that these are really the most humorless novels I've ever read, and that's about the most damning thing I can think of to say of any work of literature.

---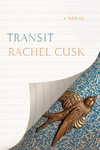 Transit (2016, Rachel Cusk)
Why I picked it: I liked "Outline" (see below).
What it's about: Novelist Faye is back in London, setting up her new life after divorce.
What I thought: The first one was a lot about being half of a couple; this one is a lot about being a parent. In fact, at a few points, I thought it was a little unsubtle about this theme — about certain difficulties in raising children, and the dangers that befall children. Or it could be that those were the stories just resonated most with me. There's also a lot about the chaos and the isolation that come with a life transition. Like "Outline," it's made up of interactions between the narrator and various people in her life, from a longtime friend to a long-ago boyfriend to the contractor on her house renovation.

---

Outline (2014, Rachel Cusk)
Why I picked it: I had heard good things about Cusk's Outline trilogy.
What it's about: A British novelist goes to Athens to teach a creative writing class.
What I thought: There's no real storyline but there are a lot of shorter stories, included in the 10 conversations that make up this book. The narrator doesn't explicitly say much about herself, but through her recounting of and reactions to the conversations the reader starts to see her story emerge. There is a lot on the themes of marriage and divorce, and women single and in couples.
I liked the way it kind of built up weightiness with the 10 episodes on this spare, clean structure, with a reserved prose style.

---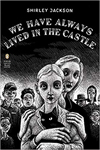 We Have Always Lived in the Castle (1962, Shirley Jackson)
Why I picked it: I put it on my list after I read "The Haunting of Hill House."
What it's about: Eighteen-year-old Merricat and her older sister Constance are living more or less contentedly with their ailing uncle, shunned by the townspeople, six years after the rest of their family died. The arrival of a cousin shakes up their isolated existence.
What I thought: I had assumed "Hill House" was considered Jackson's better book (because I had heard more about it) but I liked this one more. "Hill House" was, indeed, creepier, but I liked the Gothic strangeness of this one, and narrator Merricat is a great character.
All the way through I kept thinking what a great movie it would make — it's written very cinematically — but I couldn't remember ever seeing a mention of a film adaptation. Turns out there's one coming out in May, with Taissa Farmiga, Alexandra Daddario and, as weird Uncle Julian, weird Crispin Glover. If I were adapting it, I'd make Merricat a little younger, 15, maybe. I know she's supposed to be an odd girl, but it's hard to accept her as an 18-year-old unless we assume her to be completely mental.
Besides its cinematic nature, this one is notable as the most food-centric novel I've ever read.


---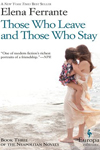 Those Who Leave and Those Who Stay (2013, Elena Ferrante)
Why I picked it: Third of the Neapolitan Novel series that starts with "My Brilliant Friend."
What it's about: In the early 1970s, Elena leaves Naples, marries, has children. Lila stays in Naples, and her life becomes even more chaotic.
What I thought: If I hadn't read the first two, I probably wouldn't have stuck with this one. From the start of the series, Elena isn't a really sympathetic character to me; it was the interplay/conflict between her and Lila that made for interesting reading, and in this one, there's a lot less of Lila. There's also a lot less of their Neapolitan neighborhood, which was one of my favorite things about the first two books.

---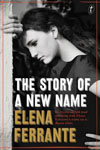 The Story of a New Name (2012, Elena Ferrante)
Why I picked it: Second book in the series that started late last year with "My Brilliant Friend," which I liked.
What it's about: Neapolitan girls Elena and Lila from their mid-teens to early 20s, in the late 1960s.
What I thought: I liked this one about as well as "My Brilliant Friend." It continues the theme of the girls' struggles against the limits imposed against them as young women from the lower class, even as they break some barriers academically (Elena) and economically (Lila).
What's next: Two more.

---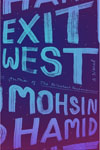 Exit West (2017, Mohsin Hamid)
Why I picked it: I know I was aware of this when it came out, and I thought, I read a lot about refugees already and, sympathetic though I am to their plight, I think I can skip this novel. Then, recently, two times in two weeks I ran across favorable mentions, and one was from Jonathan Lethem raving about it, so I put it on my list.
What it's about: Two young people meet just as the Islamic insurgency in their unnamed city is ramping up from somewhat restrictive to dangerous. After a few months, they decide to flee together.
What I thought: The description of the pre-refugee lives of Nadia and Saeed made me think a lot about what it must be like to see your life gradually and then suddenly became something so unfamiliar. In that way, it was like some things I've read/seen about the early days of the Holocaust — "The Plot Against America," or "The Pianist."
The writing style is a little like that of that of a fairy tale or fable, which makes sense when the big plot twist is introduced. (I have a sense that my limited audience is not that concerned about spoilers, but here's the boilerplate warning. Stop, or be informed.) There are portals all over the world, geographic wormholes that can spit you out halfway around the world. Nadia and Saeed pay someone to direct them to one of these doors. From that point it becomes somewhat magic realism, or maybe science fiction, portraying an alternative present or near-future in which sometimes unlikely neighborhoods are all of a sudden flooded by people fleeing war or poverty or natural disaster. The experiences of people other than Nadia and Saeed are recounted in vignettes — for instance, a young Mexican woman who had gone through a portal comes back through it to retrieve the child she had left in an orphanage when she went to find work.
Once it became less a social/political story and more about the evolution of Nadia and Saeed as a couple, it wasn't quite as interesting to me, but I still liked the speculation about how certain areas (including one I know well) might be very different if they were at the end of a portal.

---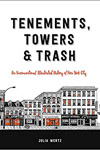 Tenements, Towers & Trash: An Unconventional Illustrated History of New York City (2017, Julia Wertz)
Why I picked it: Saw this in the library and recognized the drawings of an artist who does a lot of architectural/historical features for the New Yorker.
What it's about: Large-format book of mostly drawings of New York buildings, focusing on how specific buildings and blocks have changed over the decades.
What I thought: This is the kind of thing I really like, though I'm sure I would have liked it even more if I had more familiarity with New York. I like the way Wertz draws buildings and architectural elements. I'm less enamored of her cartooning and her prose. Many of the pages are paired drawings of a strip of three or four buildings in different decades. She sprinkles in essays on certain topics (punk rock, garbage collection, secret bars) that I found a little hard to read because 1) they were hand-lettered in all caps and 2) I was put off by her extremely colloquial description.


---

My Life in Middlemarch (2014, Rebecca Mead)
Why I picked it: I was rereading "Middlemarch."
What it's about: Mead, a big fan of "Middlemarch" since her teen years, writes about George Eliot's life and work and weaves in her own personal history and her evolving thinking about the novel.
What I thought: I'm glad I read this. It helped me come to grips with some of the elements of "Middlemarch" that kinda bugged me, and it has some enlightening passages about literature in general. It's much better than the only similar book I've read, "So We Read On," about "The Great Gatsby."

---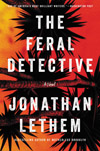 The Feral Detective (2018, Jonathan Lethem)
Why I picked it: I like Lethem's novels, particularly those that are a twist on the detective genre.
What it's about: New Yorker Phoebe comes to Southern California and teams up with a private detective to look for her friend's missing daughter among some strange encampments in the Mojave Desert.
What I thought: This is now my favorite of Lethem's novels except for "Chronic City." This one is a headlong tumble through a neonoir Southern California seen through the eyes of a New Yorker, bemused by things as quotidian as the In-N-Out secret menu and as far-out as the Integratron. (This follows. Lethem has been teaching since 2011 at Pomona College, in the endowed post once held (and declared a "lottery prize") by David Foster Wallace.) I kept thinking it was very cinematic in its imagery and its form, practically written as a screenplay. There's one scene in particular, in a raggy-ass collection of carnival rides out in the desert, that I could practically see unfolding. The novel starts right after the 2016 election and has as a subtheme the era of Trump, with its attendant alienation and tribalism.

---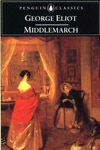 Middlemarch (1871, George Eliot)
Why I picked it: I read this one about 12 years ago, and found it somewhat tough going. Now, having had more experience with 19th-century novels, I thought I'd try it again.
What it's about: Intertwining stories about families in an English Midlands town around 1830, focusing on marriage and inheritance and reputation.
What I thought: It was much easier reading this time, but it still seemed pretty humorless to me — Celia I found funny, but that's about it. Oh, and the little woman who "makes noises like a beaver." Not that all novels, or even all 19th-century British novels, have to have be funny, but this one I found way too sober and serious all the way through. It was enlightening on the subject of a woman's social and familial role during this time; that's about the best I can say about it in the way of a recommendation. Glad I gave it another shot, though.
What's next: I read Eliot's "Silas Marner" shortly after I read this one for the first time. None of her others are very high on my list. If I live a long time I might eventually try "The Mill on the Floss."

---