The 2011 List
reverse chronological order
»The Leftovers
»Superfreakonomics
»Her Fearful Symmetry
»Unfamiliar Fishes
»A Tale of Two Cities
»Golden Dreams
»Instruments of Darkness
»The Children's Book
»We Others
»The Night Bookmobile
»Miss Peregrine's Home for Peculiar Children
»The Hotel New Hampshire
»The Liars' Club
»Infinite City
»Citizens
»The Odds
»Last Night in Twisted River
»Spark
»The Fiddler in the Subway
»Something Incredibly Wonderful Happens
»The Ghost in Love
»Cinderella Ate My Daughter
»Star Island
»The Girl Who Kicked the Hornet's Nest
»Embattled Dreams
»The Return of the Native
»Brighton Rock
»A Prayer for Owen Meany
»Freedom
»The Believers
»Just Kids
»Skippy Dies
»Moby-Dick
»A Gate at the Stairs
»Humor Me
»While They Slept
»Although Of Course You End Up Becoming Yourself
»The Fortress of Solitude
»The Dream Endures


The 2010 List
The 2009 List
The 2008 List


All-time favorites
JR,
William Gaddis
Winter's Tale,
Mark Helprin
Martin Dressler,
Steven Millhauser
Housekeeping,
Marilynne Robinson
Franny & Zooey,
J.D. Salinger
Infinite Jest,
David Foster Wallace
Delta Wedding,
Eudora Welty

Honorable mentions: Paul Auster, Rick Bass, Peter Carey, Michael Chabon, Charles Dickens, Stephen Dobyns, Neil Gaiman, Thomas Hardy, Graham Swift, Tim Winton.
The books of 2011


Favorites
1. Moby-Dick, Herman Melville
2. Just Kids, Patti Smith
3. Citizens, Simon Schama
4. Skippy Dies, Paul Murray
5. Brighton Rock, Graham Greene


---

All 39 books



---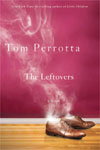 The Leftovers (2011, Tom Perrotta)
Why I picked it: I liked Perrotta's "The Abstinence Teacher" and the movies of "Election" and "Little Children."
What's it about: A family (parents, teenage son and daughter) in the months following an inexplicable event in which millions of people all over the world suddenly disappeared at the same moment.
What I thought: The Sudden Departure aside, it's very grounded in the here-now-and-real, while I like my fiction with more fantasy or invention or unusual circumstances. I didn't think the characters and their relationships here were as strong as in "The Abstinence Teacher" -- possibly because the story structure kept the main characters apart most of the time. In short, an easy, fluid read, but not one that's going to stick with me.


---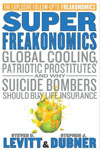 Superfreakonomics (2009, Steven D. Levitt and Stephen J. Dubner)
Why I picked it: I liked the original "Freakonomics."
What it's about: More of the franchise: reports about the economics of decisions of everyday life.
What I thought: A New Yorkerish collection of fodder for cocktail party chatter, but there's nothing wrong with that. To my taste the last part, on global climate change, went on too long and was too worshipful of Intellectual Ventures — I'm not so willing to dismiss, as the book did with one sentence, the unsavory evidence of patent-trolling. Plenty of interesting stuff, though, and it's always good to be reminded that the accepted wisdom is not the only way to interpret the facts.


---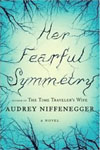 Her Fearful Symmetry (2009, Audrey Niffenegger)
Why I picked it: I was intrigued by the reviews, but I had kind of written Niffenegger off as a women's-book-club writer, on the scanty evidence of the Now-A-Major-Hollywood-Movie paperbacks of "The Time Traveler's Wife." Then on the basis of "The Night Bookmobile," I decided to give it a shot.
What it's about: Twenty-year-old twins from Chicago go to live in the London flat they've inherited from their mother's twin. A supernatural encounter and one twin's growing unhappiness lead her into a dangerous plan to make a complete break for life on her own.
What I thought: Very different kind of ghost story: Niffenegger has come up with an unusual bunch of rules for her ghosts, what they can and can't do, but it doesn't often seem forced or contrived for the sake of plot. It's not as book-clubby as I feared in its themes — symmetry, repetition, shared identity. And the ending is definitely not the easy Hollywood thing.


---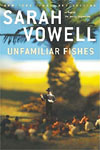 Unfamiliar Fishes (2011, Sarah Vowell)
Why I picked it: U.S. history, and I like Vowell's approach. She can be funny, but she's more a history geek than a humorist.
What it's about: Hawaiian history from the arrival of the first U.S. missionaries until the annexation.
What I thought: It's a short book on a fairly short slice of history, but it fits well into my 19th-century U.S. reading. It also dovetailed with Vowell's "The Wordy Shipmates" in its focus on religious forces in the origin and expansion of the nation. As usual, my impression of Hawaiian history was more compressed and less nuanced than the reality. It's not just "white people arrive, depose the native leaders" — there was a lot of overlap and collusion.
What next: "Hawaii's Story by Hawaii's Queen," by Lilioukalani.


---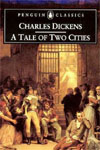 A Tale of Two Cities (1859, Charles Dickens)
Why I picked it: I'm working my way through Dickens. I had waited on this one until I did more historical reading on the French Revolution.
What it's about: Because of the aristocratic dogs in his family tree, a righteous man runs afoul of the bloodthirst of the French Revolution.
What I thought: This one left me pretty cool. It lacks the humor and whimsy that characterizes even the more serious of Dickens' novels that I had read to this point. "David Copperfield" is occasionally hilarious, and "Great Expectations" has some delightful characters, and "Bleak House" has a wonderful surreality. Many of "Two Cities"' characters, even the major ones, are kind of flabbily drawn. I, sadly, have come to expect that of Dickens' women, but here even the hero Charles Darnay is bland and bordering on treacly. Sydney Carton starts out as a pretty interesting character, especially when yoked to his obverse, Stryver; he too ends up as a vanilla saint.
The story has a few interesting scenes — I particularly liked those with Charles' evil uncle, and the final confrontation between Mme. DeFarge and Miss Pross — but near the end it was mired in melodrama. You could see coming a long way off what Carton intended to do. The only suspense was how he would accomplish it, and even that melted away with a few prosaic details. I realized I didn't really want to see the guillotine scene; I would have preferred to be with the family in the coach when Darnay woke up. Maybe that's partly because I got tumbrelsful of guillotine in "Citizens," but I'd also argue that the end of "Tale" is soppy and undramatic.
Movie? There have been several versions, notably the Hollywood adaptations of 1935 (Ronald Colman as Carton) and 1958 (Dirk Bogarde). In 1980, there were a BBC miniseries and a TV movie, each using one actor as Darnay and Carton. Without having seen either production, I'd say that was a mistake, but it's probably pretty hard to find two actors who look enough alike to justify the crucial plot point.
What next: "Our Mutual Friend," but not right away. I've also twice checked out and failed to start Michael Slater's 2009 biography of Dickens.

---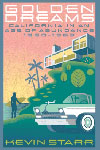 Golden Dreams: California in an Age of Abundance, 1950-1963 (2009, Kevin Starr)
Why I picked it: No. 7 in the California history series by the state librarian.
What I thought: More than the others in the series, this one seemed like a collection of essays rather than a chronological narrative. There wasn't much continuity or flow, and I also found myself reading large passages on topics covered in the previous volumes, here presented as background. Even within the book there was a lot of repetition (Which I've come to expect with Starr).
Choppiness aside, I think Starr covered his historical bases, with all the relevant political and sociological topics. And some of those that I would have said were unnecessary actually stuck with me -- the jazz chapter, for instance, on the Charlie Parker/Chet Baker/Dexter Gordon scene in Los Angeles and Dave Brubeck/Paul Desmond in San Francisco. (I do not, alas, have any brain for jazz. It's one of those areas where I just have no taste for something I would really like to enjoy. Like dim sum.)
The best two topics/threads in my estimation were on the generation that reached maturity just after World War II and on the "California cool" design esthetic. Both my parents were of the cohort that Starr calls the Silent Generation (those born 1926-1944); their high school is mentioned a couple times as an example of California's new megaschools. A small generation between the bulges of the World War II fighters and the Baby Boomers, they were, Starr says, expected to become adults early and as youngsters they (unlike the kids 10 years younger) were kept on a short leash by adults leery of cultural changes.
The design chapter refers to a Southern California exhibit I'm sorry I missed a few years back. Starr sees the "cool" period as reflecting rootlessness, a detachment from tradition and a we-might-die-tomorrow response to Cold War uncertainties.
What's next: Starr has written one more volume, covering 1990-2003, which was published before this one, I suspect to capitalize on the national spotlight afforded by the gubernatorial recall. I also suspect that this No. 8 ("Coast of Dreams") will be of the essays-strung-together format.
I have read implications that Starr is done with the series, that there will be no 1964-1989. I hope that isn't the case; I would really like to read those. If it is the case, I'll always have "Inherent Vice," about as perfect a snapshot of L.A. in 1970 as I could imagine.


---
Instruments of Darkness (2011, Imogen Robertson)
Why I picked it: It got good reviews, and I like the idea of a mystery set in 18th-century England.
What it's about: An unlikely pair on the fringe of Sussex village life — a reclusive amateur anatomist and the restless wife of an officer who's at sea — investigate a series of ghastly deaths that seem linked to the local nobleman's family.
What I thought: This dovetailed with some of my recent reading set in late 18th-century Europe, and it has specific historical events as backdrops, which I liked. There's an Age of Enlightenment theme, but there's also a gothic, Brontean feel, especially in the big blowout ending. The modern element is the structure: It hops between the village, related events going on in London and flashbacks to the American Revolution.
In a book with as many characters as this there's a risk of resorting to caricature for some, but Robertson (a first-time novelist, by the way) avoids that pretty well. I would quibble that the young heroine Susan is improbably mature for 9; I still liked her. The mystery is not that intricate — instead of big CSI trickiness, there's a ruthless, conniving man who takes advantage of some information he happens upon.
Movie? A lot of the scenes, particularly at the end, are just made for the movies.


---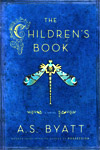 The Children's Book (2009, A.S. Byatt)
Why I picked it: This was one I abandoned after 150 pages last year when I tackled it in print. I had other stuff piling up, and it is a big, deliberately moving book. But I left the door open to picking it up in audio form, and that's what I did. Even on the commute, it took more than a month.
What it's about: Five families of an artsy, progressive type in the southeast of England from the last years of Queen Victoria through World War I.
What I thought: The book's 675 pages (or, in this case, 24 discs) are not really enough for its scope: more than 20 years, and the 16 children of the five families, plus their households and more farflung relatives. In detailing the maturing of the children in a time of political upheaval and changing roles, it hops from one to another and sometimes goes on for pages of straight historical recitation. Lucky for me, I like reading history.
I wouldn't recommend it for someone expecting an epic, character-driven novel. The various travails are described in a straightforward way, even dryly. At the very end, the magnitude of the war's toll on British families can't help being affecting, but Byatt maintains her cool tone. I wouldn't say she was detached from her characters, though: The inner lives of some of them are finely drawn, which saves them from being archetypes of the time (the Striving Young Woman Who Puts Career Before Societal Expectations, the Nature Boy Too Sensitive for the Modern World, the Artist's Son Who Will Never Go Hungry Again).
I remembered halfway through that it was Byatt who had written, several years before this book was published, a much-commented-upon criticism of the Harry Potter books ("why would grown-up men and women become obsessed by jokey latency fantasies?"). The similar cultural dominance in the early 1900s of works that previously would have been relegated to children (by Kenneth Grahame, Edith Nesbit, J.M. Barrie, and the novel's materfamilias Olive Wellwood) underpins the political and family themes.
What's next: Among the many writers mentioned in this book, the two I put on my list were H.G. Wells and William Morris.

---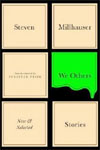 We Others: New and Selected Stories (2011, Steven Millhauser)
Why I picked it:On the free table. I probably would have sought it out anyway. Millhauser's novel "Martin Dressler" is one of my all-time favorites, and though I prefer long form to short stories these days, I've read and liked a lot of his stories.
What it's about: Seven new stories and 14 old ones. The title story, a new one, is a very unconventional ghost story.
What I thought: A little Millhauser goes a long way. He is the expert at creating worlds, at telling of slightly sinister obsessions and of unsettling changes experienced by "normal" people, sometimes whole towns of them. I read all the new stories and some of my favorites of the old ones, and I kept the book.
Movies: "The Illusionist," loosely based on a story in this collection, was one of the two 2006 Hollywood movies about fin-de-siecle magicians. It's worth watching, as is the other, "The Prestige".

---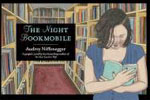 The Night Bookmobile (2011, Audrey Niffenegger)
Why I picked it: I saw it on an endcap in the library, and I liked the idea of a night bookmobile. When I saw it was written by a best-selling novelist, I was even more curious.
What it's about: I guess it could qualify as a very short graphic novel, but really it's a picture book for adults. Niffenegger is actually the artist. It's about a woman who one night wanders into a bookmobile that, oddly, contains everything she has ever read, and nothing else. The encounter changes the course of her life.
What I thought: The story is not bad, but I was more intrigued by the origins (revealed in the author's notes) and the artistic process of the book, which was originally serialized in the Guardian.

---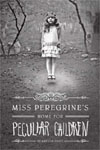 Miss Peregrine's Home for Peculiar Children (2011, Ransom Riggs)
Why I picked it: I saw a mini-review or maybe just an ad for it, and it looked interesting. It's billed as "young adult," but it seemed darker and spookier than the usual kids-with-special-powers stuff on the best-seller list.
What it's about: OK, kids with special powers. They live in a time loop on a Welsh island, where it's always the same day in 1943. Sent by his dying grandfather, who used to be one of the kids until he left the loop, Florida teenager Jake discovers the time portal and pieces together some mysteries of his grandfather's life.
What I thought: The first night this book was in the house it disappeared into the time portal that is Alex's bedroom. I had been thinking about reading it with her as a bedtime story if it wasn't too mature, but she made that decision herself and raced through it on her own. She is, as I write this, working on her book report.
She liked it more than I did, but I thought it was better than much of the heroic-kid stuff I've read with her. (My favorite is "The Mysterious Benedict Society," and I also liked Lemony Snicket. Rick Riordan I like OK; "The Emerald Atlas" I'd give a coolish thumbs-up; Harry Potter I wasn't a fan of). It isn't as spooky as the photographs suggest, but it's darker and more sophisticated than its competition, and it's also funnier. The characters and dialogue are better, too. The writer has a filmmaking background, and the book has some great cinematic scenes. One I loved: There's a kid whose talent is animating lifeless objects or dead things, and he's trying to resurrect a corpse long enough so it can reveal its killer, but the heart he's using to jump-start it, as it were, doesn't have quite enough juice.
Movie? There should be. The way it ends also leaves the door open to a sequel, which I would probably read, but sometimes I wish every successful kids' book didn't have to be part of a series.

---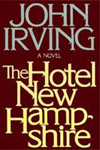 The Hotel New Hampshire (1981, John Irving)
Why I picked it: I've been reading/rereading some Irving, and I actually own this one, a birthday gift when I was 19.
What it's about: A family that runs a hotel in New Hampshire and then one in Vienna in the 1950s.
What I thought: Maybe I'm Irvinged out. In the past few months, I read "Last Night in Twisted River," re-read "A Prayer for Owen Meany" and watched the movie of "The Cider House Rules." Or maybe it's that so much of most Irving is in the plot that it's not a real satisfying repeat read. At any rate, I tired of this one two-thirds of the way in and ended up rushing through the rest. What I remembered from my reading 30 years ago was the quirkiness and the humor; there's also a lot of sexual weirdness, which is not offputting but I just didn't remember that much of it. Maybe one day I'll try "Garp" again and see if I experience the bolt of whimsical lightning.
Movie? I haven't seen it since it came out and I don't have strong memories of it. On paper, it has some selling points: Tony Richardson, Jodie Foster, Nastassia Kinski, Beau Bridges. I'm skeptical, though, of Rob Lowe in the narrator role.


---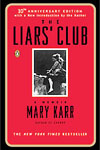 The Liars' Club: A Memoir (1995, Mary Karr)
Why I picked it: Got good reviews, and I generally like childhood memoirs.
What it's about: The unhinged 1960s childhood of the daughter of an East Texas refinery worker and a high-strung would-be painter.
What I thought: Engaging; not as horrific as many of this genre are in detailing abuse. Despite the upheaval and the bad behavior by adults, Karr maintained a relationship with her parents into her adulthood, and this book doesn't have the hopeless, unloved undercurrent of some childhood memoirs, the Copperfieldian climbing out of a hellish situation. Particularly interesting is Karr's strong bond with her only sibling, an older sister who reacts much differently to the chaos of their lives.
In the early going, I was skeptical of the literal accuracy of many of the accounts. Who has such detailed memories of, say, a visit to the zoo as a 6-year-old? But the way in which Karr details what she can and can't remember made me more willing to allow that she might have a particular capacity for recalling vivid snapshots from her childhood. And having an 8-year-old makes me inclined to believe some of the young Karr's wilder assumptions, such as that "eat me raw" is as acceptable a response to a grown-up as "kiss my ass."
The book this reminds me most of is Tobias Wolff's "This Boy's Life," and it turns out Wolff was a mentor of Karr's during the writing of "Liars' Club."
Next: Karr, who identifies herself primarily as a poet, wrote two other memoirs, "Cherry" and "Lit." I'll keep them on my lst, though I suspect I'll be less sympathetic to the grown-up Karr. One hint: In the coda to "Liars' Club," she comes home as a young adult and spends a lot of time on the phone with her therapist asking him how she can talk to her mother.


---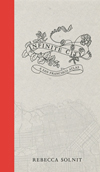 Infinite City: A San Francisco Atlas (2010, Rebecca Solnit)
Why I picked it: I ran across a mention of this I don't remember where, probably something local, and I thought (as I did with "Wisconsin Death Trip") wow, is there really a book like that? Mashup maps plus San Francisco history. That is a wafer cone with my name on it.
What it's about: What I thought it would be is a bunch of crazy mapheads plotting their obsessions. It actually turns out to be more artsy and political and twee.
What I thought: Not that there aren't some good things. But whereas "Wisconsin Death Trip" was not only as advertised but so much as advertised that it got kind of oppressive and creepy, "Infinite City" is mostly filled with small-print essays. I get enough writing. I want stats and cartography. And not very many of the maps appealed to me. My favorites: Cinema City (all the 1958 movie theaters, extant and defunct, plus sites from "Vertigo" and from the life of Eadward Muybridge), Graveyard Shift (industrial facilities of 1960 and bars open at 6 a.m.), Lost World (South of Market in 1960 Ð that one you could spend a long time on). Those tell you about the life of the city and how it has changed. But some of them are just pointless, like mapping "some of" the cypress trees with all the 2008 homicides, or butterfly habitats with "queer public spaces." And some are just too Berkeley: "Right Wing of the Dove: the Bay Area as conservative/military brain trust."
So in the end, intermittently diverting , and not something I'd buy for my personal collection. One other thing I liked: interesting binding. I spent as much time examining the block and the spine as I did many of the maps.


---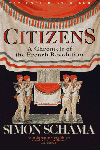 Citizens: A Chronicle of the French Revolution (1989, Simon Schama)
Why I picked it: I'd been meaning to do some solid reading about the French Revolution, partly for its own sake and partly as background for other reading on my list.
What it's about: History of the French Revolution as a chronological narrative (rather than organized by topic) from 1778 to 1794, plus epilogue.
What I thought: It will be odd after so many weeks not to see this brick lying around the house (or the tent, as it did log some East Sierra time). At 875 dense pages, it took pretty much the whole summer to read. The Bastille doesn't even fall until 400 pages in. And here you thought I'd just given up reading.
I don't regret choosing the weighty one. I'd rather read a huge history that covers all the bases than some for-dummies version. This one does assume some prior knowledge of the characters and the events, and it expects the reader to do some connecting of dots. It even throws in some untranslated French. In this it's unlike my main historical reading these days, Kevin Starr's California series, which in the interest of not losing the reader repeats a lot of things. Schama doesn't repeat much, or at least not just to make sure you got it the first time. But despite that, and despite its size, there are few errors of continuity Ð e.g., people showing up with just last names.
I appreciated that, though it's overall a dense read, the book is liberal in its use of contemporary art, that being Schama's specialty. As it turns out, my art-history-heavy base of knowledge (All I Know About the French Revolution I Learned from Jacques-Louis David) is not a bad place to start from. I also was glad of my chance reading last year of "Rousseau's Dog," because Schama assumes you've got a handle on Rousseau.
Even going in knowing David's dramatic images, the story is wilder than I expected. My principal misconception was a telescoping of the events: Bastille is stormed (Porkwa? Zhe nye pah-de-day), they cut off the king's head, they cut off the queen's head, boom boom boom. But another of my wrong assumptions is that the violence, particularly the use of the guillotine, had been played up in popular representations, and it turned out that isn't the case. The brutality is just stunning, and it goes on for years. It would be laughable how few prominent figures escaped decapitation if it weren't so horrifying.
So I guess what goes on my list now is a good history of the American Revolution, so I can compare them. Maybe I can even find a book that compares them for me, but though I can't claim to have retained every word of "Citizens," I think I absorbed enough to do a creditable A/B myself.
What else next: One of the best things about finishing a huge book is the giddy feeling you get when for the first time in months you walk into a library to pick something new to read. But this is the part where I think about related material. Maybe de Tocqueville, who has a cameo in the last pages of "Citizens" as the infant great-grandson of Malesherbes and who is currently residing in my iPad. And of course, "A Tale of Two Cities," which I've been putting off until I got the historical underpinnings in place. I'd go for Schama again, too, perhaps "Landscape and Memory," which is only 650 pages.
Movies: In reading this I had occasional flashbacks to the barely remembered "Marseillaise," which I saw in a class about Jean Renoir. I remember thinking then that it was pretty flimsy (a movie about a song!) but now I'm tempted to watch it again, if I could find a copy. (Ha. Good old Peninsula Library System has a three-disc set of obscure Renoir that includes this undoubtedly qualified gem.)
Also lukewarmly tempting: Andrzej Wajda did a French/Polish "Danton" in 1983, with Depardieu in the title role and a whole bunch of people I never heard of. (Library availability: eight copies, and all eight on the shelf. Update: Kate Beaton recommends it, and that's worth something.) I saw Sofia Coppola's "Marie Antoinette," which is better than you might expect given its widespread criticism as silly. Schama did a BBC series on art and history that has a whole episode on "The Death of Marat," which I could definitely look at for an hour. (Library: yes, including at the branch just up the hill, which imposes a two-hour limit on the eight-hour series. That's what 4X is for.) And of course there are all those versions of "A Tale of Two Cities." Also, if you have not seen it, check out the video of Serge Gainsbourg's rendition of the aforementioned French national anthem. Here, I make it easy for you. It's hilarious.


---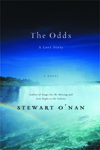 The Odds: A Love Story (2012, Stewart O'Nan)
Why I picked it: It was on the free table (thus the future publication date), and it was short enough (179 pages) to be a quick breather from the French Revolution without my losing what little momentum I had there. And I really liked O'Nan's "Last Night at the Lobster," though I'm lukewarm on the two other of his novels I'd read.
What it's about: A 50ish Ohio couple who have decided to declare bankruptcy and get a divorce take one last trip together, to Niagara Falls, where they plan to bet all their remaining cash on the roulette wheel.
What I thought: The novels of O'Nan's that I've read are inside-the-head stories without a whole lot of action. (He does have a reputation as a strong cross-genre writer, but the four I've read are the introspective novels.) At his best ("Lobster") he lets you inhabit someone else's world, but you could just as easily close one of his books thinking, "Gee, was that it?" (It makes sense that he cites Terence Malick as an influence.) In "The Odds," not a whole lot happens (but how much can actually happen in a half-size novel, so right there you have to cut him some slack) but I became fond of Art and Marion, with whom I had felt very little connection at the beginning. I ended up with strong mental images of their weekend, without having much personal familiarity with Niagara Falls (one drive-through 25 years ago, and Jim and Pam's wedding). So I guess he's up a notch or two in my estimation, maybe even enough that I'll try his new "Emily, Alone" though I wouldn't say I want to read a novel about an elderly widow.


---
Last Night in Twisted River (2009, John Irving)
Why I picked it: Needed an audiobook for the commute, and I had enjoyed revisiting Irving's "A Prayer for Owen Meany."
What it's about: A 12-year-old boy's big mistake puts him and his father on the bad side of a vengeful police officer in a New Hampshire logging town, so they go on the run for 50 years.
What I thought: This book is something of a departure from the accepted Irving template. It has many of the usual elements — a single-parented boy who becomes a writer, bears, dogs (one notably flatulent), wrestling, prep school, New Hampshire — but it plays with with the reader's expectations (and assumed knowledge) of a famous popular novelist. Just now, when I was grabbing the cover image, I came across a review whose thesis was "There is a good story buried in this novel." In my ranking of Irving's books I'd say this is not higher than middle of the pack, but I'm inclined to cut him some slack, to accept that he should challenge some expectations after 40 years of giving us memorable stories. Here, the story is not really much -- there's a big event early on, and one near the end, and in between it meanders -- but I liked the characters and I liked the insights offered into the writing process.

---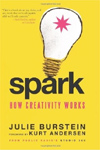 Spark: How Creativity Works (2011, Julie Burstein)
Why I picked it: I heard it touted by Kurt Andersen on "Studio 360," a favorite radio show of mine; the author is the show's producer. I thought at best I'd learn something from it and at worst I'd read profiles of interesting people.
What it's about: The title is pretty much what it wanted to be about.
What I thought: I figured it would draw on the people profiled on "Studio 360" to focus fairly narrowly on the creative process. Instead, it was pretty much straight excerpts from the show, and most of them I had heard already, so I didn't get much out of this. (My favorite book about creativity is Simon Doonan's "Confessions of a Window Dresser.")


---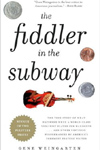 The Fiddler in the Subway (2010, Gene Weingarten)
Why I picked it: Looking for light trip reading.
What it's about: A collection of articles by Washington Post writer Gene Weingarten.
What I thought: I had read two of the stories before, the two that won the Pulitzer: the title piece about having world-class violinist Joshua Bell play in a Metro station to see if anybody would notice (which is better online because it has the video), and a totally crushing look at parents whose children died when they were accidentally left in a car. Both of those were excellent, deserving of a Pulitzer, but my favorite was the one Weingarten says is his favorite, a thoughtful and surprising portrait of D.C.'s most in-demand party clown, a man with unexpected demons.


---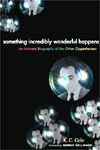 Something Incredibly Wonderful Happens (2009, K.C. Cole)
Why I picked it: General interest in creativity and methods of innovation, and a particular interest in the Oppenheimer saga.
What it's about: Biography of Frank Oppenheimer focusing on his creation and supervision of the San Francisco science museum the Exploratorium.
What I thought: The part of Oppenheimer's life most suited for a conventional biography is pre-Exploratorium, and Cole does a good job of telling of his mistakes and travails and how they form a counterpoint to those of his famous brother, Robert. Once we're at the Exploratorium, the upheaval is on a smaller, daily scale; there is considerable repetition in the anecdotes and remembrances of the second half of the book. Still, a nuanced and loving portrait of a complex man, and I'm glad I read it.


---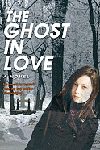 The Ghost in Love (2008, Jonathan Carroll)
Why I picked it: I was looking for an audiobook, and this one sounded like it leaned toward the magical realism that characterizes some of my favorite books.
What it's about: After surviving an injury that would have killed most people, Ben Gould starts having out-of-body experiences. His behavior in his distress drives off his girlfriend, but she is drawn back when the weird events expand, involving a talking dog, a reincarnated lover, a gourmet-chef ghost, a killer hobo, time travel and multiple Ben Goulds.
What I thought: As with many stories of this genre, the events start out fairly realistic and then begin to incorporate the magical elements. At one point a couple chapters in I was delighted by the way it seemed to be heading as a quest to put together the pieces and figure out why this is happening to Ben. But it kept piling on the magic, and I despaired of keeping the why and how straight in my head. At points it seemed like every odd, amusing idea the author ever had was tossed into the mix. (I see Mr. Carroll describes himself as a hyperfiction writer. Possibly this story would work better in a format other than traditional book.) And it was odd and amusing, and not unsatisfying, but in the end I would have wanted something a bit more contained.
Next: I'm glad I happened upon this, and I'm surprised I haven't run across Carroll's work before. I'll definitely put him on my list.


---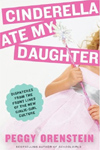 Cinderella Ate My Daughter (2011, Peggy Orenstein)
Why I picked it: Issues of interest to me because I have a daughter.
What it's about: The recent rise of the "girlie-girl culture" — encouraging girls to have very different interests and values from those of boys — and its possible effects on those girls as they grow up.
What I thought: The notes indicate Orenstein did a lot of research, but this book is largely anecdotal: stories of the author's own daughter and friends. I would have liked something more meaty, with more historical and social perspective — particularly a little more on why the shift, assuming it is not totally driven by marketing. It's also hard for anyone to draw conclusions on long-term effects, as this particular trend is about 10 years old. So Orenstein presents different aspects of the trend (Disney princesses, child beauty pageants, American Girl dolls) and muses on their implications, and that's about as far as it goes. To her credit, she doesn't always charge onto the easy "ain't it awful" path — particularly easy for a lefty Berkeley mom — but her occasional ambivalence just adds to the soft feel of the book.


---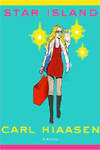 Star Island (2011, Carl Hiaasen)
Why I picked it: I wanted some light reading for vacation.
What it's about: Through her gig as a look-alike life stand-in for a train-wreck teen pop star, an actress becomes entangled in a paparazzo's shakedown scheme.
What I thought: I suppose I should try to say enough to at least fill out the wrap around the book image. I like Hiaasen. His novels are enjoyable and clever reading, if not terribly thought-provoking. My favorite is one of his earliest, "Double Whammy" (1987), set at a bass tournament and marking the debut of the wonderful character Skink. He's in all Hiaasen's even-numbered books for adults, and this being No. 12, Skink is here, too. I had thought that Hiaasen's recent books, particularly the non-Skink ones, were tromping much the same territory: Beautiful, smart young woman realizes her husband/fiance is a jerk and stumbles into adventure, often of the eco-warrior type, while running from him. "Star Island" has as its main character a beautiful, smart young woman, but the plot charts a slightly different path.


---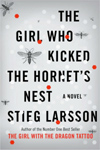 The Girl Who Kicked the Hornet's Nest (2007, Stieg Larsson)
Why I picked it: I really liked the first book in the trilogy, and the second was pretty good.
What it's about: While hacker Lisbeth Salander, now a murder suspect, is confined to a hospital after her near-fatal encounter with her evil father, she and journalist pal Mikael Blomkvist investigate a government cover-up concerning the secret police's protection of said father.
What I thought: If this had been the first in the series, I probably would have abandoned it a few chapters in, amid the talky, rather heavy-handed set-up of the government plot. Even when the story emerges from that lengthy piece, it doesn't spend much time with its prime asset, Lisbeth Salander. The other hero, Mikael Blomkvist, has become a sort of journalist James Bond, not really likable as a person.
The official word is that Larsson had finished all three books before he died, though none was at that time published. Reading this one, I wondered how finished it actually was. Though the first book was definitely wide-ranging, the structure held together. This one had a couple major plotlines that seemed tacked on, and a fair amount of prose that came across as writing for the sake of filling space.
The themes of misogyny and violence against women, which are strong throughout the trilogy, for me became a little creepy in this one. The descriptions of such acts, even though those acts were presented as loathsome, struck me as somewhat voyeuristic and exploitative in themselves. And I think I would feel the same way had the writer been a woman.
In short, I think this book wastes Salander, who is a great character.


---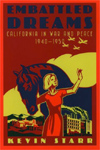 Embattled Dreams California in War and Peace, 1940-1950 (2002, Kevin Starr)
Why I picked it: No. 6 in the series. I'm gaining on you, Mr. Starr.
What it's about: California in World War II and the immediate post-war era.
What I thought: Starr's books are getting easier and easier for me to read, I suppose because the more recent years have more familiarity and resonance for me.
This one had a slightly different format than the previous five: Each of the 11 chapters is keyed to a specific year and a specific event or issue of that year (1943 Zoot Suit, 1947 Black Dahlia), and it spins off to a broader examination of that topic. I thought it worked really well. (It didn't quite eliminate the duplication I've grown accustomed to in Starr: The number of times we're told that pachucas favored sheer blouses verged on indecent.)


---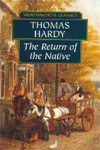 The Return of the Native (1878, Thomas Hardy)
Why I picked it: I had another audiobook lined up, "A Tale of Two Cities," but I knew I ought to read more French Revolution history before I did that one. So when I saw this, I was ready to make the switch. It was one of the two major Hardy novels that I hadn't read, and it also has a loose thematic tie to "A Prayer for Owen Meany," which I'd just finished.
What it's about: A tragic romantic pentagon of twentysomethings on the English heath, over the course of one year and one day (plus epilogue) in the 1870s.
What I thought: I liked it, but I would put it behind all the major Hardys except prickly old "Jude." I wish Thomasin had been written strong enough to hold her own against the unlikeable Eustacia. The two women are set in opposition, and the bad girl gets all the good action while Thomasin comes off wimpy and pale. At least in "Madding Crowd," there was no pretense of even letting the Eustacia-like Bathsheba share the spotlight.
I could have accepted it without the tacked-on happy ending, the least compelling part of the novel.
And as always with Hardy, I was a) in awe of his pre-cinema cinematic imagery, and b) wishing I was tromping around Wessex.
Movie? Have not seen the 1994 Hallmark Hall of Fame version, but I can't argue with the casting of Catherine Zeta-Jones as Eustacia and Clive Owen as Wildeve. My favorite Hardy movies are Polanski's "Tess" and Michael Winterbottom's "The Claim" ("Casterbridge" in the Sierra).
Next: I guess now I need to read the remaining one, "The Woodlanders," which seems to be considered the least of the majors though I read that it was Hardy's own favorite.


---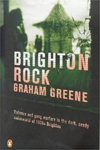 Brighton Rock (1938, Graham Greene)
Why I picked it: I've been meaning to give Greene another chance, and I leaned toward "Brighton Rock" because of the 1947 movie version and my fondness for beach town settings.
What it's about: The cat-and-mouse conflict between teenage thug Pinkie, who has married a hapless young waitress to neutralize her as a possible witness in a murder case, and middle-aged good-time girl Ida, who is driven by her conviction that there was wrongdoing in the "natural" death of a man she barely knew.
What I thought: The characters are very well-written, and though there's not a whole lot to the story the plotting is good. The religious elements of the ending aren't as annoying as in "The End of the Affair" but didn't add anything for me. In fact, I wasn't buying what I think Greene was selling — I still saw Pinkie as unredeemable and Ida as righteous and brave, and waitress Rose I just wanted to smack (or at least force to listen to that record Pinkie made her).
Movie: There are two, the 1947 version, a tour de force for Richard Attenborough as Pinkie, and a new version out this year, with Sam Riley as Pinkie (I liked him in the Joy Division movie "Control") and Helen Mirren as Ida. I know Mirren can play ballsy, but the intelligence that shows through in all her roles isn't really called for here — Ida is more bulldog than detective. It's a period version, mid-1930s in Brighton, but this actually could work in the modern day, in England or the U.S. or anywhere. The only tweaking would be in the occupation of Fred Hale, whose murder kicks off the chain of events.
Update, after having seen the 2010 movie: OK, it's not set in the book's time period — it's 1964. I'm not sure why. There's a youth-rebellion subtheme, with a big mods-vs.-rockers scene, but that's sort of abandoned about halfway through, leaving the random Vespa as the only vestige of the 1960s. Even the costumes could pass for the '40s. And Mirren does not play the book's Ida. In this movie, Ida is the smart, tough proprietress of the restaurant where Rose works, with only a hint of the former party girl. I like the character better, but it does alter the dynamic a lot. Fred Hale is quite changed as well, but those changes do less alteration of the structure. The ending tacks on two codas, one with Ida and Corkery (John Hurt), and one with Rose and the record that Pinkie made for her.
Sam Riley is good, Mirren is always good, Andrea Riseborough I hadn't seen before but she's a very good Rose. I might have a little more understanding of the character now.
About the ending: Both movies deviate from the book in the same way when they reach the final scene involving the story's McGuffin, a recording of Pinkie which Rose treasures but has never listened to. My reaction was, wow, that's a big change — but Greene reportedly was fine with it, saying that Rose would no doubt listen again and have an experience more in line with that implied by the book, and I can see that point. (Sorry about the vagueness there. Didn't want to spoil anything.)

---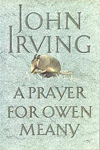 A Prayer for Owen Meany (1989, John Irving)
Why I picked it: I was looking for an audiobook, and when I saw "Owen Meany" I had to smile. I think fondly of Irving, especially of "Garp" and "Hotel New Hampshire," which came out around the time I finished high school. I suspect his critical rep has suffered because of his popularity, but Irving can tell a great story. Though I haven't read the few he's written since "A Widow for One Year'" (1998), I've been thinking about rereading "Hotel NH" (I still have my hardback from 1981) or maybe listening to his latest, "Last Night in Twisted River." "Owen Meany" breaks the Irving stereotype by lacking bears and wrestlers, but I remembered liking it on first reading, and it was a particular favorite of my mom's.
What it's about: Bachelor schoolteacher John Wheelwright looks back from the mid-1980s on his youth with the singular Owen Meany, his great best friend despite having accidentally killed John's mother.
What I thought: It's interesting to see what one remembers of a book read 30 years ago, especially one by a master of the indelible moment such as Irving. When someone says "Garp" to me, I instantly have at least half a ViewMaster reel of moments: the car accident in the driveway, Bonkers' ear stuck to Garp's face, the condom on the doorknob, Garp chasing the neighborhood speeder .... For "Owen," I remembered Tabitha Wheelwright's death and of course THE VOICE, but my main image was of people in a dim room with one little window near the ceiling. Thing was, though I had the sense it was a tense, pivotal moment, I didn't recall what exactly occurred. So throughout my listening I was piecing together how it was going to lead to that room, and I put it all together maybe 20 pages before it took place. I hadn't remembered the focus on religion, or perhaps more accurately on faith, and the anti-Reagan sentiment (which, though I certainly endorse it, definitely dates the book). It all worked very well for me, though; I was glad to take that trip again.
One note here on THE VOICE. Owen Meany's voice is an important character in its own right, and I think every reader must have his own idea of what it sounds like. For me the key words are "ruined" and "perpetual scream," as if destroyed by breathing rock dust. I could maybe give a credible rendition for a few words, but it would be impossible for me to sustain beyond that. I remember my mom saying, "How could they ever make a movie of this? They could never get the voice right." (More on which below.) So, with the audiobook, I was waiting for the first appearance of THE VOICE. And of course it was nowhere near right, just squeaky and nasal. But I figure this is just the audio version of the ALL CAPS. It doesn't really mean that's how the voice sounded, it just signifies it. In your head, you fill in how it really should sound. And the reading, by Joe Barrett, is good. His Grandmother Wheelwright is particularly delightful.
Movie? Yes and no. The 1998 movie "Simon Birch" (which I haven't seen, so I can't comment on the voice) was "suggested by 'A Prayer for Owen Meany.' " As I understand it, it was made with Irving's blessing, but he was of the view that "Owen" really couldn't be made into a movie, so he asked that they use a different name, and the details, I think, have been substantially changed. I don't have any real desire to see it. I'm definitely going to rewatch "Hotel New Hampshire" after I reread it, and "Cider House Rules" is on my rewatch list. "Garp" was pretty good, but I've seen it more than once already. "A Widow for One Year" was made as "A Door in the Floor" (2004); it goes on my B list just for being one of the few Jeff Bridges movies I haven't seen.


---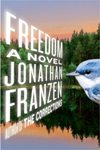 Freedom (2010, Jonathan Franzen)
Why I picked it: I didn't intend to read this so soon, but I figured I couldn't ignore it. Then I saw it on the no-reserve shelf at the library, so I took it.
What it's about: The marriage, from the 1980s to mid-2000s, of a college basketball star turned housewife and a bird-loving corporate lawyer.
What I thought: I liked the early part, about the first 20 years of the marriage and Patty's adolescence and college years. I've read quite a few books where the protagonist was the one artist/intellectual in a family of jocks, but never the other way around, and though I don't have a deep understanding of her mindset, I sort of liked the character. Then she has a radical shift in outlook (which I also didn't totally get) and became, to me, particularly unpleasant, and at this point the book's other characters are not likable, either, and all of them are behaving rather badly. So these are characters that in most writer's hands would make a pretty unbearable novel, but Franzen is a master of plot and structure. It was only after I finished the book and started picking it apart that I realized how elegantly, how perfectly, it had been put together. It includes two long sections told by Patty in the third person, and it skips substantial pieces of time, and as the narrative moves among four major characters it weaves the themes together. There's no big message, and I wouldn't call it an uplifting book but there is some redemption at the end. It's definitely a substantial, fulfilling read.


---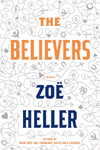 The Believers (2009, Zoe Heller)
Why I picked it: I've had it on my list since it came out. Good reviews were bolstered by my appreciation of the movie version of Heller's "Notes on a Scandal" (and by this book's sharing of a mental cubbyhole with the movie "The Believer," which I've been meaning to watch).
What it's about: The coma of a famous New York lefty lawyer disorders the lives of his unhappy family: angry wife, beautiful but rigid daughter, fat and apologetic daughter, drug addict son.
What I thought: I'd been warned going in that all the characters were unlikable, and that's definitely this story's overwhelming characteristic. The three adult kids try, with varying success, to break out of the roles that have defined their lives; their mother seems to have just one flash of insight about how she has let the public persona she slipped into as an uncertain young bride become her default personality. It's thought-provoking on the topic of family roles and change: Does change require an irrevocable leap, such as leaving a marriage, leaving the country? Is trading one obsession or addiction or radical philosophy for another truly a change?

---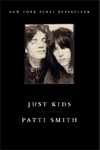 Just Kids (2010, Patti Smith)
Why I picked it: Well-reviewed, won a National Book Award, and I admire Smith's dignity.
What it's about: Musician/poet/artist Patti Smith's relationship with artist Robert Mapplethorpe, particularly their time together in New York from 1967 to the mid-1970s.
What I thought: It took me a few chapters to settle into her prose style. It's a straightforward narrative, few digressions, and not a lot of delving into feelings. In particular, Smith avoids discussion of conflict or antipathy; hardly anyone in this book comes off badly. She even finds good things to say about the acid-tongued girl who informs her of Mapplethorpe's affair and about the longtime lover who behaved badly while he was on the road. Even what must have been major emotional events in her life, such as the change in their relationship as Mapplethorpe began sleeping with "fellows," get just a couple calm sentences.
But once I got used to the style, it gave an interesting living-in-the-moment view of the artist's life, without puffery or aint-I-cool attitude. I'd always thought of Smith as principally a musician, but the book dwells on her years pursuing visual art and poetry before she sort of stumbled into musical collaboration. It's also fascinating for her vantage point on the protopunk/art-rock scene of New York in the early '70s. She's living hand-to-mouth much of the time, but she and Robert have a room in the Chelsea and a table at Max's, and the people walking through her life are an amazing cast: William S. Burroughs, Gregory Corso, Allen Ginsberg, Jim Carroll, Sam Shepard, Janis Joplin, the Warhol crew. It's a short book, by no means an in-depth chronicle even of those several years — "Because the Night," for instance, is mentioned just in passing, with a sentence about how it made Robert happy because it was a Top 40 hit. But as a close-up view of a singular way of life, it's very entertaining. The photographs are great, too.

---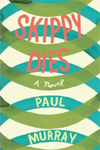 Skippy Dies (2010, Paul Murray)
Why I picked it: It got good reviews, showed up on a few best-of-2010 lists.
What it's about: Among the dramas and intrigues of the denizens of Dublin boys' school Seabrook College are two out-and-out crises, those of 14-year-old Skippy Juster (dealing with first love, a dying mother and unspoken trauma) and his history teacher Howard Fallon (who has discarded his girlfriend but can't divest himself of an incident that occurred when he, 10 years ago, was a Seabrook student himself).
What I thought: I expected it to be a harder read. Though the reviews acknowledged its humor, they also mentioned its size (an impression heightened by its release in a three-volume box set) and at least a couple included Harry Potter references, a red flag for me. As it turned out, it didn't seem that long to me (perhaps because I was just off Moby D?) and I saw no traces of Potter. (I second the much-quoted and never-attributed description of "Skippy" as "Tom Brown's Schooldays meets South Park.") It is funny but rarely in a laugh-out-loud way, except for the English stylings of Italian student Mario and some dialogue concerning flatulence. The story moves right along but hops among various narratives and takes some unauthorized field trips. It was a fun read, and I'll put on my list Murray's first novel, "An Evening of Long Goodbyes."
Movie: Rumor has it that Neil Jordan will direct. Jordan is one of those directors, though, who always seems to have a full plate (including, currently, Neil Gaiman's "The Graveyard Book") so I wouldn't count that as a sure thing.

---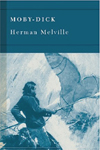 Moby Dick (1851, Herman Melville)
Why I picked it: I try to read one of the weighties of Western literature every year or so. This one came up on my radar a few times in the past year, most memorably as one of the "American icons" of the radio program Studio 360.
What it's about: The voyage of the whaling ship Pequod out of Nantucket, with the mission of finding and destroying the whale who took the captain's leg.
What I thought: The reason I had never gotten around to this before is that I expected it would be heavy on the "Boy's Life" action-adventure, with a lot of descriptions of battles. And how would it fill those long stretches just sailing around looking? But from the start, I was hooked. The set-up, in which Ishmael meets Queequeg and they choose to sail on the Pequod, was so delightful that I was rather disappointed that Queequeg faded into the background for the rest of the book. The months of looking for Moby Dick are filled with chapters on every possible aspect of whales and whaling, and they're so knowledgeable and well-written and even funny that I wasn't impatient for action. One of my favorites was on applying the fast-fish/loose-fish dichotomy to other walks of life. So you're bobbing around through these little essays, and occasional descriptions of duties on the ship, and random stories told by crews of other ships, and you're vaguely aware that there's a big doomful cloud on the horizon, but it's so far off, and then BAM! you're in it. Ahab is waving a lightning rod in a storm, screaming at the skies, and poor destroyed Pip is babbling creepy stories of his dead self, and there's a coffin bobbing along behind the Pequod, and even the upright Starbuck is considering murder as the only way out. It's a surreal, headlong plunge into the final scenes. I thoroughly enjoyed the whole thing, and if you've held back on reading the Big D., I highly recommend it.
What next: I already read "Billy Budd" (which, along with "Bartleby the Scrivener," is the Melville that gets assigned in high school because teachers blanch at the thought of dragging 30 16-year-olds through "Moby Dick"), and "Omoo" is a favorite of nobody but crossword-puzzle designers. There are several books though, on the Essex, sort of a real-life Pequod -- a couple of firsthand accounts, and the well-regarded 2001 "In the Heart of the Sea."
Movies? Possibly contributing to my misconception of the book is the well-known 1956 movie with Gregory Peck gnashing his way through Ahab. I see there's a 2010 version made for German TV but with American actors: William Hurt, Ethan Hawke, Donald Sutherland (alas, Hurt is Ahab; I'd love to see Sutherland do that), Gillian Anderson (which implies a significant on-land portion). There was also a 1998 miniseries with Patrick Stewart and Henry Thomas.


---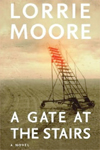 A Gate at the Stairs (2009, Lorrie Moore)
Why I picked it: It got good reviews. I read some of Moore's short stories back in the days when I read a lot of short stories, but I've never read one of her novels.
What it's about: A Midwestern college student in 2002 takes a job as a nanny for a professional couple who is adopting a mixed-race 2-year-old.
What I thought:This is the type a book that other writers admire for the "I wish I had written that" bits: description, dialogue, visual imagery. The main character is funny and smart, and I laughed more at this one than I did at "Humor Me" (see below). It's not for the person who wants a straightahead story -- it meanders, and drifts into an ending. There are long stretches of overheard dialogue that go on a little long. There's also one big plot point that rang false to me: If your brother told you he was going to send you an e-mail, wouldn't you read it when you got it? And if he asked you later if you had read it, wouldn't you definitely read it then?
But it is definitely a thoughtful and thought-provoking book. The jacket blurbs on the copy I read play up the post-9/11 angle: false identity, judging people by race, the widening red/blue split. For me, the most compelling themes concern the parent's dilemma of how much to direct a child's life -- when to step in and when to step back. It is with the best intentions that parents make so many decisions for a kid, try to shape his values and his future, but when does it cross the line to heaping their own agenda on him, preventing him from exploring and growing his own way? Is it futile or even counterproductive to try to protect him from life's misfortunes? And, most heartbreakingly, how does a parent realize the crucial moment that he must intervene before a situation becomes calamitous?
So, moderate endorsement from me. I don't regret the time I spent reading this book, but I wouldn't recommend it to anyone not already inclined toward it.


---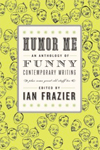 Humor Me: An Anthology of Funny Contemporary Writing (2010, edited by Ian Frazier)
Why I picked it: Ian Frazier edited it, and the list of writers had some that grabbed me: Padgett Powell, George Saunders, David Mamet, Charles Portis, Grace Paley. Also, I had a fuzzy memory of getting a kick out of a Bennett Cerf humor anthology as a kid.
What I thought: I wasn't demanding a string of laugh-out-loud selections, but there was only one of the whole bunch that even tempted me to read it out loud to the nearest listeners. The list of writers that intrigued me should have tipped me off: They aren't known as humor writers, and the selections were quirky, dark, odd, but not really funny. I might have enjoyed them more outside a collection -- if I ran across one in "Shouts & Murmurs" it might have elicited a smile. The one unqualified success: Frazier's own "Lamentations of the Father," which is probably funniest if you: a) have a child under 10, and b) spend frequent Saturday mornings pondering bewildering biblical rules about foodstuffs, skin diseases, altar dimensions and construction materials, and if you dig a pit and your neighbor's donkey falls in and dies what is the disposition of the carcass.

---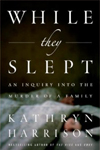 While They Slept (2008, Kathryn Harrison)
Why I picked it: It's been on my list since the reviews came out, so I guess they must have been pretty good. On the other hand, I finally checked it out only because it caught my eye on an end cap in the library.
What it's about: The events that led to a 1984 family murder in Oregon, and the attempts of the surviving brother and sister, teenagers at the time, to remake the frameworks of their lives afterward.
What I thought: The thing that occasionally makes it interesting is the same thing that had me wincing at times: The author went through a life-changing event in her early 20s (she made a big splash with her debut tell-all, "The Kiss") and has some knowledge of how people reassemble their conceptions of the before-and- after of such trauma. So there are some insights, but at times the whole language of modern psychology got a bit much. Like a couple of books I read last year — "A Death in Belmont," "The Devil in the White City" — it's true crime with a twist and definitely not for the person who prefers a straight narrative, without the author inserting her own story.

---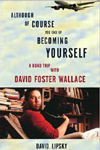 Although Of Course You End Up Becoming Yourself: A Road Trip With David Foster Wallace (2010, David Lipsky)
Why I picked it: I suppose every fan of "Infinite Jest" wants to feel like he's spent a little one-on-one time with David Foster Wallace, and this book — billed as a transcript of a road trip with him — promises that.
What it's about: See above. Lipsky spent several days in cars, planes and hotels and at home with Wallace two weeks after the release of "Infinite Jest," for a Rolling Stone feature that was never written.
What I thought: It wasn't what I had hoped, but I can't say it promised any more than it delivered. It's a transcript, a rather jerky transcript, of pieces of some of the conversations between Lipsky and Wallace. Because there wasn't the time pressure of, say, a two-hour interview, Lipsky lets the conversation ramble. There are long sections about television. Lipsky being a novelist, there's a lot of writerly gossip. (Updike! Who knew? Actually, no, that makes sense.) There's a little circling and feinting around Wallace's brief stay in a psychiatric hospital, exchanges that — though Wallace is very forthcoming — I imagine embarrass any journalist and irritate or enrage any non-journalist; it's the kind of sausage-making most people don't have the stomach to witness.
And, in the end, it's not much more than a Wallace fan would get from any decent magazine profile of the man, of which there are a couple. He's the same charming, self-effacing, dog-adoring, exceptionally smart guy. He tossed off lines that made me laugh out loud, including a joke about a digitally recorded interview having to consist of yes-or-no questions, and a description of a model in a Skymall fitness equipment ad as looking like "a sort of autistic person having an orgasm."
The discussion of "Infinite Jest" focuses on the process more than the content. As Wallace points out, the book takes at least two months to read properly, and it had been out for two weeks. Lipsky apparently did a quick read, adequate for the assignment; this is, after all, a profile of the writer rather than a review or analysis.
So I've just spent three paragraphs on a book I wouldn't recommend for anyone but a read-everything DFW devotee. Bottom line: It's basically just notes. You definitely get a sense of Wallace's personality, but any understanding of his internal workings is overwhelmed by the sorrow that he couldn't stay longer.

---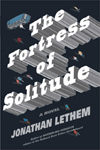 The Fortress of Solitude (2003, Jonathan Lethem)
Why I picked it: I liked the three other Lethem novels I read.
What it's about: The only white kid on a Brooklyn block in the early stages of 1970s gentrification.
What I thought: Good story, good atmosphere, particularly the first, long section through Dylan's college years. Interesting geographical note: This is the same neighborhood as in "Brooklyn," which I read last year; that one took place in the late 1940s, and the heroine worked at a department store based on Abraham & Straus, which shows up here. Lethem gives very specific locations, and I spent a little time cruising the Gowanus streets on Google Street View. I trust that Google is archiving its Street Views so that one day you'll be able to pick a year. It would have been great to see this neighborhood as it was in 1975.
Movie: No, but it could definitely work. "Half Nelson," which I liked a lot, was expanded from a short called "Gowanus, Brooklyn," and it has some of the same themes — race relations, chaotic public schools, drugs.


---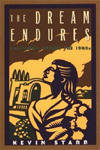 The Dream Endures: California Enters the 1940s (1997, Kevin Starr)
Why I picked it: No. 5 in the series.
What it's about: Covers roughly the same decade as the previous book, "Endangered Dreams," but where that one is about political, social and labor issues, this one focuses on arts and culture.
What I thought: This one was the quickest of the series for me, so far, because of my interest and background in the time and focus of this book. If I had one ride in a time machine, I might pick Los Angeles in the 1930s (though exoticism might win out and send me to 1920s Paris or fin-de-siecle Vienna).
Partly because of its emphasis on movies, this is very much a Southern California book. I'm curious to see if Northern California grabs many chapters in the next three books; perhaps the tide has turned for good. As in the previous books of the series, the cut-and-paste nature of the writing can be a little glaring, with passages turning up in multiple places and first references to people repeated in consecutive paragraphs. It doesn't bug me; I can do with a little repetition. Up next: "Embattled Dreams," 1940-1950.

---