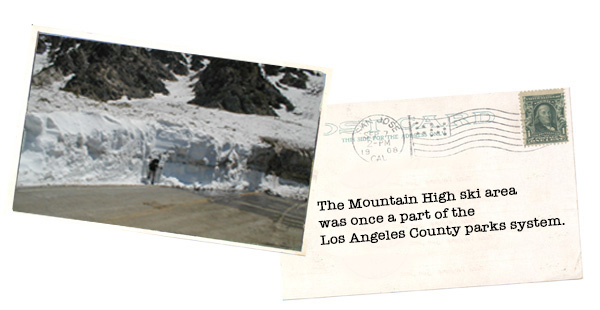 Wrightwood
Before it established its identity as a ski destination for Angelenos too lazy to drive very far, Wrightwood was a cattle ranch and an apple orchard. A downturn in the cattle business precipitated the birth of the town. Today, marijuana farming is a booming section of the regional economy.
Unlike Big Bear, the town of Wrightwood is very aware of the PCT presence. There are decades of accumulated goodwill toward the trail community. I hope all hikers send some of that love right back. Tip like a rock star. Please and thank you and everything else your mother taught. Karma matters.

The town is a bit smaller than Idyllwild, with the same great walkability. You can get anywhere you need to go within five minutes. The usual first stop off the trail is Mountain Hardware (1390 Hwy. 2, 760 249-3653). The store handles resupply boxes, has fuel, a trail register and a list of in-town trail angels who might have a bunk for you or at least tent space in their yard. Call them for specific instructions on resupply boxes. Mountain Hardware has been in business for 50 years, thus having witnessed and supported the entire modern PCT era. Next door to Mountain Hardware, Jensen's Foods (1340 Hwy. 2, 760 249-3322) is a really good family-owned grocery. It has a complete deli with a decent variety of hot food items. Their large deli sandwiches are more than hiker-scale. That is not a light lunch. You could definitely resupply out of here and the hardware store. The post office (1440 Hwy. 2, 92397-9998) is also a hundred yards from the hardware store. If you are unsure if you want to send a resupply box to Mountain Hardware or the post office, be forewarned that the post office has no Saturday counter hours.

I have two lodging picks in Wrightwood which I love for very different reasons. It pretty much comes down to whether you wish to be right in town (which can be a staggering party scene when the pack blasts through) or a little ways removed from the action.

The Mountain View Motel (1054 Hwy. 2, 760 249-3553), is a clean, quiet mom-and-pop operation at the north edge of town on the highway. The Mountain View's duplex cabins, decorated in mish-mash garage-sale style circa 1965, are a restful haven two long highway blocks north of the town center. I appreciated the chill vibe here when the town scene was a riot of thru-hiker shenanigans. If the pack is in town, I would choose this option again.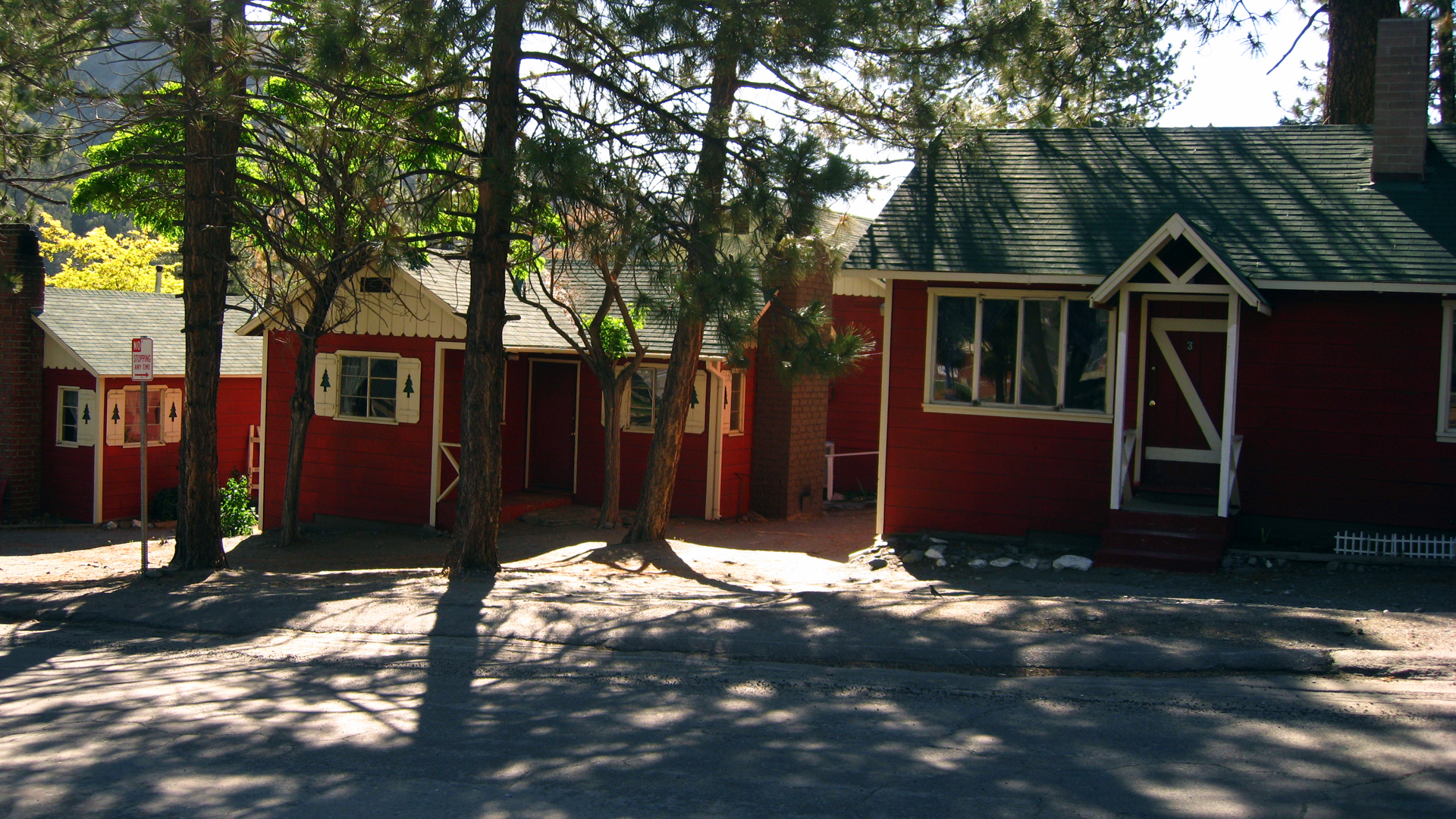 In the heart of the action, my family has also enjoyed the Pines Motel (6045 Pine St., 760 249-9974), which is also sometimes known as the Pines Cabins, above. This operation, a collection of 1930s bungalows, has been a value-priced hiker favorite for many years. The Pines vibe is old-school funk, but clean. Each very small room has a microwave, fridge and cable. On a personal note, the Pines proprietor, Mr. Kwon, did us a major favor in 2009 when he found our little girl's beloved red quilt stuck in the sheets of the bed and mailed it back to us. Thank you Mr. Kwon! You are a good man. Highest recommendation.
For a town of 4,500, Wrightwood is uncommonly blessed in the food and drink department. If you don't leave town really well-fed, you just weren't trying. The Grizzly Cafe (1455 Hwy. 2, 760 249-6733) has the standard lineup of breakfast fare, burgers and sandwiches. It is very well regarded among hikers. The Evergreen Cafe and Raccoon Saloon (1269 Evergreen Rd., 760 249-6393) is a joint operation that you really shouldn't miss. The restaurant does its best work at breakfast. The bar is flat-out astounding. One of my most memorable bars on the PCT. This joint gets pretty raucous any day of the week. There are a lot of beers on tap, dispensed in 12-, 22 oz. and one liter measures. A shocking number of the local citizenry are pounding ridiculously outsized liter sleeves at any hour of the afternoon or evening. In a scene I won't soon forget, I watched two linebacker-sized townies engage in an impromptu Greco-Roman wrestling match, with one eventually executing a dramatic throw that sent his opponent clear over the pool table. All this and a four-star jukebox that's sometimes free in the afternoons.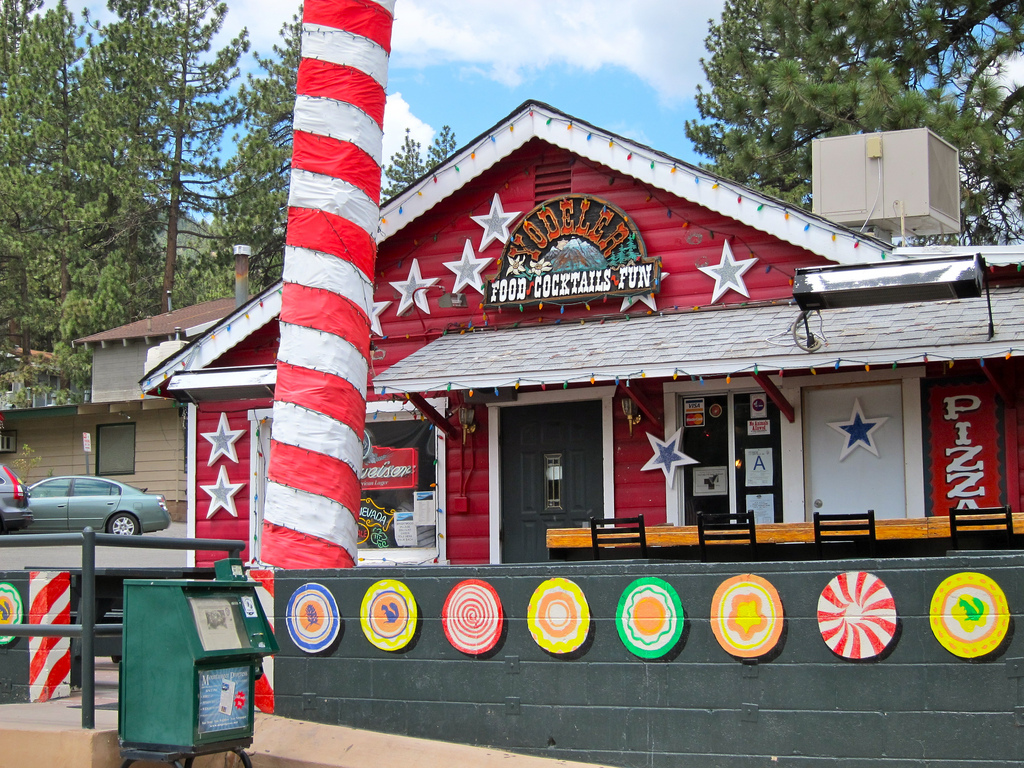 Directly across from the Evergreen and Raccoon is the Yodeler (6046 Park Dr., 760 249-6482), above, which earns my top recommendation as a legendary pizza and beer joint. ("Legendary" comes pretty much automatically if you've been doing the same thing well for more than 50 years.) There is another place to get pizza in Wrightwood, but this is the one you want. Pick something from their outrageous selection of beers and take it out to the big porch where you can watch the world go by. If you're not feeling like pizza, the Ortega chile burger and the bacon cheeseburger are both serious choices that might each clock in at 3,500 calories with fries. A small warning: During football season, it can get louder than bombs in there. If the trail did not exist, I would still make a special stop in Wrightwood just for the Evergreen/Raccoon and the Yodeler. They're that good. The venerable Blue Ridge Inn (6060 Park Dr., 760 249-3440) is still widely regarded as the best restaurant in the region. Not as expensive and not as dressy as you may think. I've never tried it because the Evergreen/Raccoon/Yodeler Bermuda Triangle has me boxed in. Finally, a tip of the trail-pin hat to Mexico Lindo Seafood (1253 Evergreen Rd., 760 249-4100) for Michoacan-style cuisine. It's a huge menu. I would skip the burritos and go straight for the large plates.