Big Bear
For reasons unclear to anyone outside of pro boxing, Big Bear Lake was a favored training location for Oscar de la Hoya, Mike Tyson, Gennady Golovkin and Shane Mosley.
If you hear the term "ski town" and think Vail, Sun Valley, Aspen, Steamboat and Jackson Hole, this is going to be an eye opener -- as will Wrightwood just a little ways up the trail. Big Bear is a ski town, thanks to a sad little hill that wouldn't stay in business were it not for its proximity to the L.A. Basin. There's no getting around the fact that the area has seen better days. Much of the housing stock, which used to be somebody's grandfather's vacation getaway, has been in a state of slow decay for many years.

This is the first true full-service stop on the trail. Anything and everything is on the highway -- Big Bear Boulevard -- a miles long strip mall. There are far too many choices for food and lodging to list. During high season for the trail, there are cheap motel deals in Big Bear Lake if you can play the angles and time it just right. Don't expect to roll into town and get a deal without a little Web work.

The first thing you must understand is that there are two Big Bears. The first one you encounter coming off the trail is Big Bear City, which doesn't have much of a commercial infrastructure and isn't very walkable. There is a modest market with a deli just a few hundred yards east of the post office on the main drag. From there, headed west on Big Bear Boulevard, you will find in short order Cocina de Mexico and Thelma's, two restaurants that have been recommended to me over the years. The other two notable restaurants in Big Bear City are No Name Pizza and La Paws, anchoring the far west end of the main drag.

After you reach the end of Big Bear City, an ugly three-mile walk down Big Bear Boulevard will get you to the larger community of Big Bear Lake, where most of the businesses are -- the big Von's supermarket, the CVS drug store, KMart and most of the restaurants. Big Bear Lake also has its own post office. The numbers on Big Bear Boulevard run from west to east. Note that the Von's and the area's only laundromat are in the Interlaken shopping center, which is at least a one-mile walk west from Big Bear City. There are three outfitters in the area -- Big Bear Sporting Goods, Big 5 and Goldsmith's -- all strung along Big Bear Boulevard in Big Bear Lake. An urgent-care provider plus the Bear Valley Community Hospital are both in Big Bear Lake. There may be a bus that runs between the two towns on the hour or half-hour. If you see any bus marked "MARTA" and it's going in the right direction, get on it. There are two MARTA lines connecting the two Big Bears. If the whole point of being in town is to get off your feet, the two Big Bears present something of a challenge.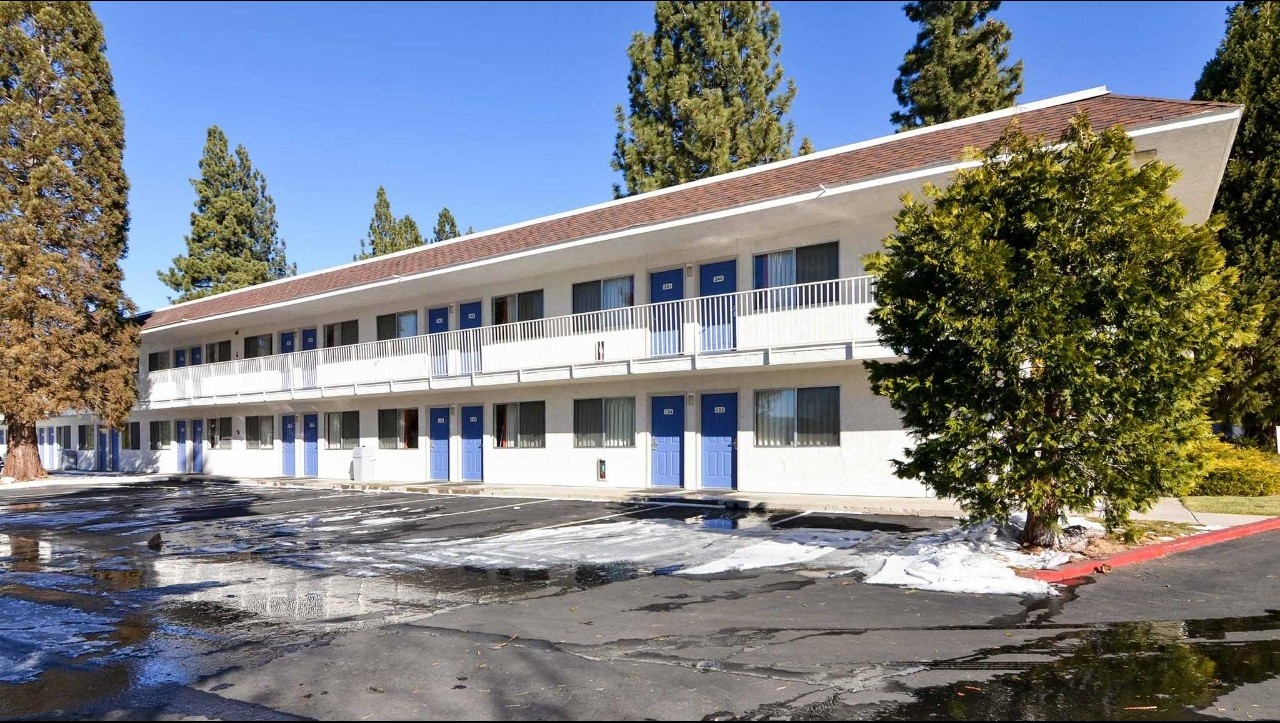 The Motel 6 in Big Bear City (42899 Big Bear Blvd., 909 585-6666), above, has historically been the default choice for PCT hikers. Ask about a PCT discount and instructions for resupply boxes. The La Paws (1128 W. Big Bear Blvd., 909 585-9115) Mexican place next door has been very popular with the hiker crowd as well. I think that may be primarily because it's 40 yards from the Motel 6. Seriously, if you are just plain tired of hoofing it around Big Bear, just call for a delivery pizza. This isn't Aspen, but it is civilization, of a sort. The other notable lodging in Big Bear City is the tiny Nature's Inn (932 Greenway Dr., 909 585-2226) which has a long record of catering to hikers. In a crunch situation, the No. 3 choice in Big Bear City would be Cathy's Cottages (600 W. Big Bear Blvd., 909 866-7444.) I have not heard from anyone who has ever stayed there. If you're among the legion staying at the Motel 6, here's a little tip: When you do the roadwalk back to the trail, use Division to Hwy. 38 rather than backtracking all the way through Big Bear City.
For Big Bear Lake, the best business directory is www.bigbear.com. The Best Western Big Bear Chateau (42200 Monridge Rd., 909 866-6666) reportedly has a substantial PCT discount. (You can thank Yogi for that tip.) My top choice in Big Bear Lake is still the Big Bear Frontier (40472 Big Bear Blvd., 909 866-5888). It's not cheap, but over the years I've found it to be a pretty decent value unless you're rooming alone. These cabins are neither rustic nor funky. They're immaculate and far nicer than an ordinary motel room. I've heard the Vintage Lakeside Inn (41076 Big Bear Blvd., 909 866-4978) is hiker-friendly and may have a PCT discount. The Big Bear Hostel (527 Knickerbocker Rd., 909 866-8900) is back in business. The dorm beds are cheap even without the PCT discount. Although you could call the hostel for a ride in from the Highway 18 crossing, the Web site encourages hikers to "try hitching first!"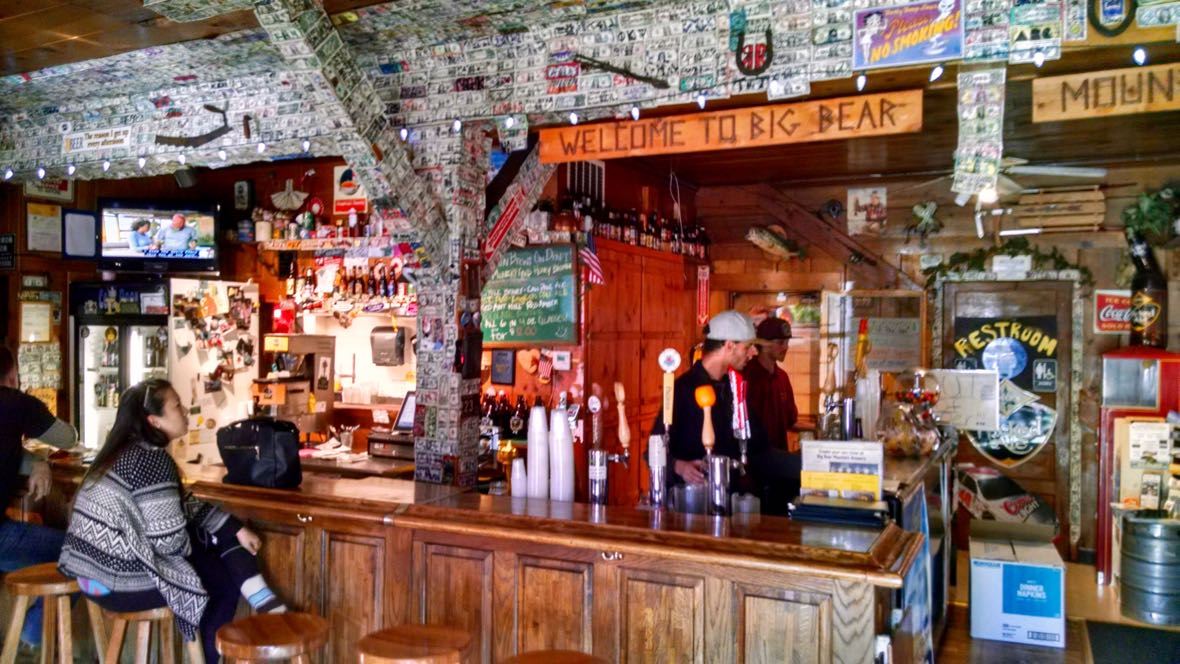 There are roughly 100 restaurants in the two Big Bears. Most of my meals here been completely forgettable. But there's one that stands out and deserves my highest possible recommendation: The Big Bear Mountain Brewery (40260 Big Bear Blvd., 909 866-2337). This 10-stool operation is a reliably good source of delicious food and drink. You may make some interesting friends here. They take the food as seriously as they take the beer. Be braced for a very decadent pig-out. There are two different Big Bear breweries. This is the one you want. Unfortunately it is located on Red Ant Hill, the extreme west end of Big Bear Lake. I haven't tried the new second location down the hill.

Yogi has very astutely pointed out a Plan B for Big Bear, which is a straight-up genius move for those who want to resupply but don't need a full-on zero. Fawnskin is a tiny burg on the north side of the lake where the PCT's access road puts out on Highway 38. If you drop off the PCT on Cougar Crest Trail or Polique Canyon Road 2N09, it's a 1.8-mile roadwalk west once you hit the highway. In Fawnskin, the only restaurant of note is the North Shore Cafe (39226 North Shore Dr., 909 866-5879), with a very broad menu of quality American and French cuisine. If all you need is a resupply box the Fawnskin post office (39132 N. Shore Dr., Fawnskin, CA 92333) could save you the roadwalk all the way around the lake to Big Bear City. The Fawnskin Market (39187 N. Shore Dr.) is a small grocery store that you could definitely resupply out of.

Up the trail from Big Bear, you might consider Cajon Pass as a town stop by the very barest of definitions. That could come into play if for some bizarre reason you're skipping Big Bear or Wrightwood. It has a Best Western full-service hotel, a convenience store, Subway, McDonalds and Del Taco. Everyone I've been around through here has walked up the road for fast food and beer and then immediately returned to the trail. I have seen rumors online that the Best Western will handle resupply boxes.


© 2000-2018 David Plotnikoff. All rights reserved.