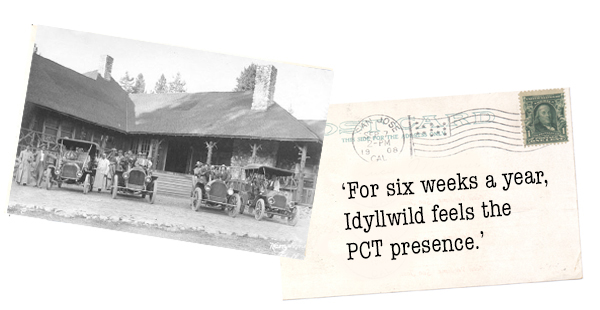 Idyllwild

There are a half-dozen serviceable motels in this funky, downscale mountain community. For many years, the hands-down consensus pick for thru-hikers had been the Tahquitz Inn. Unfortunately, as of early 2012, online review sites (ie: Yelp) reported the Inn was closed.

The other hostelry with a longstanding (20-year-plus) history of PCT hospitality is the Idyllwild Inn (54300 Village Center Rd., 888 659-2552). They, too, offer a hiker discount and trailhead shuttles (when available). Now this is impressive: Free hiker laundry service. Anyone who will handle hiker socks, let alone gratis, is a true friend of the PCT. On location, they have the edge over Tahquitz, which is just slightly north of the main commercial hub. The four "theme rooms" ("Indian," "Old West," "French Country" and "Camp" -- seriously) represent the best value. Although several hikers splitting one of the cabins could be an even better deal. Note the two-night minimum stay on weekends. Also note that this is not a generic motel. The Inn, which is more than 100 years old, has been in the White family's hands for nearly half that time -- so there is some tradition here and a great deal of pride.

On the restaurant front, Jo-An's is still generating very sketchy reviews. Check out La Casita (54650 N. Circle Dr., 951 659-6038), a very good Mexican restaurant with superior atmosphere and warm service, a few blocks off the beaten path. For a hearty, homey breakfast or lunch (and a waitress who will call you "Hon") right in the hub of the action, consider the fabled JC's Red Kettle (54200 Circle Dr., 951 659-4063). The new kid on the block is El Diablo Cafe (54225 N. Circle Dr. #13, 951 659-2560), with well-reviewed burgers and pizza in an atmosphere that has been characterized as over-the-top and vaguely (gasp) goth. How un-Idyllwildian!