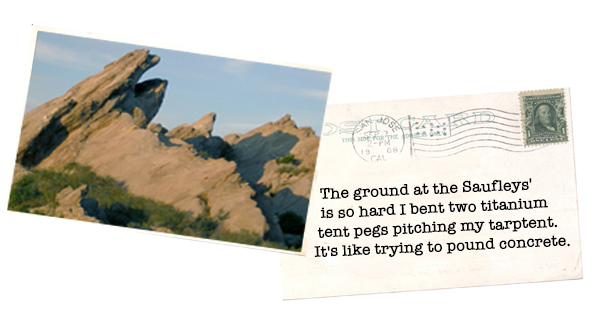 Agua Dulce

Incomparable. There is no other resupply stop on the PCT like the Agua Dulce Experience. In other trail towns, just about every interaction serves to make you keenly aware of your outsider status and all the little things that separate you from the well-washed, the well-housed, the employed.

Hiker Heaven (11861 Darling Rd., 661 268-1235) is less than a mile from the commercial center of Agua Dulce -- and a world away from town. Here, at the home of Jeff and Donna Saufley, you will rest and repack, comforted by the knowledge that for once you are among your own tribe.

Upon walking in the gate, the drill goes like this: Find Donna Saufley. Get briefed on the laundry procedures (you are strongly advised to follow them to the letter). Sign up for the showers. Receive your Saufley Electric uniform (seriously -- it's so all your trail clothes can be laundered while you lounge in comfort). Find your resupply box in the garage and then find a place to sleep in the yard or in the trailers. There are a multitude of indoor and outdoor options, ranging from the "honeymoon suite" to hay bales. Donna will have suggestions on what would be most comfortable. (The ground in some places is so hard I bent two titanium tent pegs pitching my tarptent.)

The tent city at Hiker Heaven can be an overwhelming social venue. Each year as the bulk of the main pack moves through the nightly headcount can hover around 50. Picture an Army firebase in some desert region: Piles of shoes, packs and boxes of fresh provisions are scattered all over the place. Dozens of lean, deeply tanned people dozing on cots, nursing assorted injuries, studying maps, repairing gear and drinking beer. There is the easy cameraderie of those who've been through battle together before and are now gearing up to battle the desert again.

Hiker Heaven has everything you need -- and a lot you probably don't. A partial list: Showers (the Saufleys go through more than 3,000 gallons of water a day, all of which has to be trucked in), full kitchen facilities, Internet access, movies, giant plastic bins of resupply materials ranging from cat stoves to first aid supplies and two loaner cars. (There's usually at least one group trip to the REI in Santa Clarita every day during the busy season). Hiker Heaven operates from April 1 through June 30 and by special arrangement.

There is more to Agua Dulce than just Hiker Heaven. But the scene at the Saufley's was so all-encompassing I didn't see much of the rest of town when I came through in '05. Sweetwater Farms, which you will walk right past on the main drag, Agua Dulce Canyon Road, on the way to the Saufley's, is an upscale grocery with a full-service deli. It is small by grocery store standards, but several times the size of the typical trail town store. Vincenzo's Pizza, (33323 Agua Dulce Canyon Rd., 661 268-8833) and the neighboring Mexican restaurant Maria Bonita's (33311 Agua Dulce Canyon Rd., 661 268-8004) are both well-regarded by hikers. I never tried either one, opting instead to buy take-out food and carry it back to the Saufley's.