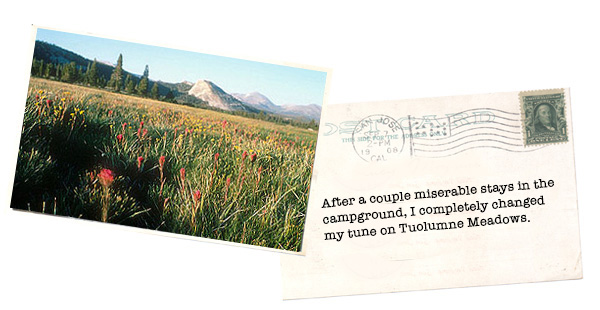 Tuolumne Meadows

We have heard of hikers who've blown off the Tuolumne Meadows zoo scene entirely, opting just to pick up a resupply and keep trucking north to Glen Aulin. These were probably people who hit it big-time in the lottery for Glen Aulin High Sierra Camp lodging spaces six months prior. If you're not among the lucky, you should be weighing the options of staying in Tuolumne, heading east to Lee Vining (our preferred option), heading west to White Wolf (where food and lodging may also be oversubscribed) or making the long (90 minutes minimum) trek to Yosemite Valley (an option we strongly discourage). There is transit serving Tuolumne Meadows, but the YARTS bus is hardly convenient or cheap. There is but a single bus serving Tuolumne Meadows each day -- running westbound from Lee Vining to Yosemite Valley in the morning and eastbound in the late afternoon.

As is the case anywhere in Yosemite, lodging at Tuolumne Meadows Lodge (559 253-5635) is a tough ticket requiring great patience and perseverence. It can often take six months of repeated calls to snag a spartan tent cabin (no electricity, no plumbing). We've never found this to be a good value. People coming off the trail rarely get a decent night's sleep in the tent cabins. The backpacker's campground in Tuolumne Meadows has always had room for casual walk-ins and they're *required* to accomodate you on the night before your wilderness permit says you're scheduled to head out.

That is not to say there's nothing to recommend the Lodge. The microscopic concession area in the main tent has a good selection of chilled beer and other beverages. And the dinner is a very good value. (Try to reserve a seat as early in the day as you can, because they fill every slot every night. It's a better idea to call ahead to reserve a seat -- 209 372-8413.) Some people consider it a negative that this place runs by family-style seating. In other words, unless you're a party of at least 4 or 5, you will probably be dining with (gasp) strangers. This is a *benefit*. I can cite two times on pre-trek pig-outs where I was seated with ''strangers'' who quickly became friends. Interesting people are where you find them, and you will probably find them here, if you're open to the experience.

If you have business to attend to, note that the wilderness permit office is located where the Lodge access road meets Highway 120, within sight of Lembert Dome. It's a tough lot to park in, but if you're section hiking, this is the preferred space to leave a drop car. Bear boxes ring the lot. For northbounders, this is your one convenient chance to ask a government employee about trail conditions, bears, water, etc. for the next 7 days. They might even know what they're talking about, if your questions are about the area between Tuolumne and Benson Lake.