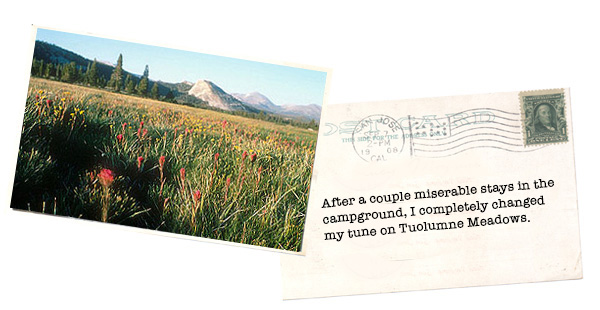 Tuolumne Meadows
Commercial tour companies hawk packages for tourists who wish to backpack from Tuolumne Meadows to Yosemite Valley in six days. For a PCT hiker who wants to see the valley, the trip takes a day.
You only care about two things in Tuolumne Meadows -- the post office and the store. The grill next door offers yet another burger and little else. That's all there is to downtown Tuolumne Meadows. Nothing to see here, folks. Move along.

The major issue here is whether they're going to be open for business when you come through. In high snow years, with Tioga Road closed, this has been a concern. It's something you want to keep tabs on before leaving Kennedy Meadows.

There is a long shot you should at least be aware of: The Tuolumne Meadows Lodge , which you pass right after the Lyell Fork and the Dana Fork converge. The tent cabins here routinely sell out a year in advance. Do not count on you plus three friends strolling in and magically picking up a cancellation. The tiny store sells the first on-trail beer since Agua Dulce. Dinner at the lodge, below, is the finest meal directly on the trail until Mt. Hood's Timberline Lodge. For mandatory dinner reservations, call as soon as you can once you clear Donohue Pass. 209-372-8413. They fill every seat every night. If you manage to eat at the lodge, consider yourself blessed.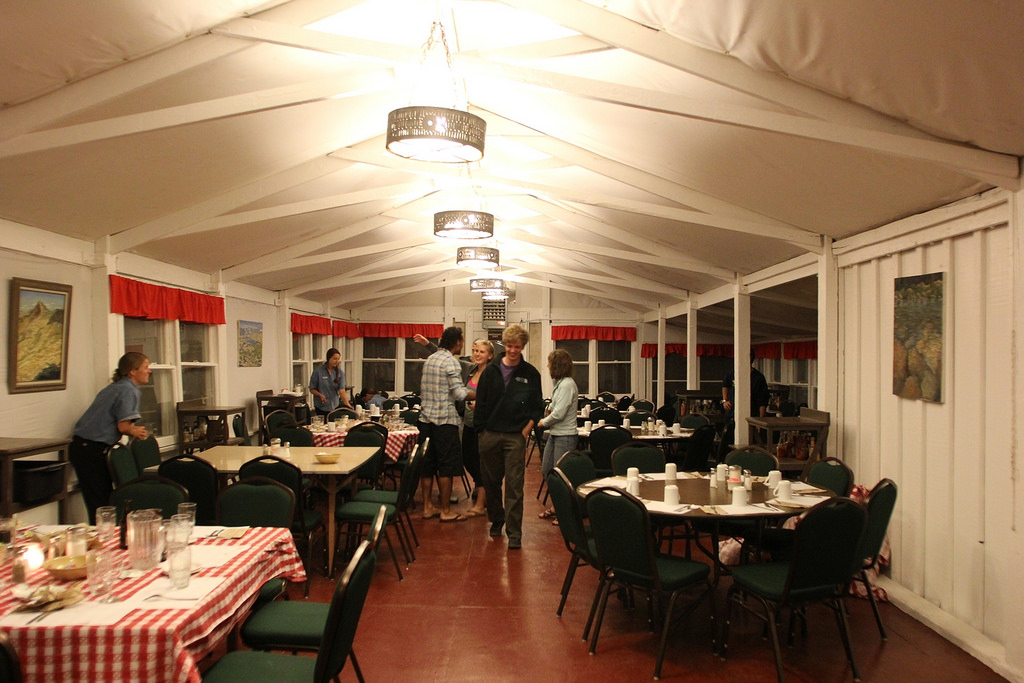 There is no wilderness camping anywhere near Tuolumne Meadows. If you do attempt to stealth camp you're running the risk of a very expensive citation. Your only legal option is the main campground, which is an urban zoo scene. After a couple miserable stays in the campground, I've completely changed my tune on Tuolumne Meadows. I would consider picking up a resupply box, buying a nice to-go dinner from the store and motoring north about six miles to a point just before the PCT drops down to Glen Aulin. (The lottery to get a bed in Glen Aulin is held in October of the previous year. That is not a realistic option.)

Until recently the Tioga Pass Resort (209 372-4471) just east of the Tioga Pass entrance station, had been another restaurant possibility. (Their cabins were always off the charts on price and required a multi-night reservation.) In 2017 the historic main building partially collapsed under the weight of record snow. There is no reopening date.

You could bail out at Tuolumne Meadows. Every day in July and August there is one YARTS bus running east to Lee Vining and Mammoth and one running west to Yosemite Valley. In June the bus operates weekends only. On the Eastside it connects with Eastern Sierra Transit 's 395 service. >



© 2000-2018 David Plotnikoff. All rights reserved.