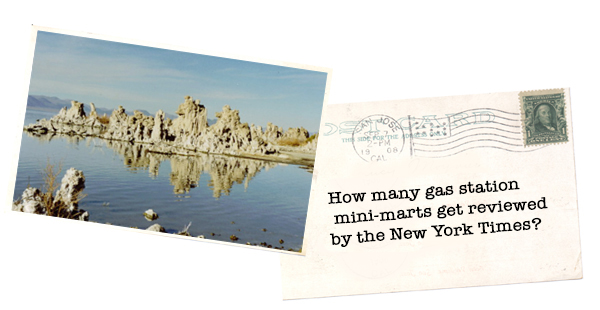 Lee Vining
Mono Lake is a unique environment, with concentrations of salts and other minerals that make it inhospitable to most species. Yet, the brine shrimp and flies the lake supports attract great flocks of migratory birds, making the lake one of the West's great theaters for birdwatching. The Los Angeles Department of Water and Power fought for decades with environmentalists before reaching a legal settlement to keep enough fresh water flowing into the lake to support sensitive areas and secure a relatively normal lake depth. As you drive south on 395, you will see a culvert crossing marked "South Rush Creek Ditch," which feeds the lake. It may not look like much, but the water flowing in that culvert was the focal point in one of the great battles of environmental law.
Lee Vining is a long way off the trail, but all eastbound traffic on 120 in Tuolumne Meadows is heading through the town, which is two streets wide. You can walk from one end to the other in five minutes. For a thru-hiker, there's no reason to go into Lee Vining unless you're flipping north on 395. Section hikers, on the other hand, are probably going to be through here more than once.

Aside from the austere beauty of Mono Lake, Lee Vining is a rather joyless pit stop and I've never known anyone to linger there. It has several places to buy "Indian" trinkets, moccasins, rugs, jewelry, rubber tomahawks, etc. (I have to suspect the Europeans doing the grand RV tour of national parks are the ones keeping the schlock shops in business. The Germans, in particular, seem to be fascinated with anything marketed as Indian.)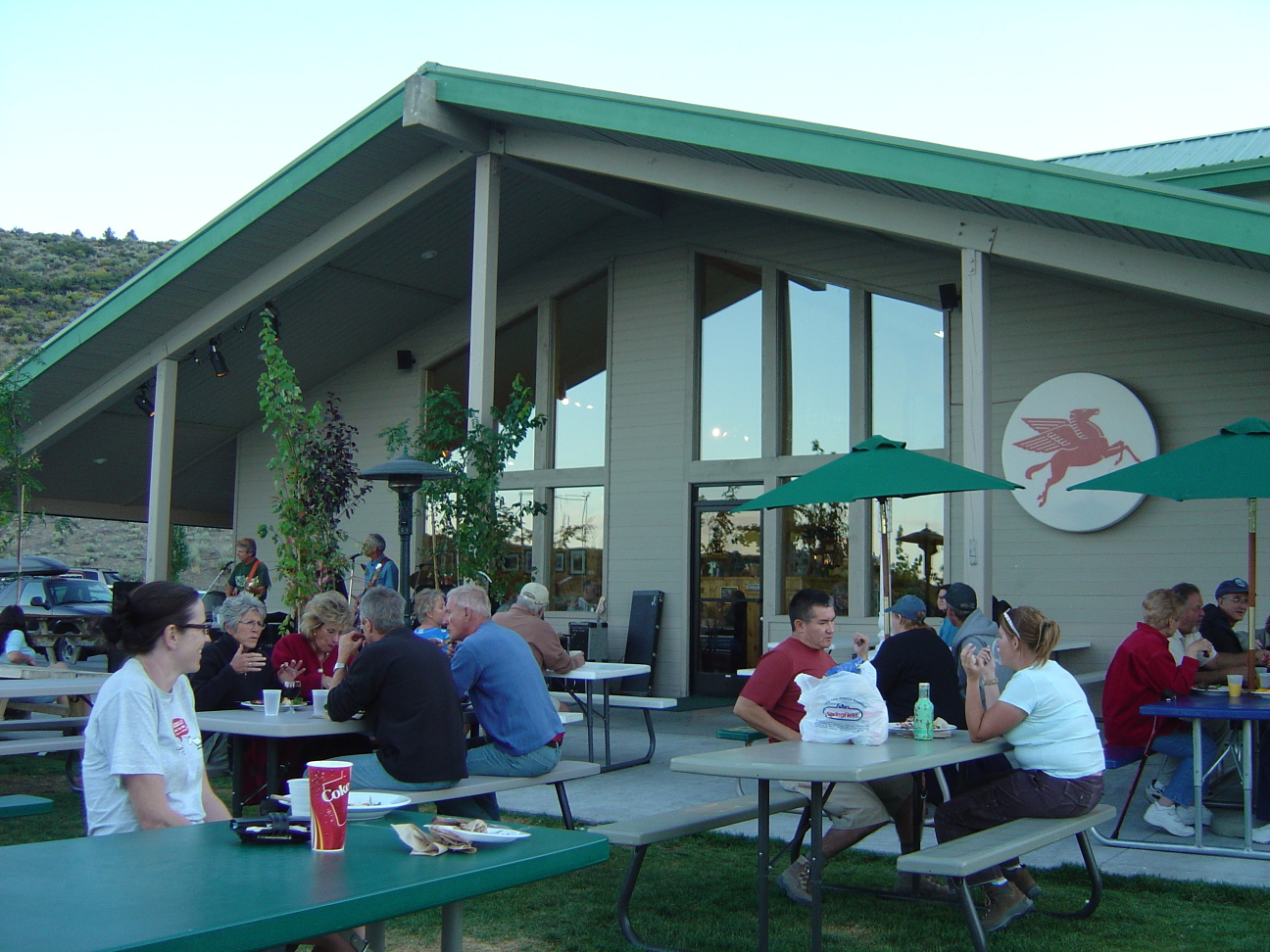 The Whoa Nellie Deli (22 Vista Point Rd., 760 647-1088) is at the Tioga Gas Mart, on a hill above the intersection of 120 and 395. It is the only cool thing about Lee Vining. It is justifiably world-famous, as legions of foreign tourists consider it a required stop on the Western grand tour, the most outrageous gas station mini-mart in America. In 2002, Gourmet magazine named the Whoa Nellie as one of the most interesting restaurants in the world.>
Considering the various constituencies coming through here, this is a major scene any day of the week. (The gas station operates in the off-season but the rest of the operation hibernates when 120 is closed.) If you take your meal al fresco you may be seated in very close proximity to: a film crew fresh from shooting rock climbing videos in the Buttermilks, a college geology seminar, a group of elderly Finnish tourists in brand-new cowboy hats and two local photographers who only work one hour a day when the dawn light is optimal on Mono Lake.
Given the food, the view and the music lineup it's not surprising that some people have their weddings at the gas station. You are not going to get a bad meal here. I have grabbed a quick sandwich to go that can feed two climbers. The best values are the large plates on the dinner menu. Lobster taquitos? Herb-encrusted tenderloin glazed with apricot brandy? Buffalo meatloaf? Satisfactory!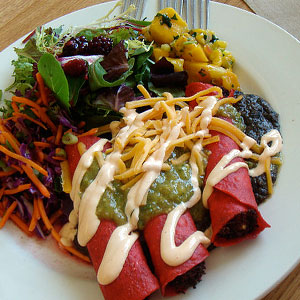 Aside from the gas station, there are six food options and only one is even worth a passing mention: Several climbers have said Mono Cone (51508 Hwy. 395, 760 647-6606) does a decent burger and fries. As if you really needed another hamburger. Mono Market (51303 Hwy. 395, 760 647-1010) is a very modest grocery store, but you could resupply out of there. The post office is tucked behind the grocery store. Beaver's Sporting Goods & Hardware is across the highway from the store. The Best Western Lake View Lodge (51285 Hwy 395, 760 647-6543) is a clean, solid choice for an older motel. It is not cheap. But nothing in Lee Vining is a particularly good value. Others have reported positive experiences at Murphey's Motel (51493 Hwy 395, 760 647-6316).



© 2000-2018 David Plotnikoff. All rights reserved.