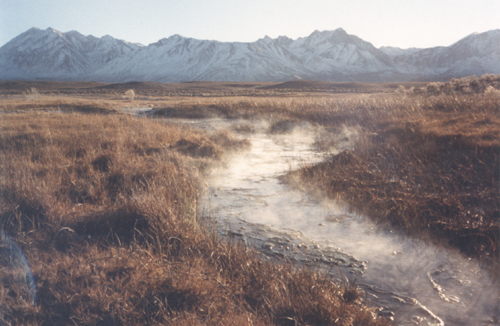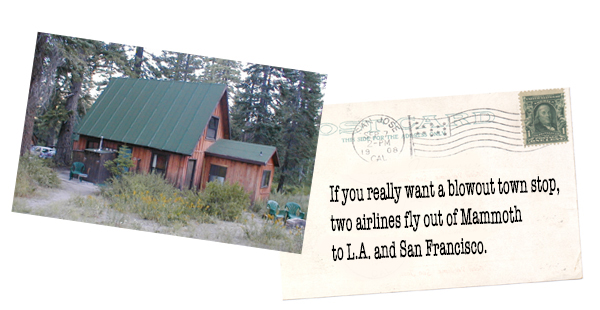 Mammoth Lakes
While the volcano known as Mammoth Mountain has been dormant for about 50,000 years, the Mammoth area and the Long Valley Caldera to the east are one of the most geologically active regions in the western hemisphere. The thermal steam vents, hot springs and other features that riddle the landscape are a constant reminder that the earth here is very much alive, with thousands of small quakes recorded every year.
If you didn't take a double zero in Lone Pine, Mammoth is another place to consider one. This is a small, full-service city, with an outfitter, a lot of restaurants and a lot of motels. The next true city is South Lake Tahoe, 187 trail miles north. Mammoth is a classic ski town economy that has evolved to the point where there is no summer slump.

Typically, it has the longest operating season of any ski area in California. And when the snow's not there, it's a big mountain biking destination. Many elite running camps operate out of Mammoth. Thanks to the Owens River, this is an international fly fishing destination. The region between June Lake and Bishop is also one of the top climbing areas in the country. (The Buttermilks, the Happys and the Sads make up the most concentrated bouldering destination in America.) My daughter comes out here to train in seclusion in the high desert before going to the climbing nationals each year. I can't remember the last time I was in Mammoth when there wasn't some big weekend festival for the tourists. (I didn't plan this, but somehow I've been in Mammoth for four Fourth of July parades.)

The town government is broke, driven into bankruptcy by a botched development deal many years ago out at the airport. As for the citizenry, it's an all-too-familiar story of haves and have-nots. You'll see this in just about every ski town in the West. If you own a house, you are living pretty damn high on the hog. (Like Telluride or Sun Valley or Jackson Hole, there are "ski cabins" here that any middle-class person would consider to be mansions.) If you're in the service industry, you're probably two or three paychecks away from living in your car. (Seasonal workers for the Mammoth Mountain Ski Area have been known to tent camp in town through the ski season. Harsh!) The decision to move to Mammoth is a lifestyle choice, with a crappy job as just a distraction from your climbing, running, skiing or mountain biking.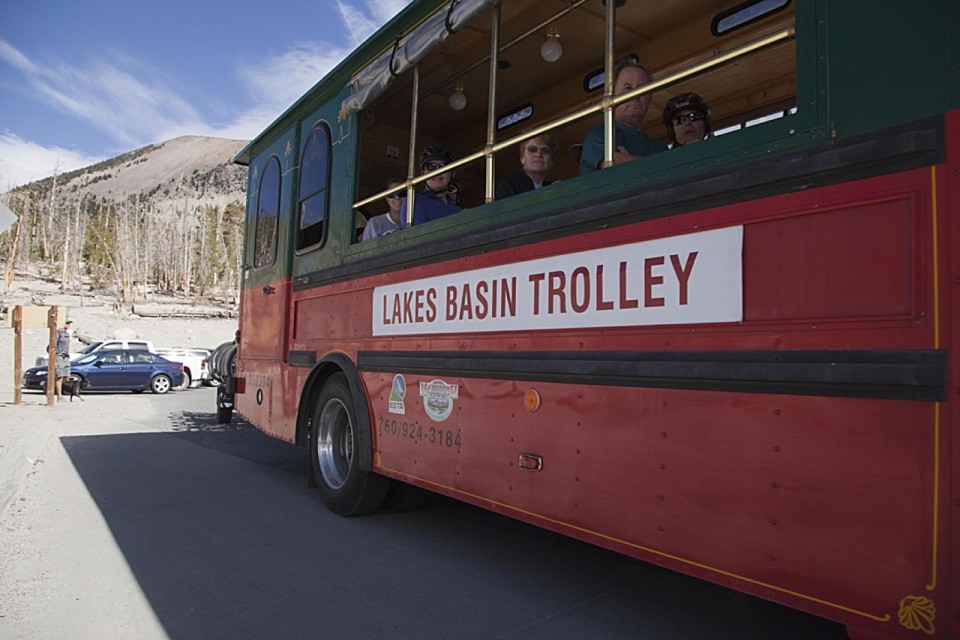 There is a right way and a wrong way to get into Mammoth from the PCT. You want to come off at Crater Meadow and go 3.5 easy miles over Mammoth Pass. How easy? Mammoth locals do part of this lateral to walk their dogs. This puts you at Horseshoe Lake. There's a free Lakes Basin shuttle running on the half hour that will get you into town and back. Many if not most PCT hikers make the mistake of coming off at the Red's Meadow Pack Station and Resort From there it's a mandatory bus ride over Minaret Summit to the ski area. That bus costs $7 each way and won't take you anywhere near where you want to end up.
Mammoth Mountain Ski Area is a town unto itself that has little or nothing to offer to hikers. The food and lodging you want is nowhere near the MMSA main lodge or its' commercial "village." It's spread out along Main Street (a.k.a. the highway) and Old Mammoth Road. I'd consider Mammoth only semi-walkable, but there is a free in-town shuttle running up and down Main.
The shopping center at Old Mammoth Road and Meridian is the real commercial hub, with a Von's supermarket, a modest bookstore and a decent pizza place, Giovanni's (437 Old Mammoth Rd., 760 934-7563). This is the pizza place you want, not John's Pizza Works. I've only bought last-minute climbing gear at Mammoth Mountaineering (361 Old Mammoth Rd., 760 934-4191), but they'd be my go-to choice for gear, backpacking food and trail shoes. As for bargain gear, there's a really good thrift store, Cast-Off (3059 Chateau Rd., 760 934-4303). There was a time when a certain young climber I know packed for the East Sierra and forgot to include a jacket. No problem. $5 fleece and $15 puffies! Mammoth Hospital (85 Sierra Park Rd., 760 934-3311) is two blocks off the main drag.
The Inyo National Forest Visitor Center, on Main at the far east end of town, (760 924-5500) is an excellent resource for intelligence on things like snow depth, creek crossings, fire closures and bear news for the PCT between Mammoth and Tuolumne. They also have a lot of material on the town's businesses. The post office (3330 Main St.) is midway up the hill between the visitor center and the MMSA "village."
There are an astounding number of lodging options to sort out, from ultra luxe ski condos to low-end motels that aren't necessarily cheap. There's been a big stink in recent years about town regulations for homeowners who are in the informal short-term rental business. Air BnB might be an economical option if you can plan well ahead and organize five other hikers. Good luck with that. Typically, the multiple-day requirements eliminate the ski condos as a viable option for a zero. There are seven generic chain motels on Main. I've been using the Quality Inn (3537 Main St., 760 934-5114) as my go-to choice for many years. I recommend it for value and the excellent breakfast spread. I am not aware of any stealth camping options around downtown Mammoth. A spot where you can rest easy is probably way the hell up in the Lakes Basin or across 395.
There are three breweries in the area. The one you care about is Mammoth Brewing Company (18 Lake Mary Rd., 760 934-7141) with 14 taps. (Their usual porter will put some hair on your chest.) They do offer bar food, but it isn't a priority. Toomey's (6085 Minaret Rd., 760 924-4408) is the only reason I'd venture into the ski resort's "village." Matt Toomey is the maverick restaurateur behind the justifiably legendary Whoa Nellie Deli in Lee Vining. His Mammoth branch appears to offer a very broad menu of serious cuisine in a decidedly un-stuffy setting. The lobster taquitos that put the Whoa Nellie Deli on the map are there, along with another signature item -- smoked trout bagels with chipotle cream cheese. Matt Toomey is not a corporation. He's just one chef who poured 20 years into making something unique. Mammoth Tavern (587 Old Mammoth Rd., 760 934-3902) is a new arrival sporting a gourmet beer lineup, a weak wine list and a dinner menu that looks gorgeous on the Web. I hope to get in there on my next Mammoth trip. Steer clear of Chinese or Japanese food in Mammoth. The Mexican restaurants are mediocre at best, which is surprising considering the number of Mexicans working in town. (Bishop and Lone Pine are the stops with really solid Mexican food.)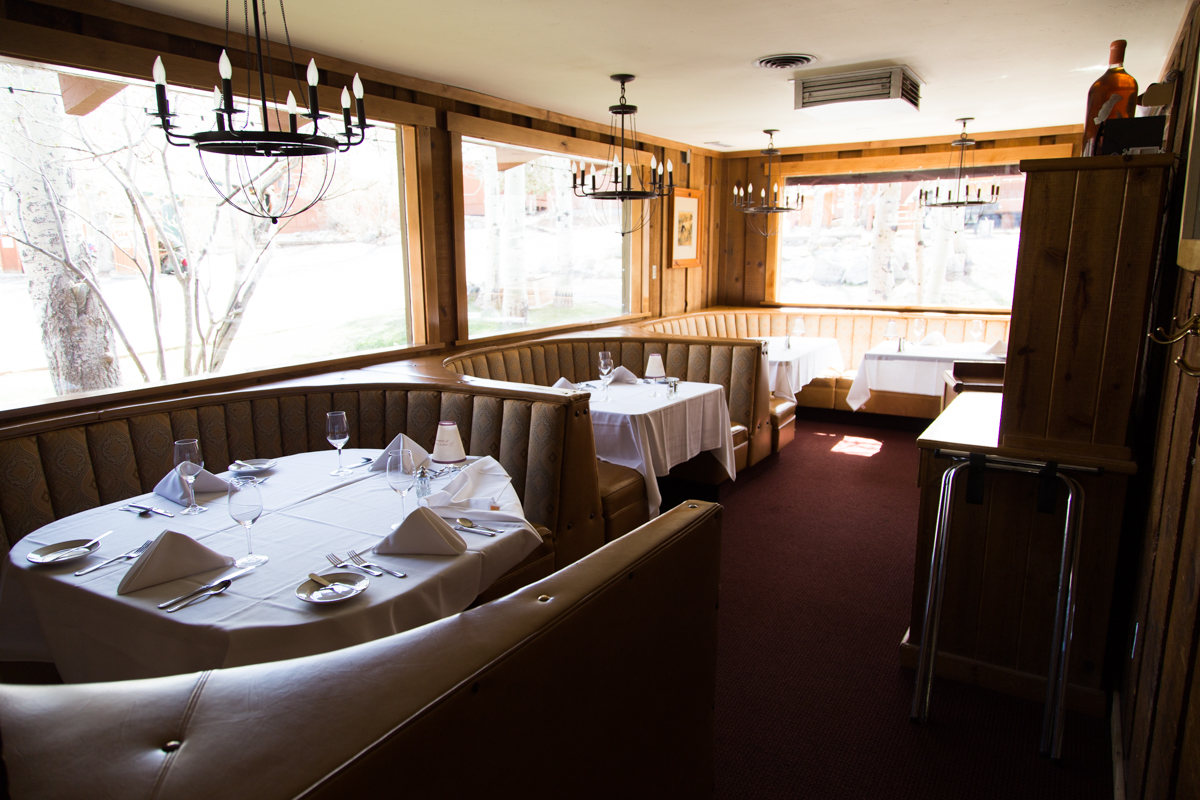 There's a really special place just a 10-minute Uber ride down the highway from Mammoth: In a glacial cirque high above the Owens Valley is one of the culinary gems of East Sierra -- Convict Lake Resort (760 934-3800 for the resort office, 760 934-3803 for the restaurant). The resort, mainly a fishing destination, has what is possibly the only four-star restaurant for hundreds of miles. It is expensive and worth it, with a great list of big-bodied California cabernets -- the only Wine Spectator award-winning cellar between Tahoe and L.A. The closest comparable food may be at the Ahwahnee Hotel dining room in Yosemite Valley. Compared to the Ahwahnee the Convict Lake Resort is a better dining value, less pretentious and blessed with more professional service. (Still, a lot of Eastside locals won't patronize Convict Lake because they find it "snooty.") The housekeeping cabins at Convict Lake are clean, with fully furnished kitchens, and represent a good value compared, say, to a condo rental in Mammoth.
There is an easy way to avoid Mammoth altogether: Send a resupply box to Red's Meadow Resort, which is a few hundred yards off the PCT. I have sweet memories of the time I stayed in the big A-frame cabin there. (See the postcard photo at the top of the page.) Since I was hiking with three friends, it turned out to be a pretty decent deal. I do not recommend the restaurant or the store. Resupply is $40 per box and you need to print out the form on the Web site. There are showers at Red's Meadow and at the campground a few hundred yards up the road. Your options to throw down north of here on the trail are pretty limited until Garnet Lake, but try not to get stuck at Red's Meadow overnight.