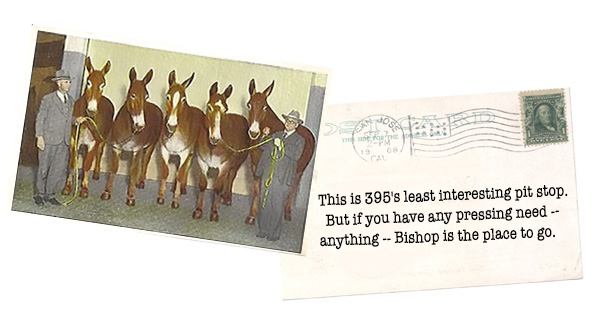 Bishop
In the early 20th century, the region was a fertile plain irrigated with Sierra snowmelt by an elaborate network of canals. Alfalfa, wheat, corn and potatoes were prime crops. Then came a shameful little chapter in California history: From 1905 to 1907 most of the usable land in the Owens Valley was bought up on the cheap by William Mulholland, superintendent of the Los Angeles Water Department, under the guise of a local irrigation project. Thus began the Owens Valley Water Wars, the largest-scale theft of public resources in the history of the state. A century later, LA Water & Power still has a stranglehold on the valley -- lock, stock and damsite.

Mule Days, which could be politely called Bishop's largest cultural happening of the year, is Memorial Day weekend. With 30,000 people and 700 jackasses you may want to steer clear of Bishop this weekend, no matter how much you like mule chariot racing.
Bishop is not a trail town. This is a major city, the largest for several hundred miles. It functions as a way-station for vacationing Europeans and Angelenos and a refuelling stop for long haul-travelers on 395. PCT hikers don't even register as a microscopic blip in Bishop's tourist economy. Bishop is a charmless and unattractive place. But it has anything a hiker could need.

Getting to Bishop from the PCT is an epic slog via South Lake or North Lake, potentially two days in and two days out from the former. Because the in/out is so onerous, I tend to think of Bishop as a layover for section hikers rather than thrus. If a thru-hiker is in Bishop, there's a high likelihood that something serious has occurred, like a medical issue, a major gear failure or a PCT closure. (Wildfires have sent me on unscheduled side trips to Bishop twice.)

There is a large Von's supermarket, a KMart and a Smart & Final, all clustered together at the north end of the main drag near the Y where Highway 6 and Highway 395 diverge. If you're not resupplying at Von's, the very good local grocery is Joseph's Bi- Rite (211 N. Main, 760 873-6388), on the south end of the main drag, a half block from West Line Street. The region's major hospital is Northern Inyo Hospital on West Line Street, eight blocks west of 395. As for things you don't need, Bishop has a first-run movie house and a bowling alley. Since the demise of Whiskey Creek, the Back Alley Bowl (649 N. Main St., 760 873-5777) could very well be the best steakhouse in town.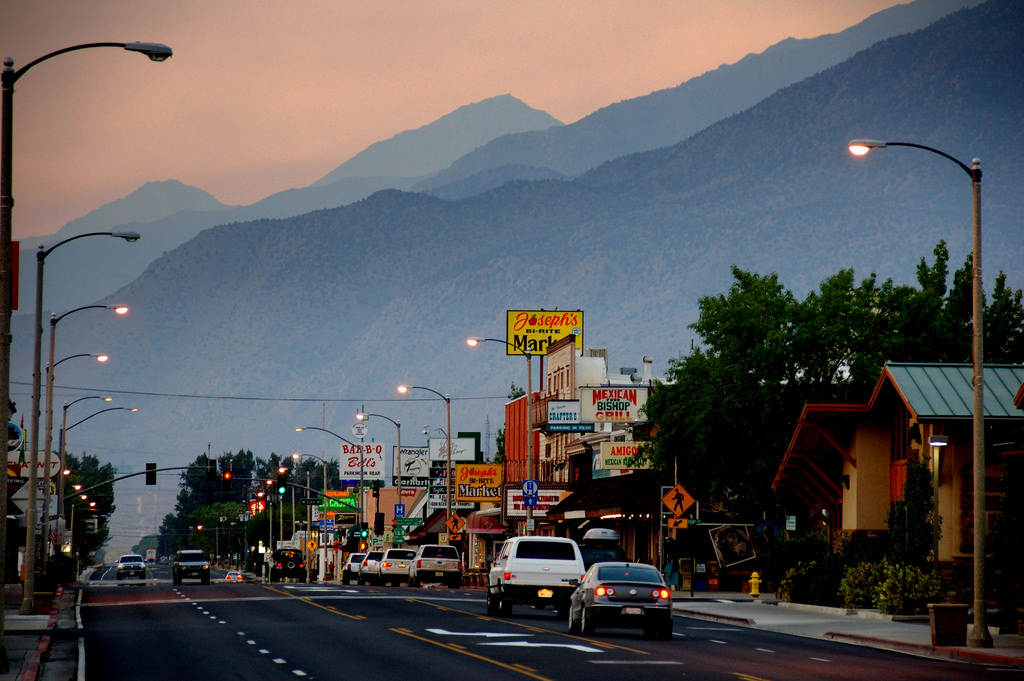 Of the seven sporting goods stores on the main drag, six are primarily fishing and hunting. I very strongly recommend the seventh, Wilson's Eastside Sports (224 N. Main St., 760 873-7520), particularly for shoes. In 2017 Outside magazine called Wilson's Eastside the greatest mountain shop in America. Yes, they are fluent in ultra-light. If you are very lucky, you will encounter a man named Tai Devore. You are in good hands.
As was the case with Lone Pine and Independence to the south, 395 is the commercial main drag. It is walkable. The other civic axis, West Line Street, can be a bit of a schlep for certain things, such as the very well-regarded Burger Barn (2675 W. Line St., 760 920-6567).
There are five Mexican restaurants in Bishop. Each can do a passable burrito or an enchilada platter, but there are qualitative differences. Las Palmas (136-B E. Line St., 760 873-4337) is the total package, with great service, a huge menu, 50 tequilas and an outstanding fresh salsa bar. Astorga's (2205 Hwy. 395, 760 872-3849) would be an honorable second to Las Palmas but it has two strikes against it: It's on the highway a significant walk northwest of central Bishop and its prices are out of line. Nos. 3, 4 and 5 are, in descending order, Amigos, La Casita and El Ranchito. You're not going to have a terrible experience in any of those. Nonetheless, stick to Las Palmas or Astorga's if you can.
For the last several years, my family's first meal stop in Bishop has been the Mountain Rambler Brewery (186 S. Main St., 760-258-1348). Just as the closure of Whiskey Creek changed Bishop in one stroke, the emergence of the Mountain Rambler signals a whole new chapter. The food is uniformly excellent. The vegetarian in my family gives it two thumbs up. I usually don't waste time with salad, but I had one here and it was delicious. (Something about the monotony of trail food made me ravenous for fresh things.) The good company at the long tables is primarily climbers, backpackers and like-minded Subaru-drivin' folk. The Mountain Rambler has also become the city's top live music venue. Altogether, this is the obvious place to be, at the south end of the main drag. Here's the odd thing: For a brewery, none of their beers particularly stand out in my memory, even after six visits. That may be because I've reviewed more than 40 brewpubs between Campo and Manning. At some point in the taste memory, one guy's IPA or pilsner or stout or porter just gets blurred with the one in the next trail town. Start with the small-pour sampler and go from there. This is a really good place to kill an entire evening.
Upper Crust Pizza (1180 N. Main St., 760 872-8153) has unremarkable food but it's worth a mention because of the huge menu, with something for everyone. I have had good luck with the pizza and haven't tried the pastas.
Do not even consider eating at any Japanese restaurant, barbecue joint or Scandinavian bakery in Bishop.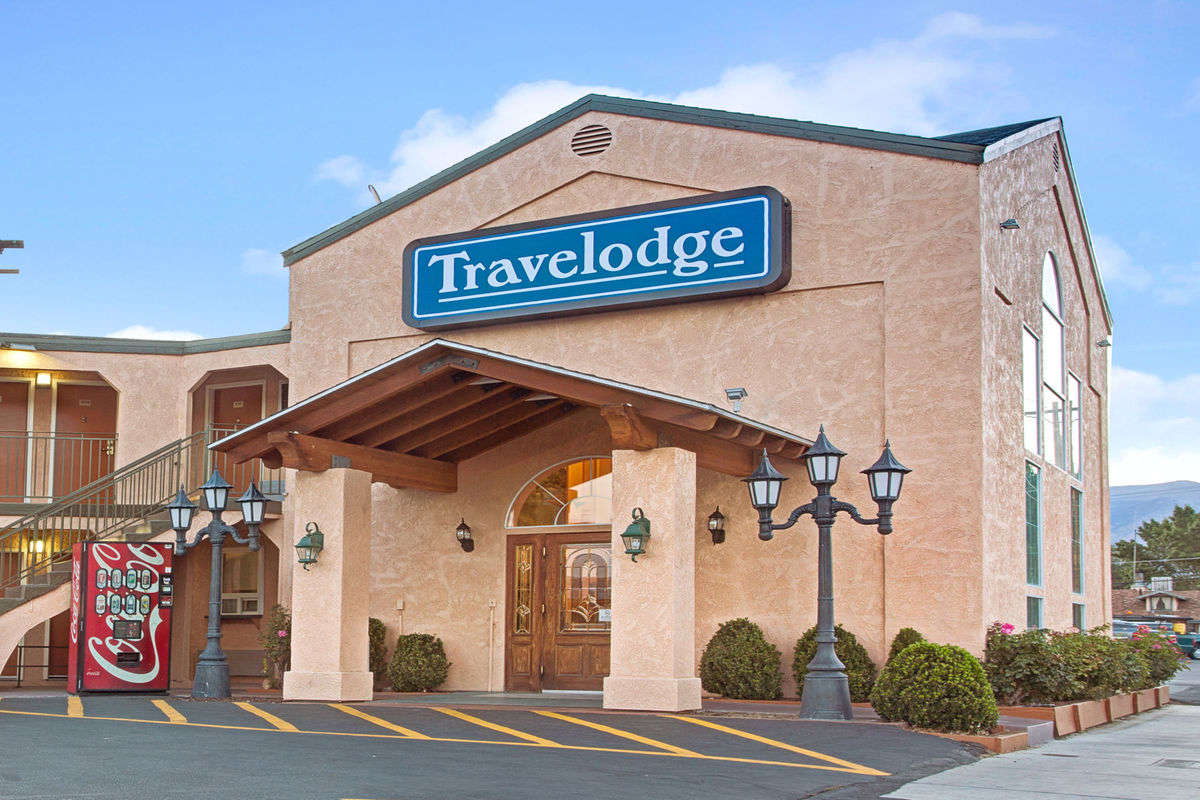 There are 20 motels in Bishop and prices drop $10 for every block you get off 395. The Travelodge (155 E. Elm St., 760 872-1771) has been my top choice in Bishop for many years. Between the breakfast buffet and the pool this is the sweet spot for value. You could get a great $70 walk-in deal if you hit the jackpot, but it's best to book through the Wyndham corporate site as far in advance as you can. (The Europeans are well-aware of this place and in high season you really want to have a reservation when they land in town by the busload.) My sweetest memory here, among many: Nine elite youth climbers, straight out of the Gorge, jammed into the hot tub, having the best spring break of their lives. This is a bankable choice, clean and affordable.
Right next door to the Travelodge there's the Holiday Inn Express (636 Main St., 760 872-2423), which is a very good motel but no bargain. The Days Inn (724 W. Line St., 760 872-1095) is just slightly more expensive than Travelodge. As for the indie operators, the Mountain View Inn (730 W. Line St., 760 873-4242) has twin beds but no queens. Either the Days Inn or the Mountain View would be a very good value if you don't mind the walk to get downtown. Motels I would never stay at: the Econo Lodge, the Elms, the Trees, the Vagabond Inn, the Motel 6, the Thunderbird, the Comfort Inn, America's Best Value Inn and the La Quinta. In a town with so much lodging stock, why go looking for bad news?
I hope you never need it, but there is regional transit on the 395 corridor. Eastern Sierra Transit runs from Mojave to Reno on a schedule that is convenient to nobody. The only reason I mention it is this: If you had to jump forward in a Sierra because of a high snow year, a fire closure or some other trail issue, it might be good to know how to get to Lone Pine, Bishop, Mammoth, Lee Vining, Bridgeport and Reno. (Section hikers who are flying in or out of Reno's major airport should expect to spend a good deal of time on this bus.) Think of Eastern Sierra Transit as a government-subsidized insurance policy for PCT hikers. Nobody wants to use it but if you should find yourself in a bad situation it's good to know it's there.