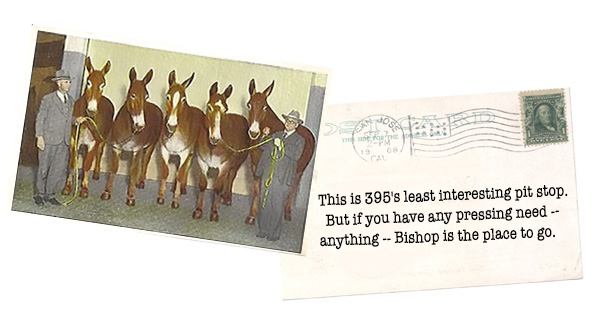 Bishop
In the early 20th century, the region was a fertile plain irrigated with Sierra snowmelt by an elaborate network of canals. Alfalfa, wheat, corn and potatoes were prime crops. Then came a shameful little chapter in California history: From 1905 to 1907 most of the usable land in the Owens Valley was bought up on the cheap by William Mulholland, superintendent of the Los Angeles Water Department, under the guise of a local irrigation project. Thus began the Owens Valley Water Wars, the largest-scale theft of public resources in the history of the state. A century later, LA Water & Power still has a stranglehold on the valley -- lock, stock and damsite.

Mule Days, which could be politely called Bishop's largest cultural happening of the year, is Memorial Day weekend. With 30,000 people and 700 jackasses (not counting the inevitable groups of bozoids who make it a habit to be totally plastered by noon in the grandstands) you may want to steer clear of Bishop this weekend, no matter how much you like mule chariot racing.

A word of advice about Bishop: Don't. Don't do it if you can avoid it. We have to assume that if you're in Bishop for longer than 20 minutes it's because you have to replace some crucial piece of equipment or have some dire medical emergency requiring a trauma center (''Patient presents with deep facial lacerations consistent with a rabid marmot or pika attack...'') Northern Inyo Hospital is the only comprehensive medical facility between Lone Pine and Bridgeport.

There is no charm and absolutely nothing to recommend 395's least-interesting pit stop. The nicest thing we can think of to say about Bishop is there are a couple of big-box discount retailers that stock just about any item you might need. If they don't have it, Rainbow Outfitters/Allen Outdoor Products at the south end of the main drag does -- for a price. (Look for the big red horse.) Equestrians will want to note Allen is one of the best sources for replacement tack and veterinary stuff along 395. So gas up and get the hell out of Dodge. With so many classic alpine lodges and cabins in the area, there is no excuse to ever spend a night in a Bishop motel. If you do have the bad luck to be stuck in Bishop overnight, the motel rates seem to decline $10 for every block further off Main Street that you venture.

As for food, it's about as predictable and undistinguished as the gasoline at the pump: everything of the Burger King / Carl's Jr. / Denny's / Domino's / KFC / McDonald's strata is on the main drag. From the outside, Yamatani Japanese Restaurant & Sushi Bar (635 N. Main St., 760 872-4801), a sister operation to Shogun in Mammoth Lakes, appears to be nicest restaurant in town. We haven't tried it. Amigos (285 S. Main St., 760 872-2189), the family-owned Mexican joint favored by the locals, offers average fare.