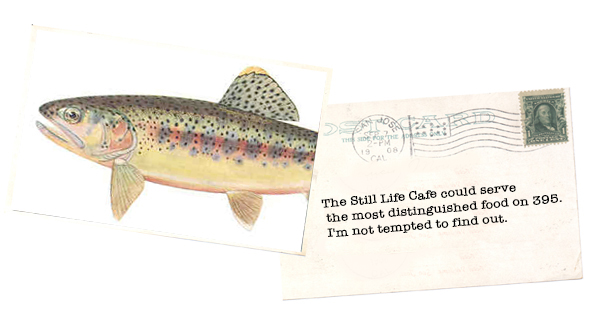 Independence
The official state fish of California is the golden trout. The sole source of golden trout eggs in the state is the Mount Whitney Fish Hatchery in Independence. You can rent out the historic facility for weddings.
Independence is small enough (pop. 669) to feel the impact of PCT hikers. I consider the town to be essentially a speed trap on 395, in no way comparable to Lone Pine or Bishop. The overriding issue here is the lack of restaurants and groceries. If your sole mission in Independence is to pick up a box just remember the post office has no Saturday hours.

The mere prospect of hauling supplies from Kennedy Meadows through to Vermilion Valley Resort -- plus ice ax, crampons and other cold-weather clothes -- is staggering. Understandably, many people opt to come off at Kearsarge Pass to resupply. If you hitch down from the Onion Valley trailhead, Independence is where you end up at the bottom of the hill. The grocery store you need is Ray's Food Place, way south in Lone Pine. As for fine dining, if you are fortunate the Tacos Jalisco truck (305 S. Edwards St., 760 920-3814) will be running. Like the Gueros truck in Lone Pine, this one appears to be in for the long run.

I've never stayed overnight in Independence. Many hikers who have used the three old-school motor courts here report friendly service and clean rooms at very good rates. The big three, in no particular order, are all on Edwards Street, within sight of each another. (Edwards Street is 395.)

The Courthouse Motel (157 N. Edwards St., 760 878-2732), Ray's Den Motel (405 N. Edwards St., 760 878-2122) and the Mt. Williamson Motel (515 S. Edwards St., 760 878-2121).

While all three have received positive mentions in hiker journals, the Mt. Williamson is the one that makes an effort to market itself as a hiker hang. The Web site says they offer resupply but doesn't specify exactly what that means. The resupply you really need is a ride into Lone Pine.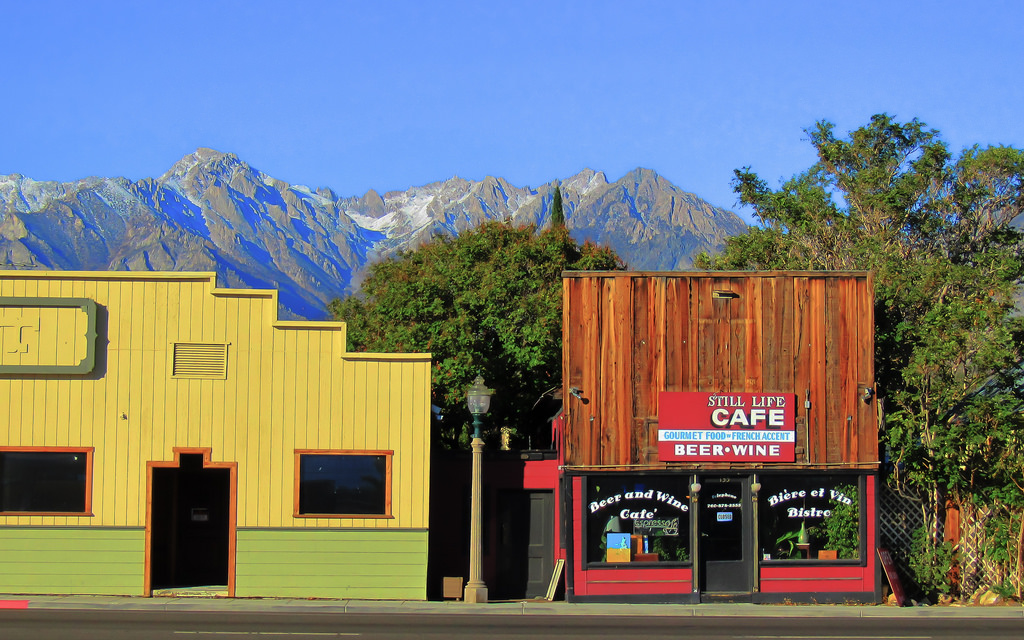 I hesitate to even mention the Still Life Cafe (135 S. Edwards St., 760 878-2555). But since it's the only restaurant in town I can't avoid it. I've never eaten there and it's unlikely I ever will. Travelers hold some very strong opinions about this singular place, a rustic French bistro in the middle of nowhere. It's either no stars or five stars. Pure love or pure hate, with no in-between. Read the Web reviews and judge for yourself.
On the hate side, expect typically French service that treats customers as if they are a bad odor. These people aren't here to serve you. Be thankful they tolerate you. They're running on French time and you better suck it up. Allow for one to two hours from the time you place your dinner order to the time it appears. Seriously. This has been a common complaint for many years. It's not an anomaly. It doesn't matter if you are the only person in the dining room. If you relish being treated like crap and rationalizing "Oh, that's how the French do it," you're a sap and you deserve to get played. Their posted operating hours are suggestions rather than hard facts.
Now as for the other side: It's generally agreed that the food is excellent by any measure. Apparently you could put the Still Life's dishes up against any French bistro in California and have a fair fight. Even most of the people who were disgusted or enraged by the overall experience conceded that the food was exceptional and completely unlike anything available for several hundred miles in any direction. That in itself is strange. An evening at the Still Life could be one of those absolutely singular memories.
From Google: "I waited an hour in anticipation of the delicious meal I ordered. At last the waiter announced: 'Unfortunately the cook has left! I will not charge you for the drinks. Good evening.' " You've been warned.