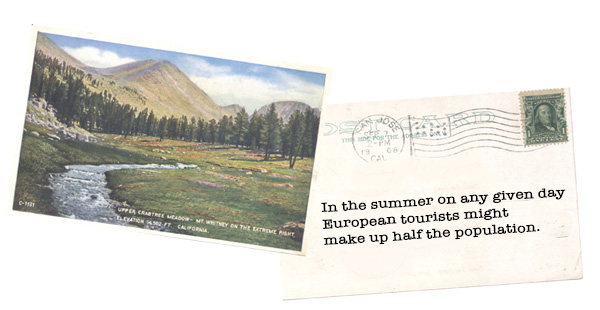 Lone Pine
Yes, there really was a lone pine. The solitary tree from which the town takes its name is long gone. It once stood at the mouth of Lone Pine Canyon.

Mount Whitney was first climbed on Aug. 18, 1873, by three Lone Pine locals -- Charley Begole, Johnny Lucas and Al Johnson -- who promptly named it Fishermen's Peak, thus incurring the wrath of the famed California Geological Survey team that discovered the peak. That team, in a masterstroke of brown-nosing, rechristened the mountain after their boss.

Manzanar, the WWII internment camp where 120,000 law-abiding Japanese-American citizens and their immigrant elders were imprisoned, is seven miles north of town on the west side of Highway 395. (Look for the stone sentry huts -- and then look inside them to see some unforgettable messages.) During the war, Manzanar was the largest ''city'' between Reno and Los Angeles -- a city delineated by guard towers and six strands of barbed wire. After decades of neglect, the National Park Service took over the concentration camp site and added significant interpretive materials, most of it in what was the camp auditorium.
Getting into Lone Pine is a long haul no matter where you're coming off the PCT, but the hitch from the Cottonwood Pass/Horseshoe Meadows trailhead is strategically superior to any other bailout route further north. Coming out over Kearsarge Pass (which many people use to resupply) is a royal pain. That lateral puts you out at the Onion Valley trailhead, which is where I once spent an afternoon and half of the following day angling a hitch to Lone Pine. The alternative is Eastern Sierra Shuttle (760) 876-1915 or East Side Sierra Shuttle (760) 878-8047. But there is no cell reception or pay phone at the Onion Valley trailhead. Good luck with that.

This is a no-brainer full-zero stop, the best town since Wrightwood, by far. Everything you need is along a six-block main drag. (Highway 395 = "Main Street"). Total time to walk from one end of town to the other: 10 minutes.


For two decades now, my go-to lodging in Lone Pine has been the Mount Whitney Motel (305 N. Main St., 760 876-4207). This is a safe, clean classic motor court with a pool, located at the north end of the strip. Ask for one of the units in the newer rear section. The rates are very reasonable. Pete Bhakta is probably the coolest motel owner between there and the Oregon border. If there was a Mr. Bhakta in every trail town life would be much easier. It means a lot to roll into town all trail-ugly and know there's a welcoming face on the other side of the front desk who is genuinely glad to see you. Mr. Bhakta is that guy.
In the event that the Mount Whitney is full up on a weekend night (which happens quite often), the immediate Plan B should be the Lone Pine Budget Inn (138 W. Willow St., 760 876-5655) directly across Willow Street from the back of the Mount Whitney. I've never stayed there. It seems to be a reputable establishment very much in the same model as the Mount Whitney. And it appears to be run by another member of the Bhakta family, which is all I need to know.
There are at least a couple of large operations that merit your attention. The Whitney Portal Hostel and Hotel (238 S. Main St., 760 876-0030), run by the folks who operate the Whitney Portal Store, could make you completely rethink your definition of "hostel." You can get a standard motel room here or a bunk and a shower. Either way, it's immaculate and affordable. I have never stayed there, but the word-of-mouth is positive.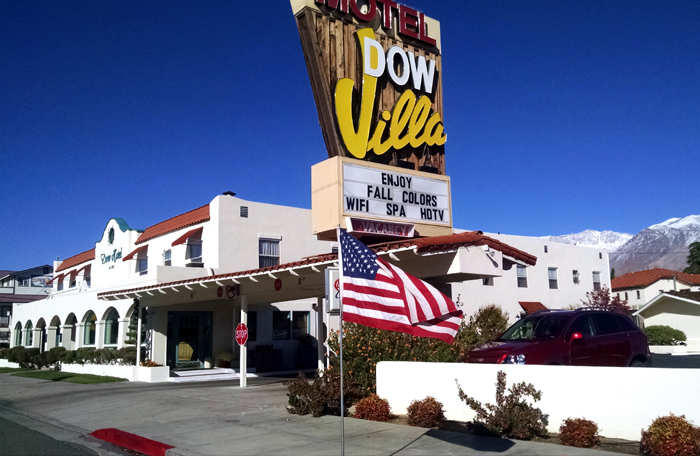 For a standard motel with a strong dose of local history, there's the Dow Villa (310 S. Main St., 760 876-5521), which has been there in one incarnation or another for nearly 100 years. In a historical sense, you could almost say the Dow Villa is Lone Pine. Thanks in large part to the Alabama Hills just west of town, the Lone Pine area was a key location for filming Westerns during Hollywood's Golden Age. John Wayne, Roy Rogers, Gene Autry, Stewart Granger and Errol Flynn were among the Dow's regular guests. (There's an excellent movie museum at the south end of town if you're taking a zero.) Some of the big stars signed their names on the old front door frame of the Indian Trading Post on Main Street. At one time this was a big draw for the many German tourists making the National Park circuit from Death Valley and the Grand Canyon up to Yosemite. If you can swing one of the rooms in the Dow Villa's historic hotel section, this is the nicest lodging in Lone Pine. My best memory here: After finishing the John Muir Trail via the Mt. Whitney Trail and getting a ride into town, I went directly to a one-hour tub soak at the Dow Villa. It felt as if I was reborn. This operation has a long history with the PCT community.
The best restaurant in Lone Pine may not be a restaurant at all. There is a very good chance that three seasons out of the year you're going to see a taco truck parked on the main drag at the corner of Willow and Main, directly across from the Mount Whitney Motel. It may be the Tacos Gueros guys. Or it may be Tacos Los Hermanos. The Gueros guys seem to commute from Los Angeles seasonally, whereas the Los Hermanos crew seems to operate just on 395. The taco universe works in mysterious ways. You really should try these. If you see adobada on the Gueros menu, it's your lucky day. If you try an adobada taco, it's an odds-on bet you're coming back for four more. (As a general rule, six of these street tacos would be bomber and two burritos would put any PCT hiker under the table.) This would always be my first choice for lunch in Lone Pine. I've also had two completely satisfying dinners at the trucks. You will meet some interesting people sharing the picnic benches. Long-haul truckers swear by these taco trucks, which is a very good sign.
There are only three brick-and-mortar restaurants in Lone Pine that you need to consider. The Merry Go Round (212 S. Main St., 760 876-4115) is a sentimental favorite for my family, although it has gone just ever so slightly downhill in recent years. It is an odd place, from the tiny round dining room packed with kitsch to the twin menus -- straight American and American-style Chinese. The latter menu features the kind of retro fare your grandparents used to get for take-out in 1968. This is quite literally a mom-and-pop operation. The older gentleman who runs the front of the house is married to the head chef who runs the back of the house. These are warm, charming people who understand gracious service. Yes, with such a tiny enterprise, it may not operate like a Swiss watch, but so what? Where do you have to go in such a hurry, Mister Bigshot? Sit back and just drink it all in. Very large portions on the Chinese side of the menu. Chances are the Merry Go Round is going to be one of your more memorable town dinners.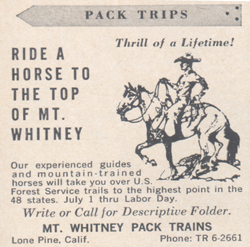 Right next door to the Merry Go Round is Seasons (206 S. Main St., 760 876-8927), the finest dinner house for many miles in any direction. This is one that you might want to treat as a special occasion restaurant. Unapologetically expensive and worth every dime. Whenever I consider how many consecutive nights my "dinner" has consisted of a titanium pot on a cat stove, I don't bitch about the price. Seasons is your last shot before Mammoth Lakes for a really nice dinner. They do a lot of business with Mount Whitney "hikers," so although they are a legit white-tablecloth operation, they're not going to give you the stinkeye for walking in wearing shorts and sandals, assuming that you showered first. Seasons is a very good place for a 5,000 calorie dinner.
Compared to the Merry Go Round and Seasons, Bonanza (104 N. Main St., 760 876-4768) is acceptable yet unremarkable. It's billed as a Mexican restaurant but has a split menu of gringo-style Mexican and classic American diner. It's solidly geared to the tourist trade (which, in this town, means there's usually one server who speaks rudimentary German). This would be the No. 2 lunch stop for me, after the taco truck. There's also an untested newcomer in town, the Grill (446 S. Main St., 760 876-4240), a diner with the standard breakfast, lunch and dinner menu at prices that are considerably higher than the norm. I have not tried it. Online reviews tend to lean positive. Steer clear of the other standard diners on the main drag.
In Lone Pine hikers are blessed with the first good local grocery store since Agua Dulce: Joseph's Bi-Rite (119 S. Main St. 760 876-4378). You're also going to find a Joseph's Bi-Rite up the trail in Bishop. The only hospital in an 80-mile radius is the Southern Inyo Hospital (501 E. Locust St., 760 876-1146).
No account of Lone Pine's charms would be complete without a mention of the over-the-top Eastern Sierra Interagency Visitor Center (760 876-6200). From town it's a non-scenic two-mile roadwalk south on 395, to the junction with Hwy. 136, the route to Death Valley. As someone who's seen ranger stations that looked like they were held together with duct tape, chewing gum and prayer, I was pretty impressed. It looks like something out of Architectural Digest. Besides the Inyo National Forest there are 10 other government agencies represented there. Oddly, it feels as if fully half the facility is a gigantic concessionaire's gift shop. This is the single stop for all official beta about the Southern Sierra -- snow depth, trail closures and reroutes, fire information, bear can regulations, etc.
Overall, Lone Pine is a tough call for any number of logistical reasons. Coming off the trail at Cottonwood Pass (as I recommended above) may be too early if you're packing a resupply from Kennedy Meadows. Coming off at Whitney Portal could mean a hellish two-day return trip to the trail. And bailing at Kearsarge Pass -- while it may make sense for resupply -- puts you an hour's drive north of town. Hitching on 395 is not a trivial matter. Your odds of scoring a ride are many times better if you're doing it at a trailhead, where other outdoors-oriented people have some shared context. On 395, you're just one more sketchy looking drifter by the side of the road. While Lone Pine isn't an easy in and out, the next major stop, Bishop, is a terrible in and out. Blowing off both of them puts you in a grim situation as well. From Kennedy Meadows it's 174 very hard trail miles to Vermilion Valley. Chances are you're going to need to settle on a strategy to come out to 395 somewhere between KM and VVR. Be aware there are no Saturday hours at the Lone Pine post office.