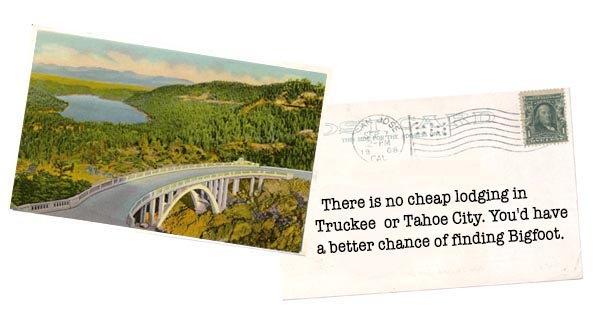 Truckee and Tahoe City
Tahoe City's Fanny Bridge is the demarcation point where Lake Tahoe drains into the Truckee River. In the summer season, hundreds of tourists line the bridge every day to see the schools of rainbow trout that gather just below the dam. It was a local newspaper columnist who named it Fanny Bridge. He claimed he could estimate the tourist traffic in the region by counting the number of butts as the visitors bent over the railing to feed the fish.

Since you cannot put two journalists in a room together without having a difference of opinion, another local scribe offered an alternate take: The bridge actually got its name from the foreman of the bridge construction crew, who named it for his aunt, Fanny McGillicuddy Wilkerson. Now you know.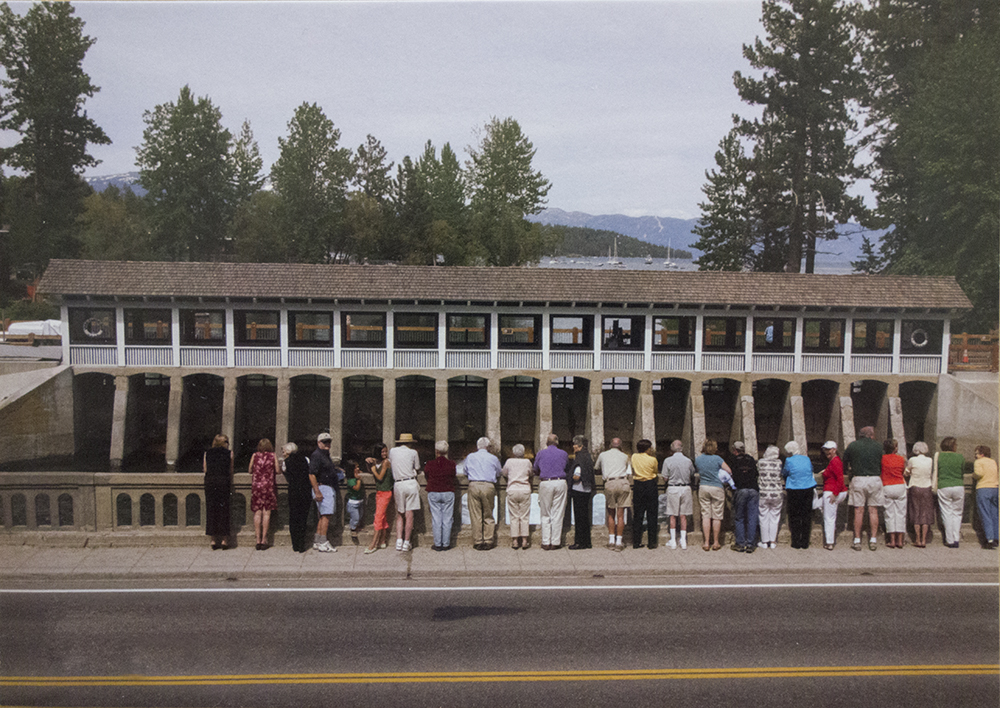 Although it's just several days north of South Lake Tahoe most PCT hikers treat Truckee as a near-mandatory town stop. Your next real city is going to be Mount Shasta in 400-plus trail miles. From the cross of Highway 40 at Donner Summit, it's a relatively easy hitch down to Donner Lake and then 10 minutes further east to Truckee.

There is no cheap lodging anywhere in the region. You left the world of cheap motels when you left South Lake Tahoe. Adding insult to injury, there is no place to stealth camp anywhere near Truckee or Donner Lake. Dirtbag hikers would be better off coming into town, taking care of business and then hitching back up to Donner Summit for the night. Your best stealth possibilities are around where the PCT gets tangled in a welter of climber trails, approximately a half-mile after the highway cross. There is no legal camping west on Old 40.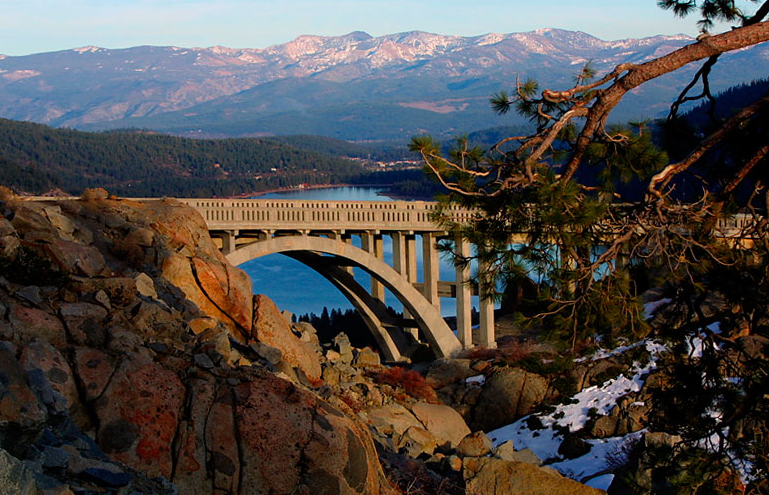 Everything you need in Truckee is strung along the main drag, Donner Pass Road. It is not an easy town to walk. Much like South Lake Tahoe, there are two commercial areas in Truckee, one on each side of the freeway, separated by a half-hour walk. In very general terms, everything you need is in the west area, anchored by the Safeway supermarket. As with South Lake Tahoe, you could treat this Safeway as a takeout restaurant. Note there are two post offices, one downtown on Bridge Street and the other to the west of I-80 in the strip mall off 89. Neither one is terribly convenient. Tahoe Forest Hospital (10121 Pine Ave., 530 587-6011) is just across the road from the Safeway.

Because it's both a ski destination and a major stop for interstate highway traffic, Truckee has a disproportionately large number of restaurants. (There are countless legions of travelers who have spent way longer than they wanted in Truckee because Donner Pass on I-80 is a key chokepoint when the snow is falling.)

I'll just mention two favorite restaurants that have been bank-ably good year in and year out. Burger Me (10418 Donner Pass Rd. 530 587-8852) begs the question, "Do you really need another hamburger?" No. But this is not just another hamburger. This is burgers as artisanal food, made out of bison, assorted poultry and seafood, among other things. This is probably the only place you're ever going to find a "Gyro Burger" with 1/3 pound of lamb or an "Ahi Burger" with yellowfin tuna. This pit stop 20 seconds off I-80 had its 15 minutes of fame some time back thanks to a visit by culinary clown Guy Fieri. This is the only burger place that the vegetarian in my family enthusiastically endorses. On the weekends, the wait during the dinner rush can top 30 minutes.

Among Truckee locals and ski families, Tacos Jalisco (11400 Donner Pass Rd., 530 587-1131) is an old reliable friend. Expect to stand in line for 10 minutes at peak hours. In a town where just about everything is overpriced, I give Tacos Jalisco my highest recommendation for value. From my experience there are at least two items that a thru-hiker would have a hard time putting down in one sitting.

Truckee is blessed with three outfitters: Backcountry (11400 Donner Pass Rd., 530 582-0909) is conveniently just across the parking lot from Tacos Jalisco and would always be my first pick. Tahoe Mountain Sports (11200 Donner Pass Rd., 530 536-5200) is a few hundred yards up the road. On the east side of the freeway, downtown, there's Tahoe Sports Hub (10095 W. River St., 530 582-4510). For serious gear issues, Cabela's and REI are far to the east in Reno. Too far. The only rationale for going to REI Reno would be something as serious as a tent or a pair of shoes. And even then, they could just drop-ship it to you.

I would never pass up Truckee. Maybe that's my accumulated bias over the years as the chauffeur of a professional climber. Again, consider how long you're going to be without creature comforts such as a real supermarket: 260 miles to Burney. Your next quality Mexican restaurant is Casa Ramos, 400 trail miles north. But, if for some reason you do want to skip Truckee, there are resupply options west and east. Soda Springs has the General Store (21719 Donner Pass Rd., Soda Springs, CA 95728, 530 426-3080), which you could resupply out of. In addition to being a fairly decent deli, it's also a contract post office. It's three miles west from the PCT cross at Donner Summit. Donner Lake is about the same distance in the other direction. Neither one of them are true towns, but if your only objective is to eat a sandwich, drink a beer and pick up a resupply box, either one will do. There is a ton of recreation-related traffic at the trail cross.

Donner Ski Ranch (19320 Donner Pass Rd., 530 426-3635) is an unapologetically funky, 80-year-old ski area about a mile west of the PCT on Old 40. It could be the closest service provider to the trail, if the Old 40 bar and grill operation is running. Don't bank on that until you confirm it yourself. A little trivia: More than 30 years ago, when snowboarding was considered an exotic and downright bizarre way to get down the mountain, Donner Ski Ranch was among the first to embrace it. The first wave of snowboard pioneers included many people who cut their teeth at this tiny operation. In this age when a few gigantic corporations control most skiing in the West, this is still a family operation that simply refuses to die.

It's very unlikely you'll end up in Tahoe City. So why mention it? I've been forced to make a 3 a.m. bail off the top of the Squaw Valley ski area (Granite Chief) thanks to wild weather. If you hit blowout weather on the crest and come off the hill at either Squaw Valley or Alpine Meadows, you're going to end up in Tahoe City. A contrarian gambit here would be to skip South Lake Tahoe altogether and resupply out of the Tahoe City post office and Safeway.

Like Truckee, Tahoe City is full-service everything -- for a price. As is the case with Truckee, there are zero lodging deals here and zero places to stealth camp. There is no good reason to overnight here. The Safeway (850 N. Lake Blvd.) on the main drag at the northeast edge of town, is the only business you need to care about. For chow, I can recommend two Tahoe City institutions: Blue Agave (425 N. Lake Blvd., 530 583-8113) is in the landmark Tahoe Inn building. It has a large menu of gringo-style Mexican fare, pretty much something for everyone. Bridgetender (65 W. Lake Blvd., 530 583-3342) has been a huge social scene for tourists and locals alike for more than 40 years. It's just across the highway from Fanny Bridge. On lazy afternoons in mid-summer, the patio is the prime spot to drink beer and watch the world go by. The menu is standard fare: soups, salads, sandwiches and -- as we've heard so many times before -- "famous burgers." Service is a significant reason it's always crowded. Tip accordingly. This is a really good place to spend a bit too much money. But nobody I know has ever walked out of Bridgetender anything less than completely satisfied.

Here's yet another option for a town stop without the town: You could easily resupply out of Squaw Valley via a very short spur off the PCT just past Granite Chief (per the PCT data book "Granite Chief Trail 15E23") and be back on the trail in next to no time. Note the post office address is not Squaw Valley: 1600 Squaw Valley Rd., Olympic Valley, CA 96146. Squaw Valley also has a four-star restaurant, PlumpJack Cafe (1920 Squaw Valley Rd., 530-583-1578), that is worth a special trip. Alice's Market (1850 Squaw Valley Rd.) might be iffy for a real resupply. But it could give you a day's worth of trail food to make Donner Pass.

Truckee and Tahoe City are unapologetically expensive. (You could easily break $500 here for a zero.) But the three blitz options I ran down above -- Soda Springs, Donner Lake and Squaw Valley -- make it easy to avoid getting clipped. As it was in Big Bear, Mammoth and South Lake Tahoe, you don't have to go into town.



© 2000-2018 David Plotnikoff. All rights reserved.