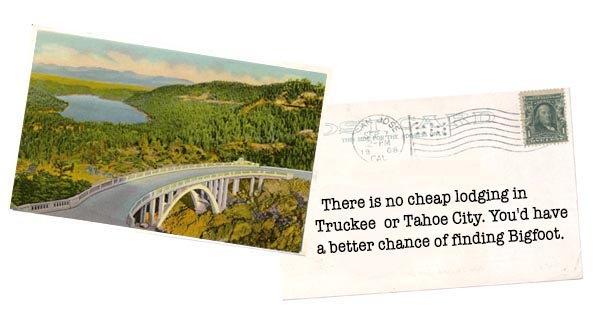 Tahoe City and Truckee
Paul McCartney, a bass player formerly with a British band of some repute forty years ago, has been known to crash gigs at Moody's Bistro and Lounge in the Truckee Hotel. This happens with some regularity when he's skiing in the area. Perhaps the same controversial tactics used to deter nuisance bears in the area -- beanbag shot, flash-bang charges, etc. -- can be deployed here to discourage washed-up rock icons from taking the stage and shredding through a fakebook of jazz standards.
As far as we can see there are no outstanding deals in Truckee or Tahoe City -- for either lodging or food.

For PCT hikers, the biggest development to hit the Truckee region in a long time is the cafe and bar at Donner Ski Ranch, a charming little ski area just a few hundred yards to the west of the trail on old Highway 40. This is the closest you're going to get to an on-trail restaurant until Belden at the earliest. As of June 2009, they had cut back from lunch and dinner seven days a week to Fridays-Sundays only. A most-welcome tradition-in-the-making: The bartenders reportedly offer a complimentary 40 of malt liquor to thru-hikers, the "40-at-40" plan. (Hey, who said you were out there hiking for your health?)

Blue Agave (425 N. Lake Blvd., Tahoe City, 530-583-8113) is a large, bustling, family-friendly Mexican restaurant on the main drag with a decent but unremarkable gringo-style menu. The Bridgetender (Hwy. 89, just south of the Truckee River Bridge in Tahoe City, 530 583-3342) is your go-to call for burgers and beer in Tahoe City. This is the default apres-ski, apres-swim, apres-climb, apres-anything chill-out spot for the region. And it can get very busy on a summer weekend. As is the case in South Lake Tahoe, the motel bargains in Tahoe City are weekdays only. It'd be tough to find any good deals under $110 on Friday or Saturday. You may not see any motel room under $120 in Truckee.

For a rowdy, loud-as-bombs dinner experience in Truckee, we can recommend Bar of America/Pacific Crest Grill (10040 Donner Pass Rd., 530 587-3110), which is often billed as "Mediterranean cuisine" but comes closer to updated classic American chop house. With a name like "Pacific Crest" it's got to be good, right? For more low-key fare, we recommend Tacos Jalisco (1400 Donner Pass Rd. No. 30, 530 587-1131), located on the main drag west of downtown Truckee and east of the I-80 interchange near Donner Lake. (It is conveniently located behind the top gear outfitter in the region.) On Highway 89 south of I-80, there's what's reputed to be Truckee's best pizza, at Village Pizzaria (11329 Deerfield Dr., 530 587-7171). We have yet to try it. Finally, for Truckee's best hamburger, the call is Burger Me, at the far west end of downtown (10418 Donner Pass Rd., 530 587-8852). If we had only one meal in Truckee, for pure value and deliciousness, it'd always be Burger Me.