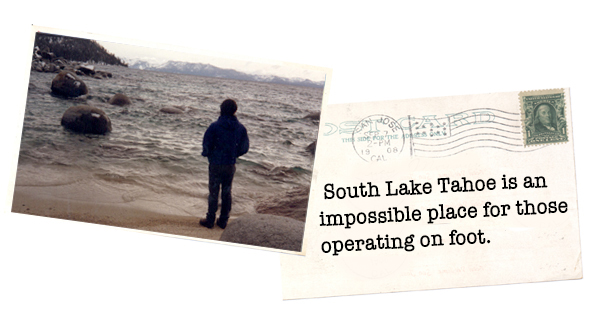 South Lake Tahoe
Amazing trivia to share with your tablemates as you wait for the blackjack dealer to shuffle:
Until 1862 Lake Tahoe was widely referred to as Lake Bigler, in honor of California's third governor, the utterly forgettable John Bigler.

Lake Tahoe was 1,645 feet deep the last time anyone checked. Every time the technology improves, scientists revise their depth measurements upward -- or *downward*, depending on which way you're oriented. The lake's clarity is, understandably, a regional obsession bordering on the religious. It is said one can see a china plate at a depth of 75 feet. Never tried it.
How cold is it? It's damn cold -- 41 to 68 degrees at the surface and 39 in the depths.

Beware of getting sucked into the vortex of South Lake Tahoe It's a charmless place, still tacky as all hell. And yet it's not uncommon for PCT folk to end up taking unplanned multi-day zeros in this small city. Roll in with plans for a quick overnight. Return to the trail after a quadruple zero wondering where all your money went and why there's a $5 blackjack chip and a swizzle stick in your food bag. South Lake has every possible indulgence you could ask for and some you probably haven't even thought of yet.

The first issue after you cross Highway 50 (the PCT crossing is significantly west of where you hit the road) is the status of the Echo Lake Chalet store and post office. You need to check this carefully. It may be up for sale or it may be closed. There have been issues over the years with thrus -- specifically the burden of resupply boxes. As of late 2017 they were no longer accepting resupply boxes. They may not even be a Postal Service contractor anymore. The closest post office to the trail is at 1285 Apache Ave., South Lake Tahoe, CA 96150. That's a tough four-mile roadwalk down Highway 50, to the foot of the grade, but not nearly into South Lake Tahoe proper. I would never consider resupplying out of the Echo Lake store.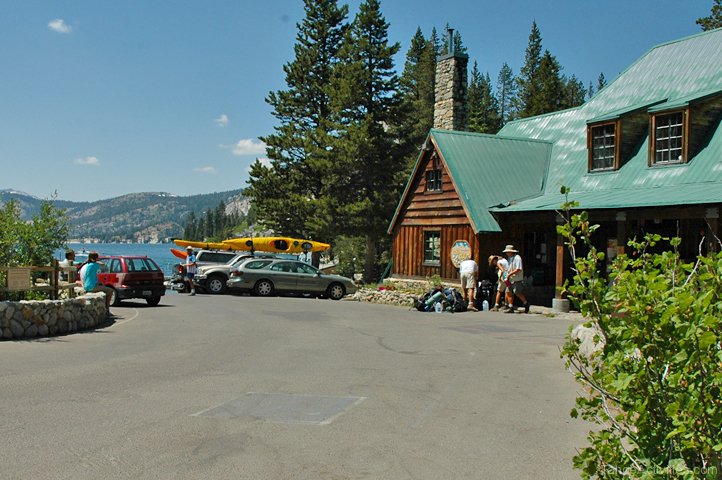 South Lake Tahoe is an impossible place for those operating on foot. On the west end, the major junction of Hwy 89 and Hwy. 50 is called the Y. From there to the other commercial hub near Stateline is not a trivial stroll. It is a nasty seven-mile highway roadwalk. Consider the Y and Stateline to be two separate towns connected by a thin, contiguous commercial strip along the highway. Northbound thrus will have seen this phenomenon before, with the two Big Bears. (Lake Tahoe Boulevard is another name for the urbanized Highway 50.) There are three post offices here. One just a block off the Y, one halfway to Stateline and another about a half mile into Nevada at the foot of Kingsbury Grade. There is a persistent rumor of minimal public transit on the highway. The bus you want is marked "50," not "53."
You can get groceries on either end of the city. There's a Raley's and a Smart & Final at the Y. There's another Raley's at the east end, three blocks before the state line. Unfortunately, Safeway, the supermarket you really want, is located midway between the Y and Stateline. As with most other large Safeway and Von's stores, there are enough deli and hot food options that you could consider it a cheap self-serve restaurant. Tahoe Urgent Care (2130 Lake Tahoe Blvd., 530 541-3277) and Barton Memorial Hospital (2170 South Ave., 530 541-3420) are both near the Y.
One would think a city this size in one of the largest outdoor recreation destinations in the country would have more than one good outfitter. Not currently, unless you're talking skis and snowboards. The only one any hiker has ever mentioned to me is Tahoe Sports Ltd. (4000 Lake Tahoe Blvd., near the state line, 530 542-4000). If you have gear issues that can wait a few days until Truckee, you'll be better off.
There are reportedly more than 100 restaurants in South Lake Tahoe if you count the ones on the Nevada side of the line. Here are the four rock-solid places I keep returning to year after year:
RoJo's Tavern (3091 Harrison Ave., 530 541-4960) is an old-school dinner house that is venerated by many of the locals. Pork and chicken BBQ plus Italian standards. Taqueria Jalisco (3079 Harrison Ave., 530 541-6516) is the semi-secret Mexican place in the alley behind RoJo's. You can get a lot of good food there for next to nothing. The Brewery at Lake Tahoe (3542 Lake Tahoe Blvd., 530 544.2739) has an uncommonly large menu of burgers, sandwiches and pizza. It typically has a half-dozen standard brews plus a couple of seasonal offerings on tap. They can get swamped at the dinner rush and the wait time can be unconscionable. Better to go for lunch. All three of these are roughly midway between the Y and the state line. On the Nevada side, Mott Canyon Tavern (259 Kingsbury Grade, 775 588-8989) is a few blocks up Kingsbury Grade from Highway 50. From the state line it is walkable. This has been a reliable family favorite for many years. The usual burgers, sandwiches and pizza, all done well. Finally, I have no experience with Base Camp Pizza (1001 Heavenly Village Way #25a, 530 544-2273) but it's prominently mentioned in hiker media online. It's in the intensely urban "downtown Heavenly" area right at Stateline.
Forget the casino buffet scene. I don't care what you've read or heard. That's something out of the distant past. The only people getting cheap food at the casinos are those who are gambling there. If you want a complete thru-hiker calorie load, check out the all-you-can-eat Indian buffet on the California side of the line. Nikki's Chaat Cafe (3469 Lake Tahoe Blvd., 530 541-3354) is very close to the Safeway supermarket. I haven't tried it but I know a couple of backpackers who make it their first stop in South Lake. It appears to be a very good place for vegetarians.
There are far too many motels on Highway 50 to list. The greatest concentration is toward the east end of the strip. Of the one-dozen-plus choices jammed into three long blocks, I've had good experiences at the Holiday Inn Express (3961 Lake Tahoe Blvd., 530 544-5900). At other motels on the strip, you might still be able to get the rate down to $75, particularly on a weeknight, even at the height of the summer season. South Lake has what is probably the nicest Motel 6 (2375 Lake Tahoe Blvd., 530 542-1400) in California.
If you do want the full-on casino scene, the superior choice is Harvey's , the first building on the left when you cross the state line. I've stayed here four times and although I have not enjoyed good blackjack sessions it's always been a good overall experience. The very luxe rooms are priced on par with some of the higher-end offerings around Heavenly's commercial village. What stands out besides the delightful, historic Sage Room restaurant? The most ridiculously over-the-top marble-lined bathroom I've ever seen in the Sierra Nevada. Coming straight off the trail, I was almost tempted to call the front desk and apologize for using their bathtub.
Just like Mammoth, South Lake has a tourism economy whether there's snow on the mountain or not. It takes an army of low-wage service workers to support the casinos, the hotels and the restaurants. You won't see it, because it's hidden a few blocks off the highway, but about a third of South Lake on the California side of the line is a working-class semi-ghetto with people living on the skinny in RVs, trailers, ramshackle cabins and illegal outbuildings off Pioneer Trail. There's nothing funny about a blackjack dealer who handles a million dollars of cash per shift and qualifies for food stamps. Do the right thing: Tip like a rock star.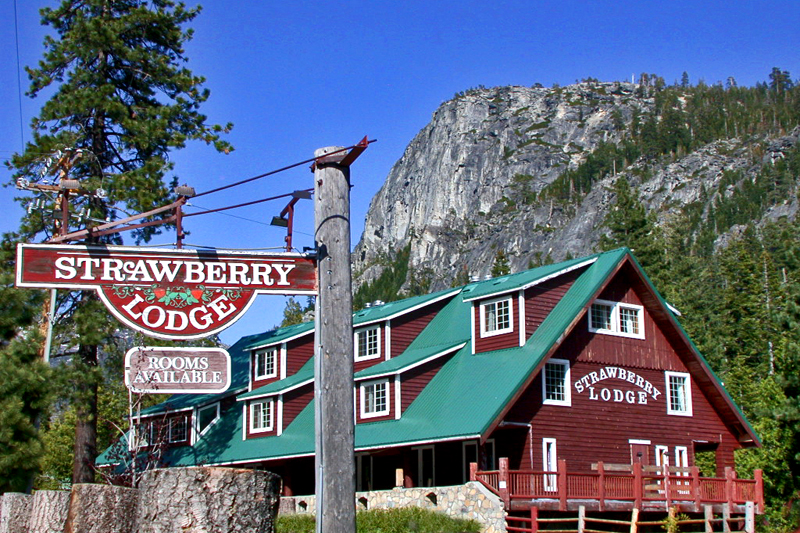 If you don't want the overwhelming urban blast of South Lake and you don't need a full-service supermarket, there is a very good, semi-secret plan B when you get to Echo Summit. The historic settlement of Strawberry is a nine-mile hitch west on Highway 50. It's next to impossible to hitch right at Echo Summit. You're better off walking a few hundred yards west. Strawberry -- which is almost too small to call a town -- has been a traveler's mecca since 1860. Today, it's a major draw for trad climbers headed for Lovers Leap, which looms over the settlement. Climbers are just about the only people who are hip to the unincorporated burg of Strawberry, population 50.

You'll find a decent little grocery store that you could resupply out of. There's a flat-out great bar at the Strawberry Lodge (17510 Hwy. 50, 530 659-7200) and a good restaurant with a modest menu. The lodge is value-priced if you can get a room on the highway side. There is also a small Forest Service campground a few hundred yards up the road to the Lovers Leap trailhead. That campground recently instituted a $10 fee. Which means you're going to want to keep walking a slight bit further north to stealth camp. The post office is 100 yards west of the lodge. Note the official address is not Strawberry or Kyburz. It's 17481 Hwy. 50, Twin Bridges, CA 95735.


© 2000-2018 David Plotnikoff. All rights reserved.