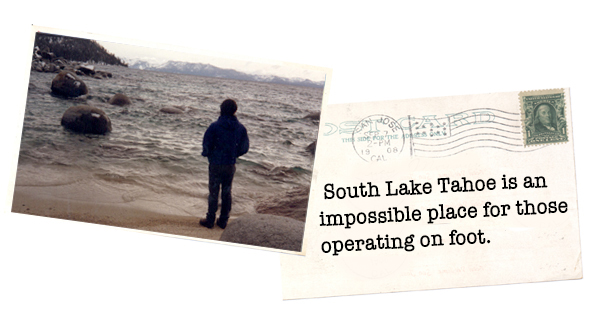 South Lake Tahoe
Amazing trivia to share with your tablemates as you wait for the blackjack dealer to shuffle:

Until 1862 Lake Tahoe was widely referred to as Lake Bigler, in honor of California's third governor, the utterly forgettable John Bigler.

Lake Tahoe was 1,645 feet deep the last time anyone checked. Every time the technology improves, scientists revise their depth measurements upward -- or *downward*, depending on which way you're oriented. The lake's clarity is, understandably, a regional obsession bordering on the religious. It is said one can see a china plate at a depth of 75 feet. Never tried it.

How cold is it? It's damn cold -- 41 to 68 degrees at the surface and 39 in the depths.
South Lake Tahoe and its Nevada sister city, Stateline, have everything a hiker needs -- and an awful lot you don't. Like Mt. Shasta, this is one of those full-service cities with a force field that can lead to many lost days. Roll in with plans for a quick overnight and return to the trail after a quadruple zero wondering where all your money went and why there's a $5 blackjack chip and a swizzle stick in your food bag.

The lodging options in South Lake Tahoe are overwhelming. If you can get Internet access in Mammoth or some other point south, it's worthwhile to browse the Web consolidator sites and the individual casino properties for Web-only specials. In previous years we've noted $99 Web rates for Harvey's, our preferred casino. Generally, you're going to find decent motel rates weekdays but no bargains on weekends. The spread between the two can be $50 or more.

For those operating on foot, there are two areas to consider: The "Y" (where highways 89 and 50 split) is a major commercial hub that's several miles to the west of the state line and "downtown" South Lake Tahoe. As of 2008, the Apex Inn (1171 Emerald Bay Rd., 530 541-2940), a tidy older operation just a few hundred yards south of the Y on the highway, was a hiker favorite.

There is also a cluster of more than a dozen motels on Highway 50 (which has now morphed into "Lake Tahoe Boulevard") within walking distance of the casinos. These include just about every big chain you can name. We have had good experiences at the Holiday Inn Express (3961 Lake Tahoe Blvd., 530 544-5900). Avoid the Days Inn (3530 Lake Tahoe Blvd., 530-544-3445). The rooms are fine but the staff is not.

Along this busy commercial stretch you'll also find what may be the nicest Motel 6 in California (2375 Lake Tahoe Blvd., 530 542-1400), plus a major grocery store, an Internet cafe, and several restaurants. For those who are really serious about racking up zero walking miles in town, the Quality Inn and Suites (3838 Lake Tahoe Blvd., 530 541-5400) has an Indian buffet on the premises.

Speaking of buffets, the all-you-can-eat casino buffets may be a cherished PCT tradition, but they're not a particularly good value. These days, the only ones eating on the cheap are the casino players accruing points on their club cards. For everyone else, the days of the next-to-free lunch are long gone. If you absolutely must partake, the consensus among the foodie Web sites is that Harrah's Forest Buffet is the best bet. Taqueria Jalisco, which is hidden around back behind Rojo's Tavern (Lake Tahoe Blvd. at San Francisco) is worth checking out. Cash only and remember they tend to close early on slow nights. The best burger in South Lake Tahoe is at the Burger Lounge (Hwy. 89, a quarter mile north of the "Y", 530 542-4060).

Mott Canyon Tavern and Grill (259 Kingsbury Grade, 775 588-8989) is our current favorite, with good burgers, pizza and the standard assortment of pub grub. It's convenient if you're around the casino area. On the California side, the best beer-and-pizza entry is the Brewery, (3542 Lake Tahoe Blvd., 530 544-2739).