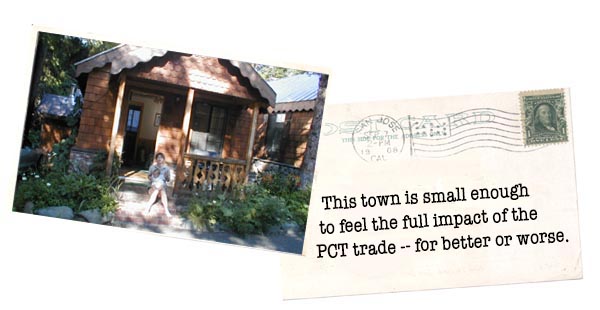 Sierra City
This area was once so isolated that it was two years into the Gold Rush before mining claims began to operate along this section of the Yuba River.
Years ago at the Old Sierra City Hotel, a thru went to stash his pack on the side porch before entering the business. On the porch was a substantial-sized black bear. The bear took a good long look at the hiker. And vice versa. It was clear that the bear wasn't going anywhere. The hiker goes into the hotel and mentions this to the only employee he sees.

"Did you know there's a bear sitting on your side porch?"
"Was he doing anything?"
"No. He was just sitting there."
"Yeah, he's cool."

Since way back in Wrightwood more than 800 trail miles ago, PCT hikers haven't had a real tangible impact on a town. We just do not register in the tourist economies and local cultures of cities such as Bishop, Mammoth, South Lake Tahoe and Truckee. Sierra City is different. Your interactions in this town will have an impact on future classes. Restraint and manners are the order of the day. Karma matters.

Over the decades, there have been some tense periods with town/hiker relations. For 10 years now things have been relatively good thanks almost entirely to the hard work of one man, Larry Breed, the owner of the Sierra Country Store (213 Main St., 530 862-1560). If you should encounter him, you might want to thank him for singlehandedly changing the climate.

The store's front porch essentially functions as the town square. You could easily resupply out of the store, which is completely clued about PCT hiker needs. And you could also treat it as a take-out restaurant, with sandwiches, pizza and wraps, among other things.

Sometime back, Breed went on a quest to turn cheeseburgers into a foodstuff worthy of religious veneration. He appears to have dedicated a large portion of his recent years to elevating the burger to an art form. I know you've had quite enough burgers by this point. But you might at least consider consider trying the double cheeseburger.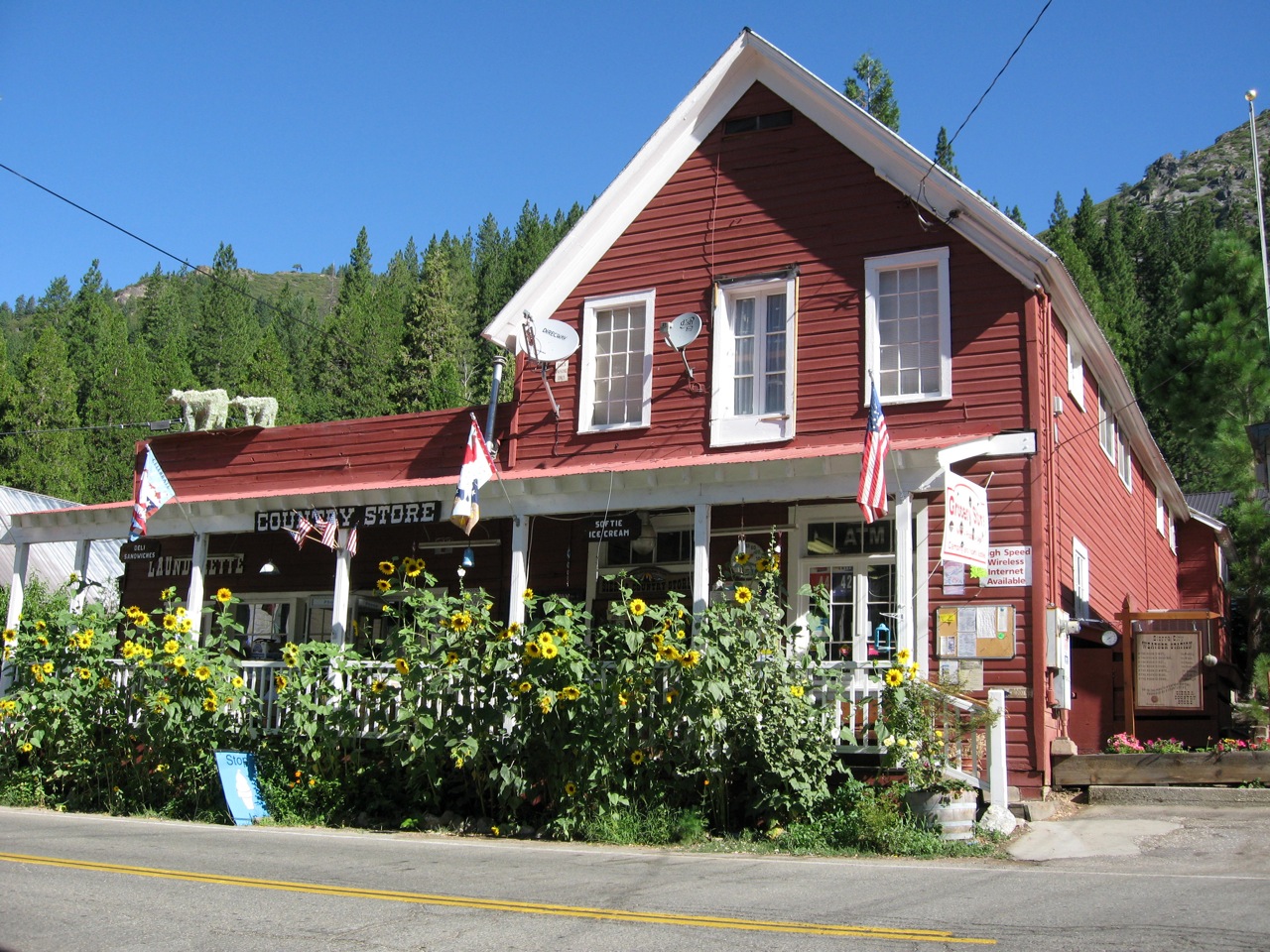 There have been a lot of changes in this little town since the last time I rolled through.
The Buttes Resort (230 Main St., 530 862-1170) has been my only choice for lodging for 15 years. The cabins are beautiful. Whoever built these really gave a damn. There is no Sierra funk here. These are little jewel boxes. If you can split one with another hiker, they can also represent great value. I've really relished this place under two previous regimes. I have not stayed there since ownership changed in 2016.
Herringtons' Sierra Pines (104 Main St., 530 862-1151) is also worthy of consideration. It's always looked great to me and the restaurant is very highly regarded (with rainbow trout straight out of their own pond). From what I can see online, it appears to be the finest restaurant in Sierra City. The rooms are very attractively priced by Tahoe/Truckee standards, particularly for those who are hiking as a couple. The only reason I dismissed it out of hand was the roadwalk west of town on 49. Check if there is a PCT discount or a two-night minimum. At the very least, I have to eventually try that restaurant. The Herringtons have been doing this for more than 50 years, so it's safe to guess they're doing something right.
In the "out there but on the radar" category, if you are hiking with several others the Yuba River Inn (530-862-1122) is a set of 10 very attractive and fully furnished cabins a half mile east up 49.
The Red Moose Cafe (224 Main St., 530 862-1024) is still the most reliable breakfast and lunch choice in town. I have very positive memories of lunch there. But I have not been back since the ownership changed in 2015. The Moose has a long track record of being PCT friendly. Some good things appear to be unchanged: The Moose Burger is a hiker-scale feast worth celebrating and the fish and chips are still reportedly spot-on. Double check which days are dark. In the summer of 2017 they teased people with barbecue and prime rib nights. It seemed like they tried to make a go at some limited dinner schedule and then had to pull back.
The Old Sierra City Hotel (212 Main St.) directly across from the store had been the place to go for cocktailing and dinner since forever. From assorted evidence online, it appears that the operation shut down because of infrastructure problems in 2016. As of spring of 2017, it was on the market.
I hesitate to even mention the Buckhorn Bar and Mountain Creek Restaurant (225 Main St., 530 862- 1171). Years ago, I had one truncated dinner there (I walked out before I got my entree) that wasn't just bad, it was "screw you and five generations of your progeny" bad. Like so many other important businesses in Sierra City, it's under a new regime. So time to wipe the slate clean and give them another shot. As of late 2017 it appeared to be running weekends only. It also seems that the Buttes Resort and the Buckhorn are now either closely associated or one consolidated operation.
Sorracos's Saloon (203 Main St., 530 862-1130), below, has been around for a long time. I've never bent an elbow there. If in fact the Old Sierra City Hotel's bar is out of business, that might have to change.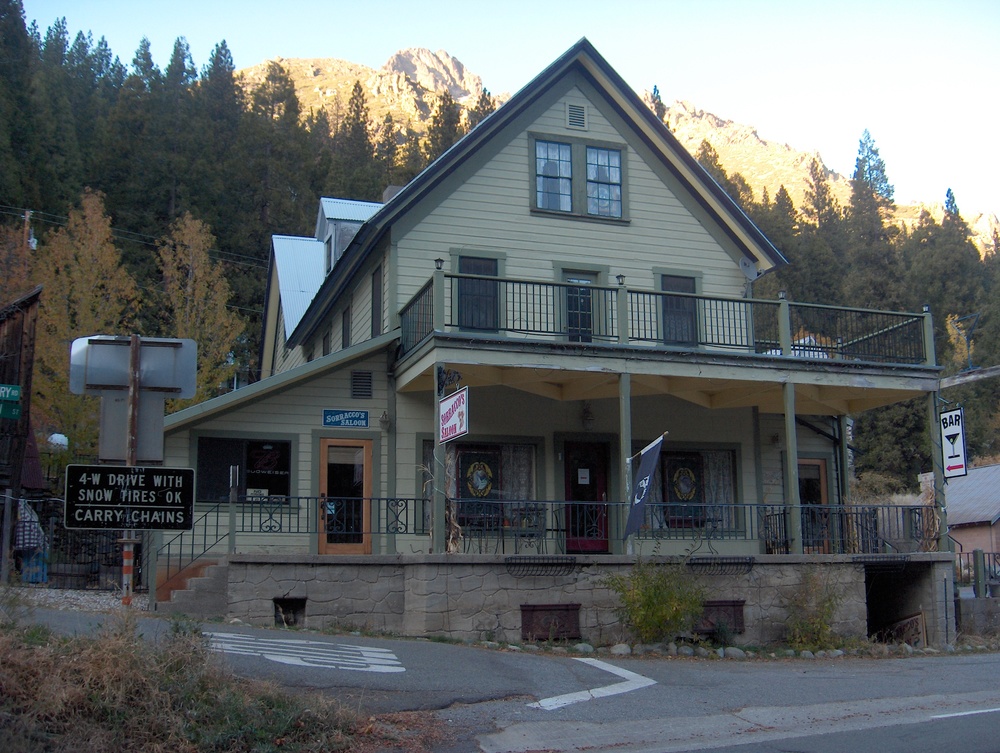 One of the cool little gifts I stumbled upon while on the trail: The library just north of "downtown" Sierra City (317 Main St.) has a super-cheap section of donated books for sale on the porch. Leave a few minutes for this stop on the way up the highway back to the trail. I got James Joyce there once for 75 cents. (That was a mistake. Way too much for trail reading.) My last time through, I picked up a Mark Twain paperback anthology that held me for 200 trail miles. (What could possibly be more appropriate on Highway 49, the Gold Rush Road?) Just one more unexpected little blessing.

One final note on Sierra City: If you are weighing the trail bypass into town or the straight trail, for the love of God take the bypass through the residential area. The straight trail is going to put you in a place on the highway substantially northeast of town. I was already in bad shape at that point, and then the roadwalk into town on a hundred-degree day broiled my feet. My "welcome to Sierra City" experience was sitting in a bathroom at the Buttes with my feet in a pot of ice water. The second time through, I took the bypass.



© 2000-2018 David Plotnikoff. All rights reserved.