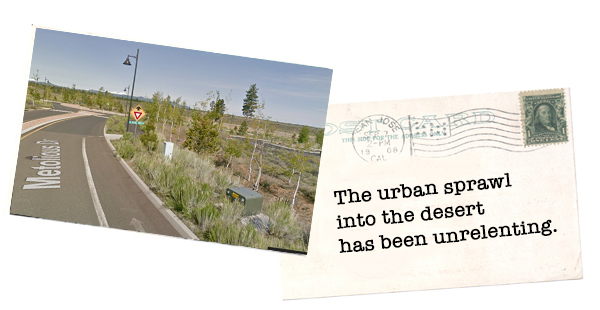 Bend and Sisters
Western-theme kitsch is actually the law in Sisters. A land developer's master plan to rejuvenate the former logging town's fortunes decreed that Old West was to be the look. It has been part of the city's design code since the mid-'70s. If the whole town now looks like a 50-year-old Wild West theme park gone to seed, that's by design.
The existential problem with Bend has been around for at least 30 years: Everyone wants to love Bend to death.

Although the tourist bureau still refers to it as a town, this is a major city of nearly 100,000 on the Deschutes River, sandwiched between the high desert and the Cascade Range. Long the metropolis of central Oregon, Bend continues to grow at a torrid pace that's both a thrill and a terror. The population increased 50 percent from 2000 to 2010 and is growing by about 4,000-5,000 per year. In the Deschutes County government complex, it's easy to spot the guys who work in building and planning. They're the ones whose hair has turned as white as the top of Mount Bachelor. Bend is a textbook case of what happens when you build a major city without any general plan.

The recipe for the perfect explosion that is Bend works like this: Take a Western ski town and add water to the edge of the high desert. This becomes the trigger for a lot of golf and vacation developments on what had once been cheap scrubland. Add a legion of California retirees bidding up the housing prices and building mini-mansions. Then add a year-round tourism economy. That's about the lump of it. Today Bend feels like a mountain-biking, Subaru-driving, real estate-obsessing artisanal-blah-blah-blah college town that forgot to build the college. In a nutshell, this is a replay of how Aspen came to be Aspen.

The city was barely walkable 20 years ago and it is essentially impossible to operate on foot now. If you're going to be in Bend for more than a day your best bet might be to borrow or rent a bike. Seriously. There is reportedly a minimal transit system, Cascade East Transit. I don't know anyone who can recall ever seeing a bus.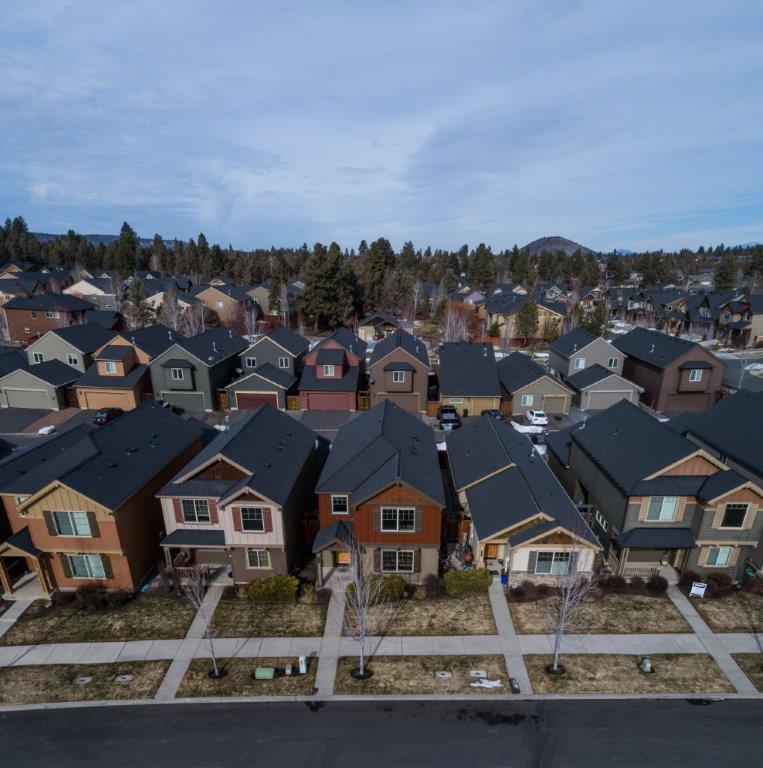 There are way too many hotels and motels to sort through. Location will probably be as much of a deciding factor as room rate. I'll just mention that as of 2017 there is one curious new arrival, an operation that isn't clearly fish or fowl: Bunk and Brew (42 NW Hawthorne Ave., 458 202-1090) is billing itself as a hostel in an historic old house three blocks from downtown. Shower, laundry, WiFi and a free breakfast. Is it a hostel? I don't know. From how it appears online, it might be a slick B&B marketing itself as a hostel.
I'm only going to mention one hotel, a Bend landmark: The Riverhouse (3075 N. Hwy. 97, 844 854-8179) has been the only place my family has stayed in Bend for more than 30 years. Are there cheaper options in this rapidly gentrifying city? Hell yes. Would I personally consider staying anywhere other than the Riverhouse? Ah, no.
A visitor could try a different restaurant in Bend every night for a year and still not get to all of them. That's pretty staggering for a city that size. Bend's food scene runs the whole spectrum from cheap, greasy and adventurous ethnic cuisine to high-end artistic fare. The most concentrated stretches of restaurants are mostly along Bond and Wall streets downtown. There's a secondary strip strung along the 97 bypass to the east. I'll just list a few favorites:
My longtime pick for a really nice dinner that doesn't feel particularly snooty is the Pine Tavern (967 NW Brooks St., 541 382-5581) which seems to know exactly what it's doing after 80-plus years. There's a fabled history, which you can read on the Web site. The current ownership is led by Bill McCormick, of the national mega-chain McCormick & Schmick. The Pine Tavern is the kind of place you'd meet Grandma for a nice dinner -- if you're sure she's going to pick up the tab.
The Deschutes River defines Bend, but a virtual river of craft IPAs, porters and stouts is also a big part of the city's identity. Brewpubs are a huge part of the culture. Bend brags on what it claims to be the largest beer trail in the West. Beer geeks plan their vacations around this area as part of an overall Oregon circuit. There are just too many local taps to count. Do not think "microbrew." Several of these enterprises have been so successful the right term would have to be "macrobrew." Bend's homegrown beer industry now has a reach measured in thousands of miles.
The Deschutes Brewery (1044 NW Bond St., 541 382-9242) is the proverbial 500-pound gorilla in town. After 30 years of conquering the West with Mirror Pond Pale Ale, there is nothing even remotely micro about this operation. An East Coast wing will be coming on line in 2019. In 15 years, I've never had a bad meal there. The Ale House menu has been studied and copied so many times by so many other brewpubs it now feels like it is the standard, default menu for all good brewpubs. Go after 8:30 or be prepared to face a substantial wait. Noise on the weekends is 12-on-a-10-scale. There are two Deschutes Brewery locations in Bend. You want the one downtown. Three blocks away, there's the other big operator, Bend Brewing Company (1019 NW Brooks St., 541 383-1599) which counts itself as the second-oldest brewpub in Bend.
Don't just hang out downtown. You have to step out of Standard-Touron-Issue Bend for at least a little bit. The West Side is the real Bend. (I know this might blow more than a few minds, but yes, working people like cooks and grocery clerks can still afford to live there, at least on the flats.) If you needed a reason to cross the river, that would be the 10 Barrel Brewery (1135 NW Galveston Ave., 541 678-5228). The 10 Barrel is my family's top pick for dinner in Bend. Considering the superior menu (much more than your run-of-the-mill brewpub chow) and great atmosphere it is absolutely worth the walk. Just flat-out beautiful food served with an unpretentious neighborhood vibe. (10 Barrel, which has blossomed into a Western chain with five pubs spread over four states, is the outfit that produces Trail Beer, "Northwest Pale Ale Brewed For Adventure.") It was purchased in 2015 by the global Anheuser Busch parent AB Inbev. Note there are two 10 Barrel locations in Bend. The one you want is on NW Galveston.
McMenamin's Old St. Francis School (700 NW Bond St., 541 382-5174) is a safe choice for a good meal, particularly appropriate if you're part of a large group. This is an Oregon/Washington chain that has made its name by rehabbing historic buildings. It's a predictable dinner house menu with something for everyone. Bonus points for professional service and a great atmosphere. Yes, McMenamin's is also a brewing giant, with 25 breweries throughout the Pacific Northwest.



Bend is now blessed with a Market of Choice (115 NW Sisemore St., 541 382-5828), a sibling to Ashland's coolest grocery store. Unfortunately, it's about 10 blocks southwest of downtown. There's also a Safeway, a Trader Joe's, a Whole Foods ... you get the idea. The REI is a ways out there, in a former industrial site south of downtown. This city is another example of a place where multiple zeros are possible, particularly if there are snow or fire issues on the trail to the north.
Just as the PCT Data Book has water alerts, consider this a town alert: Bend is the last full-service city anywhere near the trail. From here on in, if you need a supermarket, a drug store or medical care, you're looking at a long haul. A shoe problem or a broken tent pole is going to mean a major, multi-day detour. There are no banks north of Bend, only sketchy store ATMs. To put it another way, choosing to skip Bend means going the entire length of Oregon and Washington with one's fingers crossed.
As for the town of Sisters, you want to avoid it. Period. As a trail town it's just not attractive on any level -- food, lodging, services or proximity to the trail. Why mention it at all? It's the first town PCT hikers will hit if they hitch east from either Highway 242 or Highway 20.
The main drag in Sisters is little more than a string of T-shirt vendors, knick-knack shops and far too many places to buy saltwater taffy gift packs, scented candles, potpourri sachets, stuffed animals, "collectible" miniature spoons and quilting supplies. Oh, don't get me started about the quilting. The only tourist who truly likes Sisters is a feckless 63-year-old woman with three cats, two failed marriages and a singular burning desire to acquire bric-a-brac, hand-painted teacups and kitschy garden ornaments. Except she doesn't grasp the concept of kitsch. On the Twee Meter, this "quaint" town is off the scale.
I'm not exaggerating. I know more about quilting supplies and potpourri sachets than you ever want to know. After having spent two ill-advised nights in Sisters as a section hiker, I have no restaurant or lodging recommendations. I'm zero for two on both fronts. And there isn't going to be a third shot. Aside from the post office and the laundromat, there's only one useful stop in Sisters, another fine outpost of Ray's Food Place (635 N. Arrowleaf Trail) at the north end of town. Yes, you could use the post office and Ray's to resupply in Sisters. You could also decide to cut your own hair on the trail. Neither would be a particularly bright idea.
I can't emphasize this enough: Strategically speaking, the first opportunity to get off the trail for Bend is the best choice. Come off at Elk Lake (mile 1958) on the one-mile spur trail. That puts you on busy Century Drive (a.k.a. Route 372, the Cascade Lakes Scenic Byway). Every car heading north is going through Bend. Your other option is waiting until McKenzie Pass (Hwy. 242) which is two days to the north. From there it's a long way backward to Bend.
If you opt to skip Bend -- as about half of PCT hikers currently do -- there is a Plan B: Send a resupply box to Elk Lake Resort (60000 Century Dr., 541 480-7378), which has a decent restaurant, laundry, showers and cheap, minimalist cabins. It is a one-mile spur off the PCT. You could roll in for dinner and a shower, pick up a resupply box and be back on the trail in under three hours. The restaurant serves a signature elk burger for $17. The current regime at Elk Lake is completely hipped to PCT culture.
By the way, the PCT town guide says Elk Lake Resort is no longer of any use to hikers because it recently burned down. That was more than 20 years ago.