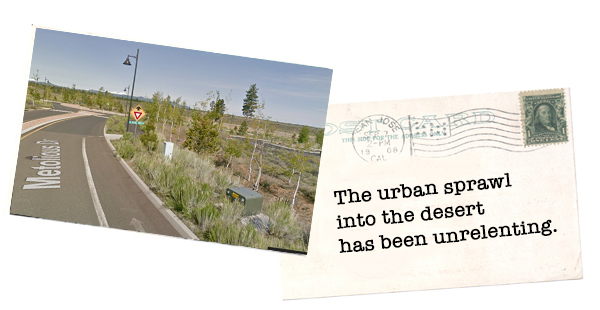 Sisters and Bend
Western-theme kitsch is actually the law in Sisters. A land developer's master plan to rejuvenate the former logging town's fortunes decreed that Old West was to be the look. It has been part of the city's design code since the mid-'70s.
Sisters is not a real town as much as it is a tourist theme park in search of a good theme. If it had a civic slogan, it would be "Sisters: That's Just Toooo Cute." The entire main drag of faux-Old West facades is chockablock with knick-knack shops (or, should we say, "shoppes"). Way too many places to buy saltwater taffy gift packs, scented candles, stuffed animals, "collectible" miniature spoons and quilting supplies. Thru-hikers are not even a blip on the summer economic radar here. An annual quilt show the second weekend in July is the big draw.

Sisters Motor Lodge (511 W. Cascade St., 541 549-2551) is an older facility of cabins and motor-court units located between "downtown" and the grocery store complex (anchored by Ray's Food Place, a good regional chain). Rooms are a few notches too high on the Cute-O-Meter for our taste. And it's not cheap. But the rates are competitive for the market, and owner Mary Fowler is probably more attuned to thru-hiker needs than any other merchant in Sisters. This should be your default choice.

Other motel options: The Best Western Ponderosa Lodge (500 Hwy. 20 West, 800 549-4321) is a considerably more expensive option, but still cheaper than the town's abundant B&Bs. The Comfort Inn (540 Hwy. 20 West, 541 549-7829) is a passable choice if the Sisters Motor Lodge is booked. The Grand Palace Hotel (101 E. Cascade Ave., 541 549-2211) in the center of town is allegedly "historic" (read: "wake up in an antique store"). Rates ran as low as $69 in 2006.

Paradoxically, it seems that the most expensive towns have the worst food. That certainly was the case in South Lake Tahoe and Tahoe City. And that was the case here, as well. Sisters featured two of the worst restaurant values of the entire trail. We had two slots for dinner and went zero-for-two. By all means have a drink or three in the handsome old bar at Bronco Billy's Ranch Grill and Saloon (190 E. Cascade Ave. 541 549-7427) but avoid the dining room. Also steer clear of the thoroughly mediocre Coyote Creek Cafe (Hwy. 20 West 541 549-9514). Options we wish we'd tried instead include: El Rancho Grande (150 E. Cascade Ave., 541 549-3594) for standard gringo-style Mexican plates, and Papandrea's Pizza (442 E. Hood Ave., 541 549-6081). The Gallery (171 W. Cascade Ave., 541 549-2631) is standard coffee-shop fare. Along the same lines, The Ski Inn (310 E. Cascade Ave., 541 549-3491) is a diner with a reputation for quality burgers. Although we've never seen the place, several online sources say Jen's Garden (403 East Hood Ave., 541 549-2699) is the only real fine dining in Sisters. From the looks of the Web site, you could easily drop $80-$100 per person there for dinner. The prix fixe is $50, without wine.

So Sisters is no bargain for lodging. And the food we had was flat-out awful. So what's a sojourner to do? Plan B-as-in-Bend. It's a fair wager that at least 70 percent of the traffic coming east over Highway 20 at the PCT crossing is headed through Bend, 15 minutes south of Sisters.

Sisters has a hardware store, drug store, a good grocery store, and an outfitter, Mountain Supply (371 W. Cascade Ave. 541 549-8045). But Bend is a full-service city, the only one between Mt. Shasta and Portland. It has, among other things, a spiffy new REI store and many more food and lodging options than Sisters. Our longtime favorite lodging choice, The Riverhouse (3075 N. Business 97, 866 453-4480) may be the best full-service hotel-motel in Central Oregon, with a good restaurant and bar on the premises. The Deschutes Brewery (1044 NW Bond St., 541 382-9242) may serve the best brewpub menu in the entire Pacific Northwest. In ten years, we've never had a less-than-satisfying meal there.

If you're northbound on the PCT and want to target Bend, the preferred route in and out is via the spur trail to Elk Lake. All of the traffic headed north on South Century Drive (aka Hwy. 46, the Mt. Bachelor Highway, Cascade Lakes Highway) past Elk Lake is headed straight into downtown Bend.

As for Elk Lake Resort it's come a long way in the past six years under new ownership. A new, very elaborate lodge, with a promising restaurant is the centerpiece. The new regime caters to the well-heeled ski crowd. (If you are the type who choppers into Elk Lake from Bend, you probably already knew that.) The store and restaurant hours in the summer are 8 a.m. to 8 p.m. Showers and laundry are available. The spartan "camping cabins" (minimally furnished) are still holding steady with a $45 thru-hiker rate. There may be a two-night minimum on the cabins. See the special PCT information page on the resort's Web site. Call 541 480-7378 for updated information and instructions on resupply package handling (UPS and FedEx only to the resort).