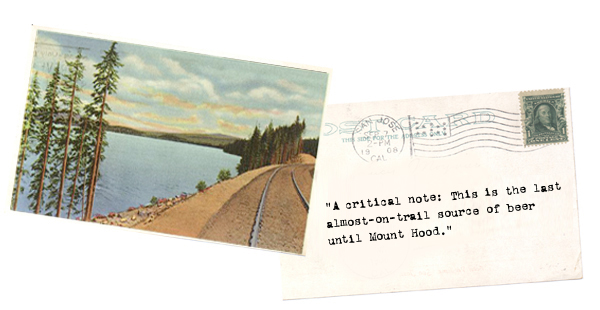 Odell Lake
Odell Lake, besides being the only habitat of an endangered native bull trout, is the name of an equally rare video game written in ancient times (1986) for the Apple II computer. The goal is for your chosen fish to eat other objects -- and not be eaten.
The first and last word at this gigantic lake is fishing. Everything else is incidental. As far as we could see, we were the only guests at Shelter Cove Resort (800 647-2729) who didn't need accommodations for a boat -- something that momentarily dumbfounded the nice lady behind the store counter. Shelter Cove has four new lodge rooms and eight older cabins. At least two of the clean-but-semi-funky cabins are a very attractive value. If you can round up three other hikers, the per-person cost could potentially go as low as $20-$40. (We had a very comfortable night in Cabin E, the oldest and most affordable of the set.) Shelter Cove has a two-night minimum stay. But we found in 2006 that there's some flexibility on this point if they have gaps in their reservation book. One critical note on the small store: This is the last almost-on-trail source of beer until Timberline Lodge at Mt. Hood.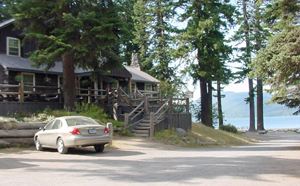 Odell Lake Resort (800 434-2540) has seven lodge rooms, six of which can sleep four. As with Shelter Cove on the other side of the lake, this could be an excellent value. There are also a dozen cabins, priced on par with Shelter Cove's. Note the two-night minimum stay on weekends. The walk between the two operations is long and decidedly non-scenic. We don't recommend it. The only dining facilities on the lake are at Odell Lake Resort. The dining room in the old lodge is very homey. Service is good. The food itself is minimally acceptable dinner fare. Several hikers in 2006 preferred to walk up the highway to the Willamette Pass ski area for pizza and burgers instead. The ski area's food was deemed "passable."
There's one other backup possibility for lodging, which involves a seven-mile hitch east on Highway 58: The Willamette Pass Inn (541 433-2211) is the most modern hostelry in the region, between Odell and Crescent lakes. It offers 13 reasonably priced lodge rooms, plus chalets for larger groups. The upside here: A much nicer room for roughly the same price as the two Odell facilities. The downside: The distance from the trail, plus no food service or store.