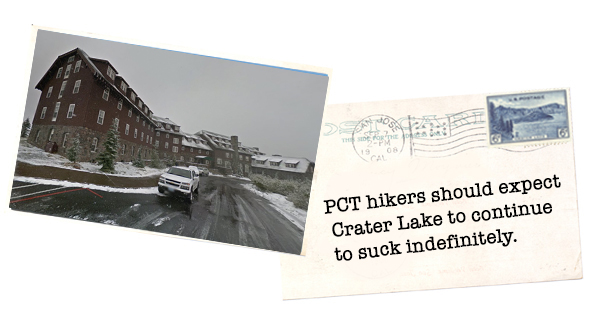 Crater Lake and Diamond Lake
At its deepest point, Crater Lake is 1,932 feet deep, making it the deepest lake in the United States and the seventh deepest in the world. Both of the species of fish who call the lake home -- kokanee salmon and rainbow trout -- are non-native, introduced in the late 1800s.

In a fireflash of onomastic genius the three gold miners who discovered the lake in 1853 christened it "Deep Blue Lake."
Crater Lake National Park , like most of the other major national parks in the West, contracts out all its food and lodging to a single concessionaire. In this case, the master contractor is Xanterra, the hospitality behemoth that is the current incarnation of the fabled Fred Harvey Company. Xanterra controls every bed and every restaurant seat in Yellowstone, Glacier, Grand Canyon, Zion, Death Valley and many other iconic locales.

The corporation has not exactly heaped itself in glory by the work it's done at Crater Lake. Xanterra's offerings at Rim Village and Mazama are effectively useless for the PCT community. From a hiker's perspective it's a complete fail. That contract will be up in 2018. I'm hoping there's a shakeup, but that's unlikely to happen because so few other corporations are set up to run operations on this scale. Bottom line: Expect Crater Lake to continue to suck indefinitely. Understand clearly that you are not on their customer map.

To be fair, it's not entirely Xanterra's fault that Crater Lake sucketh. The official PCT goes nowhere near the lake -- and that was by design. Any PCT hiker who wants to see the lake has to make the climb to the rim and take a very tedious roadwalk on a highway with no shoulder and an endless stream of big buses and RVs blowing by.

Crater Lake presents a singular strategic pain in the ass. It's 240 trail miles between Ashland and Bend (if you come off at Elk Lake). There are no good options for town services between those two cities. You're probably looking at sending a box to the post office (general delivery, Crater Lake, OR 97604) which is in Rim Village. If you're not going to roadwalk the rim highway, the Mazama store, one mile off the trail, is the place to send a resupply box. I was very fortunate to have family support at Highway 62 just prior to entering the park. I'm going to have to do this section again soon. And when I do, I plan to pick up a resupply box at Mazama and just keep going, avoiding all services there and at Rim Village.

Your choices for lodging in the park are severely limited. Most people will probably take a pass on the stately and historic Crater Lake Lodge in Rim Village, where basic rooms start at $300 a night. As for the underwhelming facilities at Mazama near the southern entrance, they're seven miles down the hill from the rim. These are the equivalent of bare-bones college dorm rooms. No television, telephone, air conditioning or Internet. They go for a base price of $170 per night. That's the cheap option. Consider yourself warned.

There is no acceptable restaurant option at either Rim Village or Mazama. The Crater Lake Lodge dining room could easily run you $100 per person before you even consider the wine list. I have to wonder what precious substance is in the "Pacific Crest Trail Pasta" that makes it worth $25. If you forgot to pack a blue blazer, khakis and a tie, you're out of luck. The Rim Village gift shop still offers a meager lineup of soup, salad and sandwiches. As for the food down the hill at Mazama, the Annie Creek Restaurant is premium priced commissary chow. Bottom line: You are completely screwed at Crater Lake. Again, Xanterra just flat-out doesn't care. They are set up to severely clip European tourists who don't have a strong grasp of the exchange rates. Don't bother looking for any deal, because it doesn't exist. Send a resupply box because you have no other option. Then get in and out as fast as possible. Never consider a zero here.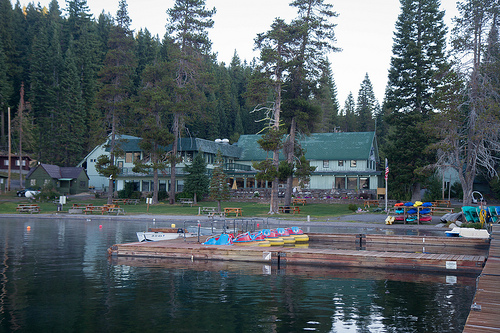 The closest thing to a good town stop between Ashland and Bend isn't really a town. It's the Diamond Lake Resort (350 Resort Dr., Diamond Lake, 541 793-3333), which has been in business nearly 100 years. It's unapologetically retro, but not in the contrived retro-by-design way that characterizes Lake of the Woods. Diamond Lake comes by its funk naturally. This is not a minor operation: 38 cabins and 49 motel rooms, all dated and all priced well compared to Crater Lake. The restaurant has the standard rural resort menu plus pizza. This is a bad stop for a vegetarian. There is a very friendly little store where they're always happy to see PCT people. (Any time they see a PCT hiker, they understand that person went out of their way to get there.) You might be able to resupply out of the store in a pinch. Most importantly, there is a post office in the resort complex. Hikers need to call for specific resupply box instructions. Be aware that Diamond Lake is not easy to get to from the PCT. There are two lateral trails near Mt. Thielsen. As much as I appreciated the restaurant, if I picked up a resupply box in Crater Lake, I would not take the detour. It's three days to Odell Lake, where you're going to have to deal with a resupply situation that's pretty bleak.



© 2000-2018 David Plotnikoff. All rights reserved.