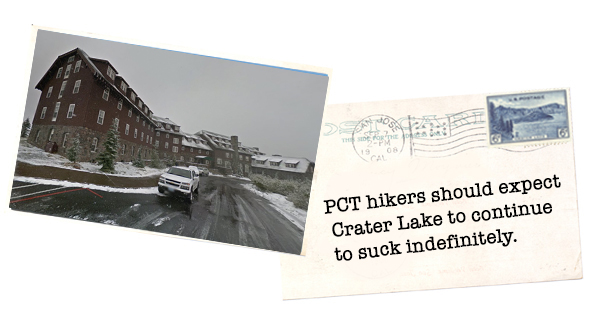 Crater Lake and Diamond Lake
At its deepest point, Crater Lake is 1,932 feet deep, making it the deepest lake in the United States and the seventh deepest in the world. Both of the species of fish who call the lake home -- kokanee salmon and rainbow trout -- are non-native, introduced in the late 1800s.

The three gold miners who discovered the lake in 1853 christened it "Deep Blue Lake."


Crater Lake National Park offers two lodging options -- 40 motel units in four-plexes at Mazama Village and the spectacular Crater Lake Lodge at Rim Village. Both are operated by the park's prime concessionaire, Xanterra (541 830-8700). (Xanterra is the current incarnation of the fabled Fred Harvey Company, with a long history of food and lodging concessions everywhere from Yellowstone to the Grand Canyon.)

We found the Mazama Village room to be plain, clean and comfortable. In terms of creature comforts, think college dorm rooms. The mini-fridge came in pretty handy. Our only complaint was the lack of a tub. Seven road miles up the hill, the Lodge, which underwent an extensive rehab 15 years ago, is exactly what you'd expect in a classic National Park grand hotel -- a 1915 architectural jewel rendered in Size Massive and set in a jaw-dropping location. Prices are commensurate with that reputation.

After many days on the trail, many hikers feel a slight wave of nausea as they walk the flagstone overlook at Rim Village and mingle with the video-camera-toting denizens of Fat America. Yes, it's an ugly scene set directly against a backdrop of unspeakable beauty. Get over it. It's no more traumatic than a trip to WalMart. Beyond Rim Village the tourons never venture more than 40 paces from their RVs and never stop anywhere other than a few designated vista points. The other 98 percent of the park is all but yours alone.

Xanterra has recently replaced the burger shop and all-you-can-eat buffet at Rim Village with the Rim Village Cafe, featuring standard sandwich and picnic carry-out fare. Down the hill in Mazama Village, there's Annie Creek, offering pizza and pasta. The dining room at the lodge is not a realistic option for dinner, unless you're packing a blue blazer, khakis and a tie.

Northwest of Crater Lake National Park Diamond Lake Resort (350 Resort Drive, Diamond Lake, 800 733-7593) has a full range of services. Although the focus of the operation is family fun and fishing, the store is, by trail standards, large and very well-stocked -- markedly better than its counterpart at Mazama Village. Run by one of the most friendly store operators we've met anywhere on the trail. Although Diamond Lake seems to be mentioned much less frequently in journal accounts and guidebooks these days as a resupply depot and mail drop, its proximity to the trail still makes it a key location for hikers without car support. The most direct lateral is west on the Howlock Mountain Trail at mile 1858.9. The main Mt. Thielsen trail at 1853.6 will also get you there with a more substantial roadwalk.

We didn't stay overnight at Diamond Lake. There are 50 motel rooms (some with kitchens) plus 42 two-bedroom cabins. Maid service might be interesting: As per their brochure "For your protection, we do not offer daily housekeeping services." Protection from ... ?

The casual Diamond Lake Cafe does a mean burger and the service is very warm. For a more pricey dining experience with a very short menu, there's also the Mt. Bailey Room upstairs, plus a bar.

Overall, nothing fancy, but the right mix of stuff in the right place.