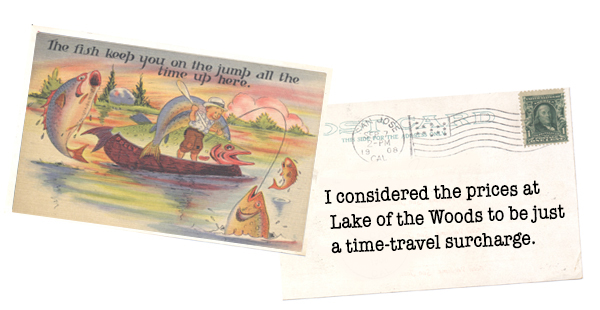 Lake of the Woods and Fish Lake
The primordial PCT, Oregon's Skyline Trail, stopped at Crater Lake because early trail planners felt Southern Oregon was simply too ugly for any hiker to bother with. PCT founder Clinton Clarke dismissed it as "hotter and drier climate, thinner forest and without special scenic value."

Mt. McLaughlin, the stratovolcanic peak that dominates this region, is only 50 air miles from its southerly big sister, Mt. Shasta. Yet it is almost 300 miles via the PCT. Today the steep scramble to the top of the 9493-foot peak is probably the most popular dayhike in Southern Oregon.


Lake of the Woods (950 Harriman Route, Klamath Falls, 866 201-4194) is no bargain layover. But the premium price you should expect to pay for both lodging and food could be considered something of a time-travel surcharge: The full-service resort has been lovingly restored with the obvious intent to play on the nostalgia -- real or imagined -- of travelers who remember idyllic childhood summers spent at lakeside resorts in an era 40 or 50 years gone.

The funny thing is it works (at least on this sentimental fool, who remembers lazy summer weeks spent at Meeks Bay Resort on Lake Tahoe). The whole operation, with more than two dozen cabins, two restaurants, a bar, a marina and a large RV park, is an unabashed celebration of all things retro, from the pedal-boats for rent at the dock to the board games in the bar. The cabins (some with bedding and towels, some without) are immaculate and furnished with refurbished vintage appliances and furniture.

The quintessential game here is "Ohmygod, I remember that ... " That woven-rag rug, that bedspread, that 40-year-old Hotpoint fridge, ad infinitum ... One could kill a good hour or two just going through the cabins, item-by-item guessing what's genuine retro and what's repro. We can only guess that Lake of the Woods employs a legion of full-time garage-sale shoppers, scouring the rural west for all those quaint nightstands and dinettes.

Nostalgia only goes so far. Dinner prices at the Lodge Restaurant (breakfast, lunch and dinner daily through the summer season) are thoroughly modern, with some dinner entrees a downright poor value. Avoid the "Pacific Crest Trail" tri-tip, an insultingly stingy portion that wouldn't rate as more than an appetizer for any self-respecting hiker. The store is no bargain, either. Don't even think of resupplying here.

Lake of the Woods is a 10-20 minute drive east of the trail from either Dead Indian Road (mile 1764) or Highway 140 (mile 1775.3). If you have family coming to meet you on the trail and are looking for a spot that will be both comfortable and fun for almost everyone, this is an excellent place for a layover (which is good, because there's a two-night minimum on the cabins). Solo hikers who want a quick pitstop and resupply will almost certainly choose to take the spur to Fish Lake instead.

Fish Lake Resort (two miles west of the trail on Highway 140, 541 949-8500) is not the carefully engineered time machine that its neighbor to the east aspires to be. It's just unreconstructed funky-with-a-capital "F." But if you're operating on foot and don't care to hitch, this is the obvious choice, with a short spur trail from the PCT to the resort that begins .25 miles prior to the highway crossing. Overall, a much more limited and genuinely rustic operation than Lake of the Woods. There are a variety of furnished and "rustic" cabins, plus tent and RV spaces. The furnished cabins are geared toward families and start at $140 per night. The four "rustic" units lack hot water and bathrooms, Neither represents a particularly attractive choice to the PCT crowd. Sad to say, but the best option here might be the unsanctioned stealth PCT campsite on the spur trail, described in detail in the guidebook. The cafe offers simple diner chow.