Hyatt Lake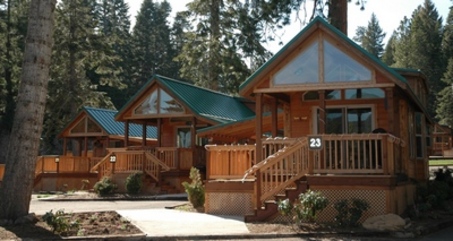 An absolute dump. A train wreck. A total waste of time. Up until three years ago, those were some of the more charitable appelations applied to the facilities at Hyatt Lake. But this much-maligned stop has made a remarkable turnaround since then.

In 2006, Bob McNeely, the operator of a successful resort on the Oregon coast, bought the down-at-the-heels Hyatt Lake Resort (7979 Hyatt Prairie Road, Ashland; 541 482-3331), with some ambitious plans modeled on his previous endeavors. The new "cabins" in place (actually pre-fabbed trailers trucked into the site) are individually owned by investors, who lease space from the resort. The resort, in turn, rents these out on a nightly basis and services them, in a manner roughly analogous to a timeshare management company. The cabins are *very* luxe by PCT standards, with spiffy kitchens, entertainment media and furnishings, big decks and all the trappings of ski-resort condos. It's the I-Can't-Believe-It's-A-Trailer trailer park. His operation includes neighboring Camper's Cove, a quarter-mile roadwalk further up the lakeshore. As of spring 2010, McNeely was still embroiled in a legal battle with neighbors who contend that the "trailers" are permanent structures that never should have been permitted on that site. But as of early 2012 McNeely's still up and running..

The cabin rates are no bargain, but split between two or four hikers, they represent a fair value, and a much better value than an overpriced motel room in Ashland. This stop was a *very* welcome respite from the rain. The store is still perhaps the smallest on the PCT (read: beer, fishing lures, chips and little else). But the restaurant food options were vastly improved:

Hyatt Lake Resort has a full-service pizzeria (complete with live music several nights a week in season) with a thin-crust pie that is as good as any you're going to find in Ashland. Be forewarned: A medium will take care of two hungry hikers. Seriously. The pizzeria also does deli sandwiches, salads, chicken wings, etc. For other food service, you're facing the quarter-mile roadwalk up to the sister operation at the former Camper's Cove (now re-christened the "Mountain Resort at Hyatt Lake." The new restaurant, "the Cove" is a full-service breakfast/lunch/dinner operation.

There's another attractive food and lodging option that entails a roadwalk that's about equal to the detour to Hyatt Lake: The Greensprings Summit Inn (11470 Hwy. 66; 541 482-0614) is just a few minutes east of the point where the trail crosses Highway 66. Credit current PCT recordholder and all-around legend Scott Williamson with discovering the Greensprings. The McGuire family is back in the driver's seat at Greensprings, offering breakfast, lunch and dinner seven days a week during the summer season. The lodging side of the operation has eight rooms, six of which are equipped with Jacuzzis.

So between the rebuilt Callahan's, Hyatt Lake and Greensprings Summit, there is absolutely no reason to be stinky in southern Oregon. Without hitching down the interstate into the overpriced sprawl of Ashland, if you plan your mileage right you could get two consecutive nights with a restaurant meal, a soft bed and a shower.