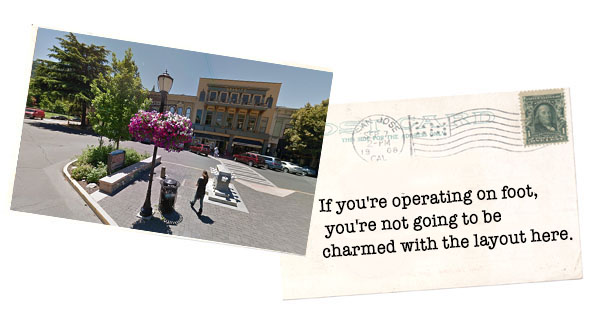 Ashland
The Mt. Ashland ski area is owned by a public non-profit entity, the Mt. Ashland Association. It is one of the few community-owned ski operations in the nation.

A century ago, Ashland's claim to fame was five gigantic public swimming pools fed by mineral springs. Today all that remains of that era is the decaying hangar-like structure of the Helman Baths, which looms over Helman School in the north part of town.
For more years than we can recount, the first and last word for the PCT hiker in Ashland was Callahan's . This landmark restaurant-bar-rooming house hard by Interstate 5's Siskiyou Summit exit (7100 Old Hwy. 99, 800 286-0507, 541 482-1299) burned down in September of 2006. Owners Donna and Ron Bergquist vowed to come back with a bigger and better Callahan's. The new hostelry, opened in August of 2008, has 23 upscale suites. The tiny lodging rooms under the bar are gone. Overall, the square footage has more than doubled -- from 11,000 square feet to 27,000.

The Bergquists, longtime friends of the PCT, are emphatic that thru-hikers should not be scared off by the rack rates on the new luxe rooms. There will be some flexibility on price mid-week. One important new development: A shower and laundry facility dedicated to serving PCT hikers. If the spa suites don't appeal to your tastes or pocketbook, there's always the option of tenting on the back lawn for a nominal fee. The Bergquists accept resupply boxes as well. Callahan's is approximately 500 yards down the hill from the PCT.

Callahan's restaurant serves breakfast, lunch and dinner daily. This is a quality white-tablecloth operation, with prices to match.

Ashland is a thoroughly cosmopolitan town of 20,000, dominated during the summer by its celebrated Shakespeare Festival and by Southern Oregon University the rest of the year. (A railroad promotion man from another century once tagged it the "Venice of the West." Whatever he was drinking at the time, they don't bottle it anymore.) The town has about everything a PCT hiker could want or need, with the glaring exception of an REI outlet. Consider it your first truly full-service stop since Mt. Shasta -- and maybe the last full-service stop in proximity to the trail until Sisters or Bend.

On the lodging front, your choices cleave neatly into two broad categories: B&Bs or motels -- and not a bargain to be seen in either group. If you're the B&B type, the Ashland B & B Clearing House (541 488-0338) and the Ashland B & B Reservation Network (800 944-0329) may be of some help in securing a good deal. The Main Street Inn (142 N. Main, 541 488-0969) would be our top pick in the B&B category. Owner Lynn Louie is one of the finest people we've ever had the pleasure to meet.

As for motels, our top pick is the Timbers (1450 Ashland St., 541 482-4242) a clean, no-frills, older facility offering very competitive rates in high tourist season. (The upper-end motels tend to cluster in the $140-$150 range during the festival months. ) The downside to the Timbers is its location -- equidistant between downtown and the large commercial strip at the south end of town hard by I-5. But it is conveniently located next to the town's primo organic/gourmet grocery, Market of Choice, (which has a bakery, deli and coffee). It's also near Morning Glory and Omar's (see below) so you've got breakfast and dinner covered right there.

The Palm Motel (1065 Siskiyou Blvd., 541 482-2636) is another motel mentioned favorably in hiker circles. Considering the painfully high standard rates for both ordinary motels and B&Bs during the summer months, it's also worth noting that the Ashland Springs Hotel (212 E. Main St., 541 488-1700), the 80-year-old grand dame of the region, runs $170 to $210 in high season. Would we pay an extra $20 to stay at this history-drenched downtown landmark instead of a generic motel? Yes, as long as we're paying ridiculous Ashland prices, an extra Jackson is not an undue price to go from the ordinary to the singular. Sticker shock setting in yet? Blame the well-heeled older crowd that makes an annual pilgrimage to the Shakespeare Festival. Note that what passes for "cheap" lodging in Ashland -- the Knight's Inn and the Super 8, still nearly $100 -- are both two miles south of downtown.

After Callahan's, the closest thing Ashland has to a PCT lodging favorite is the Ashland Hostel (150 N. Main St., 541 482-9217), a very large (50 bed) and well-equipped (free Internet and movies) operation. From what we've heard, this funky old manse is far cry from the antiseptic, institutional lodging one sometimes finds at hostels. If you're calling, remember their business hours are limited to 8-10 a.m. and 5-10 p.m.

The Mt. Ashland Inn (550 Mt. Ashland Rd., 541 482-8707) is one of those rarest of accomodations, situated directly on the PCT. The plush bed-and-breakfast occupies a gigantic Alpine-style chateau one-third of the way up the main road (Forest Road 20) between the Mt. Ashland ski resort and Interstate 5. We can think of many more scenic places to splurge on a $160-$200 room (with a long view of the trucks on I-5, this is no PCT garden spot). But we can't fault them for being inconsiderate. The owners have a picnic table for PCT hiker use with a dedicated water spigot -- a nice extra touch, particularly coming off the long dry stretch just south of here.

Ashland's choices for food and drink could -- and probably do -- fill a small book. Our top pick for an over-the-top celebratory dinner to mark the passage into Oregon is Omar's (1380 Siskiyou Blvd., 541 482-1281). "Ashland's Original Steak and Seafood House" is a retro masterpiece, a genuine landmark that lays claim to being both the city's first cocktail lounge and its oldest continuously operating restaurant (since 1946). Excellent steaks, a wine list that's much better than average for this region and, overall, a very good value. Expect to kill a few minutes in the cavern-like bar, because there's almost always a wait to be seated. Lunch is mostly burgers, salads and sandwiches.

The Standing Stone Brewing Co. (101 Oak St., 541 482-2448) is a tough call for us right now. The craft brews are fantastic (particularly the IPA), the service is well above average, it's kid-friendly and they really do a great job of getting parties seated *fast* (the result, no doubt, of being one block away from a world-class theater where an 8 o'clock curtain means 8 sharp). So what's not to like? We found the food to be uninspired and "just OK" on two visits in mid-2004. But there are at least a half-dozen entrees on the menu, including a couple big, expensive burgers and a couple of arty pizzas, that we'd still like to try. This is one of those cases where we believe the restaurant to be sound and we just had the bum luck to choose poorly.

On the A.M. end of things, more than one local has praised Morning Glory, (1149 Siskiyou Blvd., 541 488-8636). If the coffee doesn't give you a jump start the intensely purple facade of this funky old cottage will. You know you're in a (choose your adjective) -- a) hippie-dippy, b) cosmopolitan c) trend-slaving -- town when your breakfast platter options are hash browns or ... white ceddar polenta. And yes, you *can* get a tofu scramble here or miso soup with pickled ginger at the crack of dawn -- although we are not sure if that qualifies as breakfast in anyone's estimation. Quite frankly, it sounds to us more like a hangover cure.