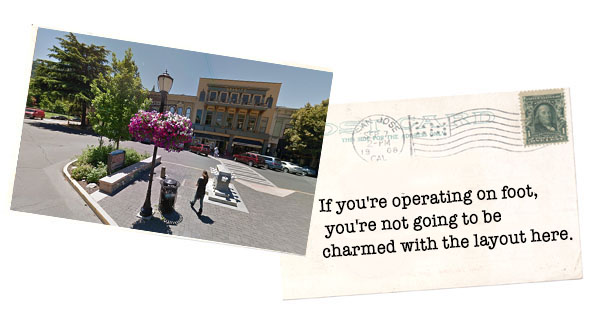 Ashland
The Mt. Ashland ski area is owned by a public non-profit entity, the Mt. Ashland Association. It is one of the few community-owned ski operations in the nation.
A century ago, Ashland's claim to fame was five gigantic public swimming pools fed by mineral springs. Today all that remains of that era is the decaying hangar-like structure of the Helman Baths, which looms over Helman School in the north part of town.

Ashland, which is a major metropolis by PCT standards, has three distinct identities. It's a major layover and resupply depot for long-distance traffic on Interstate 5. It's an international arts destination thanks to the Oregon Shakespeare Festival (which is a huge economic driver for the city). Finally, it's a college town, home to Southern Oregon University. So Ashland is an urban mashup -- tourist scene plus performing arts draw plus college town with a helping of vaguely New Age-y vibes on the side.

There's one reason Ashland is a near-mandatory stop: Your last full-service city was back at Mt. Shasta. And your next one is in Bend. You really need a supermarket at this juncture. And possibly a drug store. And maybe an outfitter. There is a standard Safeway, but the grocery store you really want is Market of Choice (1475 Siskiyou Blvd., 541 488-2773). MOC is essentially a small regional version of Whole Foods. There are enough prepared food choices that you could treat Market of Choice as a breakfast, lunch or dinner option.

If you're operating on foot, you're not going to be charmed with the layout here. Public transit flat-out blows to the point of being virtually unusable. Just about everything you care about is either on Siskiyou Boulevard or one block off it. But that's several miles of Siskiyou Boulevard. From the budget motels hard by the southern end of town it's a long walk downtown, where most of the restaurant choices are.

All told, there are approximately 50 motels in Ashland, which is a lot to process. Too much to process, actually. There are no motel deals in Ashland in the summer. So don't bother. If you are looking for relatively affordable but non-sketchy lodging on the south end of the city, several sources have mentioned Rodeway Inn (2359 Ashland St., 541 482-5111). It looks to have all the charm of a Motel 6, but it could save you enough to splurge on a nice dinner. They'll handle resupply boxes (believe me you don't want to walk to the post office from there) and they are said to have a generous PCT rate. For those who are really suffering the sticker shock that is endemic to Ashland, the Knights Inn and the Super 8 may be the bottom-dollar choices on the south end of town. If you maxed out a room with four hikers, it'd go from cheap to ridiculously cheap. My default choice in Ashland for many years has been the Timbers Motel (1475 Siskiyou Blvd., 541 482-4242) an older no-frills operation that has a pool my kid seems to favor. You might get a good rate if it's a weekday.

Don't expect to stay downtown near the Shakespeare Festival unless you're in the Ashland Hostel (150 N. Main St., 541 482-9217). I haven't heard direct reports from hikers who have stayed there. Be aware that as of the beginning of 2018 although the hostel's Web site was still up, the real estate agent's page lists the property as "sold." The closest motel to the south of downtown -- which is also said to be one of the nicest in town -- is the Palm (1065 Siskiyou Blvd. 541 482-2636).

I don't usually mention B&Bs, but they're a surprisingly important component of Ashland's lodging stock. (Apparently the kind of folks who make a pilgrimage to the Shakespeare Festival really appreciate the non-generic, quirky features of a B&B. Ashland is loaded with them -- the kind of place your elderly aunt would find utterly charming, in a twee kind of way.) If I had to pick a five-star-rated inn with a great location it'd be the Main Street Inn (142 N. Main St., 541 488-0969). You're not going to find a better host than the owner, Lynn.

By the time you hit Ashland you've been offered mostly burgers and diner chow for about 18 trail towns. Now, for both your stomach and your sanity, you need to give that a rest. Indian, Vietnamese, Thai, Hawaiian. Anything but a hamburger. Ashland is loaded. Most of the interesting restaurants are clustered in a few blocks downtown.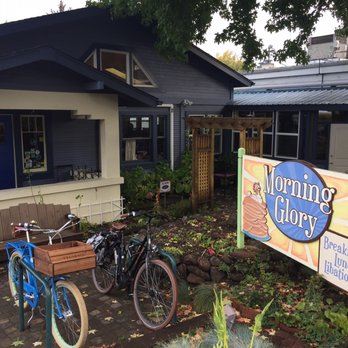 Morning Glory (1149 Siskiyou Blvd., 541 488-8636) is a longstanding community crossroads. As the name implies, breakfast and lunch only. High-end and self-consciously arty. You could get a tofu scramble or miso soup with pickled ginger at the crack of dawn -- although I'm not sure if that qualifies as breakfast even for a card-carrying hippie. Morning Glory is a croissant's throw from the Palm Motel at the south end of downtown. For dinner, Standing Stone Brewery (101 Oak St., 541 482-2448) has been a rock-solid choice downtown for more than 20 years. On quality and culinary ambition, it is a couple notches above your typical brewpub. Yes you can get brussel sprouts, hummus or a quinoa bowl with your beer. (You see what I mean about the hippy dippy undertone of Ashland?) It's been a while, but I recall both the fish and chips and the lamb burger as being excellent. Caldera Brewery (590 Clover Lane, 541 482-4677) is a new one on me. It's worth a mention because it's in the right spot to serve people who are staying at the many motels at the extreme south end of the city. Now this is unusual for a brewpub: The thing many people talk up is the array of super-rich desserts.
I'm saddened to have to add a cautionary note to our beloved historic Omar's (1380 Siskiyou Blvd., 541 482-1281). This sentimental gem of a Continental dinner house on the south end of town has been shaky for several years now. If you go for the bar scene (and I recommend that you do) get a proper cocktail and stick to the appetizers. If you do opt for dinner, do not order steak. This is not to say that Omar's doesn't retain some unique attributes: It's open until 2:30 a.m.
Although nobody's likely to skip Ashland, for the sake of completeness, I will give you the Plan B: You could theoretically sleep in a bed three nights in a row, eat quality restaurant food three nights in a row, pick up a resupply box and run a load of laundry, all without taking the long hitch down I-5 into town. You could do all of that virtually on the PCT. Theoretically.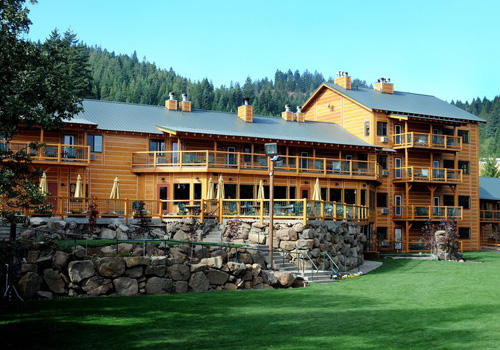 Your first stop would be Callahan's (7100 Old Hwy. 99, 541 482-1299) the fabled hotel that's just a few hundred yards across the freeway from the PCT. (Callahan's played a very important role in PCT history. It appears prominently in hiker journals and on PCT-l and even has its own spur trail off the PCT. The sign is easy to miss.) It's been more than a decade since the big fire. Donna and Ron Bergquist vowed to come back bigger and better, and they did. The square footage more than doubled. Yet, they didn't forget their connection to PCT history. Today you'll find resupply service, $22 showers, $8 laundry and $12 camping spaces. The cheap little rooms below the bar that served an earlier generation of thrus are gone. But there is still a substantial PCT discount on other rooms. They didn't have to build a dedicated thru-hiker laundry and shower facility in the new complex. But they did. If you're fortunate enough to actually meet one of the Bergquists, tell them you appreciate their ongoing connection to the PCT community.

From Callahan's, it's an easy one-day walk to the Green Springs Inn (11470 Hwy. 66, 541 482-0614), 17.5 miles east of Ashland. (The legendary Scott Williamson was the guy who "discovered" the Green Springs for the PCT community.) Like Callahan's they take their food seriously. Upscale breakfast, lunch and dinner. Like Callahan's, this is a high-end operation and you should be braced to pay for it. There are eight attractive and unpretentious lodge rooms similar to standard motel rooms. There is nothing funky about this place. If you made the two-mile roadwalk east on 66 from Green Springs Summit, you'll want to suss out the more direct route back to the northbound trail. And then for night three it's on to Hyatt Lake, which is on the next page.



© 2000-2018 David Plotnikoff. All rights reserved.