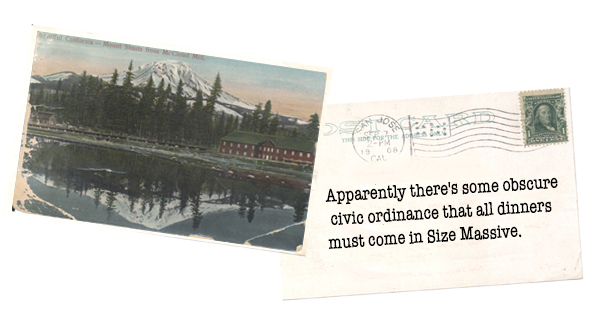 Mt. Shasta
According to the Mt. Shasta City Chamber of Commerce, the ranks of Mount Shasta climbers include a woman who summited on a horse. The horse died the following day.

The Mt. Shasta water system is the source of great civic pride -- gravity-fed from a single spring that is so pure no chlorine is required. Three companies bottle it for sale elsewhere.
Mt. Shasta is the location of my own personal "Groundhog Day." No matter what's going on with my trail logistics or my long trailhead shuttles on I-5, it's Mt. Shasta. Again. And again. And again. After all these years my family and I have a deep understanding of this place.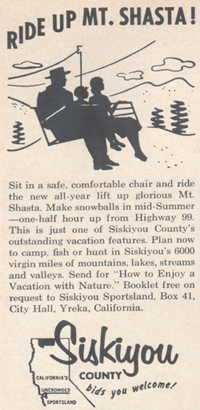 Whereas Dunsmuir is a town (and not a particularly attractive one at that) Mt. Shasta is a full-service city. If you're making the three-mile hitch into Dunsmuir, it's just as easy to make it a six-mile hitch to Shasta. (About two-thirds of PCT hikers currently choose Mount Shasta over Castella or Dunsmuir.) The city is similar in scale to Truckee and South Lake Tahoe. Like those two stops, it's spread out and not particularly walkable. PCT hikers are not a significant part of Shasta's tourism mix.

Yelp lists 30 restaurants. I'll mention a couple that have given me tremendous satisfaction for decades:

Mike and Tony's (501 S. Mt. Shasta Blvd., 530 926-4792) is the best place in Mt. Shasta to eat a proper dinner scaled to thru-hiker standards. For the Italian-American traditional dinner house scene, it used to have a rival in the Piemont down the road. Now, Mike and Tony's is all alone in the category. Serious steaks and all the little touches, beginning with the antipasta plate. They've been doing this since 1945. The menu may not have changed in 50 years and that's just the way it should be. Professional service, not high schood kids. Tip accordingly. This is a bad place for a vegetarian. There are several other options for that in Mt. Shasta.

Casa Ramos (1136 S. Mt. Shasta Blvd., 530 926-0250) is a very smart choice if you're wrangling a large group of hungry hikers. This is distinguished Mexican food served on platters the size of manhole covers. The menu is gigantic as well. This family-run small chain rules the I-5 corridor in Northern California. The Mount Shasta branch was the first. Aside from the typical platters, there are a few items that are quite elevated. The lamb shank dinner is a gigantic meal, the shanks served with a sweet, tangy mole-based sauce that is worthy of a much more ambitious operation. This is a really good place to have a 5,000 calorie feast.

My favored motel for the last five visits has been the Cold Creek Inn (724 N. Mount. Shasta Blvd. 530 926-9851), which offers a best-of-both-worlds proposition: rates that are competitive with the motels at the far south end of town, plus a location just two blocks north of downtown.

The major motels on the south end of the strip are the A-1 Choice Inn, Evergreen Lodge and the Woodsman. It's a competitive market and all of these, within a few hundred yards of each other, line up almost exactly by rate and amenities. Avoid the Mt. Shasta Inn & Suites, where my family has had two memorably negative front desk service encounters.

We enjoyed the Treehouse (111 Morgan Way, 530 926-3101) for nearly 30 years. The sprawling hotel has an aesthetic all its own -- Brady Bunch '70s suburban meets faux lodge. Some obsessed guy armed with a reciprocal saw fitted with a wood rasp did this. Norman Bates with a Sawzall. Or something like that. When you take a second to look at how the Treehouse is built, you know don't want to ever meet the guy who did this. Ever.

The Treehouse priced itself out of our range many years ago. It was always $30 above the going rate. But we rationalized that for many years by noting its superior location.

About 100 yards from the front door of the Treehouse there's the Black Bear Diner (401 W. Lake St., 530 926-4669), an unpretentious and perennially busy establishment that might be characterized as a regional equivalent of Denny's. Directly across the Morgan Way cul de sac there's Round Table Pizza, a natural food store, a laundromat, a hardware store (with alcohol), an auto parts store (with Heet) and a multiplex theater. Directly across Lake Street there's a Rite-Aid pharmacy. The only full-service outfitter in the region, the Fifth Season (300 N. Mt. Shasta Blvd., 530 926-3606) is four blocks up the street, as is the Forest Service. The most important business in that cluster by the Treehouse: Ray's Food Place (160 Morgan Way). For an alternative grocery experience, there's an organic/vegetarian/vegan market, Berryvale Grocery (305 S. Mount Shasta Blvd., 530 926-1576) midway down the main drag. The hospital is Mercy Medical Center (914 Pine St.) a couple blocks east of the city core.

In Mount Shasta, you have every reason to be of good cheer. You have all the benefits of a major city -- everything you could ever want or need. Then, once you clear the nasty climb out of Castle Crags, you're looking at 150 miles of cruising to the Klamath River. Your next stop just might be the best PCT town ever: Etna.



© 2000-2018 David Plotnikoff. All rights reserved.