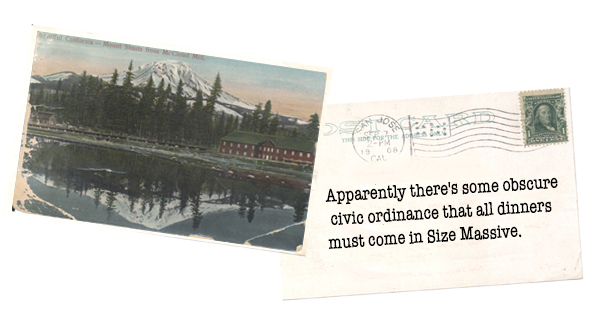 Mt. Shasta
According to the Mt. Shasta City Chamber of Commerce, the ranks of Mount Shasta climbers include a woman who summited on a horse. The horse died the following day.

The Mt. Shasta water system is the source of great civic pride -- gravity-fed from a single spring that is so pure no chlorine is required. Three companies bottle it for sale elsewhere.
If ever there were a case where an easy six-mile, 10-minute hitch should be mandatory for all PCT hikers, it's the stretch of interstate between Dunsmuir and Mt. Shasta. Dunsmuir is to this town what Queens is to Manhattan. Mt. Shasta City is the first true full-service community northbounders have encountered since Truckee.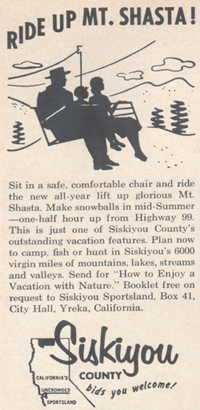 We have been big fans of the Treehouse (111 Morgan Way, 530 926-3101) for many years. The sprawling hotel has an aesthetic all its own -- Brady Bunch '70s suburban meets faux lodge. Or something like that. Sadly, the Treehouse has priced itself out of our range. It was always $30 above the going rate. But we rationalized that for many years by noting its superior location. Within 100 yards of the front door there's the Black Bear Diner (401 W. Lake St., 530 926-4669), an unpretentious and perennially busy establishment that might be characterized as a regional equivalent of Denny's. Also within 100 yards: Ray's Food Place (the largest grocery store in the region), a Subway sandwich franchise, Round Table Pizza, a natural food store, a laundromat, a hardware store, auto parts store and a multiplex theater. Directly across Lake Street: a Rite-Aid pharmacy. The only full-service outfitter in the region, Fifth Season, is four blocks away, as is the Forest Service.

Our new top pick in Mt. Shasta is the Cold Creek Inn (724 N. Mt. Shasta Blvd. 530 926-9851), which offers a best-of-both-worlds proposition: rates that are competitive with the motels at the far south end of town, plus a location just two blocks north of downtown. The Cold Creek Inn is a sister facility of the Charm and Green Gables in Burney.

In fairness, there are a few things to be said for setting up at the south end of town: both of the primo coffeehouses -- Has Beans (1101 S. Mount Shasta Blvd., 530 926-3602) and Live Oak (1125 S. Mount Shasta Blvd., 530 918-9022) are a croissant's throw from most of those motels. On dining, you're within sight of the Piemont and Casa Ramos, culinary temples which we'll get to momentarily.

The majors -- all clean and virtually indistinguishable -- are A-1 Choice Inn, Evergreen Lodge and the Woodsman (formerly the Mountain Air Lodge). All of these line up almost exactly by rate and amenities. All are on South Mount Shasta Boulevard within a quarter-mile of each other. Avoid the Mt. Shasta Inn & Suites, where our family has had two memorably unpleasant interactions with front-office staff.

On the extreme south edge of town, about a mile further down South Mount Shasta Boulevard, the Swiss Holiday Lodge (2400 S. Mt. Shasta Blvd., 530 926-3446) is a worthy motel candidate if you're looking for peace and quiet at a below-market rate. You might be able to get a clean, no-frills room for about half the rate of the Treehouse. The trade-off, of course, is the distance you'll be hoofing it back and forth for town errands on what you may have intended as a zero-mile day.

We strongly recommend the Piemont (1200 S. Mt. Shasta Blvd., 530 926-2402), the closest thing Mount Shasta has to a culinary legend. This old-school Italian dinner house is a local social institution. It's quite common to see a lot of table-hopping among families who have known each other for two or three generations. Service is excellent. Portions are beyond huge. Steaks can be as tough as Castle Crags granite. The other old-line Italian joint which we are also quite fond of, Mike and Tony's (501 S. Mt. Shasta Blvd., 530 926-4792), has been serving big love since 1945. The ownership team which took over in 2005 has very wisely not tried to fix something that wasn't broke. Again, service is excellent and portions are to thru-hiker scale. The menus at these two local landmarks are virtually identical and you're not going to get a bad meal at either one. Between the two, we'd give Mike and Tony's a slight edge based on atmosphere, service and the quality of the steaks.

Casa Ramos (1136 S. Mount Shasta Blvd., 530 926-0250) is one outlet in a nine-city, family-owned regional chain that runs up and down the Interstate 5 corridor. This place simply blew us away with an unexpectedly bold menu and great execution. You expect fun, loud, friendly and maybe even kid-friendly in a Mexican joint. Casa Ramos delivers on those fronts. What you don't expect are items that go so far beyond the ordinary. Casa Ramos serves the usual rice-and-bean enchilada and burrito platters -- all on plates about the size of manhole covers. But it also has a few items on the menu that go an entire dimension beyond the typical gringo-friendly Mexican fare. To wit: The lamb shank dinner is a gigantic meal, the shanks served with a sweet, tangy mole-based sauce that could even make the Nevada Basque chefs weep with envy. It was a meal we talked about for two solid days. It seems that Casa Ramos, as with the Piemont and Mike and Tony's, adheres to some unwritten municipal ordinance that requires all meals to be Size Massive. In a city the size of Mt. Shasta, there is room for the Other Place. The other Mexican place is Lalo's (520 N. Mt. Shasta Blvd., 530 926-5123). The pseudo-Mexican menu sits side-by-side with the usual diner fare.

If your heart says pizza and nothing else will do, there is Say Cheese Pizza (304 Maple St., 530 926-2821), the local alternative to Round Table. Sandwiches in the $5 range, calzones around $6 and a decent salad bar.

On the breakfast front, the Skillet (610 N. Mount Shasta Blvd., 530 926-4047) is your best call, an omelette-and-pancake menu that's big with the locals. They're open at 6:30 a.m. We found the blueberry pancakes hit the spot.