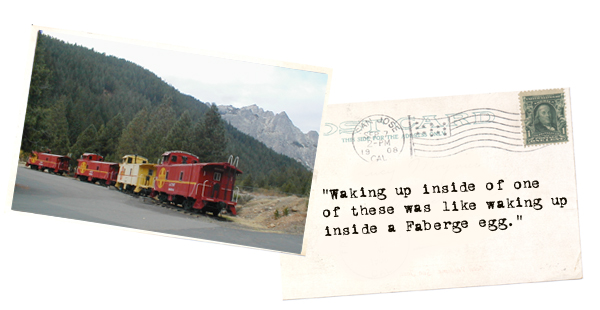 Dunsmuir and Castella
Dunsmuir was originally named Pusher, as this was the place on the railroad line when extra engines were required to push the trains over the exceptionally steep grade. Today, you will still see Union Pacific adding extra motive power in the middle or ends of freight trains ascending the fearsome grade at Cantara Loop.
When you finally half-stagger off the hill and touch pavement at Riverside Road, bottoming out on the Sacramento River, your first thoughts may be of Castella (pop. 240). Let's make it perfectly clear: No matter what you have read, Castella is not a town. Not to you, at least. The real Castella is about a half-mile south of where you'll ever be. The Castella you're concerned with is a cluster of five buildings off Interstate 5 at the entrance to Castle Crags State Park. Getting there is an ugly little piece of roadwalk on the frontage road south from the trail.

In that little compound, there's Amiratti's Market (20107 Castle Creek Rd., 530 235-2676) which has a lot of beer, sandwiches, burritos and a very marginal potential for resupply. (Bear in mind it's 105 trail miles to Etna.) The only thing you care about here is the post office, a cinder-block two-room building next to the store (General Delivery, Castella, CA 96017, 530 235-4413). Counter hours were 11 to 3, six days a week, the last time I checked. That's a pretty narrow window to thread, so you might want to double-check that. If you pick the Castella option over Dunsmuir or Mount Shasta, the right way to play it might be to pick up a box, grab some treats from Amiratti's for dinner and make your way a few hundred yards west on the road into the state park.

Castle Crags State Park reserves one campsite -- No. 25 -- specifically for PCT hikers. (I wish I could say there were good times there, but honestly, after Section O, we were all so shattered everyone was in patch-up-and-limp-to-town mode. Although I would see two or three of them later to the north, it was not a group that stuck together.) If you don't take the roadwalk to Amiratti's and the post office, there is a spur trail that connects the PCT to the designated PCT campsite. It is named for the "Mayor of the PCT," Milt Kenney, a trail angel from 35 years back, immortalized in Cindy Ross's seminal "Journey on the Crest."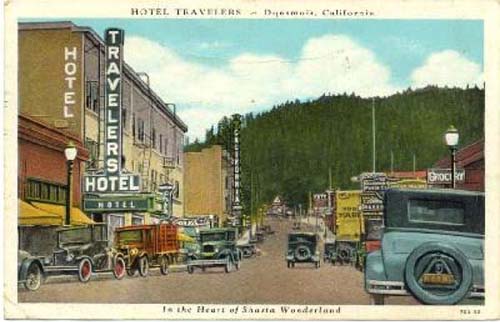 Dunsmuir, the nearest significant town, has long been overrated by the thru-hiker crowd. It's three miles north of where the PCT goes under I-5 and enters Castle Crags State Park. It's illegal to walk on the interstate or on the Union Pacific right-of-way. The freeway section is about two miles and puts out on Crag View Drive (which in turn becomes S. First Street and feeds into the main drag). The railroad option is significantly longer but I'm guessing that compared to the interstate there is a lower risk of being tooled by some cop. You could try to hitch from the I-5 on-ramp, but Riverside Road gets almost no traffic. Counting the nasty roadwalk south to the Castella P.O., that's four options, all of them sub-optimal. You're screwed.
The railroad and the interstate have shaped the identity of Dunsmuir, much in the same way that rails shaped Tehachapi to the south and Skykomish to the north. The single most damning strike against Dunsmuir: No supermarket.
As for food, it's burgers. Again. I can recommend Burger Barn, (5942 Dunsmuir Ave., 530 235-2902) at the south end of the main drag. Micki's Better Burger (4905 Dunsmuir Ave., 530 235-5004) on the opposite side of town didn't live up to its name. The new player in Dunsmuir is Yaks on the Five (4917 Dunsmuir Ave., 530 678-3517). I haven't tried the burgers, but online reviews tilt strongly positive. Yaks also boasts 20 craft beers on tap, several from trail towns. Other than the burger mills, there are maybe six other food options, none of which I've ever been tempted to try.
The only thing that stands out in my memory about Dunsmuir's restaurant scene was a few years back when the proprietor of one of the prominent restaurants on the main drag was busted red-handed by DFG (Department of Fish and Game) harvesting salmon out of the Sacramento River and selling them in his restaurant. It is a very serious crime to sell game fish in California. If someone gives you trout, that's cool. If someone tries to sell you wild trout, that's a crime.
Over the years, I have tended to treat Dunsmuir as a lunch pit stop on the interstate. The one time I did overnight here was a low point for near-trail lodging -- a string of building code violations including exposed sub-code wiring plus water running into the bathroom from the roof. If you really are set on staying in Dunsmuir, take one of the options near the core of town. You want to avoid any of the motels at the north end, on the other side of the freeway.


For every 1,000 PCT people who consult this page, I estimate just one of them is going to be intrigued enough to check this out: There is a wild card alternative to an overnight in Dunsmuir. It's expensive. It's as hard to reach on foot as Dunsmuir. And you're still looking at resupplying out of the Castella post office. It is also one of the coolest overnights between Campo and Manning, bar none. A lodging option completely unlike any other. The Railroad Park Resort (100 Railroad Park Rd., 530 235-4440) has its own exit off I-5, between Castella and Dunsmuir. The cabooses and the cabins are beautiful, converted into lodging by someone who poured heart and soul into every tiny detail. If you have a group of four hikers you just *might* be able to afford this unforgettable experience. The bar and restaurant, in three refurbished Pullman cars, provide the finest dining you'll find between South Lake Tahoe and Mount Shasta.

No matter where you choose to overnight, you really want to begin the long, hot climb out of Castle Crags as early as possible. Water is going to be an issue all the way until Upper Seven Lake. Although the data book gives no indication, treat the 6,000'+ climb out of Castle Crags as a critical water alert.



© 2000-2018 David Plotnikoff. All rights reserved.