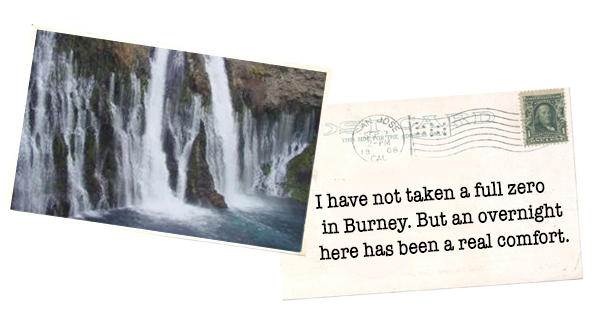 Burney
Crystal Lake State Fish Hatchery, which the PCT passes alongside at Baum Lake, was built by PG&E as part of a deal that exempted the power company from building fish ladders on its hydro dams on the Pit River. Today the hatchery raises about 1,500,000 trout each year.
Burney the city -- not to be confused with Burney Falls the state park -- is not much of a town, but it's a damn spot bigger than what came before (Old Station) and what comes next (Castella). The most important reason to make the hitch into Burney: There's a full-sized Safeway store. If you didn't mail a resupply box to the state park, expect to be coming into town.

The Shasta Pines Motel (37386 Main St., 530 335-2201) is a nice facility -- both the modern and "old" wings -- but it's hard to peg for value because prices can range so widely. We reserved many months in advance and received an AAA rate of $89 for a two-queen-bed room in the old section. One of our hiking buddies called just days before the trip and booked a comparable room for $60. The Charm Motel (37363 Main St., 530 335-2254), directly across the highway from the Shasta Pines, is an older facility strongly in need of a major overhaul. Next door to the Charm (and under the same management) is the recently updated Green Gables (37385 Main St., 530 335-2264). Note that the motels will fill up by 8 on summer weekends, regardless of whether there's a special event in town. This area is a big fishing destination.

The Rex Club (37143 Main St., 530 335-4184), an old-school tavern with a very nice steakhouse appended onto the back, is under new ownership as of 2008. We did not revisit it. Art's Outpost (37392 Main St., 335-2835), right next to the Shasta Pines, is our current go-to pick for a nice dinner in Burney, with four-star service and straightforward meat-and-potatoes fare. We would rather go hungry than ever set foot in Halftime Pizza (37451 Main St., 530 335-3998) again. For pizza, try Gepetto's (37227 Highway 299 E., 530 335-3789).