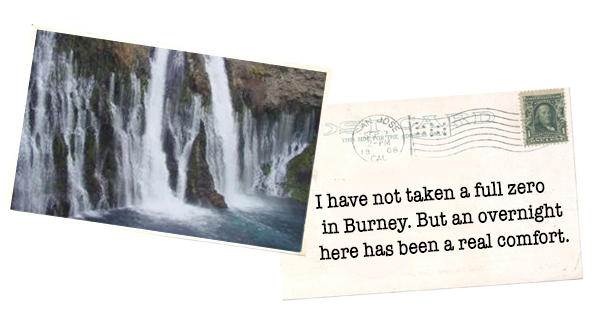 Burney
Crystal Lake State Fish Hatchery, which the PCT passes alongside at Baum Lake, was built by PG&E as part of a deal that exempted the power company from building fish ladders on its hydro dams on the Pit River. Today the hatchery raises about 1,500,000 trout each year.
Expect dead-flat, fast running trail tread on the way into Burney. Don't pick up a resupply box at Burney Falls State Park and just keep trucking. You really want a full-service town stop before heading into the nasty and justifiably infamous Section O. Although there's steady traffic on both of the major road crossings -- Highway 89 and Highway 299 -- getting into town can still be a bit of a drag. Once you're in Burney getting around is easy, with everything you care about strung along a half-mile of Highway 299.

The Shasta Pines Motel (37386 Hwy. 299, 530 335-2201) has been a clean, reliable choice for decades. You can choose the original motor court units or the '90s-era new wing. There are two other worthy motels directly across the highway, the Charm (37371 Hwy 299, 530 335-3300) and the Green Gables (37371 Hwy. 299, 505 335-3300). These two adjoining sister properties operate as one administrative unit. Any of these three motels would be a clean, safe pick in the right location. Over the years we've stayed at all three of them and don't have any complaints.

Art's Outpost (37392 Hwy. 299, 530 335-2835) is a so-so dinner house -- heavy on the steaks and prime rib -- that just happens to be right in the center of the triangle formed by the three good motels. If you've had enough walking for a while, it's worth considering. I found it to be a reasonably good value. The Pit River Casino (20265 Tamarack Ave., 530 335-2334) is a couple blocks off 299 and a bit west of your core of operations, but I mention it because there are always weekly restaurant specials. I have no idea about the quality of the food. It does appear to be pretty cheap.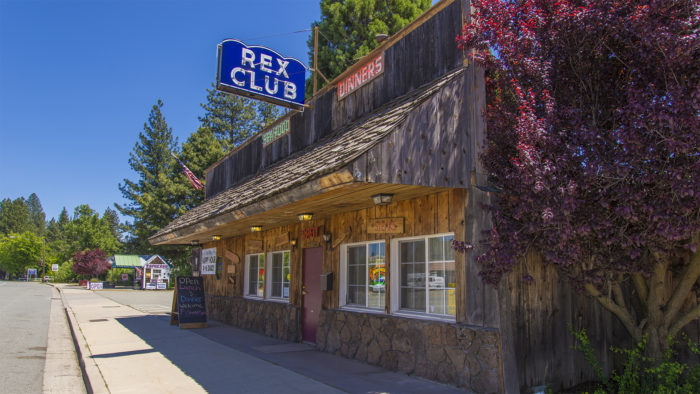 If you have one meal in Burney, I strongly urge you to make it the Rex Club (37143 Hwy. 299, 530 335-4184). I would never go through Burney without stopping at this historic, beloved institution. The Rex Club, the oldest bar and restaurant in the region, has been serving up the high life since 1938 and it's still a great scene. There is nothing nouvelle or even vaguely trendy about it. It is a standard supper club menu straight out of 1962 and nobody's going away hungry. Except vegetarians, who have slim choices in Burney. Expect a memorable meal and professional service by grown-ups. Incidentally, if you happen to be traveling in a group of four, it might be worth inquiring at the front about Cabin No. 2. For two couples, this could represent a really sweet value.

So the Rex Club plus three nice motels plus a real post office add up to a convincing case to overnight here before wading into the privations of Section O. The clincher on the deal is the Safeway supermarket (37264 Hwy. 299). Grocery alert: Your next supermarket is Ray's Food Place in Mt. Shasta. The Ace hardware store is just across the street from the Safeway, at 37113 Hwy. 299. The post office is at 20655 Commerce Way, about two blocks east down the highway from the Safeway. The Rite Aid drugstore is across the street from the post office.



© 2000-2018 David Plotnikoff. All rights reserved.