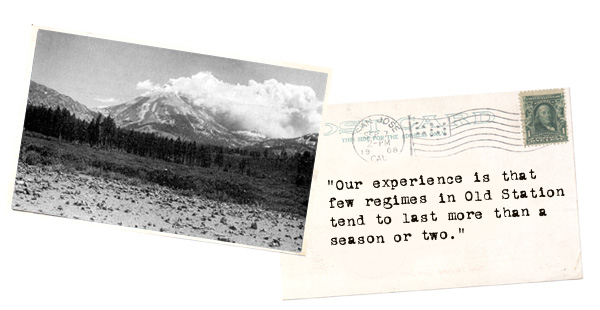 Old Station
If there is sentient life out there in the unfathomable reaches of deep space, the chances are high it will be noticed first in Old Station. The Hat Creek Radio Observatory is home to the Allen Telescope Array, owned and operated by the SETI Institute. If you're a space exploration or astronomy aficionado, they do offer tours. PCT hikers looking down from the rim at Road 22 can just make out the array of dishes, three miles distant.

Aside from PCT hikers, just about the only people on the rim are the ones flying off it. Literally. This is a regional draw for hang gliders who ride the thermal waves just north of the Road 22 crossing.
Except for the rocking years when the angelic Heitmans were running the scene, Old Station has been a sleepy and relatively desolate resupply stop. Old Station just barely meets the minimal standard to be considered a town: a post office, food and lodging. In 2018 things appear to be changing for the first time in decades.

The Hat Creek Resort and RV Park (12533 Hwy. 44, 530 335-7121) is just a couple hundred yards off the trail, about a mile south of town. The only reason you care is because this is where the post office is located. I stayed in one of the motel rooms many years back and found it tired but passable. The RV park is not at all attuned to the needs of PCT hikers and they're not set up to serve you. Their core business is RVers and trout fishermen. They may have four or five tent spaces -- and at $30-plus per space those are not for you. A hiker could walk 50 yards outside their back boundary and camp for free. Never pay for a space to throw down on the PCT. That is simply unacceptable in any situation. Note that there have been on-and-off food operations and a mini-mart at Hat Creek over the years. The parent company's remote office in January of 2018 reported the convenience store and the deli inside it were both up and running.

The rest of Old Station, a short walk north on Highway 44, doesn't add up to much. But given about 20 years perspective, I have to say there are slight signs that Old Station is perking up. In the past there was no reason to go into town at all. JJs Cafe (13385 Hwy. 89, 530 335-7225) has the basic breakfast items, burgers and beer. JJ's, which seems to be the only real restaurant in Old Station, does breakfast and lunch. Dinner may be weekends-only. (Bonus: The word online is that the gas station next to JJ's might let you throw down a tent in the space behind it.)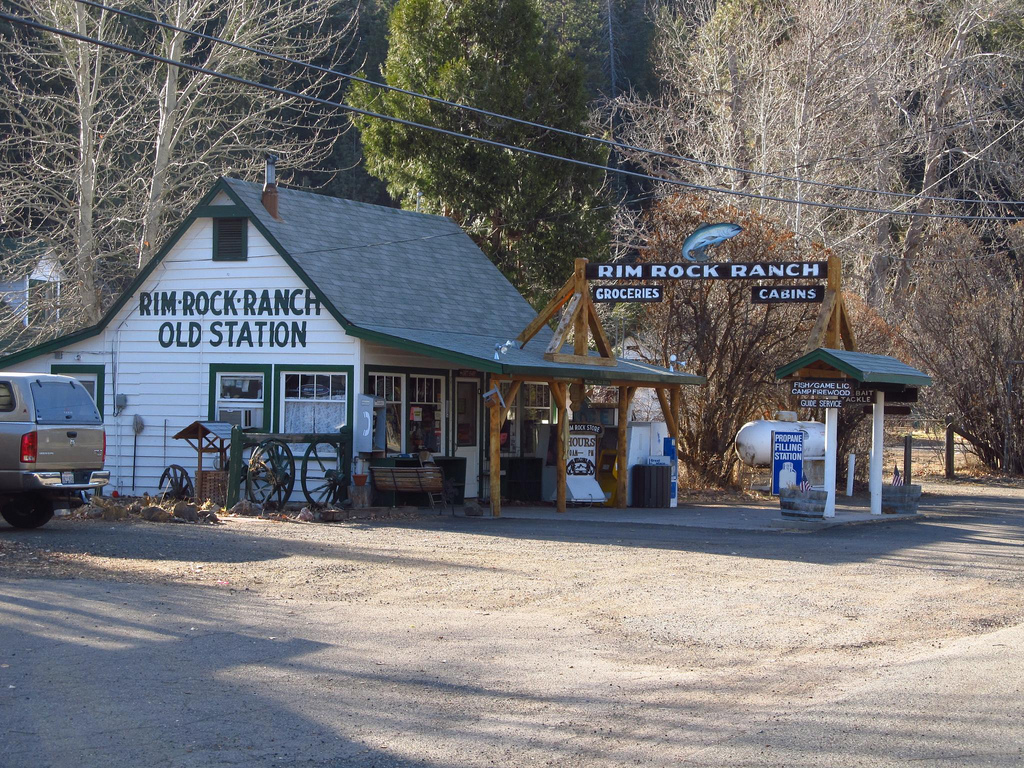 The Rim Rock Ranch (13275 Hwy. 89, 530 335-7114) is a paragon of inconsistency. Over the years, this rustic jumble of motel units and cabins has been up, down, back up, back down and now, apparently back up. I doubt this would make a logistic difference, since the post office is a few yards off the PCT, but the Rim Rock Web site says "We happily accept PCT hiker care packages." At the very least that demonstrates some baseline awareness of hikers. The Rim Rock Ranch is the site of the original Hat Creek Station. The current regime, which has only been in place since 2016, seems to be gradually getting things back on line. You may find some reference on the Web to the Hat Creek Lodge, right across the road from the Rim Rock. This is a timeshare operation catering to well-heeled fly fisherman. There is nothing there for you.

Finally, right in the same cluster with the Lodge and the Rim Rock, there's Uncle Runt's (13286 Hwy. 89, 530 335-7045) a bar that has opened and closed more times than I can count. It might serve food. Per their Facebook page: "Bar. Baby and Children's Clothing Store." That should make for a memorable happy hour, baby.

As much as I like what I'm hearing about JJ's and the Rim Rock, I still see no compelling reason to stop in Old Station, even for a resupply box. My strategy would be to go the 80 trail miles from Chester to Burney without a resupply. Stealth camp at Subway Cave or, better yet, near the rim vista point off Highway 44. Although I understand the water-alert situation has changed for the better in recent years, for strategic reasons it's still best practice to be walking on the rim at daybreak.



© 2000-2018 David Plotnikoff. All rights reserved.