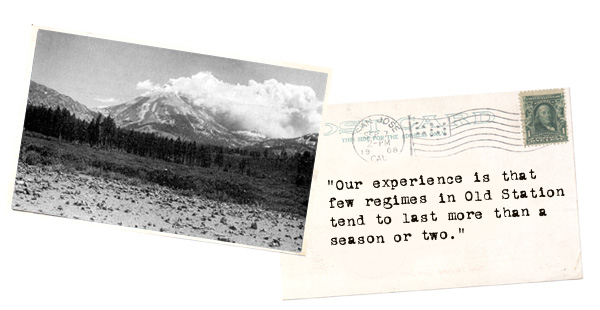 Old Station

Old Station is a moving target. Experience has taught us that anything you're counting on in terms of food or lodging better be confirmed and re-confirmed just prior to your trip.

The Hat Creek Resort (12533 Hwy 44/89, 800 568-0109) is the commercial center of Old Station, although it's a couple miles to the south of town. We've found that when most trail people talk about "Old Station" they're really talking about the venerable store, motel and cabin complex with the creek running through it.

The resort, with seven motel rooms, nine housekeeping cabins, yurts and a large RV park, appears to be in a perpetual state of contruction or upgrading. Cabins could pencil out as a good deal for a group of hikers, but may require a multi-night booking. The motel rates are up, on par with what you'd find in Burney. The resort's restaurant, the Coyote Grill, is long gone. There is still a very modest store/deli on the property serving burgers and sandwiches. On many Friday nights, very good barbecue is added to the offerings. Most important to thru-hikers: This is where the post office is.

Sadly, Georgi and Dennis Heitman have retired from the trail angel business. They served the PCT community with great enthusiasm and giant hearts for many years.

As for the actual town of Old Station, in three trips through the area we've never found the restaurants there to be open. Uncle Runt's, the subject of much exposition in older PCT journals, is long closed. Across the road from Uncle Runt's, the funky Rim Rock Ranch Resort (13275 Highway 89, 530 335-7114) -- with a modest store, 10 cabins and two motel units -- may be the only viable concern still alive in downtown Old Station on any given day. As of 2008, J.J.'s Cafe (13385 Hwy. 89, 530 335-7225) was serving only breakfast and lunch, at the intersection of highways 89 and 44. You'll need to call and confirm the current hours on J.J.'s.