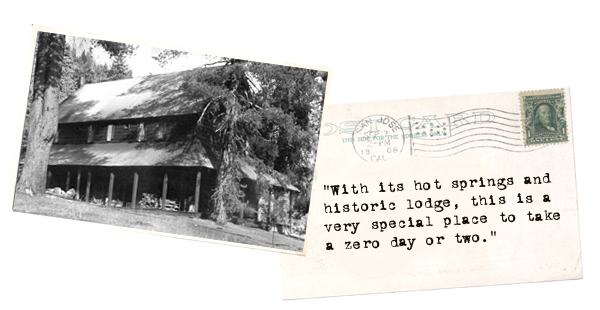 Chester
Nothing significant ever happened here, as far as we can tell, by Google.
Like Quincy, Chester is not in the PCT town guide, and that's a shame. It's an easy 10-minute hitch from the busy trail crossing on Highway 36 to this major town on the north shore of Lake Almanor. We had several good experiences at the Chester Manor Motel. A new 50-suite hotel, the Rose Quartz Inn, is now open on the site (306 Main St., 888 571-4885), under the same owner, Glen Long, a thorougly good guy in our book. The slightly funky Timber House Lodge (505 Main St., 530 258-2729) and the Antlers Motel (268 Main St., 530 258-2722) are the two other mainstays frequently mentioned in PCT hiker journals. See the Plumas County Chamber of Commerce site for a more comprehensive listing of all lodging options, including cabins.

For dinner, avoid Benassi's and the St. Bernard Lodge. (Mediocre, overpriced food at the former and a litany of service problems and miscues at the latter.) The Pine Shack Frosty (321 Main St., 530 258-2593) has a very large menu of inviting yummy, greasy things you'll regret you ate sometime around 2 a.m. Kopper Kettle, (Main and Myrtle streets, 530 258-2698) is your standard diner, open at 5 a.m. For more dining options -- most on the expensive side -- check out the resort burgs around the northeast corner of the lake. The restaurants listed in Lake Almanor are a *long* drive away on the south shore.

We hesitate to even mention this, because it's such a tough ticket to get, but the Drakesbad Guest Ranch (866 999-0914) is the finest lodging and dining in the region. The ranch is just within the boundaries of Lassen National Park and the accommodations -- rooms and cabins -- are on par with anything you'd find in any other National Park historic lodge. This is the legendary creekside facility with the big pool that you see descending on the PCT toward the Warner Valley campground. Hard to say how rates of $147 to $195 *per person* (meals included) stack up for value because there's absolutely nothing comparable. With its hot springs and lodge, this is a very special place to take a zero day or two. And if it coincides with a special occasion such as a wedding anniversary, so much the better. Ordinary PCT hikers can celebrate having crossed the halfway mark from Campo to Manning, just before Highway 36.

Drakesbad has a long history of warm relations with the PCT community. Thru-hikers who are not staying as guests are served breakfast, lunch and dinner at half-price. The portions are large and the quality is very high. They also accept resupply packages via USPS, FedEx and UPS at no charge. Shower, pool and laundry are also free. It's hard to think of any reason why you wouldn't want to stop in for a great meal and a shower.