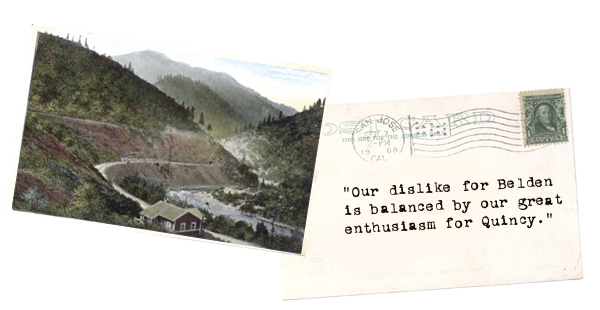 Belden and Quincy

La Porte, the tiny community south of Quincy, is reputed by local boosters to have been the site of the country's first organized downhill ski racing, with competitors on 12-foot ''longboards'' in the late 1800's. The top contenders reportedly reached speeds above 80 miles per hour -- with speeds no doubt climbing with each barroom retelling. Longboard races are still held on local slopes each year.
As of 2010, Belden Town Resort (530 283-9662) appears like it might be in turnaround mode. The first functioning Web site in many years lists 10 rental cabins starting at under $90. (The last time we were through these were in such disrepair we wouldn't house a dog in one.) The store and restaurant are still operating. Belden has had a very sketchy reputation among hikers for many years. It'll be interesting to see if someone came in and cleaned it up.

Our dislike for Belden is counterbalanced by our great enthusiasm for Quincy . The full-service town of 1,900 -- 25 miles up the Feather River Canyon from the PCT -- is a nearly ideal base station for a section hike in this area. And no, for some inexpelicable reason, it is not in the PCT town guide. Amenities include a Safeway and a Rite-Aid but no gear outfitter. Consider it your first and last real supply option between Truckee and Mt. Shasta City on Interstate 5.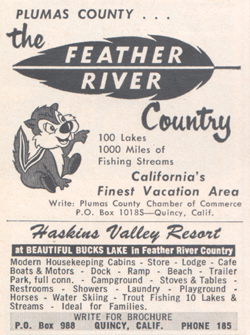 Of the seven motels in Quincy, we favor the Gold Pan (200 Crescent St., 530 283-3686) a funky older establishment at the north end of the main drag. (Fully half of the business seems to be as a contract dorm for BNSF maintainance crews.) The PCT hiker discount will take a room for two down into the $60-something range. In the event the Gold Pan is full, which it often is on the weekends, the Plan B option directly across the highway is the Spanish Creek Motel (233 Crescent St., 530 283-1200). Everything you'll need is within easy walking distance of these two motels.

Quincy has been on a long, slow decline paralleling that of the timber industry. Moon's, our favorite dinner house, closed in 2010, as did Stoney's burger joint. For breakfast, there's still Morning Thunder , (557 Lawrence St., 530 283-1310), right around the block from the aforementioned motels. They also have a decent lunch menu with burgers, Mexican and vegetarian offerings, all a little bit on the pricey side. Mi Casita (875 E. Main St., 530 283-4755), a Mexican joint on the highway between Quincy and East Quincy, may be the best restaurant in town as of 2010.