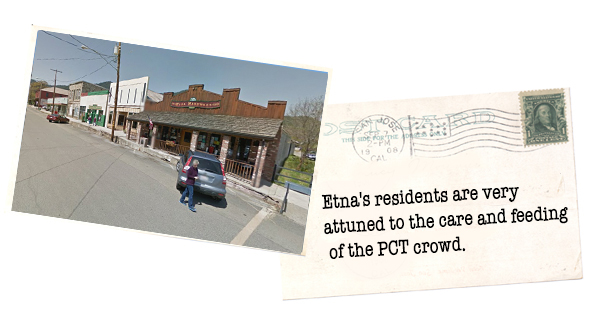 Etna
Fully one-third of the ESL students at Etna High School have Thai as their first language.

Etna's kids routinely score in the top 10 percent on state standardized tests -- blowing away much richer suburban districts.

Etna is home to one of the most important Greek Orthodox institutions in the United States, the St. Gregory Palamas Monastery (1307 Sawyers Bar Road, 530 467-3228), which houses the Center for Traditionalist Orthodox Studies. Worship services are chanted in a Byzantine style that has changed little in more than 500 years. Archbishop Chrysostomos of Etna, Synodal Exarch in America, resides at the monastery.

Hallie Daggett, the Forest Service's first female fire lookout, called the Scott Valley home. Her cabin is now in the city park on Howell Street.
Our guess is that if you polled every PCT thru-hiker on their favorite town stop of the entire trip maybe half would say Etna without a moment's hesitation. This quiet and utterly charming agricultural community of 900 is the model for everything a trail town should be. It's compact and very easy to navigate on foot (all you need is on Main or Collier). It features a good-sized grocery store, drug store, hardware store, public library, movie house and an old-fashioned soda fountain. Above all else, the locals are friendly and seem attuned to the care and feeding of PCT hikers. We received above-average service at every establishment we visited. Add to this some beautiful 100-year-old architecture, a bucolic valley setting devoid of tourists and you have the perfect town stop.

The town has more than its share of idiosyncratic charms. Deer, for some reason known only to them and certain wildlife biologists, regard the streets of downtown Etna as a safe refuge. If you spend a day and a night in Etna you're almost sure to see at least several of them strolling down the main thoroughfares with impunity. In terms of other hazards to safe driving, keep a sharp eye when driving the twisting road to the trailhead. The monks of St. Gregory Palamas (see above) are fond of walking along it. There's nothing quite like coming around a blind turn and almost hitting three heavily bearded men in flowing black cassocks. The ZZ Top-meets-Rasputin look is big in Etna, although you probably won't see it in the brewpub.

The Motel Etna (317 Collier Way, 530 467-5338) is an immaculate facility that should be the default choice for Etna. At $55 per night in 2008, the quiet, basic rooms represent an extraordinary value, less than half what you'd pay for a comparable room on the other side of the hill in Mount Shasta or Dunsmuir. Reservations are strongly recommended, because with just 10 rooms they are likely to fill up on weekends.

Alderbrook Manor (836 Sawyers Bar Road, 530 467-3917), the celebrated B&B with the equally celebrated hiker hut, provides shuttle service to and from trailheads. Rates for the six-bed, hostel-style hiker hut are trivial (and include cable TV, continental breakfast, etc.) You'll probably spend more on dinner.

Bob's Ranch House (585 Collier Way, 530 462-4685) is your source for basic diner chow and waitresses who will call you "hon." Breakfast, lunch and dinner, with an emphasis on breakfast. By 7 a.m. the entire gravel lot outside this strip shopping center is filled with ranch trucks. They're very big on pie. One can usually find seven homebaked varieties in the bakery case. Burgers are a good bet for dinner. In the morning, the omelettes are big and well-made. For something lighter than the usual home-fries and toast-on-the-side breakfast, look across the parking lot to the tiny Country Bakery (530 467-3525) for pastries, bagels, scones and coffee drinks. The bakery, which is only open weekdays, is one option for those who *really* want to hit the trail at dark o'clock. It opens at 4 a.m.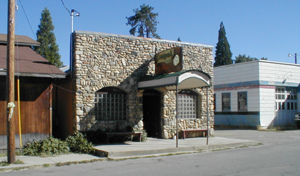 Corrigan's Bar and Outback (412 Main St., 530 467-5899) has something of a split personality. Corrigan's itself is a delightful shoebox of a dive, with a facade of river rock quarried almost certainly from the Scott River. The sparsely furnished interior looks like it's seen its share of bench-clearing brawls over the decades. The decor is classic Western dive, with old pinups in the men's room, a 50-year accumulation of corny signs and garage-sale junk behind the bar and -- this is the true test of a real beer joint -- a mosaic of autographed dollar bills stuck to the ceiling. Warm service, great beer selection (bottles only, no draft) and the best place in town to bend an elbow with the locals. The jukebox, whether you like it or not, is programmed for Total Non-Sequitur Random Entertainment. You throw four quarters in and punch up four songs and you'll get four. Chances are they won't be the four that you ordered, but after three boilermakers, they sound good just the same.

The Outback is the dining annex located -- you guessed it -- out back behind the bar. It operates Friday and Saturday nights only (and sometimes not even then, if the operator has better things to do). Terrific steaks. Both halves of Corrigan's offer outstanding service. Overall, a guaranteed good time all around, which was just what we needed coming off 100 miles of trail food. Our highest recommendation.

The Etna Brewing Company (131 Callahan St., 530 467-5277) is just off the main drag, hard by what appears to be an auto graveyard, in a nondescript metal-sided industrial building. There are usually six or seven brews on tap at the little seven-seater bar. At $3 a pint, they're a bargain. The Phoenix Red Amber Ale is by far the best of the lot. The Export Lager is lightest of the bunch. The Classic Gold is the default standard bottled brew they distribute to other establishments (including Corrigan's). And the Old Grind Porter is for those who like their beer with the color and consistency of crankcase oil. The menu tends toward deli fare -- wraps and sandwiches (some of which are organic and/or vegetarian). Friday and Saturday nights they'll barbecue chicken and tri-tip. At $8.95 for the chicken dinner and $9.95 for the tri-tip -- with all the fixin's -- this is as good a value as the beer.

(Two small encounters to give you some idea how big-hearted Etna is: When we rolled into the brewpub one Saturday night just as they had shut down the kitchen, the bartender called over to the Outback and asked that they keep the grill on until we could run up the street. That's hospitality. And when I attempted to hitch back up to Etna Summit, in a light rain, the caretaker at the B&B took pity and ran me up the hill -- even though I had not stayed at his establishment.)

For a town of such modest size, Etna seems blessed with more than its share of restaurants. Some notable establishments we didn't have time to try: Dotty's Korner Kitchen (404 N. Hwy. 3, 530 467-3303) is a no-frills burger shack north of downtown near the Motel Etna and Bob's Ranch House. Trailhead (434 Main St., 530 467-3593) features basic American chow, open for dinner only, Thursday through Saturday. Wildwood Crossing and Coffee (405 Main St., 530 467-5708) features breakfast and lunch only. Lunch offerings include sandwiches, salads and pasta. Note that if you're hitting town on Monday, Tuesday or Wednesday, Dotty's burgers and Bob's Ranch House may be your only dining options. For something less than a complete meal, there's the soda fountain in Scott Valley Drug (511 Main St., 530 467-5335).