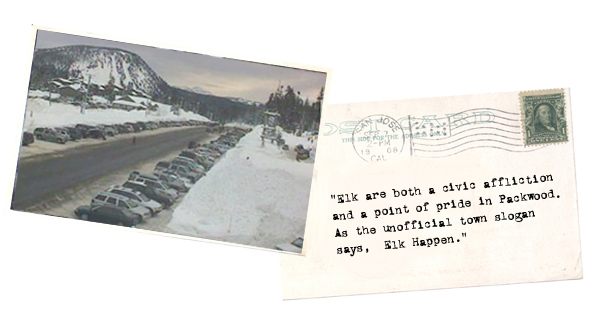 Packwood and White Pass
Champion ski racers Phil and Steve Mahre grew up at the White Pass ski area, where their father, Dave, was the manager. The entire clan -- Phil, Steve and their seven siblings -- returns to the Village Inn regularly for reunions.
Depending on your point of view, the elk of Packwood are either a civic affliction or a point of community pride. There are about 800 elk in Packwood, coexisting uneasily with about 1,500 humans. To those of you not personally familiar with Cervus canadensis, they are essentially really big, really dumb cousins to your standard-issue deer. Think 750 pounds of stupid trotting down the road, completely oblivious to cars. They are a well-documented nuisance and a hazard to motorists. Undertstandably, there are very strong feelings in Packwood, pro and con, about the elk. That would be a good subject to avoid at a local bar if you didn't want a bloody nose. In 2008 there was a state proposal that would have made it legal to shoot elk on sight -- in town. This damn near caused a civil war.

Beyond the elk, there isn't anything remotely charming or interesting to see in Packwood, a tired town that never really recovered from the collapse of logging. In the winter months, the local economy tries to hang on sustained by ski activity up the hill at White Pass. The summer season hinges on marginal events such as flea markets and sports car rallies.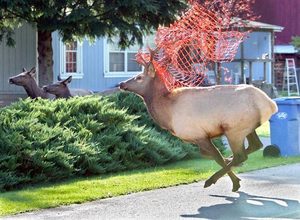 If you are headed into Packwood to resupply, there are two decent, competitive motels about a quarter-mile apart on Highway 12. The Packwood Inn (13032 Hwy. 12, 360 494-5500) would be my first choice based on one positive experience many years ago. The Cowlitz River Lodge (13069 Hwy. 12, 888 305-2185) is just two long blocks east of there and comparable in every regard. There are two other options likely to come up in any search: The Packwood Lodge and the Mountain View Lodge are both substantially east of town.
The wild card pick for an overnight would be the Hotel Packwood (104 Main St., 360 494-5431). It's been running since 1912 and, judging from the exterior, may not have been painted since Hoover was in the Oval Office. Nine rooms -- all of them cheap. If you want lodging with some character and not just another generic motel here you go.
I have no restaurant recommendations for Packwood. Both of the meals I ate here were memorably bad. I would have been much better off grazing out of a grocery store.
Packwood is three times the size of Trout Lake and not nearly as cool. No hiker love here. Given my limited and largely negative experience, the next time I'm through, I will skip the 20-mile hitch and stay near the trail at the White Pass Village Inn (48933 Hwy. 12, 509 672-3131). This is a wide spot in the road at the ski area, so it's effectively deserted in the summer. I found the skeleton staff at the inn to be very PCT friendly. The no-frills dorm-type rooms sleep at least four and they're cheap even by PCT standards.


I'm confident I could swing a bare-bones resupply out of the Kracker Barrel (48851 Hwy. 12, 509 672-3105), the gas station mini-mart next door. The way to play this would be to mail a resupply box to the Kracker Barrel (which is a contract post office) and augment it with treats from the store. The store is completely hip to PCT resupply and it has coin laundry facilities. Although White Pass doesn't have a real restaurant, the store has sandwiches and pizza. If I wasn't ordering the pizza, I would consider buying food at the Kracker Barrel to cook at the Inn, where each room has a kitchenette. Important: Note the Kracker Barrel is not open 24 hours. And note that the mailing address is not Packwood -- it's Naches, WA 98937.
Things at White Pass were much better than I'd expected, whereas things down the hill in Packwood were consistently disappointing.