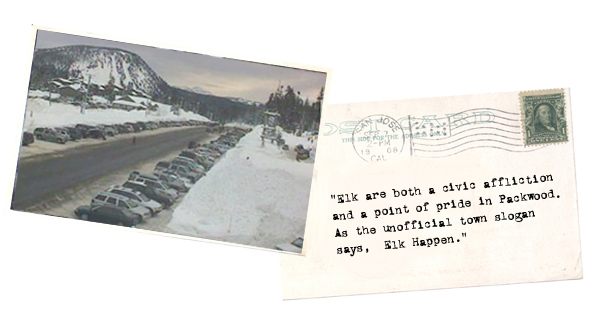 Packwood
Champion ski racers Phil and Steve Mahre grew up at the White Pass ski area, where their father, Dave, was the manager. The entire clan -- Phil, Steve and their seven siblings -- returns to the Village Inn regularly for reunions.
Packwood is a classic case of a former logging town that has struggled to remake itself as a tourism-based economy. The winter months are sustained by ski activity up the hill at White Pass. The summer season depends heavily on two annual mega-flea markets and a variety of special events, such as sports-car rallies at a local racetrack.

Elk are both a civic affliction and a point of community pride in Packwood. You may see them strolling down the main drag with absolute indifference to traffic. "Elk Happen" is a civic slogan that appears on bumperstickers and T-shirts. And when someone leaves a tavern after a long night of drinking, the standard admonishment isn't "Drive carefully." It's "Don't hit any elk."

The top choice for lodging is the Packwood Inn (13032 Hwy. 12, 360 494-5500), a very hiker-friendly motel in the heart of town with very good rates. In addition to an indoor pool and spa, there may be free laundry facilities for hikers. As of early 2012 it appears to be under new ownership.

Other lodging options that have earned favorable mentions in hiker journals include the Cowlitz River Lodge (13069 Hwy. 12, 888) 305-2185) and the Crest Trail Lodge (12729 Hwy. 12, 800 477-5339). The funky old Hotel Packwood (104 Main St., 360 494-5431) offers nine rooms, most with shared bath facilities. At $35-$50, it is an extraordinarily good value. Avoid the Mountain View Lodge.

The restaurant scene in Packwood is somewhere between iffy and abysmal. We chose very poorly for our one dinner slot in town. The Peters Inn (13051 Hwy. 12, 360 494-4000) is an utterly charmless Denny's-style coffeehouse/cocktail lounge that served the worst steak on the entire PCT. Idiotic clueless service and downright bad food. Avoid it. Cruisers Pizza (3028 Hwy. 12, 360 494-5400) and Dooby's Italian (12968 Hwy. 12, 360 494-8100) are two options we wish we'd tried instead. Finally, there are burgers at the Blue Spruce Saloon (13019 Hwy. 12, 360 494-5605).

If you don't need a full-service supermarket or other town services, the Plan B for Packwood is well-worth considering: Simply stay at White Pass, pick up your resupply from the Cracker Barrel store and forget about the long, long (20-mile) hitch in and out of Packwood. The Village Inn condos (509 672-3131) are an excellent value, and management is very hiker-friendly. You'll find Spartan, dorm-style rooms with kitchens at rock-bottom hiker rates. (If you split one of these four ways you could get the per-person cost down below $20.) The only downside to this is the limited fare at the Cracker Barrel, a gas-station mini-mart which has a coffee bar with some baked goods but no other food service. You *might* be able to find enough packaged food at Cracker Barrel to cook dinner in one of the condo kitchens.