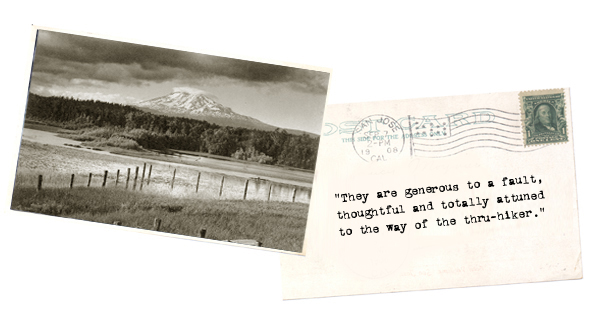 Trout Lake
Trout Lake is home to the largest certified organic herb farm in the United States. According to the Nutrilite Web site (an Amway subsidiary): "The Trout Lake valley where the farm is located is all organic -- there is no conventional farming in the valley and the surrounding mountains help keep out pollution and contaminants." No mention of the dairy herds that are still a major presence in the valley.
Trout Lake has operated on the periphery of the PCT community's radar for way too long. This bucolic, easygoing town of 600 deserves to be in the guidebook and the town guide. We strongly recommend it for a full zero day. Although Trout Lake, traditionally a dairy and logging economy, is the staging area for all manner of recreation in the adjacent national forest lands, traffic on the three feeder highways that cross the trail can be sparse on weekdays. It's not uncommon to wait more than an hour for a hitch. On summer weekends, there's a steady stream of trucks, towing assorted motorized toys, seemingly all headed down the hill to the store for ice and beer.

Trout Lake Grocery (2383 Hwy. 141, 509 395-2777) is the heart of town. The front-porch scene there is the crossroads of the world on a summer afternoon. Space doesn't permit us to say enough about the hospitality of Greg and Bev Meyer. The Meyer family -- three generations now -- blurs the distinction between merchants and trail angels. They are generous to a fault, thoughtful and totally attuned to the way of the thru-hiker. One of our favorite PCT stories was recounted by the Meyers' younger daughter, who is now a college student: Way back, when she was a pre-teen, her family hosted a young European couple above the store who had been delayed on the PCT by terrible weather, were nearly broke and in very real danger of overstaying their tourist visas and missing their pre-paid flights home from Vancouver. Greg Meyer packed his daughter and the Europeans in the truck and announced firmly, "We're going for a ride." Some hours later, they were in Manning. That's angel behavior of the first order. (And it should go without saying we hope no thru-hikers will ever try to take undue advantage of their big hearts.) There are three clean, modest sleeping rooms in back and above the store, with a shared bath. These are a particularly good value. Laundry is right around the other side of the building. We strongly recommend an overnight stay at the store.

The second choice for lodging is the very attractive Trout Lake Valley Inn (2300 Hwy 141, 509 395-2300), just south of town, with new units and decent rates, albeit roughly twice what the rooms at the store run. Laundry is on the premises. They are a hiker-friendly operation and may offer rides back to the trail. (Several community members offer rides as well, and can be reached by inquiring at the store. Please remember these are retired community volunteers, and gas money would probably be appreciated.)

On the culinary front, KJ's Bear Creek Cafe (2376 Hwy. 141, 509 395-2525) is a six-stool diner that may be passable for breakfast. Lunch and dinner offerings tend to be pretty heavy on the grease -- and they have no beer or wine license. Heavenly Grounds Espresso (2374 Hwy. 141, 509 395-2211) is a tiny (one-woman) drive-thru bakery/coffee stand on the side of the Chevron station. Amazingly, they were offering pork ribs and bento box lunches in 2006. Sandwiches from the store are a better value.

The place to be on a Friday or Saturday night is the Trout Lake Country Inn (15 Guler Rd., 509 395-3667), a pleasant 15-minute walk west of town. This history-laden dance hall and saloon (designated a National Historic Landmark) has live music most weekends and a somewhat limited slate of dinner offerings. The best bet is to catch them on a night they're grilling burgers on the front porch. One-dollar taco nights are also a can't-miss proposition. Don't pass up the "Dave Clarke Special" -- four Pabst Blue Ribbons in a bucket for $5. This is a very laid-back shorts-and-sandals scene, with sleeping rooms for rent upstairs (not as good a deal as the store) and ala carte showers and laundry. More than a century of honky-tonking has taken place in this charming building. It is well worth the walk to see it yourself.