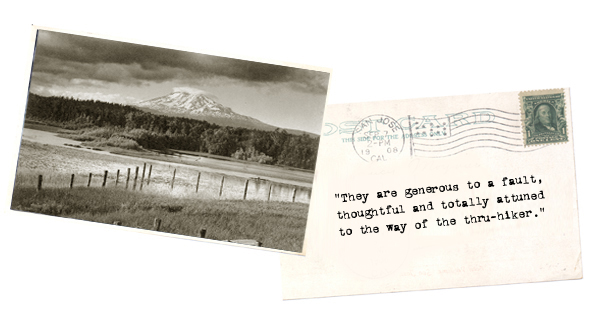 Trout Lake
Trout Lake is home to the largest certified organic herb farm in the United States. The valley, with 2,000 acres of agricultural land, is one of the nation's regional centers for organic produce.
Out on Stoller Road, there's a Buddhist statue representing compassion. Which makes perfect sense for this three-block town with 500 people and a really big heart. Considering the love the citizens of Trout Lake show to PCT hikers, Trout Lake could be the sister city of Etna. Do not be at all surprised if people wave to you or engage you in conversation on the street. That's just how they are in Trout Lake. I hope that PCT folk give some of that love back.

According to one statistically non-rigorous survey of the Class of 2017, about two-thirds of hikers make the haul into Trout Lake. Even though the town is just two or three days north of Cascade Locks, I would never pass up a stop here. (Frankly, I'd skip a zero in Cascade Locks and just go from Government Camp to Trout Lake, seven trail days.)

Much like Etna, this is a very small agricultural town of high-quality people who really understand what you're doing. Like Etna it is surprisingly diverse when it comes to religious presence: The Mt. Adams Zen Center (46 Stoller Rd.) is an organic farm, an upscale B&B, a conference center, a meditation center and home of the White Mountain Druid Sanctuary. The Buddhist temple is in the loft of a 120-year-old barn. These are the angels who put the trail magic at the Road 23 crossing. Maybe someday the Greek Orthodox monks of Etna will face off with the Zen monks of Trout Lake for an interstate, inter-monastery All-PCT softball game.

Over the years, I never could understand why Trout Lake was overlooked by the PCT guidebook and the town guide. It could be that access to town takes some degree of patience. Although everyone heading through the national forest comes through Trout Lake, it can be a tough hitch on either 141 (a.k.a. Road 60) or Road 23. Both are very lightly trafficked on weekdays. (Again, shades of Etna.) On weekends there's a more steady stream of people streaming into Trout Lake to resupply ice and beer. You can get in either way, but the typical route is Road 23. The good news is that once you're in town it's easy to find someone to give you a ride back out to the trail.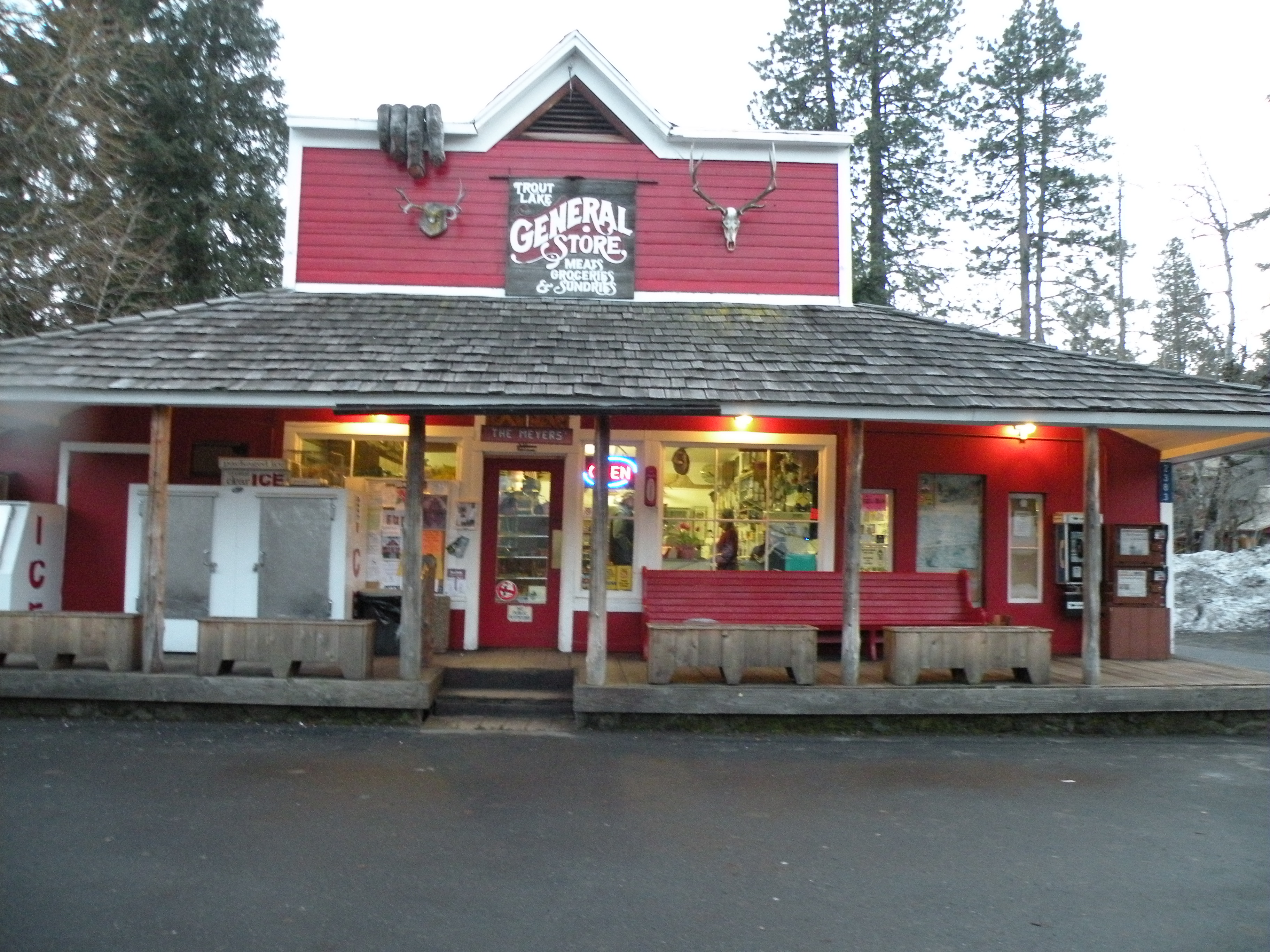 The Trout Lake Grocery (2383 Hwy. 141, 509 395-2777) is the heart of the town. On a summer afternoon, the front porch is the crossroads of the world. I would always choose the grocery over any other lodging option. There are three clean, no-frills rooms above the store, available for a ridiculously low rate. If you get one of those on a weekend, consider yourself among the blessed. You could definitely resupply out of Trout Lake Grocery, which also has laundry facilities, Internet access and resupply box handling. I'll just mention this in passing: The huckleberry season is the civic obsession right about the time you'll probably be passing through. Expect to hear about it, and not just at the store, which can sometimes process 300 gallons a day.
The Meyer family, which has run the Grocery for three generations, demolishes any distinction between righteous merchants and de facto trail angels. In my personal experience, they are angels working undercover as merchants. (There have been severe crunch times where they've had a tent city of thrus in their yard that would rival the Saufleys. And there are at least two other instances I'm aware of where the Meyers went to extreme measures to safeguard PCT hikers.) You will meet many beautiful people during your journey. None of them will be finer than Team Meyer. For all that they've done to give shelter and comfort to PCT travelers over the decades, please treat Bev Meyer and everyone associated with the store with the very highest respect. I very much regret I never got a chance to thank Greg Meyer sufficiently. May his memory be a blessing for all PCT hikers.
The Trout Lake post office (2393 Hwy. 141, Trout Lake, WA 98650) does not have weekend hours. The town strongly recommends all resupply boxes be mailed to the store. There are PCT registers in the store and the post office.
If I was out of luck at the Trout Lake Grocery, my backup for lodging would be the very attractive Trout Lake Valley Inn (2300 Highway 141, 509 395-2300), a.k.a. the Trout Lake Motel. It's less than a mile down 141 from town. There's a hot tub and laundry facilities. They are known to be hiker friendly. But their nightly rate tends to run double that of the Trout Lake Grocery. There might be a third overnight option: Others have reported that PCT hikers have been able to throw down in the county park, which is a couple hundred yards southwest from downtown.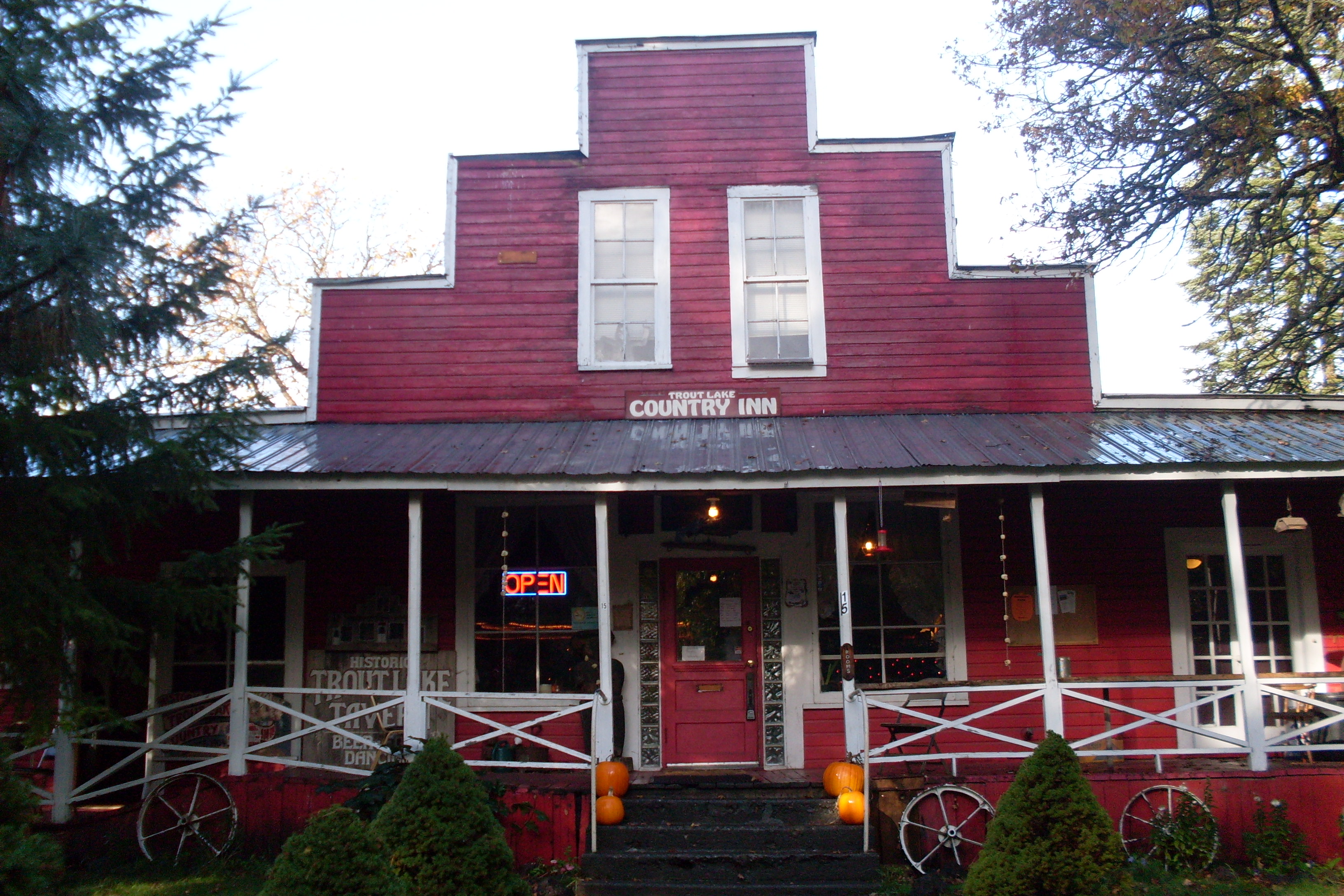 Although you won't find quite as many dining options as Etna, you can eat well here. The Trout Lake Country Inn (15 Guler Rd., 509 395-3667) is well worth the 15-minute roadwalk. This is a dance hall and saloon that also happens to be a national historic landmark. You'll find a very laid-back shorts-and-sandals scene, with bargain burgers and tacos if you hit them on the right night. It's a limited menu but quite a good value and vegetarian friendly. Some great things don't ever change: "The Dave Clarke Special" is four Pabst Blue Ribbons in a bucket for $5. There's live music on many Saturday nights. They also reportedly have a few rooms to rent, showers and laundry service. I had dinner there once and it was very nice. I have not heard from any hiker who has overnighted there. People have been honky-tonking at that great house for more than 100 years. Time to add your name to history.
The Station Cafe (2376 Hwy. 141, 509 395-2525), formerly KJ's Bear Creek Cafe, is a six-stool diner with standard breakfast fare and burgers. This is pretty cool: The current management took a look back at all the other operators who'd stood before that grill. Not just KJ's, but Bonnie's Cafe and others. They reportedly picked one item from each of those archival menus to keep as a legacy. The Heavenly Grounds Espresso and Deli (2374 Hwy. 141, 509 395-2211) is on the other side of the Chevron station. As of a couple years back, I recall this being a place to snag value-priced bento box lunches.
To arrange a lift back to the trail, inquire at the store or contact PCTA member Doug Anderson at dougdjr - at - gorge.net or (509) 395-3611. This is a 26-mile round-trip. Not a trivial drive. Most of the volunteer drivers are seniors on fixed incomes. Remember to throw in some gas money, as always. As the monks would probably remind you: Karma matters.