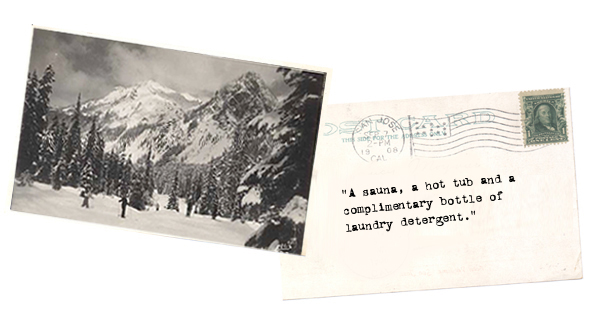 Snoqualmie Pass
One of the major players in the nascent ski industry at Snoqualmie Pass was the Chicago, Milwaukee & St. Paul Railway, which started running rail traffic through the region in 1909. After the Milwaukee Ski Bowl Lodge burned to the ground in 1949, the railroad continued to run ski operations out of a string of rail cars.
It's a bit of a stretch to file Snoqualmie Pass under the general heading of "trail town." Hikers who opted to stay at White Pass and skip the long detour into Packwood will find Snoqualmie Pass to be, as Yogi Berra put it, deja vu all over again: One large hotel and a gas station that also has a small store and a contract post office. That's about it. Adjust your expectations accordingly. Snoqualmie Pass is a step up from White Pass because it has a decent restaurant with an uncommonly broad menu of comfort food. Depending on your particular trail craving, you could probably get waffles or prime rib. Or both.

Most Washington state residents of any tenure invariably associate the term "Snoqualmie Pass" with the word "stuck." I-90 is a major east-west corridor. And Snoqualmie Pass is the place where winter weather regularly strands drivers.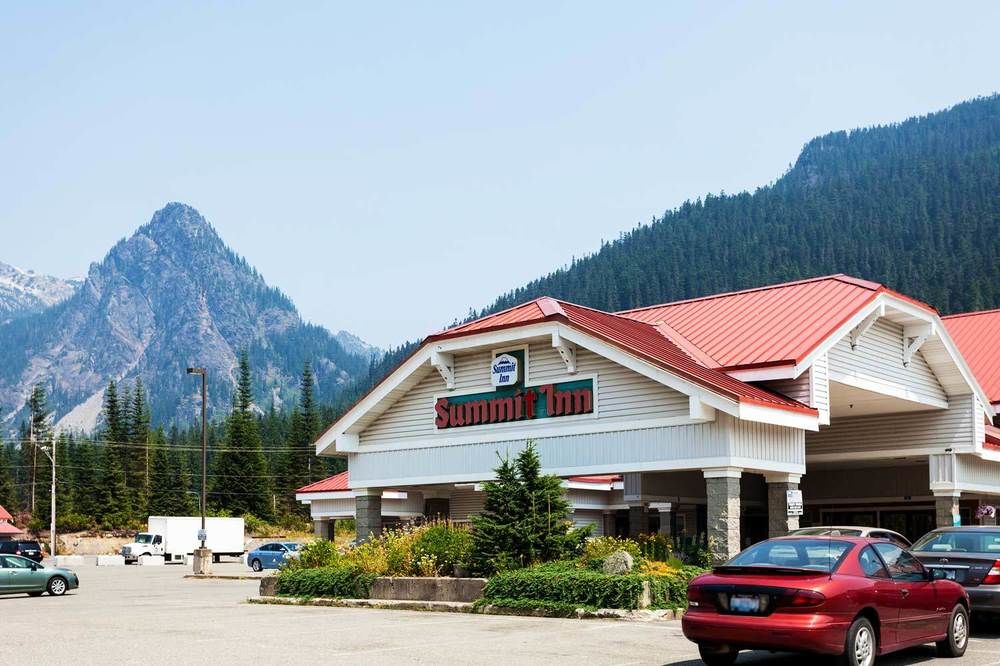 The Summit Inn (603 State Route 906, 425 434-6300) has what you need: uncommonly large, clean rooms at a fair price, hiker laundry facilities, Internet access and -- the No. 1 Best Thing about Snoqualmie Pass -- a sauna and hot tub. The pancake house (which also features a full bar) serves breakfast, lunch and dinner seven days a week. I don't know why the Summit Inn scores so low on Web travel sites. Maybe it's because many guests are here involutarily because of the weather. I would rate the hotel at least a 7 on a 10 scale. (How's this for service: Upon checking in, the Jeff Spicoli-esque front desk clerk took one look at me, with the front of my shirt soaked with blood, handed me the laundry detergent bottle and said, "Protein stain. Rinse immediately with cold water." Got it. Thanks, dude.) One note: The standard rooms with two kings or two queens could easily sleep four hikers. Or more. Management is hip to this. Per the Web site: "Accommodations for more than two adults are not guaranteed." Whatever the hell that means.
You might be able to resupply out of the mini mart in the Chevron. Personally, I wouldn't bank on that. Much like the Kracker Barrel at White Pass, this is a mini-mart on steroids, but you still might end up with a load of Skittles, Slim Jims and pretzels.
Here's where things get a little messy: The mini-mart is the contract post office. The literal address, per the USPS Web site, is 521 State Route 906, Snoqualmie Pass, WA 98068-9800. The excellent www.planyourhike.com beta lists the correct address for resupply boxes as general delivery, Snoqualmie Pass, WA 98068 and notes the boxes may be stored 26 miles down the hill at a real post office. You must clearly mark your expected date of pickup. The post office hours are 10 a.m. to noon. Regardless of whether you send a box to the Summit Inn or the Chevron, you need to triple check the precise shipping instructions. There have been at least a couple cases where boxes mailed to the Summit Inn via USPS have ended up next door at the gas station. The number for the Chevron is (425) 434-6688. The number listed by the USPS Web site is (425) 831-7020. Did you know "snafu" is a military acronym? You could look it up. So what did I do? My cousin drove up from Puyallup.
I would never take a full zero here. But the sauna and the restaurant make it a no-brainer for an overnight stay. Significant services such as a supermarket, an outfitter and medical care are 26 miles west on I-90 in North Bend. If you're going that far, you might as well go straight through to Seattle -- which is home to the Mother of All REI Stores.
There is one other thing about Snoqualmie Pass: The Forest Service Visitor Center a few hundred yards west of the hotel. (425) 434-6111. This was a great comfort for me when the weather turned harsh and I needed updated intelligence on trail conditions through to Stevens Pass. They can call their colleagues at the Skykomish Ranger District office for the complete picture to the north.