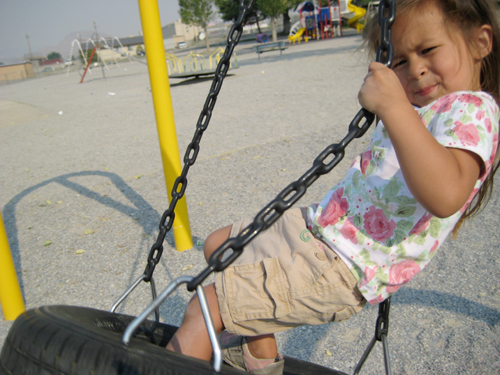 Leg 1: Out
Day 1: Home to Mt. Shasta, 300 miles. Call it the prologue, the default start to our trips in the past five years. Highlight for Alex was swimming at the Treehouse, for the grown-ups dinner at the Piemont.
---

Day 2: Mt. Shasta to Winnemucca, 380 miles. Dropped David at Gumboot Trailhead at 7 a.m., back in Shasta by 7:45, then the pretty drive down 89/44 to Reno.

Reno: Our first Nevada stop was to do the Carseat in the Front Seat Dance and put the carseat in the front seat. Our stop in Reno was the usual Reno lunch stop: food from the Raley's on Keystone, then picnic at the park across from where Grandma used to live. This being 7/7/07, Reno was overbooked for weddings and one of the spillovers was here in the park, with I-80 traffic as the soundtrack.

That weird castle near Imlay is the Thunder Mountain Monument. Now that I know it's open to the public, I'll stop next time.

Winnemucca: In by 3:10. Stay or drive on? Alex voted stay. The next likely car-camping options were Wells (3 hours down the road) or Wendover (4 hours). So the deal was, if we found good car-camping in Winnemucca, we'd stay; otherwise, we'd motel it in Elko (2 hours). The Winnemucca camp was fine -- very sweet hosts, shady lawn for tents, swimming pool that the very sweet hosts made sure to point out to Alex (gar!)

I was worried about wind, but the host guy said any spot was fine. Set up the tent, loaded in our stuff. Along comes alternative host guy: "Uh-oh. Didn't anyone tell you it needs to be up against the fence because of the wind?" Unloaded stuff, moved tent, rain starts. Swam anyway. Wind starts. Return from pool to find tent upside-down wedged against a tree. Loaded it with heavier stuff, went downtown for dinner. I'd recommend Ormachea's Dinner House if you are not a no-appetite 4-year-old or straight off a Piemont dinner, but we were both so we just went to an OK Mexican place. Sample dinner conversation:

Alex is writing a list of acquaintances of her imaginary friend Marina who have died. "A-H-F. What does that spell?"
"Ahf."
"That's a very common name for a pretend person. He died. He was 15."
"Oh, that's sad. What did he die from?"
"He ate a whole pumpkin. Not a real pumpkin, one like I had for trick-or-treating. And it killed him."

Back at the camp, the wind had died down, but the wildfire on the nearby hillside was worse. We had neighbors, too -- looked like grandma, mom, kid. Grandma drove a new Beetle with a snarky handmade anti-tailgater sign, and she set up the tent herself while the mom stood around and told the kid, "Don't drink anymore! You'll vomit! Oh, OK, one more sip."
---

Day 3: Winnemucca to Rock Springs, 540 miles. The kid's name is Mason. I know this because when the three decided to roll out at 2:30 a.m., it took them 45 minutes to pack up, and the entire time the kid was running around talking very loudly, and the mom's response was to say, every 10 seconds, "Whisper, Mason!" or "Quiet voice, Mason!" After that disruption I never really got back to sleep, so I packed up at 4 a.m. (It took me 15 minutes, and Alex was perfect.) The fire on the hills was spectacular in the dark. I heard they shut the interstate later that morning because of it.

Alex slept until just before Elko, where there is no coffee to be found on Sundays before 7 so we just drove through. Stopped for real at West Wendover, which has a really strange city playground across from the Peppermill -- lot of odd old equipment, including a spinning swing thing I have never seen before (below left). It was already really hot when we left at 9:30. Stopped right away at the Bonneville Flats rest stop, where Alex noticed the footwash station and insisted on going out on the flats barefoot (below right. Gee, are those the shoes we threw out several days later because of their odor? I do believe they are).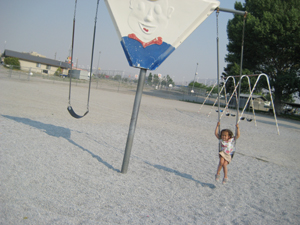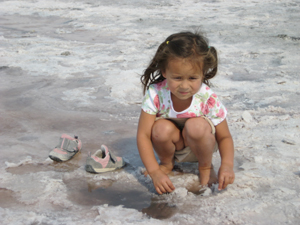 Of note on the freeway:The MOL alligator. We love him and his goo-goo-googly eyes. Also, the theme song for this trip must be "Brass in Pocket," which we heard three times in the first 14 hours of driving, and we're not even listening to that much radio.

Salt Lake City: Alex was getting grumpy on the approach, insisting she wanted no lunch, just playground. I got lunch anyway, and after a picnic and wading at Sugar House Park, she was just fine. She slept until 25 miles past Evanston -- she woke up just after we passed a truck/travel trailer overturn that had westbound traffic standing still for miles and miles.

Rock Springs:: Motel or campground? Alex voted motel. EconoLodge's $110 quote almost sent me back to KOA, but Motel 6 had a $65 rate, a pool, and a grocery store across the street, so I let her win. Could've saved $45 with another car camping night, but I might have regretted it in the wee hours. Especially if Mason is there. Foraged for dinner at the grocery. What is with the weird liquor laws in Wyoming? It's a far cry from the days when they were the last state for 18-year-old drinking. No beer or wine sold in the store -- there's a separate-entrance liquor store within the grocery, with no one under 21 allowed inside. I guess single parents aren't allowed to drink. Brother-in-law Chris the Cop later told me that kids aren't even allowed inside dining rooms that have bars.
---

Day 4: Rock Springs to Fort Collins, 300 miles. Al in a good mood though there's a lot of nothing between Rawlins and Laramie. Pretty nothing, though -- I love that pale green. Laramie around 11, Fort C at noon. Safeway for picnic stuff, then City Park, whose playground has all changed save the cannon. Rode the little train. Alex very impressed with water park, but not today -- it'll be her first day of the trip without a swim. Stopped at a self-serve car wash because David told me that if I drove into Fort C in a dirty car, Dad would not only spin in his grave but leap from it and chase me down the street waving a chamois and a bottle of Armor-All. ("But, he was cremated." "Even so.")

Went to the Wolfs', met the bunnies, went to watch Zane skate. Chris and Zane came over to the hotel -- Molly had been queasy all day, maybe from Red Lobster -- and we did free-beer happy hour. We weren't expecting the Ohioans unti 7, so I went up to the suite to leave them a note before we headed for dinner -- and there they were! So all seven of us went to dinner. Early bed. Poor Glenn gets the sofabed. I wouldve put Alex out there, but then who would I have slept with?
---
Leg 2