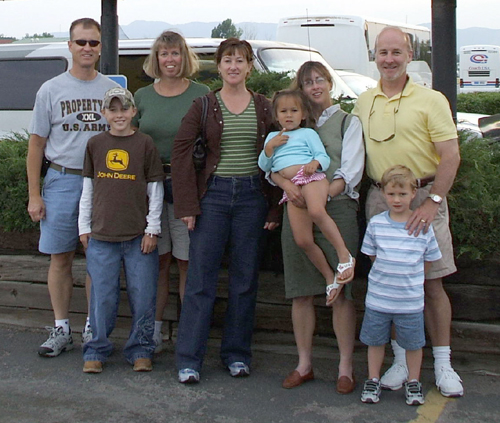 Leg 2: Fort C / Colo Spgs

Day 5: Fort C The first stop on our nostalgia tour was Spring Park, a few blocks from our childhood homes on Mathews. We always laugh at how small the huge sledding hill is, but the pond, oddly, looked bigger. Still 50-cent soda at the firehouse vending machine; I didn't check to see if it's still Canada Dry.

Stop 2was the new water park at the City Park pool. I did once find pictures of it online but I can't now. I did find mention of the season-ending festivities: They let people bring their dogs to swim. Anyway, it has two big water slides maybe three stories tall that the Wolfs and I partook of, standing in line with a bunch of 12-year-old boys. I went on the plunging yellow one -- like a ski jump, you can't really see the drop until you go over the edge. he curly orange one apparently swings you high up the sides on the turns. Alex really liked the kiddie area. At times she seemed to be choreographing an aquatic version of "Flashdance."

After free-beer happy hour, we commandeered the hotel's patio and barbecued. David called from Etna: He's doing great but the heat has him wondering how many 25-mile days he has left in him. He changed the pickup from Seven-Mile Marsh to Fish Lake.
---

Day 6: Fort C. Zane and Molly had skating so the rest of us started out at the Farm at Lee Martinez Park. Highlights: the silo, petting the ponies. Lowlights: Alex generously allowed a goat to eat oats straight from her paper bag, and it ate everything, bag and all.

Next stop, the New Belgium Brewery. We did this partly for Chris' sake, because after all these years he hadn't been there, and partly because the rest of us had liked it so much four years ago. Last time I think they gave everyone eight samples; this time you had to pick four, but they were pretty hefty pours, enough to share. (And served by Earl Grey! No joke.) I wish I had gotten pictures of everyone making the Folie Face, the spontaneous grimace upon first taste of La Folie.

After lunch, some napped, some swam, some visited the cemetery, all rested up for the traditional Charco Broiler blowout.


Pictures? Yeah, we got pictures. For a pop-up slide show, click here.


---

Day 7: Fort Collins to Colorado Springs, 135 miles. The Ohioans left at 7 for the airport, the rest of us two hours later for the Springs. Zane rode with Alex and me, and graciously entertained her. Air Force Academy, Olympic Training Center -- both pretty good. Got rained on at the latter (standard Front Range summer afternoon) but it cleared in time for dinner at the Loop in Manitou Springs.

For a tourist town, Manitou isn't bad -- divey bars, unspiffed penny arcade. Our favorite store of the stroll was Retro Moto Toys. Everything you remember from your childhood is there -- fortune-telling fish, drinking birds, chinese jumpropes -- plus more modern McPhee-esque novelties like the What Would Bacon Do spin chart and the crazy cat lady action figure. The woman running the place was very enthusiastic and gracious about people trying things. Alex was playing with the wind-up surfers in the wading pool outside the door when a big white dog came trotting purposefully and unaccompanied down the sidewalk and made a crisp turn into the store. He ran to the back, barking happily. "Oh, balloon time?" asked the proprietress. Bark! "One or two?" Bark, bark! She brought two rocket balloons outside and began pumping the first. Alex was enthralled -- and when the balloon launched and the dog leaped to catch it she was so excited she sat down in the pool. Wet but unfazed, she recovered in time for the second launch. Turns out two balloons is happy hour for this friendly neighborhood dog.
---

Day 8: Colorado Springs. Four a.m. wakeup call for both my room and the Wolfs'. Had we requested it? No. Chris took off a few hours later for the 9:20 cog train up Pikes Peak; the rest of us went to the Cheyenne Mountain Zoo. The highlight was the ape hours -- pensive gorillas, very active orangs and siamangs, a baby orang napping with his human surrogate mom, and Alex's favorite, the lion-tailed macaque. I'm not sure what she found so appealing about him, but she kept ending up at his window. Also good were the hippos and the giraffes (see slide show).

Having missed swimming yesterday, Alex and Zane took to the hotel's indoor pool when we got back. At one point, Alex went out a back door to warm up in the sun and ended up in extended conversation with a passing groundskeeper. The hotel, by the way, is brand-new and pretty nice -- a Marriott TownePlace Suites, with kitchenettes, full-size refrig, free breakfast, and Chris got us a real sweet rate. I wouldn't be surprised if Alex and I were the first ever in our room. The Wolfs' had definitely been used, though. It smelled like celery to me, like soup to Alex, like fonk to Molly. And there was a shower sandal in the closet.

Dinner tonight at Phantom Canyon Brewery downtown, a good choice by Chris.
---
Leg 3