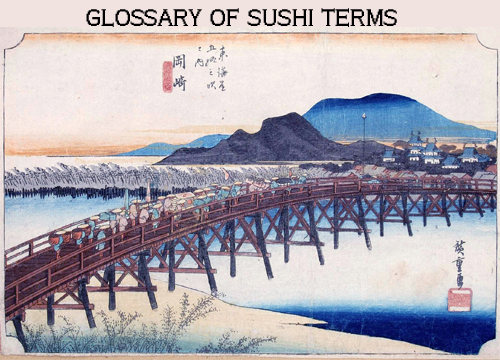 Sadly, a seat at a sushi bar can often resemble a contestant's chair on the game show "Name That Fish." The people who market fish -- both in Japan and the United States -- have the most annoying tendency to play fast and loose with names. The problem is compounded in the sushi-ya by itamae who routinely substitute one fish for another or casually refer to one fish by the name of another. Add to this all the varietal names and regional names and you have a great Gordian knot of confusion.

For example: There are a half-dozen Japanese terms for young yellowtail, depending on age. And the same fish goes by a different name in Osaka than it would in Tokyo. Not to mention the fact that the terms "amberjack" or "yellowtail" are used interchangeably in the English-speaking world and could refer to a half-dozen different species.

But wait, it gets worse: Japanese has more than 30 names for specific fish in the family referred to alternately as sea bream or snapper. And 20 terms for members of the mackerel family. If you're an ichthyologist, you could try ordering sushi by their correct Latin taxonomic names, but you wouldn't be making any friends behind the sushi bar.

So any exercise such as this glossary represents a best guess. It was cross-checked against five similar documents*. And inevitably, on a few entries they flat-out disagree. For example, makajiki and mekajiki. Either might refer to swordfish, marlin or maybe even kingfish. It would take a special session of the United Nations to sort it out. Here, I've just noted the points where experts commonly diverge.

Finally, remember that some, if not most, of these fish are not commonly seen in the United States. And a few would be tough to find outside the neighborhood immediately adjacent to Tsukiji, Tokyo's central fish market. There's just enough here to enable you to tell your kihada from your kohada and your tairagi from your torigai. But for ease of use, I have omitted such rarities as yajibuka (estuary shark). You're not going to find kujira (whale) or basashi (horsemeat) at your strip-mall sushi-ya, either. I've included them here because ordering them is one sure way to make the grimmest itamae burst out laughing.

FISH

Ahi -- a grade of yellowfin tuna.
Aji -- horse mackerel, aka saurel.
Aka-gai -- red clam, aka arkshell clam or cockle.
Akamachi -- red snapper.
Ama-ebi -- sweet shrimp.
Anago -- saltwater eel, aka conger eel or pike eel.
Ankimo -- monkfish liver pate.
Aoyagi -- yellow clam, round clam, hen clam, trough-shell clam, short-neck clam. Specifically, the adductor muscle of the clam.
Awabi -- abalone.
Ayu -- sweetfish.
Baigai -- small water snails.
Basashi -- horse.
Binnaga maguro -- albacore tuna.
Buri -- adult yellowtail or amberjack.
Ebi -- generic term for all varieties of shrimp or prawn.
Engawa -- a term of some contention. The fin muscle of either halibut or flounder.
Fugu -- generic term for all varieties of pufferfish/blowfish/globefish.
Funa -- crucian carp. The most ancient type of sushi.
Geso -- squid tentacles.
Hamachi -- young yellowtail or amberjack.
Hamachi-kama -- yellowtail collar.
Hamachi suna-zuri -- the richer belly cut of yellowtail.
Hamadai -- red snapper
Hama guri -- Manila clam.
Hamo -- pike eel, conger eel, saltwater eel.
Hatahata -- sandfish or sailfin.
Himijako -- giant clam.
Hiramasa -- another amberjack variety, closely related to hamachi.
Hirame -- a term of some contention. Either halibut or flounder.
Hokki-gai -- surf clam.
Hon-maguro -- bluefin tuna.
Hotate -- scallop.
Hotategai -- giant scallop.
I-gai -- mussel.
Ika -- squid.
Ikura -- salmon roe.
Ikura no shoyu zuke -- marinated salmon roe.
Ishidai -- another member of the snapper/seabream family.
Iwana --char.
Iwashi -- sardine.
Kaki -- oyster.
Kaniboko -- fake crab, aka surimi.
Kamasu -- barracuda.
Kani -- generic term for all crab varieties.
Kani miso -- crab guts.
Kanpachi -- variety of yellowtail or amberjack entirely separate from hamachi.
Karei -- flounder or flatfish.
Katsuo -- bonito or skipjack.
Kawahagi -- filefish.
Kazunoko -- herring roe.
Kenmedai -- "golden-eye tai," another member of the snapper/seabream family.
Kibinago -- silver herring.
Kidai -- yellow seabream.
Kihada maguro -- yellowfin tuna.
Kimachi -- A small fish from the yellowtail family.
Kobashira -- (alt. kaibashira) the adductor muscles of any type of clam.
Kohada -- gizzard shad, aka Japanese shad, spotted shad.
Kujira -- whale.
Kurodai -- black sea bream/snapper.
Kurokajiki -- blue marlin.
Kuruma-ebi -- tiger prawn.
Madai -- red seabream/snapper.
Maguro -- generic term for all tuna varieties.
Makajiki -- alt. mekajiki. A term of some contention. Marlin or swordfish.
Masu -- generic term for all varieties of trout.
Mate-gai -- razor clam.
Mebachi maguro -- big-eye tuna.
Meiji maguro -- baby bluefin.
Mentaiko -- marinated cod roe.
Mirugai -- geoduck, aka long-neck clam, horseneck clam, horse clam, giant clam.
Mutsu -- bluefish.
Nama-tako -- raw octopus.
Ni-ika -- cooked squid.
Niji-masu -- rainbow trout.
Nishin -- herring.
Odori-ebi -- sweet shrimp served live ("dancing shrimp").
Onagai -- red snapper.
Saba -- generic term for all mackerel varieties.
Sake -- salmon, alt. pronunciation is "sha-ke."
Sake harasu -- the richer belly cut of salmon.
Sanma -- Japanese mackerel.
Sawagani -- small crabs.
Sawara -- alt. goma-saba. Spanish mackerel.
Sayori -- halfbeak, aka needlefish.
Sazae -- topshell clam, turban-shell clam, sea snail.
Seigo -- young sea bass.
Shako --mantis shrimp.
Shima aji -- striped jack.
Shirako -- cod sperm sacks.
Shiro maguro -- albacore tuna or "white tuna."
Suzuki -- sea bass, striped bass.
Tai -- generic term for all varieties of sea bream/snapper.
Tairagai -- penshell clam, fanshell clam or razor clam.
Tako -- octopus.
Tara -- cod.
Taraba kani -- king crab.
Tarako -- cod roe.
Tekka -- tuna, especially in a roll.
Tobiko -- flying fish roe.
Tombo -- albacore tuna.
Torigai -- cockle.
Toro -- bluefin tuna belly. (O-toro is the finest cut. Chu-toro is a medium-fatty cut from the side of the belly.)
Unagi -- freshwater eel.
Unagi no kimo -- eel innards.
Uni -- sea urchin gonads.
Zuwai gani -- snow crab.
THINGS OTHER THAN FISH

Agari -- green tea. (Sushi shop jargon.)
Akami -- generic term for all red, fleshy fish. The term almost always refers to red tuna.
Ama-kuchi -- describes sushi rice seasoned on the sweet end of the spectrum.
Awase-zu -- the seasoning for sushi rice.
Biiru -- beer.
Chirashi sushi -- assorted sashimi "scattered" atop loose sushi rice and served in a bowl.
Daikon -- white radish, usually shredded to garnish sashimi.
Deba -- the short, broad knife used for boning and filleting fish.
Donburi -- a large lacquered bowl for chirashi sushi and other dishes.
Edamame -- soybeans.
Funa-zushi -- fermented crucian carp sushi, the most ancient type of sushi.
Futomaki -- thick roll.
Gari -- pickled ginger.
Geta -- the wooden plank sushi is served on.
Gunkan maki -- loose tane material (such as roe) served in an oval nori "battleship" Alternate term is funamori ("boat wrap").
Hashi -- chopsticks. "Temoto" is sushi shop jargon.
Hikarimono -- generic term for all silver fish ("shining things").
Hocho -- generic term for knives.
Hokanomono -- generic term for all shellfish, uni and roe sushi toppings.
Hosomaki -- thin roll.
Inari -- fried tofu pouches stuffed with sushi rice.
Maki -- generic term for all roll sushi.
Makisu -- a bamboo rolling mat used to make maki.
Meshi -- the masculine term for sushi rice. When the rice is pressed to form sushi, it is then referred to as shari.
Mirin -- sweet rice wine for cooking.
Natto -- fermented soybean curd.
Negitoro -- minced toro with onion, usually served in rolls (negitoromaki).
Noren -- a linen banner hung over the door of a sushi-ya.
Nori -- dried seaweed "paper" used to construct sushi. "Kusa" is sushi shop jargon.
No tataki -- seared.
No shoyu zuke -- marinated in shoyu.
O-cha -- green tea, in the non-sushi world.
Okonomi -- the practice of ordering sushi a few pieces at a time.
Oshibori -- a moist hand towel.
Oshi-zushi -- sushi rice and other ingredients pressed into a box or mold.
Ponzu -- a citrus-based sauce.
Shari -- pads of sushi rice.
Shiromi -- generic term for all white-fleshed fish.
Shiso -- perilla (mint) leaf.
Shoyu -- soy sauce. "Murasaki" (purple) is sushi shop jargon.
Shoyu sashi -- shoyu bottle.
Sushi-ya -- a sushi shop.
Tamago -- egg. In sushi parlance, refers to a seasoned crepe or omelet. "Gyoku" is sushi shop jargon.
Tane -- the fish. "Neta" is sushi shop jargon.
Tekkamaki -- tuna roll.
Temaki -- hand-roll.
Uramaki -- inside-out roll.
Usu-aji -- describes sushi rice seasoned on the sour end of the spectrum.
Uzuri tamago -- quail egg.
Wasabi -- Japanese horseradish. "Sabi" and "namida" are sushi shop jargon.
Yama-imo -- Japanese yam.
Yanagi -- the long, slender "willow blade" knife used to cut sushi and sashimi.
*FOR FURTHER REFERENCE

The Connoisseur's Guide to Sushi, Dave Lowry: (Harvard Common Press, 2005, ISBN 1-55832-307-4)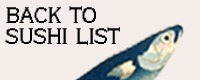 Copyright 2006-2008, David Plotnikoff. All rights reserved. No part of this document may be reproduced without permission.