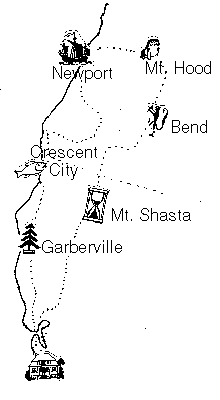 The Land of Burls and Coffee
Motto: "You never can tell with DeLorme."

The theme of our trip: closed roads and navigational uncertainty. Which matter only if you have to be somewhere, or more precisely a specific somewhere. Having no such restrictions we wandered with impunity on roads of questionable destination -- Galice Road, Oregon Skyline Road, Pumice Butte Road -- and always ended up some somewhere. Our guides were the atlas-and-gazetteers by the DeLorme Mapping Co. The DeLorme folks, ever the optimists, show every road that might exist, or at one time existed, or exists during certain seasons of the year, and you have to guess which are currently accepting motor vehicles. It's de-lovely, it's delightful, it's DeLorme.

(Not that DeLorme carried out the theme on its own. A hike described as three miles by the National Park Service was actually 7.5, and we encountered a surprising number of roads partly blocked by end-of-summer roadwork and auto accidents.)

Now onto our awards.

ELL on Wheels: Two establishments win the coveted Roadies for this trip.
Heart of the Redwoods/Hartsook Inn, south of Garberville. From the description, I expected a lush green parklike setting on a shady river. Our cottage instead looked out over a swingset on a scrubby patch of grass and wide swaths of bare dirt scoured by the South Fork Eel in last winter's storms. And it was a fine place. Clean, quiet cottages and a nice restaurant in the associated inn. Our dining neighbors included local teens on a double date, a Hollywood dealmaker type and his photogenic family, and people who liked huge goblets of neon orange sherbet. Recreational opportunities at adjacent Richardson Grove State Park. Update, spring 1999: Apparently, the lumber company that owned Hartsook's sold it to the Save the Redwoods League, which is not operating it as public accommodation. Quelle domage.
The Rendezvous, Wemme, Ore. Our best dinner was lunch at this roadside stop in the shadow of Mt. Hood. A simple BLT was chewy homemade bread, smoked pepper bacon and ripe Romas. Great wine list, bargain prices. Friendly owner/managers and a floor show by the AbFab women and the mad cat on a leash (see below).
Substantiating their previous Roadies were the Riverhouse and the Pine Tavern in Bend, Ore., and the Piemont in Mt. Shasta, Calif.

Glad we met ya:
The desk clerk at the Embarcadero in Newport who told a guest, "No, we don't have a Starbucks, but we have many good local coffee shops." Newport does have a Starbucks.
The AbFab women at the Rendezvous and the tragically single girls at Bend Brewing Co. Thanks for some of the best overheard conversation since the potpourri chicks in Vancouver. Wouldn't want to be ya.
Mad cat on a leash, also at the Rendezvous. A brawny orange brawler of a cat, in a harness. No wonder he made a break for it.
The many llamas, vicunas, ostriches and emus. A lot of Oregonians have bought into livestock-of-the-future pitches. On the wilder side: great huge herd of elk in a viewing area just inland of Reedsport.
New experiences:
Running on seafood, Newport. One of the unique experiences of staying near a working harbor is that you never know what you'll carry home on the bottoms of your shoes. One crunchy surface turned out to be shrimps.
Having the roof ripped off our unit, Newport. Don't talk to me about rude awakenings unless you've had men on your roof tearing off the shingles with pulaskis and sending crud raining down on you at 7:30 a.m. The management made it right by us, though, so Sam's cool with them.
Pressing questions:
What are those stripes on the side of Mt. Hood? Some sort of avalanche control, perhaps, but they're so straight!
Would anyone buy redwood burl if it was called what it really is, redwood tumor?
How much would Internet access cost on ranchland near Sisters?
"Who cares?" David's response to hearing that Princess Diana had died. The answer according to TV viewing figures: about 2.5 billion people including David.
Still wondering about those tarot card lawn signs in Amarillo, Texas.