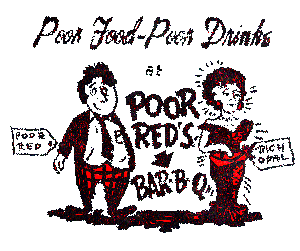 ELL on Wheels
Our rating system for travelers' attractions is heavy on comfort and the tried-and-true signs of good things to come. We like our restaurants ornamented with neon martini glasses and happy pigs, our hotel rooms stocked with coffee makers and fluffy robes.
° ° ° ° ° ° ° ° ° ° ° ° ° ° °
RESTAURANTS & BARS

The Bit and Spur, Springdale, Utah Excellent Tex-Mex (Ute-Mex?) at the gateway to Zion.
The Buckhorn Exchange, Denver Big game, odd game, on the wall, on your plate. They have a guy come in special to vacuum the heads. We haven't been here since the ballpark opened up. Hope it hasn't changed too much.
Carson Valley Country Club, Minden, Nev. Zazpiak bat! It's Baaa-asque! Toss back the picon punch and get ready to hearty.
Chiyoda, Vancouver Great little robata grill on the second floor of an office building.
Charco Broiler, Fort Collins., Colo. The kind of place you miss more and more the longer you're away. Dark warren of a steakhouse with no attitude, nice wine list.
Dahlia Lounge, Seattle Walking the knife edge between arty and cozy.
Delilah's, Vancouver We didn't actually eat here -- the no-reservation wait was too long -- but we had a martini and envied the diners in this red-velvet cave in the basement of the Buchan. Update: It has since moved, and we haven't seen the new space.
Dick's, Seattle A heavy dose of classic American for the cholesterolly unchallenged.
Fat City Smokehouse, Moab, Utah Good barbecue, and a good break from the unadventurous Moab offerings.
Gamekeeper's Grille, Park City, Utah We forgive them that extra "e," because the food is great and the decor is wonderful.
Jake's Famous Crawfish, Portland, Ore. Oh man. Excellent fishies, great desserts, lovely wine list.
Joe Allen's Pit Bar-B-Q, Abilene, Texas The best description of the atmosphere: Even for tourists, beer is on the honor system -- grab 'em from the tub of ice, and keep your own count. Enough good, cheap Q to satisfy the football coaches at the next table, and you can bring your own game to be cooked.
Joseph's, Santa Rosa, NM We are as of this writing unsure whether Joseph's is a Route 66 gift shop attached to an outstanding restaurant or an outstanding restaurant attached to a mediocre gift shop. A time-conscious traveler may wish to eschew the Blue Hole in favor of Joseph's carne adobada, which will fill the hole in your soul.
Junior's, West Los Angeles A little show-biz, but still solidly grounded. You'll be solidly grounded, too, after pastrami, herring, knishes and tall cakes.
Kirin, Vancouver The epitome of the Vancouver dining scene, in food and service.
The Logs, BZ Corners, Wash. Our late solitary lunch was a good huckleberry pie and a so-so burger, but we could tell this roadhouse howls on those long winter nights. The polaroids laminated on the table tops are enough to justify an award for potential alone.
Lucy's, Carlsbad, NM The heat rush of the green chile sauce rounded out our drugless psychedelic experience that evening, coming after the hallucinatory bat flight at the caverns and the adrenaline induced by sudden jackrabbits on the road.
Lula's Bar-B-Q, Junction, Texas I know Texans probably take these little grocery/lunch counters for granted, but they are a pure delight for us auslanders.
M&J Sanitary Tortilla Factory, Albuquerque Cool atmosphere, damn hot food.
Ormachea's Dinner House, Winnemucca, Nev. Our pick in the Basque food capital
The Painted Table, Seattle Beautiful room, beautiful presentation. David was surprised by an art salad that actually tasted good. Definitely on our return agenda. (Except now it's called the Library Bistro, in the Alexis Hotel.)
The Piemont, Mount Shasta, Calif. Right, no D. We saw a guy get up and walk around to other tables offering the pasta he had left over. People took it, too, and not because they were scared of him.
The Pine Tavern, Bend, Ore. Get a seat by the lawn so you can watch the cats go by. The chef is open to suggestions of extreme heat, a rare thing in rural Oregon.
Poor Red's, El Dorado, Calif. Barbeque roadhouse with a strange triple-decker bar that allows an entire room of people to pass judgment on anyone walking in the door.
The Railway Club, Vancouver Despite its worst-kept-secret status, it maintains a friendly clubby atmosphere. Good bands, good people. Tell Stan we sent you.
Rendezvous, Wemme, Ore.A roadside cafe run by people who love food and wine.
Charlie Vergos Rendezvous, Memphis. Touristy, but in a no-nonsense, anything-for-Q sort of way.
Restaurant 301, Eureka, Calif. Jewel of a restaurant, killer wine list, in the Carter House hotel.
Richardson's, Phoenix Cozy storefront lounge with big cushy booths and kick-butt carne adobada.
Southpark Seafood Grill, Portland, Ore. It's a wine bar, too.
HOTELS
The Arizona Inn, Tucson A 1952 honeymoon with croquet, a library and nice clothes.
The Carson Valley Inn, Minden. Nev. A wonderful casino, even if you don't like casinos. Decent food, and cheap, and they know the value of regular customers.
The Embarcadero, Newport, Ore. A great view of a working harbor and one of the most beautiful bridges on the West Coast.
Fifth Avenue Suites, Portland, Ore. Nice big rooms, decent price, good location.
Heart of the Redwoods/Hartsook Inn, Garberville, Calif. A folksy cluster of cottages and a lodge with restaurant and bar in the forest along the South Fork Eel. Update, spring 1999: Apparently, Hartsook's has been sold to the Save the Redwoods League, which is not operating it as public accommodation.
La Posada de Santa Fe Adobe casitas, the fragrance of pinon and glorious tiled bathrooms.
O'Doul's, Vancouver. Between the cruise scene and the park, a perfect place to be. Get a room on the Robson side.
The Riverhouse, Bend, Ore. Right on DemChutes, close to the running trails. Dogs allowed.
Union Station Hotel, Nashville There was something kind of half-finished about this set-up in 1992, but all our doubts rolled away when we saw the beautiful view of the railyard.
The Ice House, Telluride; the Grand Butte, Crested Butte, Colo.; the Stein Eriksen, Park City, Utah; Sun Mountain Lodge, Methow Valley, Wash. Even Bad Sams deserve a little luxury now and then. Ski resorts in the summertime let you run wild for little money.
OTHER PICKS
Best places to run: Bend, Ore., and Stanley Park, Vancouver The seawall is good, but so are the park's wooded trails. Less crowded, too.
Best place to drive trains: Feather River Rail Society, Portola, Calif.
Best bookstore: Powell's City of Books, Portland, Ore.
Best floral display: Outskirts of McArthur, Calif. Some berserk gardener has done absolutely stunning things with a strip of roadside land spanning four front yards at the east end of McArthur.
Best museum: Frontier Times Museum, Bandera, Texas One big, bad garage sale: a shrunken human head, a shrunken dog head, a 1915 Ford radiator cap, a 3-inch bit of tatting done by a local woman who was almost blind, fleas in wedding garb, a schoolboy's gory shoebox diorama of an Indian massacre, Life magazine from JFK's funeral, brazil nuts (identified as "nigger toes"), and a bobcat that underwent a botched taxidermy and strongly resembles Crispin Glover.
Best unexpected entertainment: Sheep and goat auctions, San Angelo, Texas. At Producers Livestock Pens in the Mohair Capital of the World, we found free ringside seats to a fascinating spectacle.
Best radio: Navajo radio. Shush yaz! Runner-up: Paul Harvey ... Goodday!
Best advice from Navajo radio: "Dress up your house and BE somebody! Guh!"
Best theme song: "I've Been Everywhere," Hank Snow (1962)
And I said, listen bud, I've traveled every road in this here land: Been to Reno Chicago Fargo Minnesota Buffalo Toronto Winslow Sarasota Wichita Tulsa Ottawa Oklahoma Tampa Panama Mattawa La Paloma ...
TOO BAD FOR US
Mount Charleston Inn, outside Las Vegas. Maybe it is the proximity to Vegas that made this lodge so ... weird. A lot of Z-brick and chainsaw sculptures and REALLY BIG things. No less weird was the Mount Charleston Lodge just up the hill, where we happened upon a David Lynch Oktoberfest in May, featuring an oompah band called the Dummkopfs -- old guys in leather, middle-aged woman in horns -- and some Filipino kid with great hair and a synthesizer. And then they took us to the tower of Bud.
The Kiva Inn, Abilene, Texas Not much scenery, but at least it looks out on the railroad tracks, right? Wrong. No windows on the outside. Your room is a glass-fronted box facing a big atrium that amplifies the noise of the children running wild therein starting at 7 in the morning.
Victoria Yeah, that Victoria, the one everyone tells you that you must go see if you're going to Vancouver, because it has a lovely garden and, um, the tea at the Empress is nice, and, well, the garden is really something. ... Skip it. Spend the extra days in Vancouver.