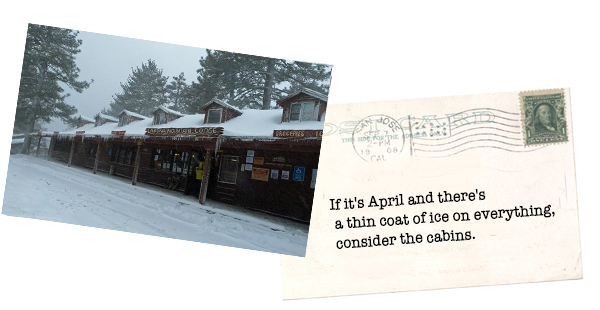 Mount Laguna
In addition to a university observatory, Mount Laguna boasts a decommissioned Air Force base, just off Sunrise Highway past the 6000-foot sign. The base was a missile early-warning station that housed up to 400 workers at the height of the Cold War. A portion of the base is now used by the FAA.
This microscopic burg, essentially a wide spot on Sunrise Highway, comes at the end of Day Two. Plan on stopping here. The historic building that houses the Laguna Mountain Lodge (10678 Sunrise Hwy., 619 473-8533) is all there is to downtown Mount Laguna. The store and the post office are both in that building, just a few hundred yards west of the trail. Laguna Mountain Lodge is a Forest Service concessionaire run by the same family since 1975. It features 12 motel rooms and 17 semi-funky-but-clean cabins. I can recommend the cabins, particularly if your family has come to see you off. There's easy camping in the Burnt Rancheria campground on the east side of the highway, adjacent to the trail. But if it's April and there's a thin coat of ice on everything, hikers might consider the cabins.

My family had a good experience with a cabin here. Unfortunately, I have to make my recommendation conditional. Per their Web site, verbatim: "We accept checks, cashier's checks, money orders or cash. We can take credit cards for last minute reservations made via the telephone." OK. That's just plain odd. "Cancellation policy: If your plans change, your payment (less a $50 change/cancel fee) will be refunded if we receive notice at least 10 days before your scheduled arrival date."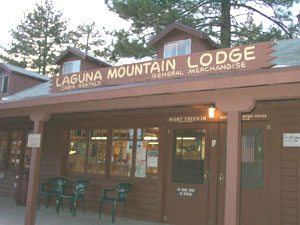 Everything you care about is within easy walking distance of the Lodge. The Pine House Cafe and Tavern (9849 Sunrise Hwy., 619 473-8857) is usually open every day during hiker season. This is a big destination for day trippers from metro San Diego. It often hosts live music on weekends. The Blue Jay Lodge (10600 Sunrise Hwy., 619 473-8844) is worth considering for breakfast or burgers. In the spring, the bar and restaurant may operate only on weekends. The Blue Jay also rents cabins. From their Web site: "To ensure your intimate weekend, no children, pets or guests are allowed." No children. No pets. No guests. They really know how to party up on Mount Laguna.
In the event that you somehow forgot to pack one, Google Maps shows two harp shops just north of the Lodge. Robinson's Harp Shop (33908 Mount Laguna Dr., 619 473-8556) primarily exists today to sell hardware, custom strings and books. You cannot buy a complete harp here. Dragonwhispers Harp Supplies (33920 Mt. Laguna Dr., 619-473-9010) is known for its Truitt Sharping Levers, but they also have soundboards, tuning levers and other parts. You may not need harp accessories so early into the journey, but it's still good to know they're there.
As of 2018 Laguna Mountain Sports & Supply (10545 Sunrise Hwy., 619 473-0450) appears to be closed. If you have a gear issue, deal with it prior to leaving metro San Diego. REI is at 5556 Copley Dr. A16 is at 4620 Alvarado Canyon Rd. The Sport Chalet location has closed.