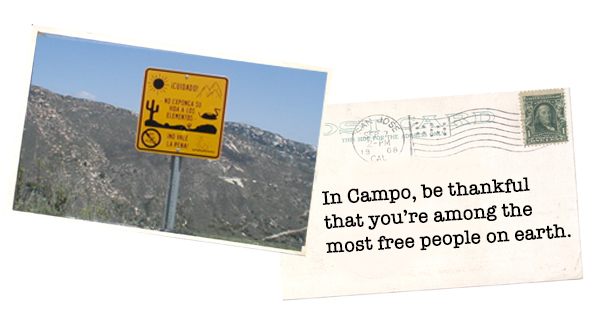 Campo and Pine Valley
The Pacific Crest Trail runs approximately 2,650 miles from border to border. Yet the actual air distance between Campo and Manning is just 1,200 miles. According to Google Maps, a person could walk from Campo to Manning in 19 days. Most hikers should plan on a longer walk.
The first order of business coming into Campo is to get out of Campo. There is no reason to stop except for maybe a quick breakfast. Campo doesn't really give a damn about the legion of hikers streaming to the border.

You've got places to go. There are a whole lot of people in Campo who are going nowhere. And there are some unfortunate hikers who are about to be heading back from whence they came. On your way to and from the monument you will pass a large Border Patrol station. Expect to run into Border Patrol troops for the next several days, until Warner Springs. They will be watching many of the road crossings for the next 80 miles. The people going nowhere are several hundred felons-in-training at Rancho del Campo, a San Diego County youth prison, which you will also pass on the way to and from the trailhead. Sign the register, touch the wall and vaya con Dios, thankful that you're now among the most free people on Earth.

If you are dead-set on staying in the area overnight, perhaps for a dark-o'clock departure from the monument, if you're not camped at Lake Morena there are two choices. Both of them require car support or a near-miraculous set of hitches. I've had very good luck staying with my family up on Mount Laguna and shuttling down to Campo. That strategy allowed me to fastpack the first two trail days and enjoy two nights of town food before picking up a real pack, saying goodbye to my family and heading north. I would use this approach again.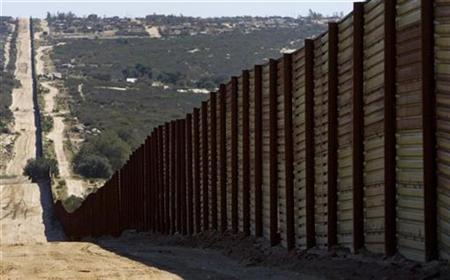 If you don't want to go all the way up the hill, there is the very affordable Pine Valley Inn Motel (28940 Old Hwy. 80, 619 473-8560) about 200 yards off Interstate 8. According to TripAdvisor the best lodging in the region by far is the Santuario Diegueno Hotel and the Rancho Tecate Resort. Both are on the other side of the wall, in Mexico.
I haven't tried any of these three, but they're worth mentioning for those who have car support. The El Paso Taco Shop (31464 Hwy. 94, 619 478-9045) in Campo is strongly recommended by locals. For all I know, it might be the best restaurant in town. It's certainly better than the Subway franchise across the road. The Golden Acorn Casino (800 Golden Acorn Way, 619 938-6046) which is a substantial distance northeast of the trailhead, has a diner, the Golden Grill, with cheap dinner specials. Finally, Cafe B (1247 Sheridan Rd., 619 478-5415) has breakfast, burgers, sandwiches and pizza.
On the first night north of the monument, most people opt to throw down at Lake Morena County Park (2550 Lake Morena Dr., 619 579-4101), which for many years was the site of the Kickoff. In addition to developed campsites, there are reportedly 10 cabins in the park. I know of nobody who has ever rented a cabin there. In recent years, the parks people have emphasized that all PCT folk stick to a certain pre-assigned set of campsites. Essentially, Lake Morena could be considered North Campo. They are contiguous. In Lake Morena, there is one important business. The Oak Shores Malt Shop (2425 Lake Morena Dr., 619 478-5845) is a combination convenience store and restaurant that has been a PCT mainstay for decades. It's about a half-mile east of the trail. The burgers are not cheap. But there are deals, such as the huge omelet called "The Works." This has historically been a very hiker-friendly operation. Don't be deterred by the ghetto bars. It's a clean, well-lighted place.
Pine Valley is a wide spot in the road off Interstate 8, a 15-minute drive down the hill from Mount Laguna. It is not particularly convenient to the trail. But these might be worth knowing about if you're driving into Campo or Mount Laguna.
Major's Diner (28870 Old Highway 80, 619 473-9969), has a '50s nostalgia theme, burgers, shakes and a limited menu of other stuff. Definitely ask about ordering the "Garbage Plate." Major's is breakfast and lunch only. The Frosty Burger Shack (28823 Old Highway 80, 619 473-9952) is another burger place. And there's Calvin's Restaurant and Sports Bar (28841 Old Highway 80, 619 473-1266), which has standard bar fare, most notably ... burgers.
We should get this out of the way right at the start: You are going to find a lot of burgers on your journey. Too many damn burgers. If you love hamburgers, you will have gotten over it by the time you reach Manning Park. If you find yourself in one of the more substantial town stops -- Lone Pine, Bishop, Mammoth, South Lake Tahoe, Truckee, Mt. Shasta, Ashland or Bend -- for your own sanity you really should try to eat something other than the standard rural diner chow that's available for 2,650 miles. If there is a regional specialty or a local microbrew, always get it. If a restaurant has a very special signature item, always get it. (With the notable exception of Seiad. More on that later.) Indian casinos near urban areas sometimes have very decent Chinese food, for reasons that should be obvious to anyone who's ever gambled in the American West. If you can handle Mexican cuisine and pizza, you could go from Campo to Kennedy Meadows before having your first hamburger. The PCT experience is supposed to taste like more than just hamburgers, Clif Bars and peanut butter.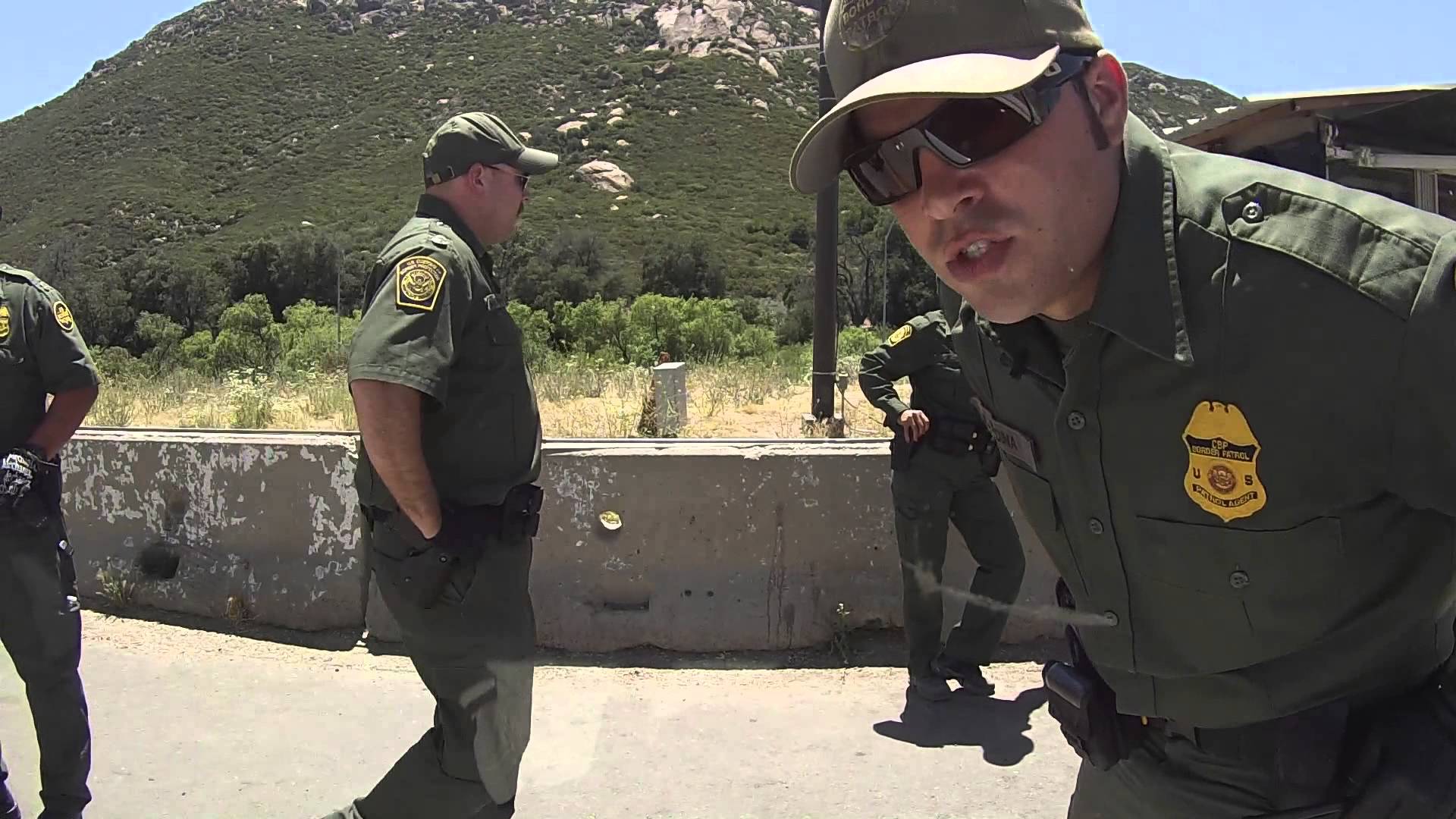 And before we leave Campo and its rather overwhelming law enforcement presence, it's also worth noting: According to the states, marijuana is legal every foot of the PCT, from border to border. However, the Border Patrol, National Park rangers, National Forest law enforcement and any federal cops -- such as postal inspectors -- may still seize it. (I am old enough to remember a time when getting popped for even a single lid in Yosemite Valley would earn you an audience in front of a federal magistrate in U.S. District Court.) The question of whether pot is legal in national parks, national forests and BLM land has yet to be resolved in the courts.
The Border Patrol has been emboldened in recent years to take a much more aggressive stance with the general public. For example, they claim the Fourth Amendment to the United States Constitution does not apply within 100 miles of the border, thus allowing them to stop you and search your belongings (including your phone or computer) without a warrant. If the Border Patrol tries to detain you or search your pack without your consent, you should immediately contact the ACLU office in San Diego, which documents these abuses.
Once away from the border, you will find bud stores in Idyllwild, Big Bear, Mammoth Lakes, South Lake Tahoe, Truckee, Mt. Shasta, Ashland and Bend. Most of the smaller trail towns do not have a marijuana store. In much of California south of Walker Pass you can often call for trailhead delivery. Ironically, the two trail towns most associated with marijuana production, Wrightwood and Seiad, do not have stores.
If you expect any services in Campo or Pine Valley, it's incumbent on you to confirm it's still there before you leave San Diego. The Old Oaks Inn in Campo, the Campo Diner, the El Rancho Bar and Grill in Lake Morena, Pine Valley House and the La Posta Diner in Pine Valley have all closed.
Taking public transit to Campo is not particularly convenient. In metro San Diego, get to the El Cajon Transit Center. The bus to Campo runs three times a day. It's about a two-hour ride. You want to have all your grocery and gear needs taken care of before you leave San Diego. Scout, Frodo (the Manns) and Bob Reiss are excellent sources of information about anything concerning San Diego. (As with other trail angels, I am not listing their contact information here out of respect for their privacy.)
Somewhere between the border and Lake Morena you may encounter some very serious ultra-light hikers on the PCT carrying everything in a couple of grocery bags. No stove. No sleeping bag. Sometimes no water. Hardcore! They tend to hike all night, so you probably won't see them. If they do pass you on the trail, the traditional salutation is "Bienvenido a los Estados Unidos! Que tengas una gran caminata!"

Campo map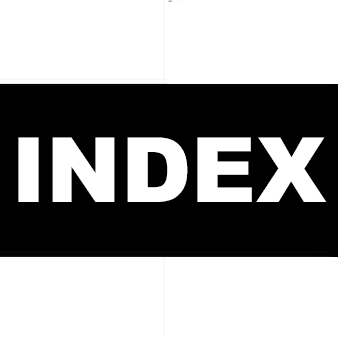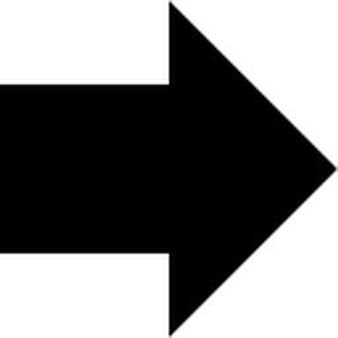 © 2000-2018 David Plotnikoff. All rights reserved.