Colorado Spring
This year's Colorado trip covered some territory new to us. The cities and the trails:

Manitou Springs
A touristy town at the base of Pikes Peak, it's a more easily navigable alternative to Colorado Springs. The second day we were here, May 21, the temperature dropped about 20 degrees in an hour, a huge howling wind came in and it started to snow right before we went to dinner. When we came out a couple hours later there was more than an inch on the ground, meaning I got to use the snow brush that came with the rental car. It was almost all melted by the next morning. We went to two of the historic restaurants: The Stagecoach Inn was just OK; the Craftwood Inn was expensive, but the service was great and the food good.
Trails: Beaver Creek State Wildlife Area, near Canon City. I thought I had good maps on this, but there were so many fishermen's spurs that we couldn't tell which was the loop trail. Gave up after a while and drove the Phantom Canyon back way into Cripple Creek. Nice drive.
Waldo Canyon. We got to the trailhead at the same time as an extremely peeved Texan who had ended up hitchhiking on the freeway after taking a wrong turn and bushwhacking through some bad terrain. "It's not a loop!" he warned us. "They say it is, but it's not!" I'm not sure where he went wrong, because it's a well-marked loop (or lasso -- the last two miles are the same as the first). Nice views of Pikes Peak.

Woodland Park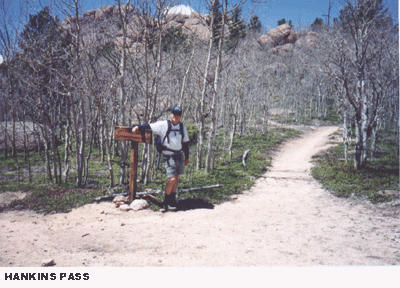 We drove about half an hour up the road for something different from a third night in Manitou Springs. We stayed in a little cabin at a lodge/cabin complex called Eagle Fire. Very nice, though it was right on the main drag. For dinner we picked a Tex-Mex place that turned out to be the place those seven prison escapees from Texas hung out when they were on the lam. The best thing about it was the local color. I was entranced by a story a guy at the bar was telling his date about his ex-wife's bad-news boyfriend, named Squirrel. The capper: "And now she's got a titanium nose, all because of this guy Squirrel."
Trails: Hankins Gulch Trail, Lost Creek Wilderness. The best hike of the trip. It was a long drive to get the trailhead, but once there we saw nobody all day. Well-built trail, consistent grade up to Hankins Pass, lot of bear tracks, no snow.

Golden
Same rationale as Manitou Springs: We could have stayed in the big city, but in this town we can just park the car and walk to everything we need, except perhaps a non-Coors beer. If you go, don't miss the drugstore called Foss. Susan got a $2 cowboy hat here that performed admirably in the following month's Death Valley trip.

Estes Park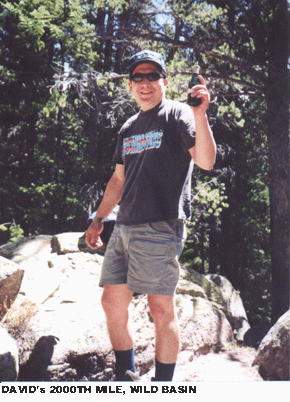 For all the times we've been to Rocky Mountain National Park, we've never stayed here. We were a couple days before Memorial Day, so we got a good rate at the Big Thompson Timberlane Lodge and we shared the town with a fair amount of people and a buttload of elk. Elk on the lawns, elk on the medians, elk in the parking lots, elk on the volleyball courts, elk wandering along the road.
Trails: Fern Lake. I saw a pine marten. The snow stymied our attempt to press on to Odessa Lake.
North St. Vrain/Ouzel loop,Wild Basin. At the turn of the loop we took out our mini-bottles of Cook's champagne and toasted David's 2000th hiking mile since he began walking as part of his smoking-cessation regimen in November 1998.

This concluded the walking portion of our trip. We spent the last three days in Fort Collins with Susan's family -- including Glenn and Pam, out from Ohio. If you're wondering, Charco-Broiler is still excellent.