Range of Light, Valley of Death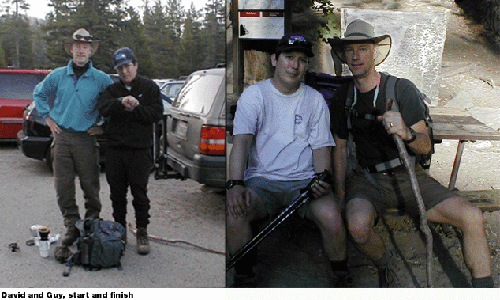 The one-day Phase 1 of this nine-day trip took 90 percent of the planning, and I (this being Susan) can't even tell you what happened because I wasn't there. As they have for the past two years, David and Guy did a long walk on the longest Saturday of the year. 1999: Palo Alto to the Pacific. 2000: Olema to San Francisco. 2001: Tuolumne Meadows to Yosemite Valley. For David, the 26-mile Solstice Walk III doubled as John Muir Trail Walk 1.5, picking up from our starting point last summer.
We spent Friday night in a tent cabin in Tuolumne Meadows, and the guys took off at sunrise the next day. I was the shuttle-car driver, so I just hiked around and hung out until they showed up in the valley around 7 p.m. Some day soon, David will do a hiking page. Until then, all I have is pictures from the start and finish. Guy then drove back to Santa Cruz and we headed onto ...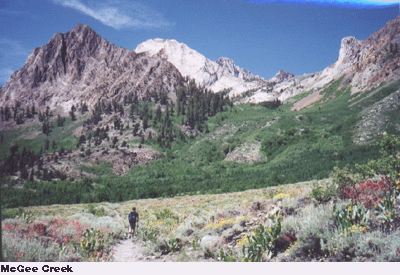 Phase 2: Eastern Sierra, which took about 1 percent of the planning. We stayed at Tom's Place and shot on the Chidago Canyon Road and ate at Convict Lake and drank at Tom's Place, all of which we've done before and in some cases done a lot. We did do a new hike, up McGee Creek to the Steelhead Lake turnoff, which was utterly beautiful unless you weren't wearing bug repellent. And there was a new cat in our room at Tom's -- actually, she was brand-new last time we were there, after JMT 1.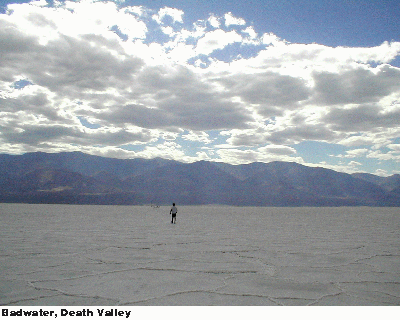 Phase 3: Death Valley Days. We drove in the bumpy way, from Big Pine to Crankshaft Junction, and the Imp -- our rented Chevy Impala -- did fine. The road out to the Racetrack looked like a tougher axle to crack; we turned around at Ubehebe Crater. David had somehow never been to Badwater before, so we drove out there at the hottest part of the afternoon. Everybody else was just walking a few feet out to the sign (lowest point in the Western Hemisphere) but there was a little hiking-man icon posted. We got our water and our silly hats and headed out onto the salt flats. It is really incredible out there. We walked for about half an hour, until we reached the weather station. We did not empty our water bottles into the rain gauge, but it was discussed.
Furnace Creek Ranch is nice but I still think $120 a night is stretching it in low season. Most of the summer clientele is German. The staff is always shocked by native English-speakers in the hot months.
The second day we hiked up Wildrose Peak, about 9,000 feet above the valley floor. The third day we drove up to Scotty's Castle and out to Beatty and looped back in. Was it hot? About 115 the days we were there, though it got hotter -- 120, then 125 -- after we left. We didn't use the air-conditioning in the car. We drank a lot. We wore hats and sunscreen and little else.

On the way home, we scouted the trailhead for JMT 2.5 (Kearsarge Pass to Whitney, summer 2002), spent another night at Tom's and had a nice dinner at Paradise Lodge. Amfac, which has replaced dear Fred Harvey as the Death Valley hotelier, wants to know if we have unforgettable memories of our trip. Time will tell but I think yes.