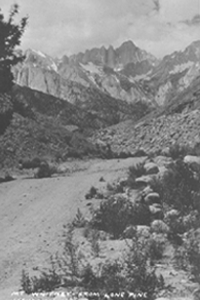 Summit by Sunrise
Susan's full-moon hike up Mt.Whitney, September 1996

---
Whitney, in the Eastern Sierra above the town of Lone Pine, Calif., is the tallest peak in the contiguous United States and requires no technical climbing skills. It's a walk-up, though a long and strenuous walk-up, 22 miles round trip and 6,130 feet elevation gain from the Whitney Portal trailhead.

The least taxing way to climb it from Whitney Portal is as a two-day event: the first day to Trail Camp (12,000 feet), the second to the summit (14,495) and then back down. Camping permits are hard to come by, though, and many people do it as a day hike. This time, I did it as a night hike. (For current permit policies, see the Inyo National Forest Web site. After my 1997 trip, the rangers clarified that non-camping hike permits are good only for one midnight-to-midnight calendar day, not a 24-hour period.)

Sept. 27 was a Friday, one day after the full moon (which was dimmed by an eclipse for the early part of the evening). I had planned to start my climb about 9 p.m., aiming to reach the summit by sunrise. (I've climbed it twice by day, both times making the ascent in about nine hours). But I got tired of hanging around the trailhead, and I started at 6. Shortly after I started, I overtook three guys who planned to do the same thing. This was one reason I wasnt too worried about climbing alone: There are always a lot of people on Whitney, even in the dark hours. They stopped for a rest and I kept going, figuring we'd leapfrog a few times and end up on the last stretch at the same time.

Mostly in the first few hours of climbing I ran into a lot of Trail Nazis, the know-it-all guys who want to make sure you're not doing anything they couldn't handle. Among their unsolicited observations: I have a cheap headlamp; I should not be wearing those pants; I'm not climbing alone, am I?; I'm starting too late; I shouldn't climb at night; I shouldn't be alone; was I aware it was going to be dark?; I was going to get cold; where was the rest of my party?; and I was not going to make it, and then where would I spend the night? To all of them, I would just like to say nyah nyah nyah.

The moon rose about 7:40 that night, but I didn't see it until it cleared Lone Pine Peak about an hour later. I had been using a headlamp (my cheap headlamp) in the more forested areas, but as soon as the moonlight hit the trail everything was so clear I didn't even need the light. By that time I was past Mirror Lake, heading toward Trail Camp. This part of the trail is over rock, and I really appreciated this time how well it was constructed. Whitney Trail has to be the best-maintained trail I've ever walked on: It has many subtly constructed stairs and walkways to keep you going the right way, and its consistent flow makes it easy to follow along without really thinking about it. (Up near the top, it's well-cairned, too.)

At about 9 I ran into a couple who'd been on the summit for sunset. They asked me if I was Jackie -- some people at Trail Camp were missing Jackie, who had been hiking alone. (I hadn't seen any other lone women coming up. In fact, the only ascenders I'd seen were the three guys, and I suspected they had dropped out.) Then the woman asked if I was going to the top. Worn down by the grilling of the Nazis, I told her, well, that was the plan, but, you know, I'd see what happened. She gave me a big smile and told me, "Good. It's beautiful up there tonight." I liked her. They were the last conscious human beings I would see until 5:45 the next morning.

I felt bad that I was going to walk into Trail Camp and not be Jackie, but as it turned out the whole place was buttoned up for the night when I got there. I got to the bottom of the switchbacks at 10, the Trail Crest by midnight. There's not much to say about 100 switchbacks up a rocky slope. I didn't see any more lights moving on the trail below me, and I realized I would probably not have company on the last stretch, but I was feeling strong and I was well-provisioned and I suspected there might be someone camping at the summit.

The 1.8 miles from Trail Crest (13,600 feet) to Whitney summit was my favorite part of the hike. There's some elevation gain, but mainly the trail just skirts along the back side of the ridge, with several peephole notches through which I could see the lights of Lone Pine. Compared to the trudge up the switchbacks, it was easy going. Whitney from the east looks like a big, flat, jagged fin -- "You were up there? How could you balance on the edge?" -- but the back side angles down to a lake valley in Sequoia park. I heard a fox carrying on down there, the same shrill bark I hear at the park near my home.

I was at the summit by 1:30. I signed the log, the first of dozens who would make it to the top that day. (There was indeed someone camped up there in a little tent next to the hut, probably the guy named Bruce who was Friday's last signatory.) I planned to return to Trail Crest and try to nap for a few hours before sunrise. I started down the talus slope and immediately took a turn off the cairned path that put me at a drop-off. "OK, this is wrong. No problem -- the hut is 50 yards up the hill, so we go back, look for a cairn, and then go cairn to cairn until the trail gets a little more solid." My body, the other half of the we, just stood there. "And if it gets confusing, I have a map and compass and we can take a bearing to get us started." For all the brain's good ideas, there was another part of it that was feeling tired and unsure of its judgment. And the longer I was standing around, the more I felt the cold -- no wind, but it was maybe 20 degrees. So that was where I made my bivouac. I changed my sweat-damp sweater and jacket for the dry sweater and jacket, spread out my sleeping bag in a protected notch of boulders, had a post-midnight snack, and napped, fitfully, for four hours. As is typical at that altitude, it wasn't real restful sleep. Besides real marmots scurrying around, I was imagining things -- I thought several times I heard voices, and once I dreamed/hallucinated some people signing in at the hut behind me. But around 5:30 I woke up feeling warm and energetic enough to tackle the trail.

Fifteen minutes off the top, I met my first hiker since the night before. He wasn't moving very fast but he sounded fine when I asked him how he was doing. I probably looked similarly zombielike at that stage. In the next hour I met about a dozen people, solo hikers and groups of two or three. They had all started around 9 p.m., aiming for the summit by sunrise.

Me, I was at Trail Crest for sunrise. The moon was behind me in a pink and blue sky over Hitchcock Lakes; a narrower, more intense band of red colored the horizon above the Inyo Range to the east. I stopped for 20 minutes or so, changed back to the lighter jacket, had some breakfast, took a picture of two guys who had stopped on their way up. On the switchbacks, I got to be a minor celebrity -- "did you get to the top?" -- but once I reached Trail Camp I was just another hiker headed to the Portal.

Having made it to the top in 7.5 hours -- faster than I'd done it in daylight, even -- I thought I might be back to the trailhead by 10:30 a.m.. But it had been a physically taxing trip, and my descent pace was leisurely, putting me at the bottom at 11:30.

I'd been carrying a lot more weight than I'm used to on a day trip, about 20 pounds in a pack that had no hip belt. My shoulders were sore, my calves were starting to tighten, and the soles of my feet had been battered by the rocky trail. More interesting were the altitude-related changes. Though I'd had none of the headaches many people get at high altitudes, my forearms and hands were puffed up, and the veins in my arms and legs stood out prominently. And, in a phenomenon I've noticed after other strenuous climbs, my brain seemed to be imposing human patterns on natural features. For instance, a white spot on a hillside will look like a white-rock letter to me. The rock formations in Alabama Hills, outside Lone Pine, are sculptures of voluptuous humans and animals. A splotchy granite face with patches of orange lichen is a detailed painting of a couple dancing -- and holds that form for several minutes, until I'm within 25 yards. A pile carpet is covered with hundreds of handwritten messages, though if I bend down to read them, they disappear. I hear voices, too, though I can't tell what they're saying. I should probably forbid myself to drive without a good night's sleep, but I felt competent after a three-hour nap and I headed home.

Am I glad I did it? Definitely. Would I do it again? I'm thinking I've had my fill of Whitney Trail for a while. The mountain is wondrous, but I don't know if I want to put myself through such battery for what would be a repeat experience. That many pounds of flesh should go toward something new. I could do it as a two-day trip, but actually my favorite part of this night climb was the solitude. I much prefer an empty trail to the densely packed Trail Camp. Of course, I make that disavowal now, with my muscles still sore and my shoulders still bruised. (I'm glad to say that a night of sleep erased the writing on the carpet.) I'll get back to work Tuesday and see that old 1940s post card of Whitney tacked up in my cubicle, and I'll probably start making a new plan.