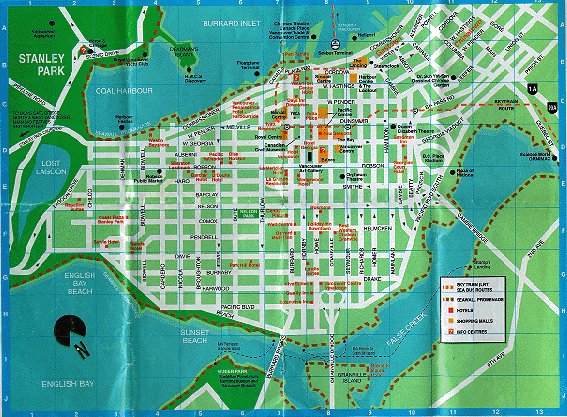 Vancouver No. 4
We have real maps of Vancouver, full-size accordion street maps, but the one we use, trip after trip, is from the middle of the hotel room visitors' guide. Folded once each way it fits in a pocket for handy reference. Not that we refer much. By the time we're off the airport bus we've remembered the names of the bridges and the pertinent cross streets, and if we do get lost we'll just end up finding a great new restaurant.

This is our fourth trip to Vancouver together, and we'd each been there a couple times before we met. The Niagara, where Susan twice stayed, has shut down (though the marvelous neon remains). The view of Coal Harbour from our Robsonstrasse room is pinched to a narrow slot by new high-rises. Hy's Mansion closed, and Delilah's left its velvet lair. God only knows what they did with the Stanley Park kangaroos. But every sounding of the 9 O'Clock Gun finds us with something new to come back for.

Old favorites:
O'Doul's Hotel. Perfectly situated at the western terminus of the Robson Street cruise, six blocks from Stanley Park, mere steps from morning coffee and a decent bar.
The Imperial, the Victoria, Kirin, Chiyoda. Two Cantonese, a Mandarin and a Japanese robata grill that remain on our permanent list.
The walks. Around Stanley Park on the seawall; down to Sunset Beach and catch the mini-ferry to Granville I.; around False Creek through the old expo site; the 20-miler to the University of British Columbia and back to a cold beer and a salmon sandwich at Bridges.

New favorites:
The library. "You went on vacation and you went to a library?" It is a wonderful example of tax dollars at work, a huge place including an arcade of shops and coffeehouses and an oxygen bar.
Century Grill. Only a couple spots on the dinner itinerary were reserved for new restaurants; David was reluctant to give one to a place in Yaletown. "No, really, it's the new hot neighborhood." "Hmph. You know I can't bring handguns to Canada." But we went, by cab, and it was a comfortable place with a decent wine list, and then they brought out the short ribs and it got the star to bring us back. (Note: Can't go back anymore, though; it shut down a few years later.)

Guarded hope:
The wines. There's now a push to make B.C. wines respectable. It's always proper to drink the local beverages; this time we found a few to like in their own right.

No hope:
The Hotel Vancouver. We want so much for this hotel to do the CP tradition proud with a dark-paneled grill or a cozy den of a lounge, but every time we go back it's moved farther in the wrong direction. Timber Room, we hardly knew ye.

Special thanks to:
Stan, Roy Loney and the Railway Club. "If all clubs were like this," David said, "I would have never left the rock 'n' roll beat." Stan at the door books from the heart and remembers his long-lost patrons on sight.
Zach Miller, who made the drive up from Washington to go to the Loney show with us. Good to see him anywhere, but especially in one of our favorite places.
The coyote in Stanley Park. Susan saw him one drizzly morning, standing 10 feet away at the Lost Lagoon path. He was big and well-fed, with thick, amber fur. David didn't believe her until he saw the signs warning of coyotes: "They are fast, they are smart and they take what they can get."
Rum balls. I'm serious about it this time, I am going to find this recipe. Don't point me toward recipes for wimpy marbles made from vanilla wafers. These are handball-size spheres of rum-soaked brownie dipped in chocolate, another superlative confection from the province that brought you Nanaimo bars.
YVR. The $10 airport surcharge went to great use: Gone is our second-least-favorite Vancouver experience, waiting in the customs line. (First-least-favorite: Standing outside O'Doul's with our bags, waiting for the bus that will take us away.)

We leave you with this story, which has nothing in particular to do with Vancouver. The Vancouver Sun daily prints readers' most embarrassing moments. This was our favorite of the week: Woman is driving through her neighborhood one evening and a few blocks from home sees an elderly couple in their front yard holding her cat, cuddling it and fussing over it. She stops the car, walks up to them, gives them a frosty smile, takes her cat, puts it in the car and drives home -- where she sees her cat sitting in the front window. Mortified, she drives back to the old couple's house. They do not speak English and flee into the house as she approaches, contritely brandishing the seized animal.