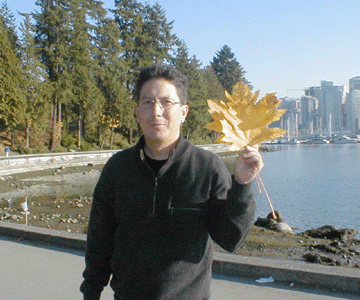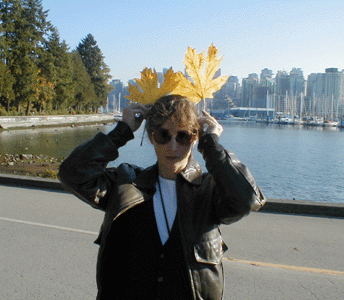 Vancouver No. 6
Day 1: We flew up on a half-full big plane and an all-full little plane (Q400 Bombardier, capacity 70). We were quick through Customs, but because it was off-season the Airporter was a two-part shuttle, so it was dark by the time we got to the hotel (the Listel,though we still think of it as O'Doul's). We had a good room: Robson view, at the Jervis end of a floor, good bed, good toiletries. Dinner was at one of our old favorites, Chiyoda, where the food was still great (and a bargain, at $40 U.S.) but the service was seriously crappy. We recommend the bacon-wrapped scallops, the asparagus in beef and a seat at the counter. For dessert: Cows ice cream, across the street from the hotel.

Day 2: We imposed some order on our usual West End ramble with a walking tour off the Web. It was big on local fauna -- one section began, "If you've never seen a squirrel before ..." -- but it didn't get into the changing dog demographic. In our earliest visits, everyone on the West End had a cocker spaniel. This time, we saw one cocker all day. The favorites seemed to be terriers, particularly Jack Russells; we also saw a Dandie Dinmont, a Mexican hairless, several dachshunds, many poodles (one in a fleece jumpsuit with hood and bunny ears) and even a reluctant cat on a leash, paired with a black lab.

Very good lunch pick: Oasis Mongolian BBQ, on Denman near Robson. For less than $4 a person (tax included, no tipping), we got unlimited trips to the buffet, plus rice, fruit, tea and Coca-Cola. We should have known it was a bargain when we saw all the big white guys eating there. (The deal with Mongolian barbecue: You fill your bowl with raw meat and veggies from the buffet, then mix your own sauce on it, and the guy at the grill cooks it up for you.)

After lunch, we walked back up Denman to English Bay, then around False Creek to Granville Island -- about 13 miles. Stuart's at Granville Island lacked rum balls, so I went with a too-gooey Nanaimo bar. Back on Robson, we stopped in a leather shop and bought David a nice jacket for $200 U.S.

Dinner was at Aqua Riva near Canada Place, with a view of the fog rolling in and the Seabus going back and forth. The view, actually, was more memorable than the food. But we had snagged a $20-off coupon from the hostess stand, so it wasn't a major ripoff.

Day 3: I heard noises outside our fourth-floor window early in the morning and opened the curtain to find myself looking into the face of a man hanging from the roof. Window washers. The fliers announcing their presence had been posted in the elevators earlier that morning, which did no good if you hadn't ridden the elevator before 7 a.m.

Today we walked the Stanley Park seawall -- about 8 miles with the before and after parts. The sun came out around Third Beach. Maple leaves were falling all around, and that tannic smell was in the air. Even the locals noticed: We saw many walking along carrying bouquets of leaves. Lunch was at Saigon on Robson, which has been there for as long as we've been coming. Hands-down worst art of the week: kitschy ceramic 3-D plaques of idyllic 18th-century scenes, heavily skirted women on swings, that sort of thing. The biggest change in Robson is a lot more Korean establishments and a lot of Internet cafes. In the afternoon, we went shopping for earrings and a hoodie. Eaton's, alas, has become Sears.

Dinner at Kirin Mandarin, where we were apparently the only non-Asians. Good food, good service, but ordering with just two people is no fun.

Day 4: We took the train out to New Westminster and did a walking tour of a 100-year-old neighborhood. Intriguing: the Eagles were advertising a "meat draw" and the Royal Canadian Legion "bingo for meat." Back to Victoria for dim sum lunch, then a loop through Yaletown and back on Davie. Close to Robson we were already recognizing people we had seen on the street in previous days. At the Robson Public Market, I bought the world's biggest rum ball, baseball-size instead of golf ball. Dinner at Tapastree , on Robson just past Denman. Not bad, but pretty pricey.

At our halfway point, a list of things that struck us as distinctly Vancouver this visit:
The predominance of the Club. We knew car break-ins were a problem; apparently, car thefts are, too. You could walk down the street, and of 20 parked cars, 18 would have the Club.
The ubiquitous cigarette pack inserts littering the streets -- little cards that tell you you're going to die. (Oh! The palm reader who "tells no one they will die" is still there on Robson.)
Bicycling jackets with long tails.
People queuing, rather than milling, at bus stops.
Tim Horton's, a doughnut-and-sandwich shop.
The frequent smell of marijuana smoke in public.
Shops that sell something called a "donair." (We eventually decided it was a gyro.)


Day 5: We walked together as far as Kitsilano Beach, then split up. David was going to do the big walk out to the University of British Columbia, and he urged me to take a pass this time. (I was past five months pregnant, and I hadn't done much backpacking or running that summer because of the pregnancy.) So he did about 18 miles, and I did about 13, stopping at some antique shops and bookshops on Broadway and Main. (Great bakery, Viva, just off Kits Beach -- raspberry-banana muffin still warm in a little paper cylinder.) We got back to the hotel at almost the same time and went to get his jacket. Turned out it hadn't been altered at all, though the clerk very politely tried to convince us it had been.

Having been disappointed by Chiyoda, we decided to check out Aki, in the underground arcade at Alberni and Thurlow, and instead got sidetracked by its neighbor Sakae. A fortuitous sidetrack: very good sushi and robata, great service.




Day 6: The D.C. sniper suspects were caught, and that's all there was on TV. We took the Seabus over to North Van and did a big walking loop, including a little piece of the Trans-Canada Trail. Our route passed by Chiba Garden (so now we know where everyone gets that stuff they're smoking), a very bad playground, a Squamish reservation and many Persian shops. We got some hot sauces at Lonsdale Quay, and should have gotten baby clothes, too, just so Flaco could have something from Vancouver. Back on the other side we picked up the altered jacket, and stopped at Oasis Mongolian before heading to Stanley Park. The sugar seals at the aquarium's free-viewing pools have been replaced with one mammoth and excitable Stellar's sea lion. Some rude woman there was taunting it to make it charge the window, even holding her little dog up as bait. The beluga windows were covered because they had a new baby.
Back at the hotel, we did our usual pre-dinner people watching. Robson was full of hundreds of Japanese teenagers, apparently staying at the former Sheraton down the block. Though uniformed, they were unchaperoned for the afternoon. A lot of them were smoking, and the few girls had rolled their waistbands to shorten their skirts. We also watched the visitors to a sculpture that the hotel has on a grassy corner below our window, two people made of stacked flat rocks. Passers-by frequently pose for pictures with them; one morning, we saw a family do a series of shots with a tripod -- for their Christmas card, perhaps.
Dinner was at our old favorite Imperial, the room barely half-full. On the way back, David got his hoodie -- with Canadian flag logo and the legend "Fukeneh" -- and I got gelato at Mondo Gelato on Robson.

Day 7: We didn't have the dramatic fog of the previous two days, but it was pretty cloudy on both sides on False Creek all day. We walked a loop from Granville Island up through Shaughnessy and through Queen Elizabeth Park. (Sign in the park restroom: "Condoms available in gift shop." In case there's some urgency.) Lunch at an Indian place, Raga, on Broadway. Checked out the children's building at Granville Island, got a couple little toys. Dinner at Hy's -- great service as always, great steaks. The guy behind us was getting a surprise 60th birthday trip to Vegas, bought with his own frequent-flier miles.

Day 8: One last Nanaimo bar, then on the airport bus. Easy trip back home, with free first class on the Seattle-San Jose leg. The whole trip was easy, though we did miss meeting up with friends, as we had the past three visits. Also missed the Railway Club -- I wasn't drinking, and David didn't want to go alone. I wouldn't have minded going to a bar and not drinking, and in fact had looked forward to some World Series viewing with our neighbors from the north, but when the A's lost, I lost interest.
We added a few new restaurants to our list, and still managed to make it a fairly inexpensive trip. (Thank the economy and the season for part of that.) Our every-other-year routine has slipped to every third year, and who knows when we'll be there next -- maybe when David reaches the Manning end of the Pacific Crest Trail. This was a good memory to keep until then.