Leg 4: Back, and Beyond, and Back Again

Day 13: Gilbert to Pasadena, 390 miles Here's where Alex and I part company: I'm going to Oregon to retrieve David, and she's staying with her grandparents. Today my drive was through the desert and my audio book was "Housekeeping," which is set in the Idaho Panhandle. Had dinner tonight with Brian and Gina. Brian may have one up on Marty, as he was my boss even earlier, at the Daily Bruin, but he has not (yet) achieved that Yodaesque mien.
---

Day 14: Pasadena to home, 350 miles At 5 a.m., the city streets were deserted, and going from that onto the freeway was like one of those time-travel movies where a guy on a horse is zapped into the middle of Times Square. Home by lunchtime. The apricots are a mess: half of them are moldy mush and the other half are baked onto the driveway. Did what cleaning and watering I could in half a day.
---

Day 15: home to Ashland (via Fish Lake), 460 miles.David showed up right on time, of course. We finally got to try out Omar's, which I've had my eye on for a while, and we pronounced it quite good.
---

Day 16: Ashland to home, 375 miles.Gosh, this is looking familiar.
---

Day 17: home to Century City, 365 miles.And now we get to meet up again with our girl, who has under her belt more swimming, more movies and Legoland. Nice dinner with the Mapas at Gulfstream. Our hotel is about three blocks from a house on Mississippi where Dad lived when he was a kid.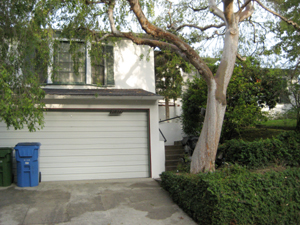 ---
Day 18: Century City to home, 365 miles. And I made it to work with a few minutes to spare.

Total: 4,775 miles (plus side trips)
---
Main page