Our two-week road trip took us from the sage of Walker Pass to the sand of Long Beach, from Phoenix to Vegas to L.A. to Lone Pine to Lone Pine to why are we still in Lone Pine. Thematic elements included sudden itinerary changes, hotel rooms left vacant and rubber pool toys. And, Alex having turned 6, this was the first of her (so far) seven mother-daughter road trips that she got to ride up front on California roadways.

The first night was camping at Canebrake Creek, above Lake Isabella in Sequoia National Forest. (There wasn't much to the creek, a fact that from this vantage seems significant.) The next morning we dropped David on the Pacific Crest Trail at Walker Pass, the southern edge of the Sierra, and headed out for . . .

---
Arizona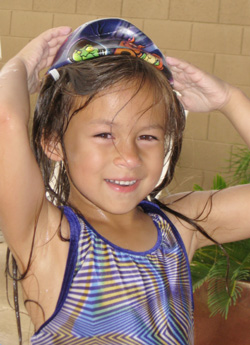 As usual, the Mapas were wonderful hosts, but they couldn't do anything about the 115-degree temperatures, enough to explode a can of Coke left in our car. This meant indoor activities, like riding the new light-rail to downtown, discovering the joys of Bass Pro Shop (Alex's new favorite store) and a brief round of exhibition climbing at a rock gym.

Quite memorable, in Alex's estimation, was the fate of a Scooby-Doo play ball: Mere hours after its purchase from Target, it became impaled upon a spiky poolside plant during a spirited game of catch. Dubbed "Grapehead" by Alex, for its resemblance to the headgear of the Fruit of the Loom Grape, the former orb became more beloved after its deflation.

We were to have made a leisurely exit on Day 4, but an unexpected phone call the previous night changed our plans: Extreme heat and a lack of water had David running behind and, he said, ready to end his hike. So the next morning we left early, zoomed past our scheduled overnight in Palm Springs, and headed back to ...

---
The Eastern Sierra
Our 600-mile blitz put us at Kennedy Meadows at 5 p.m., by which time David had had enough time and beers to reconsider his situation. He would continue, he said, if we could deposit him (after two more rest days) at the Cottonwood Pass trailhead. We spent the night in Ridgecrest (105 degrees shortly after sunset) then drove up to Lone Pine. Activities included scouting the excellent climbing venues in the Alabama Hills and the Buttermilks and touring Lone Pine's movie museum. On Sunday morning, we said goodbye to David at the trailhead and drove to ...

---
Las VegasMy sister, Molly, and her family, fans of Vegas, met us at the Las Vegas Hilton. We had very nice, large rooms (tip: ask for the "grand room" upgrade, well worth the $10) and availed ourselves of the big pool and the big buffet. (Alex: shrimp, sushi, oysters, Spanish rice, mac-and-cheese, various fruits, ice cream sundae with gummi bears.) After dinner we rode the monorail uptown, and the Wolfs rode the New York New York roller coaster. Sidelined by a lack of stature and of $14, Alex headed for the arcade and, with one 50-cent turn on the grabber-claw machine, snagged a rubber ball with urchinish tendrils -- "Orangehead." The next day our expanded party drove to ...

---
Los Angeles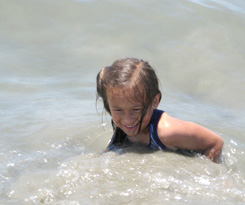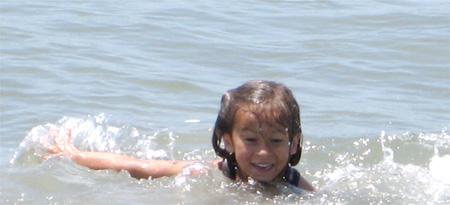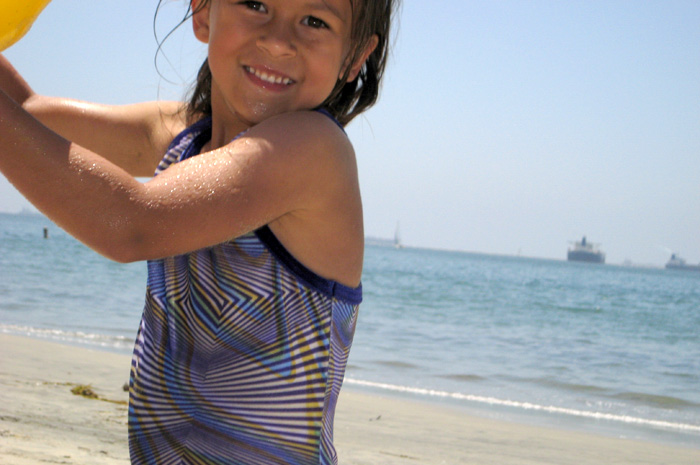 Yes, that vertiginous swimsuit got quite a workout this trip, at the beach as well as the pool. But there were other activities: Our Anaheim hotel was across the street from a large amusement park. Joined by the third branch of the family, the Steades of Dayton, we spent Tuesday riding roller coasters and diorama-in-dark-tunnel rides. I didn't get many pictures, but at least I didn't lose anything. While in the Noisiest Place on Earth, I fielded a couple of calls from work (I thought better of answering the phone while actually on the Small World ride). The arbiters of a job I'd applied for wanted me to come back for a second interview.

The Wolfs very generously offered to take in Alex the next day. I drove 400 miles home on Tuesday night, interviewed on Wednesday morning, returned to Los Angeles on Wednesday evening. Thursday, Alex and I had a beach day in Long Beach, just blocks from my grandmother's old house in Belmont Shore (below right).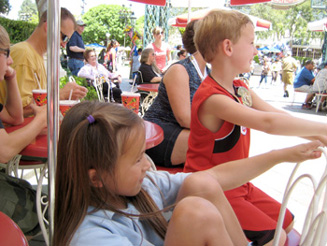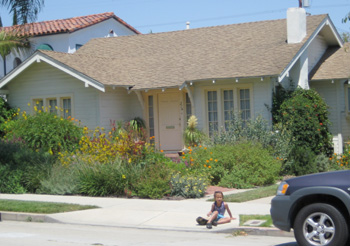 On the beach, my phone rang. Job decision? No: David was once again unexpectedly off the trail. He was very content, eager to get back on, but running enough behind schedule that he thought he should get a ride to a more northerly trailhead. That evening Aunt Anita and Uncle Don in Buena Park hosted a wonderful dinner for us all, a very gracious evening to end a nice outing with my family. The next morning, Alex and I headed out for ...

---
The Eastern Sierra We found the U.S. 395 drifter in a park in Lone Pine (still about 100 degrees) and headed for the cooler heights of Mammoth. The next morning he was back on the trail, pointed toward Mono Pass, and Alex and I were crossing Tioga Pass.

Now, with 4,000 new miles on the odometer, Al and I are home for a few days until we retrieve David from Tuolumne Meadows on Friday. We had a nice visit with Grandma and Aunt Bonnie today, and still on the agenda are swimming and heavily armed guinea pigs. We are so happy to have spent time with family, and we are grateful for everybody's tolerance of our ever-changing schedule. Particular thanks to Molly, Chris and Zane Wolf for their guardianship of Alex during my San Jose blitz. (I got the job!) Thanks much, everyone, and we hope to see you again before too long.