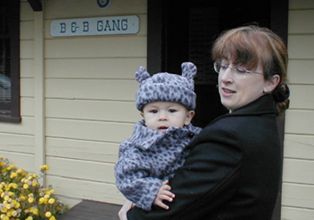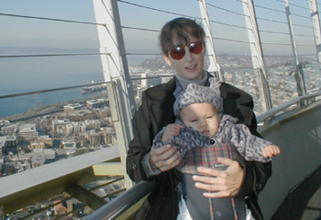 Northbound Hyena
It was the trip of family and photo ops, of freeways and forest roads. We set off to Seattle to introduce Alex to some of her relatives (some of whom we hadn't even met before) and to scout connections for David's 2004 Pacific Crest Trail hikes. That we accomplished, on a diet of Neil Young (in the most unexpected places), wintry weather and many burgers but no Dick's.

Going up
Our first day was a half day, ending at Dunsmuir, an Interstate 5 town that's a big stop for PCT hikers. We stayed south of town at the Railroad Park Resort, and we'll probably be back. The cabin wasn't cheap, but it was the cleanest, nicest one we'd stayed in for quite some time. And they allowed hyenas, as evidenced by the picture above left. Next time, put us down for a caboose.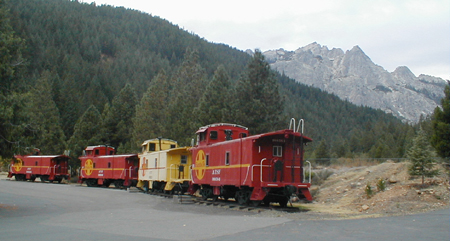 On the I-5 corridor, we found the only growth industry in the Pacific Northwest appears to be Indian casinos. They were sprouting faster than mushrooms after an Oregon gully-washer. And speaking of washed gullies, we enjoyed genuine wintery weather in Oregon and fall briskness in Seattle. On the California-Oregon border, Siskiyou Summit, which isn't all that high, can get snowed in very quickly in shoulder season. It was coming down on our northbound stop. Down on the flats, it was heavy rain all the way to Portland, our second night's stop.
We regretted having only a half-day in Portland. We made the most of it at Powell's City of Books, then headed out to Seattle.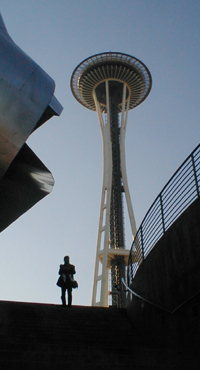 Seattle Our first evening and all the next day were with family, and a delightful time it was. Wednesday was mostly our own little threesome. The morning was spent at the Mother Ship, as David calls the Space Needle. It was built for Susan's arrival in Seattle in 1962, and someday we'll ride it back to the home planet.
We really enjoyed our personal tour of the Seattle Post-Intelligencer, given by the deputy managing editor, no less. We never get to see other newsrooms. This one has a billion-dollar view of Puget Sound and the mountains. For those of us who work in newsrooms with no windows, that's a big plus. It also has an exceedingly cool huge globe on the building with the motto "It's in the P-I."
David is getting better at navigating in the Emerald City. We came up without a map, fretted about that, bought one at Powell's and then left it untouched. In three days of driving all over the neighborhoods, he made just one wrong turn, trying to get to the Interlaken bridge. We stopped by Radford Drive, Susan's first home. It's still university housing, but all the units have been radically made over since our last stop there, and without the address, we couldn't find the right one.
We've found that loud restaurants work best for Alex, and we ended up at some good ones. The locals, coincidentally, took us to two related places: Anthony's in Tacoma and Chinook's in Seattle. Both on the waterfront, good fish and suitable decibels. On our own, we ended up at Peso's on the edge of Queen Anne. A fine choice it was, but we regretted not finding stomach space at the appropriate time to patronize our old favorite, Dick's, just a couple blocks south.
Back down
Aside from the family business, the item on the trip agenda was trailhead reconnaisance for next year's PCT segments. David has learned that sometimes nothing -- no book, no map -- can substitute for seeing a trailhead or a connection. For example, at Siskiyou Summit, it took us about a half-hour to figure out the northbound PCT actually runs southbound on the frontage road under roaring Interstate 5.
To that end, we turned off I-5 at the Columbia River and came down the east side of the Cascades before cutting back over to Siskiyou Summit. Never a dull moment on Forest Service "roads'' that come with six warning signs in the first quarter-mile. Much of this scouting was in the northernmost part of California to the west of I-5, terra incognita to both of us.
One major scouting point the first day of the return trip was the Bridge of the Gods at Cascade Locks, where the PCT crosses the mighty Columbia from Oregon to Washington. It probably doesn't get very many pedestrians, other than insane PCT hikers. The Charburger restaurant just east of the bridge is heaven on earth for the calorically deprived through-hiker, with a great panoramic view of the Columbia to boot.
That night we were back at our favorite hang in Bend, the Riverhouse. It was a little less inviting than usual, as Alex was 86'd from the riverside lounge. Seems even though they serve food there, Oregon law classifies that room as 21-and-over. Oddly enough, the excellent brewpub we ate at that night welcomed children.
This seems an appropriate point to tally our favorite meals. Best burgers: Mrs. Beesley's off I-5 in central Washington, the Deschutes Brewery in Bend, Charburger at Cascade Locks. Best Mexican: Peso's Kitchen and Lounge in Seattle. Best service: Red Star in Portland and Mike & Tony's in Mount Shasta, both semi-fancy but Alex-friendly joints.
The next day we covered familiar territory down to Klamath Falls and over to Ashland. Things got more interesting just south of the state line. The PCT town of Seiad Valley is a hell of a long drive down the Klamath, 44 miles of river highway. It is a textbook example of a five-building burg and the heart of the semi-fanciful State of Jefferson. These extreme northerners still take their secessionist movement seriously or semi-seriously. We saw "State of Jefferson'' or the state seal plastered on everything from liquor stores to barns to adopt-a-highway signs.
The Scott River Road from the Klamath River to Highway 3 is a beautiful fall drive and not scary in the least, and Etna is a really cool two-street town, with just about everything, including three promising restaurants, a drugstore, market and hardware store.
By the time we left Etna, it was getting dark and the rain was coming down pretty heavy. At Scott Summit (elevation 5,400) that rain was snow, and our planned route would have taken our rented Ford Taurus to more than 7,000 feet on Forest Road 17. We tried it, but not for long. We chickened out and ended up backtracking up 3 all the way to Yreka and taking the interstate to Dunsmuir. Better safe than Stolpa, we always say.
Dunsmuir is vastly overrated by the elite PCT crowd. Granted, if you haven't seen a real supermarket since, say, Truckee, it looks pretty good. Our experience there was mixed, at best. Bad luck with restaurants. Bad luck with the Cave Springs Motel cabins (picture below), rustic even to folks like us who frequent Tom's Place and have survived the Fobes 40. Any shower that scares David is too funky to use. Any stove that requires a pair of pliers to operate is not for us, either. We won't be back. But we will be back, next summer, to Etna and Seiad and Siskiyou Summit and all the way up to Bend. And we hope we make it back to Seattle before David's PCT progress reaches that latitude.