Cheap fun
I picked up my first bunch of old postcards when I went flea-marketing with David and my brother-in-law, Chris, in Fort Collins, and since then I've collected several dozen more. David says I'm served well by my contrarian taste: I prefer ones that have been written on, which are usually a lot cheaper than the pristine ones.

My favorite messages:
Los Angeles to Miss Emmy Kleist, Milwaukee:

March 1914: My dear Emmy -- The second Sunday at home and I miss you so. I had a fine day with Mama but began to tell of our days together and I wished I could be both places at once. I feel old, notwithstanding a long sleep out of doors before Mama was dressed for the day. I have quite a habit of looking for the postman. Yours fondly, AGW.
March 1922: Dear Emmy -- I'm still here and I think of you often but seem to find little time for letter writing. I hope you and your family are well and that you are not overtaxing yourself with your studies. Adam.

Michigan to Stockton, 1908: Dear Ma, I had a good time at the fair. Mrs. Hans is very sick they thought she was going to die. Goodby, Millard.
Medford, Ore., to Boulder, 1928: Dear Dad -- Am married and on my honeymoon. Juanita. New address: Mrs. Chas. B. Wood, Sacramento Hotel, Sacramento, Calif. (And she got his address wrong, too.)
Colorado Springs to Galveston, 1909: Dear Mercedes, I received your two cards this morning. I am in bed yet. I don't know if anyone is staying in our house only Papa. Why did you want to know. Answer soon. Yours, Lucile.
My favorite fronts (click for bigger image):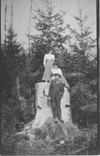 Montesano, Wash., to Tacoma, 1910. "Ed took this. The man on the stump with Ethel is a friend from Cosmop. They were up here April 24 the day the laid the cornerstone for the courthouse. This was taken out on the hills north of town . Do you see our dog Bill? We are all well. With love, WSS."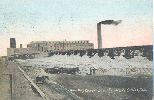 Beet Pulp Dump and Sugar Factory, Fort Collins, Colo.;Fort Collins to Amity, Maine, 1909: "My dear, I am getting all right now, thank you, but certainly was ill for a day or so. Am able to get around soon and am feeling fine. Will write soon. Love for you all from us both."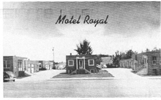 Motel Royal, Great Falls, Mont.; Calgary to Blackfalds, Alberta, 1954; "Dear Aunt Amie, I just phoned John. He hasn't any plans made to go east (at least not yet). His brother was about the same the last he heard. He's expecting word from him anytime. He wondered if you got a letter he forwarded on to Aunt Jo's for you about a month ago. We're just about ready to have breakfast at Delia's. Delia says hello. Love, Margaret."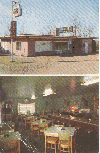 Charlie's Old-Tyme Bar-B-Q, Vidalia, La.; Monroe, La., to Orlando, 1955. "Please start our Sentinel on Sept. 22nd. Thanks. Agnes Smith Ala. Ave., Apopka."