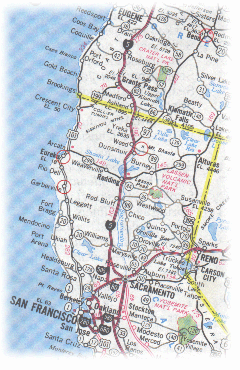 The 50-Miles-Walking, 1900-Miles-Driving, Nine-Day Vacation
All fairly familiar territory to us, but we went deeper into the nooks and crannies.

Days 1 & 2: Garberville
It was a hot day in the Bay Area, and even hotter in the Budget Rent-A-Car office, which had zero cars available, even for those folks who had reserved them. Declining the advice of the whining Budget manager to "go home and wait, and I don't know how long it will be," we headed north in a capacious Taurus from National.
I predicted the cooling coastal fog would take hold by Ukiah, but it stayed sunny and warm up through Willits, over to Fort Bragg and back in to Garberville. Our favorite old resort, Heart of the Redwoods, has been shut down after being bought by the Save the Redwoods League in an effort to save some redwoods, so we stayed in a Best Western in town.
At the end of our drive, we just poked around Richardson Grove State Park; Sunday we hiked for real, 9 miles along Bull Creek in Humboldt Redwoods State Park. It was a flat hike, and it never got too far from roads and people, but there was some nice scenery, including some trippy fields of oxalis. Afterward we drove the winding road to Honeydew to see if it was a good option for tomorrow's drive out to the Lost Coast, and decided it was not.

Dining: the Mateel Cafe and the Brass Rail, both in Redway, just up the road from Garberville. Mateel is hippie-gourmet -- everything comes with a tofu option, but it was good food. Brass Rail is a very funky old time-warp steak house.
Fauna: Ringneck snake, making elaborate loops and coils with his bright-green-and-orange tail.
Days 3 & 4: Eureka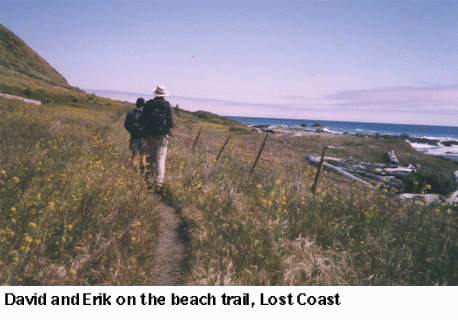 Honeydew might have been quicker. Our drive to Petrolia on the northern route ran into heavy fog on a narrow road used by log trucks. Still, we were only about 20 minutes late to meet our friend Erik for a day on the Lost Coast.
Our hike that day started on the beach and swung up into the rugged hills high above, and it was a singular experience. Some of the scenery was out of a dream, especially the trail tunnels through dense Hansel-and-Gretel stands of pines. (The pictures really don't begin to show it.) It was Bureau of Land Management land, so the trails aren't the most obvious -- "you WILL get lost," warned the sign at the trailhead, which we read after we returned. We didn't, though we weren't always sure exactly where we were. A day of big elevation, big views. (Here's a spare picture, the old Punta Gorda lighthouse. Erik took a panorama here, so it might be up on his Virtual Parks site.)
We had planned to go Tuesday to the new Headwaters Forest, but Erik had gone there a few days previous and said there wasn't much to recommend it at this point. There's just one trail open, a steep and muddy logging road that's mostly through the logged area rather than the ancient groves. He advised instead that we try Hidden Beach in Redwoods National Park or Fern Canyon in Prairie Creek Redwoods State Park. We did both, for a total of 12.5 miles, and they were indeed exceptional. The Fern Canyon/Miners Ridge loop, in particular, was through redwood forest that is jaw-dropping even for the most redwood-jaded.
Tuesday night we went to Restaurant 301 at the Carter House in Eureka, which has a Wine Spectator Grand Award. Good food, good service; we got a Diamond Creek cab that was a lot less expensive than we've seen elsewhere. It wasn't a blow-you-away bottle, but it was worth what we paid. The young Napa guys next to us brought in their own bottle, a '69 Charles Krug that had almost 10 years on most of them. At the end of the night, the waiter invited us and the Napa guys to take a peek at the wine cellar, which was pretty amazing.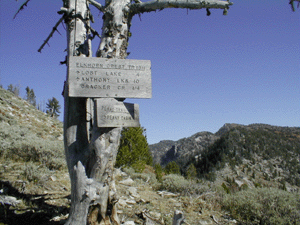 Picture we didn't get: The AA Tavern, right across from the county jail. "I'll be home late, honey, I'm going to AA."
Dining: The other night was at the Lost Coast Brewery, standard brew-pub in Eureka's halfway redeveloped Old Town.
Fauna: Harbor seals, and there must have been a sea lion out there, too, because we heard barking and seals are notoriously close-lipped. Roosevelt elk on the beach at Prairie Creek. Many snakes in the shrubbery on the Hidden Beach trail. Ticks in David's boots. Flora: Wild strawberries, some already ripe, in the Lost Coast hills.

Days 5, 6 & 7: Bend
Wednesday was designated a driving day, and it ended up to be more driving than we had realized. We took Highway 96 from Willow Creek to Yreka, up through the Hoopa reservation, and it is not a fast road. Lunch in Ashland, easy hop over to Klamath Falls, then a cruise up familiar Highway 97. Just in the six or seven years we've been going up there, Bend has boomed -- the houses are spreading way to the south and out to the desert. Once again we stayed at the Riverhouse, which is getting a tad expensive these days, but we had a good room at the far end with nothing but river out our window. And even with all the growth, the marmots still hang out in the rockpiles at the edge of the parking lot. David insisted on giving our waterlogged cheese to them, though I don't imagine they have any reference point for dairy products.
David really wanted to do some hiking Thursday in the national forest off the Cascade Lakes loop, even though it's been a very snowy spring up there. (Mt. Bachelor was 100 inches beyond normal at that point.) The whole loop wasn't even going to open until the next day, but we did some poking around at about 4,800 feet near Cultus Lake, and determined that it was not yet hikable. We ended up doing a very unscenic, tedious and poorly mapped loop through the burn area east of Horse Butte.
Friday we found a new place to do some shooting -- our old place is being rapidly encroached upon by houses and traffic -- and sighted in David's rifle. In the afternoon, we scouted a few tracks south of China Hat Road and got turned back once by fire (controlled burn, but eerie-looking), once by a big tree across the road and once by snow. At the third stop we parked and walked a 6.5-mile out-and-back to Swampy Wells, a horse camp on a pond.
Dining: Deschutes Brewing Co.; the Pine Tavern (an old favorite, so we'll excuse the inattentive service this time); and the Restaurant at Awbrey Glen, one of many fairly new golf courses near town. Chateau Montelena this time, again for a remarkably low price.
Fauna: Marmots, deer in pairs, clouds of blue butterflies, bright green bugs, frog colony (heard, not seen), many lizards.

Day 8: Mt. Shasta
David said we needed 5.2 miles to reach 50 for the trip, so we got out early enough to leave room for hiking at the other end. A lot of the roads and trailheads near Shasta are still closed by snow, so we went down to a section of the Pacific Crest Trail near Castle Crags State Park. The spur up to PCT -- it was called Dog Trail -- was rocky and steep, but the trail itself was an easy cruise out to Burstarse Falls.
Dining: the fabulous Piemont, the place to meet and greet in Mt. Shasta -- flocked wallpaper, jugs of chianti, spumoni ice cream, the whole thing.
Fauna: Yellow-headed blackbirds, egrets, many lizards and snakes.

And Day 9 was back home, where Abby did not want to leave the folks at dog camp who treat her so well. A good trip, enhanced by the hiking component, though we didn't count on the heavy snow still hanging around Bend and Shasta.