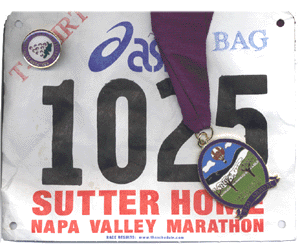 Less time, more pain
Fifteen months after my first marathon, Seattle in November 1997, I ran the Napa Valley race. I finished in 4:19:44, a few minutes faster than my first race but short of my 4:10 goal. My three-mile splits tell the story:
Mile 3: 26:46
Mile 6: 25:36
Mile 9: 26:26
Mile 12: 27:33
Mile 15: 27:31
Mile 18: 28:33
Mile 21: 34:30
Mile 24: 36:06
Last 2.2: 28:04
I don't think I went out too fast. It was a comfortable pace, and I didn't feel like I was pushing myself. But I had hoped for a cool, overcast day, and when the fog burned off at around mile 10 it got a lot warmer than I had expected. Maybe I was misled by my Seattle experience: On that cool, cloudy day, I got by on water and one pack of carbohydrate gel. I think this time I was sweating out more than I was replacing. Anyway, around 20 miles I really started feeling wrung out, and from 22 on I was hobbled by cramps in both calves. I finished right in the middle of the women's pack, 352nd of 701 finishers. And the next day, it was cool and cloudy.

The course: It's a point-to-point on the Silverado Trail, down the east side of the Napa Valley from Calistoga to Napa. It's pretty, but it's kind of monotonous. I liked that it rolled a little more than Seattle, but all in all I'd favor a more varied course.
Conviviality: I was impressed by the people who turned out along the course (which is not very accessible) but my fellow runners didn't seem to be. I wave and say "good morning" to the rooters, but I was one of few.
Team in Training: OK, it's a good cause and these people work hard, but they scream way too much.
Spitters: . Man, there were a lot of them. I was glad I wore a cap. I kept expecting to get hit by a big old loogy. Maybe the mustard bloom brought out the allergies. A lot more guys peeing along the course, too.
Am I going to do this again? Honestly, I don't think I would race for racing's sake, but I would probably do it for training's sake. Without the incentive of a marathon on the schedule I'd probably drop back to 800 miles a year, which is where I start feeling kind of bulgy. So I guess I'll look for something urban that has a good chance of being cool and cloudy or even rainy. And, at David's request, I'll keep an eye out for something sponsored by Silver Oak or Heitz or Beaulieu.