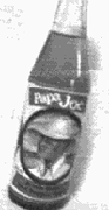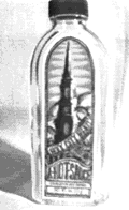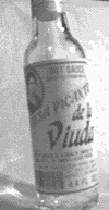 The Emerald Lake Lodge Hot Sauce Collection
Our collection is pourable pepper sauces. This list doesn't include chunky salsas, hot oils, chile pastes, pickled peppers or taco sauces. I suspect some of the Asian sauces are mild by our standards, but if they are billed as hot or appear to have substantial chile content, we include them.The contents of most bottles in our collection have been consumed. David goes through a bottle every week or two, faster for the wimpy ones. Some (for instance, any turning brown, or any with a whole banana in the bottle) will never be eligible for consumption.
Notes on the list:
Two sauces of the same name are counted as different if they come in different types or sizes of bottles or have substantially different labels or formulas.
Most are alphabetized by full name, even if the variety is more prominent on the label than the brand: Blackburn's Sourpuss, Jimmy's Deathwish, Try Me Cajun Sunshine.
For alphabetization, El, La and The are ignored. Names are alphabetized by first name: Tony Chachere under T, D.L. Jardine under D, Mrs. Dog under M.
The name is followed by the U.S. city or the country of the manufacturer or, if that can't be determined, of the distributor.
The manufacturer's own spelling (or misspelling) is used. "Habañero," for instance, and "scoth bonet" are as printed on the label.
When it's not possible to determine a manufacturer or brand name, the product is listed under the generic (e.g., srirachi) followed by the importer's name.
Across the Border Got-Cha' Jalapeño Sauce, Dallas
Adelita Salsa Habanero, Los Angeles
Adobe Milling Jalapeño Hot Sauce, Dove Creek, Colo.
African Rhino Peri-Peri Pepper Sauce, dist. San Francisco
Aji Amazona Salsa Roja Picante, Colombia (aka Amazon Pepper Fiery Red Sauce)
Alan's Maniac Carib Sauce, Barbados
Amazonas Panca Pepper Sauce Bar-B-Q Style, Peru
Amazonas Rocoto Hot Pepper Sauce, Peru
American Garden Natural Hot Sauce, Seaford, N.Y.
American Trails Best of Oregon Walla Walla Onion Picante Hot Sauce, dist. American Trails, Medford, Ore.
Amigos Mexican Restaurant Hot Sauce, Bishop, Calif.
Ana Belly Extra Salsa Picante, Guatemala
Los Andes Aji Hot Sauce, Ecuador
Andre's Rouge Spiced Cajun Hot Sauce, Breaux Bridge, La.
La Anita Original Mexican Formula Hot Pepper Sauce, Mexico (2 bottles: green, red)
The Apple Shed Mean Jean's 3-Pepper Hot Sauce, Tehachapi, Calif.
Arizona Gunslinger Smokin' Hot Jalapeño Pepper Sauce, Mesa, Ariz. (2 bottles: 5 oz., 1/2 oz. keychain bottle)
Arizona Gunslinger pepper sauces, Mesa, Ariz. (pack of five 3/4-ounce bottles: Jalapeño, Green Jalapeño, Habanero, Chipotle Habanero, Habanero Mango)
Arizona Pepper's Organic Harvest Foods Chipotle Habanero Pepper Sauce, Mesa, Ariz.
Arriba! Chipotle Pepper Sauce, Houston
Arriba! Salsa Comacho, Houston
Arriba! Verde Pepper Sauce, Houston
Arrogant Bastard Ale Jalapeño Heat Hot Sauce, Carlsbad, Calif.
Asbirin, Metairie, La.
Ashanti Louisiana Hot Sauce, New Orleans
Ashley's of Texas Picante Sauce Hot, El Paso, Texas
Ashman's Tastefully Jamaican Crushed Scotch Bonnet Hot Pepper, Jamaica
Ass Blaster Hot Sauce, Glendale, Ariz.
Ass Kickin' Cajun Hot Sauce, Glendale, Ariz.
Ass Kickin' Hot Sauce, Southwest Specialty Foods, Glendale, Ariz.
Ass Kickin' Roasted Garlic Hot Sauce, Glendale, Ariz.
Ass Kickin' Hot Sauces Mini Bottles (4-pack), Southwest Specialty Foods, Goodyear, Ariz.
Atlanta Burning Super Hot Sauce, dist. Redwine Farms, Newnan, Ga.
Bad Girls in Heat Papaya Pumpkin Habañero Sauce, Van Nuys, Calif.
Badia Chili Hot Sauce, Colombia
Baja Boil Traditional Red Sauce, Eugene, Ore.
Bali Spice Garlic Chili Sauce, Indonesia
Bali Spice Hot Chili Sauce, Indonesia
Ballow's Epicurean Red Pepper Sauce, dist. Hattiesburg, Miss.
Ballow's Epicurean Jalapeño Sauce, dist. Hattiesburg, Miss.
Bandana's XXTra Serious Habanero Pepper Sauce, Pottstown, Pa.
Barking Spider Habeñero Hot Sauce, the Rib King, Elizabeth, Colo.
Baron Classic Pepper Sauce, West Indies
Baron West Indian Hot Sauce, West Indies
Batch #37 Hot Sauce, Merriam, Kansas
Batch #66 Hot Sauce Jalapeño Wasabi, Kansas City, Kansas
Batch #114 Jamaican Hot Sauce, Merriam, Kansas
Batch #218 Louisiana Hot Sauce, Merriam, Kansas
Bat's Brew Louisiana Hot Sauce, Panola, Lake Providence, La.
Batten Island Extra Hot Gourmet Sauce, Jacksonville, Fla.
Beastly Hot Sauce, Charleston, S.C.
Bello Hot Pepper Sauce, Dominica
Bello Special Pepper Sauce, Dominica
Best Chef Louisiana Style Hot Sauce, dist. Chicago (2 bottles: 6 oz. glass, 17 oz. plastic)
Best of Oregon Walla Walla Onion Picante Hot Sauce, dist. Medford, Ore.
BestYet Hot Sauce, dist. Oklahoma City (2 bottles, different labels)
Big John's Famous Key West Hot Sauce, Key West, Fla.
Blackburn's Sourpuss, Stache Foods, Bremen, Maine
Black Sheep Hot Springs Habanero Pepper Sauce with Garlic, Anaheim, Calif.
Blair Q Heat Chipotle Slam Sauce, Highlands, N.J.
Blair's After Death Sauce, Highlands, N.J.
Blair's Sudden Death Sauce, Highlands, N.J.
Blanchard & Blanchard Louisiana Hot Sauce Cayenne Pepper, Costa Rica, dist. HKS Marketing, Bayonne NJ
Blue Crab Bay Co. Sting Ray Hot Sauce, Onancock, Va.
Blue Mountain Country Hot Pepper Sauce, Jamaica
Bobby Flay's Mesa Grill Hot Sauce, Lakeport, Calif.
Bohio Pepper Sauce, Puerto Rico
Boston's Best Mad Dog Liquid Fire Hot Sauce, Dedham, Mass.
La Botanera Hot Sauce, Mexico
Boulder Hot Sauce Co. Harry's Habanero, Boulder, Colo.
Boulder Hot Sauce Co. Smokey Serrano, Boulder, Colo.
Braswell's Vidalia Onion & Peach Hot Sauce, Statesboro, Ga.
Brazos' Beef Emporium Cowboy Cayenne Pepper-Sauce (2 bottles: 12 oz. shaker from Tabor, Texas; 5 oz pour from Bryan, Texas)
Brazos Legends Habanero Hot Sauce
Brother Bru-Bru's African Hot Sauce, Venice, Calif.
Bruce's Green Hot Pepper Sauce, New Iberia, La.
Bruce's Hot Sauce, New Iberia, La.
Brutal Bajan Hot Habanero Sauce, Franklin Park, Ill.
Búfalo Brava Mexican Hot Sauce, Mexico
Búfalo Chipotle Mexican Hot Sauce, Mexico
Búfalo Jalapeño Mexican Hot Sauce, Mexico (2 bottles: 5.7 oz., 13.8 oz.)
Búfalo Mexican Hot Sauce, Mexico
Búfalo Picante Clasica, Mexico (3 labels: one with white background and picture of peppers; one primarily green with "Salsa Clasica" in red oval, 5.7 ounce bottle; one green/black swirl, 5.4 ounce bottle)
Búfalo Salsa Chipotle, Mexico (2 labels: one primarily white, 5.7 ounce bottle; one primarily green, 5.8 ounce bottle)
Búfalo Salsa Jalapeño Rojo, Mexico
Búfalo Salsa para Botanas, Mexico
Bulliard's Louisiana Hot Sauce, Acadiana Pepper Co., St. Martinville, La.
Bulliard's Louisiana Supreme, Acadiana Pepper Co., St. Martinville, La. (French/English label)
Burn Baby Burn Revolutionary Hot Sauce
Busha Browne's Pukka Hot Pepper Sauce, Jamaica
Bustelo's Chipotle Pepper Sauce, Occidental, Calif.
By Request Chipotle Chile Sauce, Hunt, Texas
Cajun Chef Louisiana Hot Sauce, St. Martinville, La. (2 bottles: 3 oz., 12 oz.)
Cajun Chef Louisiana Green Hot Sauce, St. Martinville, La.
Cajun Power Garlic Sauce, Abbeville, La.
Cajun Power Spicy Garlic Pepper Sauce, Abbevile, La.
Cajun Power Spicy Hot Sauce, Abbeville, La.
California Firecracker Maximum Blast Haba&241;ero Hot Sauce, dist. Dallas
California Just Chili Hot Sauce with Garlic, San Diego
California Perfect Pepper Sauce Original Santa Barbara Blend, Santa Barbara, Calif.
Candy Ass Hot Sauce, Glendale, Ariz.
Cape Fear Hot Sauce, Portsmouth, Va.
Capital Punishment, Hot Heads, Lancaster, Pa.
Cap Jempol Chili Sauce, Indonesia
Captain Crab's Hot Sauce, the Crab Shack, Tybee Island, Ga.
Carhart & Sons El Toro Jalapeño Hot Sauce, Dove Creek, Colo.
Caribbean Choice Calypso Hot Sauce, Costa Rica
Caribbean Choice Hell Fire Hot Pepper Sauce, Costa Rica
Caribbean Choice Hot Pepper Sauce, dist. Sands Caribbean, Newark, NJ
Caribbean Gourmet Triple Barn Burner Super Hot Sauce, Canada
Casa Fiesta All Natural Habanero Pepper Sauce, Bruce Foods, New Iberia, La.
Casa Fiesta All Natural Hot Pepper Sauce, Bruce's, New Iberia, La.
Castillo Amor Picante, Mexico
Castillo Salsa Capitan Gourmet, Hermosillo, Sonora, Mexico
Castillo Salsa Chiltepin, Hermosillo, Sonora, Mexico
Castillo Salsa Habanera, Hermosillo, Sonora, Mexico (2 bottles: one plastic, marked "extra hot")
Castillo Salsa Habanera green, Mexico
Centazzi Molho de Piripiri, Portugal
Century Habanero Pepper Sauce, Copley, Ohio
C'est Bon Gourmet Cajun Pepper Sauce, Sulphur, La.
Chaka's Mystery Hot Sauce, Manteca, Calif.
Charco Broiler Smoked Chipotle Sauce, Fort Collins, Colo.
The Cheech Smokin' Chipotle Hot Sauce, Costa Rica, dist. Beverly Hills
Chef Hans' Jalapeno Hot Sauce, Monroe, La.
Chef Hans' Louisiana Hot Sauce, Monroe, La.
Chef Paul Prudhomme's Magic Pepper Sauce, dist. Chef Paul Prudhomme's, Harahan, La.
Cheong Chan Chilli Sauce (Hot), Malaysia
El Chile Bandido Caribbean Red Sauce, San Bruno, Calif.
El Chile Bandido Pasilla Chile Sauce, San Bruno, Calif.
El Chile Sabroso Pepper Sauce Habanero Amarilla, "USA"
El Chilerito Chamoy Sauce, Jalisco, Mexico
Chile Today Hot Tamale, East Hanover, N.J.
Chili Gods Red Pepper Sauce, dist. Chiligods, Healdsburg, Calif.
Cholula Hot Sauce, Mexico (3 bottles: 2 oz., 5 oz., 12 oz.)
Cholula Hot Sauce Original, Mexico (2 bottles: 5 oz., 12 oz.)
Cholula Hot Sauce Chili Garlic, Mexico
Cholula Hot Sauce Chili Lime, Mexico
Cholula Hot Sauce Chipotle, Mexico
Cholula Hot Sauce Green Pepper, Mexico
Chupacabras Salsa Roja, "U.S.A."
Cica Molho de Pimento Brasileiro, Brazil
Cimino's Pepper Sauce, Long Beach, Calif.
Cloud Nine Hunan Red Chili Sauce, dist. Lantern Food Products, San Francisc
Cocula Hot Sauce, Mexico
Colorado's Hot Lips Ten Pepper Nectar Hot Sauce, Keystone, Colo.
Contempt of Court Pepper Sauce, dist. Auburn, Calif.
Cooks Kitchen Roasted Jalapeño Sauce, Ashland, Ore.
Corona Real Salsa Picante, Mexico
Cosecha P'urhepecha Hot Sauce of Chipotle Chile, Mexico
Cosecha P'urhepecha Hot Sauce of Green Habanero Chile, Mexico
La Costeña Jalapeño Mexican Hot Sauce, Mexico (2 bottles: different pictures and wording)
Coyote Cocina Howlin' Hot Sauce, Santa Fe, NM
Coyote Cocina Smokey Chipotle Sauce, Santa Fe, NM
Crystal Classic Cayenne Sauce, New Orleans
Crystal Classic Cayenne With Garlic Sauce, New Orleans
Crystal Classic Habanero Sauce, New Orleans
Crystal Classic Mexican Salsa Picante, New Orleans
Crystal Hot Sauce, New Orleans (3 bottles: 3, 6 and 12 oz.)
Crystal Hot Sauce Arabic-language bottle, New Orleans
Crystal Extra Hot Hot Sauce, New Orleans (2 label types)
Culichi Salsa Para Mariscos, Compton, Calif.
Da' Bomb, dist. Parkville, Mo.
Dal Raccolto Italian Red Chili Pepper Sauce, Italy
Dan-T's Inferno Asian Cayenne Sauce, Canada
Dan-Ts Inferno Spiced Cayenne Sauce, Canada
Dan-Ts Inferno Whitehot Cayenne Sauce, Canada
Dat'l Do-it Datil Pepper Hot Sauce, St. Augustine, Fla.
Dat'l Do-it Devil Drops, St. Augustine, Fla. (2 bottles with substantially different illustrations; one doesn't mention the brand name on the front)
Dave's Gourmet Cool Cayenne Pepper Hot Sauce, Costa Rica, dist. Dave's Gourmet, San Francisco
Dave's Gourmet Crazy Caribbean Hot Sauce, Costa Rica, dist. Dave's Gourmet, San Francisco
Dave's Gourmet Ghost Pepper Naga Jolokia Hot Sauce, Costa Rica, dist. Dave's Gourmet, San Francisco
Dave's Gourmet Hurtin' Habañero Sauce, dist. Dave's Gourmet, San Bruno, Calif.
Dave's Gourmet Hurtin' Jalapeño Hot Sauce, Costa Rica, dist. Dave's Gourmet, San Francisco
Dave's Gourmet Insanity Sauce (2 bottles: 5 oz. from Alexandria, Va.; 2 oz. from Costa Rica, dist. San Francisco)
Dave's Gourmet Insanity Sauce Private Reserve, San Bruno, Calif.
Dave's Gourmet Insanity II Sauce, dist. Dave's Gourmet, San Francisco
Dave's Gourmet Roasted Garlic Hot Sauce, Costa Rica, dist. Dave's Gourmet, San Francisco
Dave's Gourmet Temporary Insanity Hot Sauce, Costa Rica, dist. Dave's Gourmet, San Francisco
Dave's Gourmet Total Insanity Sauce, San Bruno
Dave's Gourmet 4-pack of 0.75-oz bottles (Insanity, cayenne, jalapeno, garlic)
De la Viuda Salsa Picante, Mexico
Denver Salsa Co. Jehovah's Furnace, Denver
Desert Fire Hot Sauce Cactus Willy's Favorite, Phoenix, Ariz.
Desert Fire Hot Sauce Cactus Willy's Red Hot, Southwest Specialty, Glendale, Ariz.
Desert Pepper Trading Co. XXX Habanero Pepper Sauce, Costa Rica
Desert Rose Salsa Tango Tamarind Hot Sauce, Costa Rica
D.L. Jardine's Blazin' Saddle Habanero Pepper Sauce, Buda, Texas
D.L. Jardine's Blazin' Saddle Habañero Pepper Extra Hot Sauce, Buda, Texas
D.L. Jardine's Blazin' Saddle Habanero Pepper Sauce Special Edition XXX Hot, Buda, Texas
D.L. Jardine's Honcho Sauce, Austin
D.L. Jardine's Texapeppa Jalapeno Sauce, Buda, Texas
D.L. Jardine's Texas Champagne Pepper Sauce (3 bottles: 2 oz. from Buda, Texas; 3 oz. 1992 from Buda, 3 oz 1988 from Austin)
D.L. Jardine's Texas Kicker Hot Sauce, "Columbia, S.A.," dist. Buda, Texas
DOA Cyanide Hot Sauce, dist. Hot Hot Hot
Dominica's Screaming Rasta Lost in Boiling Lake XXXTra Hot & Spicey Habanero Sauce, Dominica
Doña Cuca Salsa Picante, Jalisco, Mexico
d'Oni Burning Desire Habanero Hot Sauce, dist. d'Oni Enterprises, Sherman Oaks, Calif.
Dos Gringos Hot Jalapeno Pepper Sauce, Dove Creek, Colo.
Down Home Cookin' Chili Habanero Sauce, Fredericksburg, Texas
Dragon's Breath Mojo Hot Sauce, dist. Westminster, Calif.
Durkee RedHot Cayenne Pepper Sauce, Wayne, NJ (2 bottles: 2.5 oz., 4.5 oz)
Durkee/Franks RedHot Sauce au Piment Fort de Louisiane, Wayne, NJ (French/English label)
Eaton's West Indian Hot Mustard Sauce, Jamaica
EcoDely Salsa de Ají, Madre de Dios, Peru
The Egg & I-Yi-Yi!!! Sizzlin Hot! Jalapeño Pepper Sauce, for the Egg & I (restaurants), Colorado and Wyoming
1877 Prospecting Co. Boothill Hot Seasoning Sauce, dist. Tombstone, Ariz.
Elvin Bishop's Partytime Pepper Sauce (private bottling)
Embasa Salsa Picante, Mexico
Emeril's Kick It Up! Green Pepper Sauce, Roseland, N.J.
Emeril's Kick It Up! Red Pepper Sauce, Roseland, N.J.
Endorphin Rush, Franklin Park, Ill.
Enwrong Shredded Sauce, dist. Hot Sauce Harry's, Dallas
Erica's Country Style Pepper Sauce (red), St. Vincent, West Indies
Erica's Country Style Pepper Sauce (yellow), St. Vincent, West Indies
Essential Everyday Louisiana Hot Sauce, dist. Supervalu, Eden Prairie, Minn.
Evadney's All Purpose Jamaican Hot Sauce, Los Angeles
Evadney's Fire Water Habanero Connoisseur Blend Extra Hot Table Sauce, Los Angeles
La Extra Habanero Pepper Hot Sauce, Mexico (2 bottles: orange, green)
F&J Piqueoso Sauce / Very Hot, La Junta, Colo.
Famous Jake's Chipale Hot Pepper Sauce, Minneapolis
Faraon Habanero Pepper Hot Sauce, Panama
Faraon Hot Salsa Clasica Picante Sauce, Mexico
Farmer Brothers Salsa Picante Hot Sauce
Fear Itself Habanero Sauce, Vancouver, B.C.
Fiesta Besos de Fuego, Kansas City, Kans.
Firey Louisiana Hot Sauce, dist. C.I., New Orleans
First Street Sriracha Sauce, Los Angeles
Flavorite Hot Sauce, Preferred Products, Chaska, Minn.
Flavors of the Rainforest Papaya Pepper Tropic Hot Sauce, Simply Delicious, Cedar Grove, NC
Flippin' the Bird Sauce, dist. Hot Sauce Harry's, Dallas
Florida Heat, Treasure Island, Fla.
Floyd's Famous HotLime, San Francisco
Flying Goose Sriracha Hot Chilli Sauce, Thailand
Food Club Louisiana Hot Sauce, dist. Topco, Skokie, Ill. (2 labels: white with peppers, purple)
Food Lion Red Pepper Hot Sauce, dist. Salisbury, N.C.
4Flame Reserve Mash, Costa Rica
Frank's RedHot Original, Wayne, N.J. (3 bottles: 5 oz., 12 oz. 23 oz.)
Frank's RedHot Chile 'n Lime Hot Sauce (12 oz.), Wayne, N.J.
Fred Harvey Trading Co. Jalapeño Hot Sauce, dist. Amfac, Aurora, Colo.
Fred Harvey Trading Co. Sergio's Revenge Hot Sauce, dist. Amfac, Aurora, Colo.
Fred Harvey Trading Co. Viper Venom Hot Sauce, dist. Amfac, Aurora, Colo.
Fredericksburg Farms Chipotle Hot Sauce, Fredericksburg, Texas
Frontera All Natural Chipotle Hot Sauce, Chicago
Frontera All Natural Jalapenño Hot Sauce, Chicago
Frontera All Natural Red Chile Hot Sauce, Chicago
Frontera Red Pepper Hot Sauce, Chicago
Frontera Roasted Sweet Chipotle Hot Sauce, Chicago
Frontera Tangy Toasted Arbol Hot Sauce, Chicago
Frostbite Hot Sauce, Westerville, Ohio
Gebhardt Louisiana Style Hot Sauce, San Antonio, Texas
Get It All Over Ya Hot Sauce, County Line Barbeque, Austin, Texas
Gilberto's Gourmet Goodness Zesty Cayenne Hot Sauce, Fort Collins, Colo.
Gil's Crying Tongue Hot Sauce, Sand City, Calif.
Glory Foods Hot Sauce, Columbus, Ohio (2 bottles: 12 oz., 6 oz.)
Gold Dollar Louisiana Hot Sauce, dist. Burgie Industries, Memphis (2 bottles: glass, brown plastic)
Golden Mountain Medium Hot Chilli Sauce, Thailand
Good World Srirachi Chilli Sauce, Thailand
Goya Salsita Hot Sauce Chile Ancho, Mexico, dist. Secaucus, N.J.
Goya Salsita Hot Sauce Chile Habanero, Mexico, dist. Secaucus, N.J.
Goya Salsita Hot Sauce Chile Jalapeño, Mexico, dist. Secaucus, N.J.
Grace Hot Pepper Sauce Very Hot, Jamaica (2 labels: one English/Spanish with 'Authentic Jamaican' logo; one English, different illustration)
Grand Anse No. 5 Pepper Sauce, Grenada
Great Value Louisiana Hot Sauce, dist. Wal-Mart, Bentonville, Ark.
Green Isle Classic Red Cayenne Pepper Sauce, West Indies
Griffo Brand Fancy Cayenne Hot Sauce, New Orleans
Gringo Bandito Hot Sauce, dist. Hungry Punker, Huntington Beach, Calif.
La Guacamaya Authentic Hot Sauce (2 bottles: 5 oz. platic, 7 oz. plastic)
La Guaca-Maya Hot Sauce, Mexico
La Guacamaya Hot Sauce With Lime Juice, Mexico (4 bottles: 5 oz. plastic, 6 oz., 6.4 oz. plastic, 1 liter)
Habanero !Hot! !Hot! !Hot! Pepper Sauce Panamanian Style, Aurora, Colo.
Habanero Hot Sauce With a Half-Life, Clarence Center, N.Y.
Habenero Hot Sauce from Hell, Southwest Specialty Foods, Glendale, Ariz.
Habañero Hot Sauce from Hell Beyond Hot, Southwest Specialty Foods, Glendale, Ariz.
Habañero Hot Sauce from Hell Devil's Revenge, Southwest Specialty Foods, Glendale, Ariz.
Hammond's Celebrated Sauces Jamaica Style Pepper Sauce, Yorkshire, England
Hanif's Hot Sauce, dist. Hanif's, Delta, Canada
Havoc Maker Habanero Hot Sauce, Costa Rica
Hawaiian Hula Sauce, Kona, Hawaii
Hawaiian Passion Lilikoi Hot Sauce, Hawaii
Hawaiian Passion Pineapple Pepper Sauce, Honolulu
Hawaii Naturals Papaya Habanero Hot Sauce, Hanalei, Hawaii
Hector's Smokin Habañero Sauce, Asheville, N.C.
Hell in a Bottle Hot Sauce, San Francisco
Helrazor Chipotle Hot Sauce, Saratoga, Calif.
Helrazor Serrano Pepper Sauce, Saratoga, Calif.
Hiccuppin' Hot Sauce, Raleigh NC
Holy City Heat: A Hot Sauce, Charleston SC
Holy Habañero, Brown Adobe, Phoenixville, Pa.
Hooters Hot Sauce, Clearwater, Fla.
Horse-Shoe Brand Louisiana Red Hot Sauce, New Orleans
Horsetooth Hot Sauce Rubin's XXX Red Habanero-Cayenne, Fort Collins, Colo.
Hot Dog Pupper Sauce, dist. Big Dog Sportswear, Santa Barbara
Hot Hot Hot Hot Hot Hot Sauce, dist. Hot Hot Hot
Hot Sauce Harry's Garlic Cayenne Pepper Sauce, Dallas
House Recipe Hot Sauce, dist. Sysco, Houston, Texas
Howlin' Hot Cayenne Pepper Sauce, Minneapolis
Humboldt Hotsauce Island Style, Humboldt, Calif.
Hyde Park Louisiana Hot Sauce, dist. M&H Foods, Memphis
Iguana Deuces Golden Habanero Pepper Sauce, dist. Atlantic Beach, Fla.
Iguana Habanero Pepper Sauce, Costa Rica, dist. Half Moon Bay Trading Co., Jacksonville, Fla.
Iguana Radioactive Atomic Pepper Sauce, Costa Rica
Iguana Red Pepper Sauce, Costa Rica
Iguana Smoky Jalapeño Chipotlé Pepper Sauce, Costa Rica
Inner Beauty Hot Sauce, East Coast Grill, Cambridge, Mass. (mustard-based)
Inner Beauty Hot Sauce, Costa Rica, dist. Inner Beauty, Cambridge, Mass. (fruit-based)
Inner Beauty Original Hot Sauce, dist. Inner Beauty, Cambridge, Mass. (mustard-based)
Inner Beauty Real Hot Sauce, Costa Rica, dist. Inner Beauty, Cambridge, Mass. (fruit-based)
Inner Beauty Original Real Hot Sauce, dist. Inner Beauty, Cambridge, Mass. (mustard-based: "original formula -- it's back!")
Island Delight Hot! Pepper Sauce, Jamaica
Island Delight Papaya Pepper Sauce, Jamaica
Island Heat Scotch Bonnet Pepper Sauce, Jamaica
Island Pleasure Scorpion Sauce, Wilmington, N.C.
Island Style Jamaican Crushed Scotch Bonnet Hot Pepper, dist. Island Style, Deltona, Fla.
Island Treasure All-Natural Hot Pepper Sauce, Jamaica
Jackal Ridge Hot Sauce, Portsmouth, Va.
Jake & Amos Hot Sauce, Lancaster, Pa.
Jamaica Best Crushed Scotch Bonnet Pepper Sauce, Jamaica, dist. Sunburst Commodity, England
Jamaica Hell Fire Doc's Special, Tampa, Fla.
Jamaica Hell Fire Hot Pepper Concentrate, Tampa, Fla.
Janet's Original Jerk Premium Jamaican, dist. Janet's Original, Los Angeles
Jest Spices Blazing Pepper Sauce, Seattle
Jim Beam Kentucky Bourbon Hot Sauce, Atlanta (2 bottles: white label from Signature Foods, black label from Vita Specialty Foods)
Jimmy's Batch 81 Three Pepper Chili Sauce, for Quiznos, Denver
Jimmy's Deathwish Cayenne Sauce, Virginia Beach, Va.
Joy's Hot Stuff, Durango, Colo.
Juanita's Salsa Picante, Wilmington, Calif.
Juanita's Salsa Picante Estilo Casero, Wilmington, Calif.
Jufran "Pam-Pa-Gana" Banana Sauce, Philippines
Jump Up and Kiss Me, dist. Dave's Gourmet (2 bottles, slightly different labels, one made in San Francisco, one in San Bruno)
Kick Yo Ass Hot Sauce, Glendale, Ariz.
Kimlan Chili Sauce, Taiwan
Koon Yick Wah Kee Chilli Sauce, Hong Kong
Kroger Extra Hot Hot Sauce, dist. Kroger, Cincinnati, Ohio
Kroger Hot Sauce, dist. Kroger, Cincinnati, Ohio
Kroger Louisiana Hot Sauce, dist. Kroger, Cincinnati, Ohio
Kroger X-Hot Sauce, dist. Kroger, Cincinnati, Ohio
K-Sauce K3 Keenan's Killer Be Afraid Hot Sauces, Centennial, Colo.
LaBelle No. 3, made for Patti's Good Life by Panola, Louisiana
Laughing Bull Hot Sauce (Marlboro promotion), dist. Philip Morris, Richmond, Va.
Layco Salsa Picante, Argentina
Lee Kum Kee Fine Chili Sauce, Hong Kong
Lee Kum Kee Sriracha Chili Sauce, City of Industry, Calif.
Leon Hot Sauce, Mexico
Lingham's Chilly Sauce, Malaysia
Lizano Hot Chile Sauce, Costa Rica
Lizano Extra Hot Hot Sauce, Costa Rica
Lizano Salsa, Guatemala
Lol-Tun Habanero Peppers Hot Sauce, Mexico
Lottie's Original Barbados Recipe Hot Pepper Sauce, dist. the Woodlands, Texas (2 bottles: 6.75 oz. flask, 5 oz. traditional)
Lottie's Traditional Barbados Recipe Hot Pepper Sauce (2 bottles: slightly different labels, one dist. Pearl Import/Export, The Woodlands, Texas, one dist. "Lottie's" Island Flavors, Cypress TX)
Louisiana Fish Fry Products Hot Sauce
Louisiana Fish Fry Products Cravin' Cajun' Hot Sauce, Baton Rouge, La.
Louisiana Gem Hot Sauce, Acadiana Pepper Co., St. Martinville, La.
Louisiana Gold Pepper Sauce, Bruce's, New Iberia, La.
Louisiana Joe's Hot Sauce, USA, dist. National Importers, New Westminster, B.C., Canada
Louisiana The Perfect Chipotle Peppers Hot Sauce
Louisiana The Perfect Green Hot Sauce, Bruce's, New Iberia, La.
Louisiana The Perfect Hot Sauce, Bruce's, New Iberia, La. (3 bottles: 85 ml French/English, 6 oz., 12 oz.)
Louisiana The Perfect Habanero Pepper Hot Sauce, Bruce's, New Iberia, La.
Louisiana The Perfect Roasted Garlic Hot Sauce
Louisiana's Best Hot Sauce, Acadiana Pepper Co., St. Martinville, La.
Lucky Dog Hot Sauce, Hayward, Calif.
Lucy's Fiery Red Head Hot Sauce, Lucy's Fried Chicken, Round Rock, Texas
Mabel's Caribbean Fiery Pepper Sauce, Trinidad & Tobago
Mabel's Caribbean Hot Pepper Sauce, Trinidad & Tobago
Mabel's Caribbean Hot Sauce with Papaya, Trinidad & Tobago
Mad Anthony's XXXtra Hot Private Reserve Hot Sauce, for Mad Anthony's Cafe, Los Angeles
Mad Cat Hot Sauce, Dedham, Mass.
Mad Dog Inferno Hot Sauce, Dedham, Mass.
Madre Selva Ají Amazónico Salsa Picante, Madre de Dios, Peru
Maggi Chilli Ginger Sauce, Malaysia
Maggi Extra Hot Chilli Sauce, Malaysia
Maggi Salsa de Chile Habanero, Mexico
Mardi Gras Habanero Pepper Sauce, dist. New Orleans
Mardi Gras Mambo Hot Sauce, Kenner, La.
Marie Sharp's Belizean Heat Habanero Pepper Sauce, Belize
Marie Sharp's Beware Comatose Heat Level Hot Pepper Sauce, Belize
Marie Sharp's Habanero Pepper Sauce, Belize
Marie Sharp's Habanero Pepper Sauce Fiery Hot, Belize
Marie Sharp's No Wimps Allowed Habanero Pepper Sauce, Belize
M*A*S*H XXXXX Red Habanero Mash, Auburn, Ala.
M*A*S*H XXX Tabasco Mash, Auburn, Ala.
Matouk's Calypso Sauce, Trinidad & Tobago
Matouk's Hot Pepper Sauce, Trinidad & Tobago
Matouk's Hot Sauce West Indian, Trinidad & Tobago
Matouk's West Indian Flambeau Sauce, Trinidad & Tobago
McLintock's Caliente Cowboy Sauce, Shell Beach, Calif.
McCutcheon's Three Pepper Lemon Hot Sauce, Frederick, Md.
Mean Devil Woman Cajun Pepper Sauce, Gretna, La.
Melinda's Original Habanero Pepper Sauce Amarillo, Costa Rica
Melinda's Original Habanero Pepper Sauce Chipotle, Costa Rica
Melinda's Original Habanero Pepper Sauce Hot Sauce, Belize
Melinda's Original Habanero Pepper Sauce Extra Hot Sauce, Belize
Melinda's Original Habanero Pepper Sauce XXXTra Hot Sauce (2 bottles: one from Costa Rica, one from Belize)
Melinda's Original Habanero Pepper Sauce XXXXTra Hot Reserve, Costa Rica (2 bottles: 1999 special reserve and millennium edition 2000 special reserve)
Melinda's Original Naga Jolokia Pepper Sauce, Costa Rica
El Mercadito Latino Salsa Navideña Cayenne, Costa Rica
El Mexicano Saborica Salsa Jalapeño, Mexico
El Mexicano Saborica Salsa Picante, Mexico
Mexico Lindo Salsa Chiltepin, Hermosillo, Sonora, Mexico (made by Castillo)
Mexico Lindo Salsa Habanero, Hermosillo, Sonora, Mexico (made by Castillo)
Mexico Lindo Salsa Habanera Roja, Hermosillo, Sonora, Mexico (made by Castillo)
Mexico Lindo Salsa Habanera Verde, Hermosillo, Sonora, Mexico (made by Castillo)
Mezzetta California Hot Sauce, Sonoma, Calif.
Mezzetta California Habanero Hot Sauce Twist & Shout, Sonoma, Calif.
Mill Valley Road Kill, dist. Lutz, Ill.
Moctezuma Habanero Hot Sauce, Mexico
Moctezuma Salsa Brava XXXtra Hot Sauce, Mexico
Moctezuma Salsa Mex, Mexico
Mo Hotta Mo Betta Cayenne Garlic Sauce, San Luis Obispo, Calif.
Mo Hotta Mo Betta Chipotle Adobe Hot Sauce, Savannah, Ga.
Mo Hotta Mo Betta Red Savina Habanero Hot Sauce, Savannah, Ga.
Montezuma Smokey Chipotle Hot Sauce, Powell, Ohio
Moshe & Ali's Pure Fire, PeaceWorks, New York NY
Mrs. Dog's Dangerously Hot Pepper Sauce, Grand Rapids, Mich. (2 bottles: white/orange label with "portugal/habañero peppers," gold/teal label with "tropical/habanero peppers" and no MSG)
Ms. Elvi's Homemade Pepper Sauce, Belize
Nando's Garlic Peri-Peri Sauce, South Africa
Nando's Medium Peri-Peri Sauce, South Africa
Nando's Sauce Hot Peri-Peri (2 bottles: paper label from Savoy, South Africa; "new look" with plastic label, shorter neck, from the Netherlands)
Nando's Traditional Hot Peri-Peri Sauce, Savoy, South Africa
Nando's Traditional Extra Hot Peri-Peri Sauce, Savoy, South Africa
Natural Value Organic Cayenne Hot Sauce, Sacramento, Calif. (2 labels: red with flames, gold with fields)
Natural Value Organic Habanero Hot Sauce, Sacramento, Calif. (2 labels: flames, fields)
N'awlins French Market Lous-E-Ana Hot Sauce, New Orleans
Neiman Marcus Red River Green Lightning, Dallas (2 types: primarily red label with onions & sugar, primarily buff label without)
Neiman Marcus Red River Texas Thunder Pepper Sauce, Dallas (2 bottles, narrow with buff label, squatter with red label)
Nel's Old Time Hell Hot Hot Pepper Concentrate, Jamaica
Nevada Barbecue Company BJ's Hot Sauce, Sparks, Nev.
NFL Xtreme 2 (Sony PlayStation game promotion)
911 Hot Sauce, Sanctuary Much, Morton Grove, Ill.
Noh Hawaiian Hot Sauce, Honolulu
O Organics Organic Jalapeño Hot Sauce, dist. Lucerne Foods, Pleasanton, Calif.
O Organics Organic Chili Lime Hot Sauce, dist. Lucerne Foods, Pleasanton, Calif.
O'ahu Hot Sauce, Honolulu
O'Brother That's Hot! Organic Jalapeno Pepper Sauce, dist. O'Brothers Organics, San Diego
Oregon Hot Sauce, dist. Southwest Specialty Food, Glendale, Ariz.
Original Road House Smokin' Hot XXXtra Reserve Jalapeño, Minneapolis
Ortego Sauce Pimente Brand, Ville Platte, La.
Oso Hot!, The Brown Adobe, Phoenixville, Pa.
Our Compliments Louisiana Hot Sauce, U.S. product imported by the Oshawa Group, Canada
Outlaw Trail Good and Evil Hot Sauce, dist. Wyoming Buffalo Co., Cody, Wyo.
Pain 100%, Kansas City, Kansas
Panda Brand Lee Kum Kee Hot Chili Sauce, City of Industry, Calif.
Panola Cajun Hot Sauce, Lake Providence, La. (2 bottles: 5 oz., 50mL)
Panola Clearly Hot Sauce, Lake Providence, La.
Panola Extra Hot Sauce, Lake Providence, La.
Panola Extra Hot Hot Sauce, Lake Providence, La. (French/English label, yellow star rather than Louisiana silhouette)
Panola Gourmet Pepper Sauce, Lake Providence, La. (3 bottles: 5 oz., 50ml, 50ml French/English)
Panola Jalapeno Pepper Sauce, Lake Providence, La.
Panola 10 Point Hot Sauce, Lake Providence, La.
Papa Joe Scoth Bonet Red Pepper Sauce, Costa Rica
El Paso Chile Co. Hellfire & Damnation, dist. El Paso, Texas (2 bottles, one from Belize, one from Costa Rica)
Pass Out Green Chili Pasado Punch Hot Sauce, Virginia Beach, Va.
El Pato Salsa Picante, Mexico
El Pato Salsa Picante Chile Jalapeño, Mexico
Pear Blossom Farm Dad's Red Jalapeno Sauce, Palisade, Colo.
Pecos Creek Mean Green Habanero Pepper Sauce, Plymouth, Minn.
Pee Wee's Cajun Cayenne Juice, Breaux Bridge, La.
Pee Wee's Green Spiced Pepper Sauce, Breaux Bridge, La.
Pepper Creek Farms Jalapeño Hot Sauce, Lawton, Okla.
Pepper Creek Farms Wildfire, Lawton, Okla.
The Pepper Plant Habaneros Extra Hot! Hot Pepper Sauce, Gilroy, Calif.
The Pepper Plant Original California Style Hot Pepper Sauce, Atascadero, Calif.
Peppers of the World Taino Ancho Picante Sauce, Mexico
Peppers of the World Aztec Arbol Picante Sauce, Mexico
Peppers of the World Olmec Guajillo Picante Sauce, Mexico
Picamas Hot Sauce, Guatemala (2 types: red, green)
Pica Rico Hot Pepper Sauce, Belize
Pickapeppa Hot Red Pepper Sauce, Jamaica
Pico Pica Real Mexican Style Hot Sauce, dist. Juanita's, Wilmington, Calif. (2 labels)
Piggly Wiggly Louisiana Hot Sauce, dist. Piggly Wiggly, Memphis
Pike! Por Chilli Heaven Passion Fruit Chili Sauce, Peru
Pikin Hot Pequin Sauce, Mexico
Plaza Jamaica Red Hot Pepper Sauce, Jamaica
Ponzu no tomo imported by Hosada Bros., San Francisco, from Japan
Popie's Hotter'n Hell Sauce, Gonzales, La.
El Porki Salsa Picante de Chile de Arbol, Yahualica, Jalisco, Mexico
Prairie Fire Hot Sauce, Calgary
Preciosa Salsa Picante Auténtica, Mexico
La Preferida Louisiana Hot Sauce, dist. La Preferida, Chicago
President's Choice Louisiana Hot Sauce, dist. Sunfresh, West Seneca, NY (12 oz)
President's Choice Sauce Epicee de Louisiane, dist. Sunfresh, Toronto (6.2 oz. bottle, French/English label)
Private Selection Peruvian Aji Amarillo Culinary Hot Sauce, dist. Kroger, Cincinnati
Pure Habanero Red Savina, dist. Southwest Specialty Food, Goodyear, Ariz.
Pure Hell Hot Sauce, Denver
Pyromania Hot Sauce, dist. St. Charles, Ill.
Quinta's Piri-Piri Hot Sauce, Portugal
The Raging Volcano Hot Sauce, BBQ Jim's, Honolulu
Rainbow Hot Sauce, dist. Fleming Cos., Oklahoma City, Okla.
Rancho Gordo Rio Fuego Very Hot Sauce, Napa, Calif.
Rasta Fire! Hot, Hot, Hot Sauce, Costa Rica
Red Rooster Louisiana Hot Sauce, Bruce Foods, New Iberia, La. (2 bottles: 12 oz., 6 oz.)
Religious Experience Apocalypse Habanero Hot, Grand Junction, Colo.
The Restaurant Sauce Hot, Taco Bell/Kraft, Glenview, Ill.
The Restaurant Sauce Fire, Taco Bell/Kraft, Glenview, Ill.
Ricante Hot Sauce Chipotle Bueno, Costa Rica
Rigor Mortis Hot Sauce, dist. Hot Hot Hot
River Bank Caribbean Pepper Hot Sauce, St. Louis, Mo.
Rob's Homemade Peckerwood Hot Sauce, New Dixie Diner, Port Salerna, Fla.
Roger's Louisiana Hot Sauce, Kansas City, Mo.
Roland Piri Piri Pepper Sauce with Lemon, dist. American Roland Food, New York City
Rookie Orientation, Franklin, Ind.
Rusty Humphries Nevada Nuclear Waste Radio-Active Hot Sauce, Reno
Sabor! by Texas Pete Mexican-Style Hot Sauce, Winston-Salem, N.C.
La Sabrosita Mexican Style Hot Sauce, St. Martinville, La.
La Sabrozita Salsa Picanta, Mexico
Safeway Hot Pepper Sauce, dist. Safeway, Pleasanton, Calif.
Salsa Amor Con Limon, Mexico
Salsa Amor Extra Hot, Mexico
Salsa Amor Hot Sauce, Mexico
Salsa Huichol Hot Sauce, Mexico (2 bottles: one Spanish-language, one English with "don't accept substitutes" neckband)
Salsa Huichol Habanera, Mexico
Salsa Satanas, Honduras
Salsa Sinaloa Gourmet, California
Santa Barbara California Pepper Sauce Original Blend, Oceanside, Calif.
Santa Cruz Chili & Spice Co. Hot Picante Sauce, Tumucacori, Ariz.
Santa Fe Mexican Style Hot Sauce, Mexico
Santa Fe Olé 3 Pepper Hot Sauce, Santa Fe, NM
Santa Maria Hot Chili Habanero Sauce, Sweden (Norway?)
Satan's Revenge Chile Sauce, Montclair, NJ
Saucy Sauce, Bruce's, New Iberia, La.
Savannah's Candy Kitchen Vidalia Onion & Georgia Peach Hot Sauce, dist. Savannah, Ga.
Scorned Woman Hot Sauce, Atlanta, Ga.
Scotter All Natural Hot Sauce Classic, Winter Haven, Fla.
Scotter All Natural Hot Sauce Scorchin!, Winter Haven, Fla.
Screaming Rasta Lost in Boiling Lake, Dominica
Secret Aardvark Trading Co. Aardvark Habanero Hot Sauce, Portland, Ore.
Sella Sambal Bawang Khas Medan Hot, Indonesia
Sella Sambal Bawang Khas Medan Super Hot, Indonesia
Señor Jake's Muy Bueno! Southwest Firey Hot Sauce, Phoenix
Shark Brand Sriracha, Thailand
Shotgun Willie's 3-Barrel Hotter'n Hell Pepper Sauce, Austin, Texas
Shurfine Louisiana Hot Sauce, dist. Shurfine-Central, Northlake, Ill.
Simple Truth Organic Jalapeño Hot Sauce, dist. Kroger, Cincinnati Ohio
Simple Truth Organic Smoky Chipotle Pepper Hot Sauce, dist. Kroger, Cincinnati, Ohio
Sinaloa Culiche Hecho con Chiltepin, Compton, Calif.
Smack My Ass & Call Me Sally Habañero Hot Sauce, Winter Park, Fla.
S'olé Hot Red Chili Pepper Sauce, San Bruno, Calif.
Sontava! Habanero XX Hot Sauce, Belize
Sontava! Habanero XX Hot Sauce green, Belize (Jardine branding)
Sontava! The Original Habanero Pepper Hot Sauce, Belize
Southern Spice Louisiana Hot Sauce, Lake Providence, La.
Southwest Spirit Zia Fire, dist. RGE, Santa Fe, N.M.
Spitfire Hot Pepper Sauce Barbados, dist. Antilleo Foods, San Francisco
Spitfire Pepper Sauce, Barbados (flask bottle)
Spontaneous Combustion Hot Sauce, Glendale, Ariz.
Springfield Premium Louisiana Hot Sauce, dist. Commerce, Calif. (2 bottles: 6 oz., 12 oz.)
Springfield Pure Louisiana Hot Sauce, dist. Certified Grocers, Los Angeles
SrirachaCha! by Texas Pete, Winston-Salem, NC
Srirachi chilli sauce imported by Tang Freres of Paris, from Thailand
Sriraja Factory Chili Sauce, Thailand
SSS Chilli Sauce, Singapore
Sting 'N' Linger Habanero Hot Sauce, Phoenix
Sunsun Hot Salsa Luisiana, dist. Proveedora de Alimentos del Pacifico, City of Industry, Calif. (2 bottle types, one with "pura" in a sunburst)
Susie's Hot Sauce Calypso, Antigua, Barbuda, West Indies
Sweet Sauce for Squid imported by Man Cheong Trading of Vancouver, from Thailand
Sylvia's Restaurant Kicking Hot Hot Sauce, New York
Tabañero Hot Sauce Picante, dist. CDS Hot Sauce Products, Boca Raton, Fla.
Tabasco, Avery Island, La. (3 bottles: 1/8 oz. mini, 2 oz., 12 oz.)
Tabasco Buffalo Style Hot Sauce, Avery Island, La.
Tabasco Chipotle Pepper Sauce, Avery Island, La.
Tabasco Garlic Flavor, Avery Island, La. (2 bottles, 5 oz., 2 oz.)
Tabasco Garlic Pepper Sauce, Avery Island, La.
Tabasco Habanero Hot Sauce, Avery Island, La. (2 bottles: 5 oz., 2 oz.)
Tabasco Jalapeño Sauce, Avery Island, La.
Tabasco Mexico's Tabañero Hot Sauce Picante, Tabasco, Mexico
Taco Surf Extra Hot Habanero, Mexico, dist. Taco Surf, Long Beach, Calif.
Tajin Clasico Regular Snack Sauce, dist. by Mexilink, Houston
Tamazula Salsa Picante red, Mexico
Tamazula Salsa Picante green, Mexico
Tamazula Salsa Picante Extra Hot, Mexico
Tan-Tos Inferno Hot Sauce, Costa Rica via Ontario
Tapatío Salsa Picante, Vernon, Calif. (3 bottles: two 5-oz. with different labels, one 10 oz.)
A Taste of Thai Garlic Chili Pepper Sauce, Thailand
Taxco Export Pepper Sauce, Honduras
Team NFL Cincinnati Bengals Hot Sauce, dist. Hot Sauce Harry's, Dallas
Tejas Gourmet Fire in the Hole Habanera Hot Sauce, Bryan, Texas
Tejas Tears Habanero Chile Sauce, Austin, Texas
Testicle Festival Ball Bustin' Hot Sauce, dist. Rock Creek lodge, Clinton, Mont.
Texas Aggie Bonfire Sauce, Some Like It Hot!, Houston
Texas Best Hot Sauce, dist. T. Marzetti, Columbus, Ohio
Texas Pete Hot Sauce, Winston-Salem, N.C. (2 bottles: 6 oz. glass, 1.9 oz. plastic)
Texas Pete Original Hot Sauce, Winston-Salem, N.C.
Three Banditos Salsa Habenero, Southwest Specialty, Phoenix
365 Organic Organic Hot Sauce, dist. Whole Foods, Austin, Texas
365 Pepper Duo Hot Sauce, dist. Whole Foods, Austin, Texas
Tío Tio California Hot Salsa de Chiles Bravos, Santa Barbara, Calif.
Tommy Tang's Seracha, Thailand
Tongues of Fire, Elmwood Park, Ill.
Toñita Salsa Picante, Mexico
Toñita Salsa Picante Especial, Mexico
Tonya Hot! Sauce, Portland, Ore.
Tony Chachere's Creole Hot Sauce, Opelousas, La.
Tooters Hot Sauce, Troutdale, Ore.
El Torito Extra Picante Salsa Superior (25 Aniversario), Mexico
Trader Joe's Chili Pepper Sauce, dist. Monrovia, Calif.
Trader Joe's Green Dragon Hot Sauce, dist. Monrovia, Calif.
Trader Joe's Jalapeño Pepper Hot Sauce, dist. Monrovia, Calif.
Trader Joe's Louisiana Cajun Hot Sauce, dist. Monrovia, Calif.
Trader Joe's Sriracha Sauce, dist. Monrovia, Calif.
Trappey's Bull Louisiana Hot Sauce, New Iberia, La.
Trappey's Chef-Magic Jalapeño Sauce, New Iberia, La. (2 bottles: 3 oz., 6 oz.)
Trappey's Chef-Magic West Indian Style Pepper Sauce, New Iberia, La.
Trappey's Good'n Hot Mexi-Pep Louisiana Hot Sauce, New Iberia, La.
Trappey's Indi-Pep West Indian Style Pepper Sauce, New Iberia, La.
Trappey's Louisiana Hot Sauce, New Iberia, La.
Trappey's Mexi-Pep Hot Sauce, New Iberia, La.
Trappey's Pepper Sauce, New Iberia, La.
Trappey's Red Devil Cayenne Pepper Sauce, New Iberia, La.
Trappey's Red Devil Louisiana Hot Sauce, New Iberia, La.
Tres Chiles Sauce El Yauco, Mexico
Tres Hermanos Mexican Hot Sauce, Franklin Park, Ill.
Trinidad Habañero Pepper Sauce / Hot, Trinidad & Tobago
Trinidad Habañero Pepper Sauce / Extra Hot, Trinidad & Tobago
Trinidad Pepper Sauce / Mild, Trinidad & Tobago
Trinidad Pepper Sauce / Mild with habañeros, Trinidad & Tobago
Trinidad Pepper Sauce / X-Hot with habañeros, Trinidad & Tobago
Troy's Cayenne Pepper Sauce, Simply Delicious, Cedar Grove, NC
Try Me Cajun Sunshine Hot Pepper Sauce, Knoxville., Tenn.
Try Me Tennessee Sunshine Hot Pepper Sauce, Knoxville, Tenn.
Try Me Tiger Sauce The Original, Knoxville, Tenn.
Try Me Yucatan Sunshine Habanero Pepper Sauce, Knoxville, Tenn.
Tuong Ot Sriracha, dist. Huy Fong Foods, Rosemead, Calif.
Tuong Ot Sriracha, dist. Huy Fong Foods, Irwindale, Calif.
Ultimate Burn, Starboard Restaurant, Dewey Beach, Del.
Uncle Billy's Wild Blue Yonder Wild Blueberry Hot Sauce, Stache Foods, Medomak, Maine
Uncle Billy's Voo Doo Jerk Slather, Medomak, Maine
Uncle Buck's Camo Ammo Garlic Hot Sauce, made for Bass Pro Shops by Hot Sauce Harry's, Dallas
Uncle Steve's Louisiana Hot Sauce, dist Rex Sales, Hayward, Calif.
Valentina Mexican Hot Sauce, Tamazula Foods, Mexico (2 bottles: 12 oz., 34 oz.)
Valentina Mexican Hot Sauce Extra Hot, Tamazula Foods, Mexico (2 bottles: 12 oz., 34 oz.)
Valu Time Hot Sauce Louisiana-Style, dist. Topco, Skokie, Ill.
Vampfire Hot Sauce, Panola, Lake Providence, La.
Vib's Southern Heat Hot Pepper Sauce, St. Louis, Mo.
La Victoria Salsa Brava, dist. Authentic Specialty Foods, Chino, Calif.
Viet Cuisine Vietnamese Hot Chilli Sauce, Vietnam
Virgin Islands Finest Apocalyptic Hot Sauce, Virgin Islands
Vizcaya Habanero XX Hot Sauce, Belize
Walker & Sons Slap Ya Mama Cajun Pepper Sauce, Ville Platte, La.
Walker's Wood Hot Jamaican Jonkanoo Pepper Sauce, Jamaica
Walker's Wood Jamaican Scotch Bonnet Pepper Sauce, Jamaica
Walker's Wood Zesty Caribbean One Stop Savory Sauce, Jamaica
Weitchpec Chile Co. Klamath River Red Pepper Sauce, Blue Lake, Calif.
The Werks Original Lava Sauce, Delta, B.C.
The Werks Lava Sauce Extra Hot, Delta, B.C.
West Indies Creole Hot Pepper Sauce, Dominica (2 bottles: 10 oz. brown, 3 oz. clear)
Western Family Louisiana Hot Sauce, dist. Portland, Ore. (2 bottles: 6 oz. red label, 12 oz. buff label)
Whistler's Extreme Heat Hot Sauce, Whistler, B.C.
Whoopin' Ass Hot Sauce Hickory Heat, Glendale, Ariz.
The Wizard's Hot Stuff Spicy Hot Sauce, Hillsborough, NC
Yahualica Extra Hot Sauce, Mexico (2 bottles: 6.2 oz., 12 oz.)
Yamajirushi Toban Jyan, Japan
Yeo's Hot Chilli Sauce, Singapore
You Can't Handle This Hot Sauce, dist. Dewey Beach, Del.
El Yucateco Black Label Reserve Hot Sauce Chile Habanero, Kanasin, Yucatan, Mexico
El Yucateco Caribbean Hot Sauce Salsa Picante de Chile Habanero, Kanasin, Yucatan, Mexico
El Yucateco Chipotle Hot Sauce, Mexico
El Yucateco Salsa Picante de Chile Habanero, Mexico
El Yucateco Salsa Popular de Chile Habanero green, Mexico (2 bottles: 4 oz. glass, 5 oz. plastic)
El Yucateco Salsa Popular de Chile Habanero red, Mexico (2 bottles: 4 oz. glass, 5 oz. plastic)
El Yucateco XXXTra Hot Sauce Salsa Kutbil-ik de Chile Habanero, Mexico
Zapata Authentic Hot Sauce, dist. Dallas
Zaaschila Habanero, Mexico (2 bottles: "Salsa Habanero, Mexican Homestyle Salsa extra hot"; and "Chile Habanero autentico! Real Mexican Salsa")
Zaaschila Piquin, Mexico (2 bottles: "Salsa Pequin," black top, "Mexican Homestyle Sauce"; "Chile Pequin," white top, "autentico! Real Mexican Salsa")
Zaaschila Guacamole and Serrano Salsa Piquin, Mexico
Zaaschila Guacamole con Chile Habanero, Mexico
Zaaschila Salsa Habanero Extra Hot, Mexico
Zaaschila 3 Chiles, Mexico
Zulu Fire Sauce, South Africa